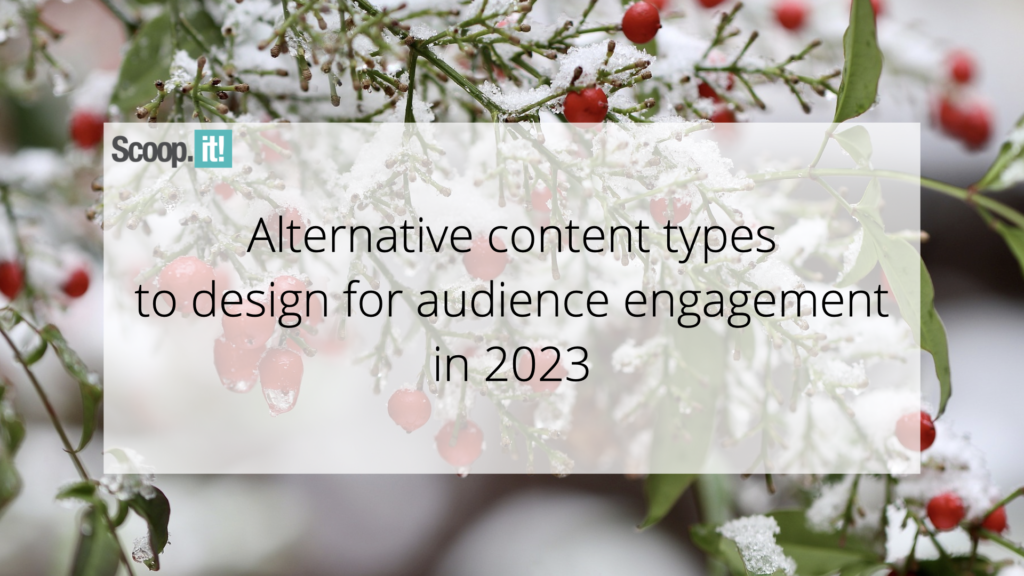 While it sounds clichéd already, content is still king in digital marketing. And given that content is the first thing a user sees, it will continue to be king. Another thing is that user preferences and behaviour change:
Now they are looking for authentic and relatable content, so the challenge for every marketer is to provide the audience with high-quality assets, which formats would be engaging yet relevant to the business message and tone of voice.
As we enter a new year, it's high time to put fresh eyes on content strategy and think about the content types that will work best for target audience engagement and brand promotion. Traditional content types can get old-fashioned and less attractive to online users, so why not consider some alternative formats?
Below are seven content types that will help you attract and engage users in 2023.
1 — Instructographics
As you may guess from the name, this content type relates to an oldy-moldy infographic.
The core difference between these two is that infographics may inform about everything (the most popular kitchen colors, for example), and instructographics provide instructions on how to do something (how to paint a kitchen).
It's super engaging and popular because it helps you explain complex data in an easy-to-digest format, save time on writing long how-to guides, and make your message visually pleasing for the audience to get hooked.
For example, here's the instuctographic telling how to keep bears away from the campsite:
This format works best for step-by-step instructions and is perfect for your brand's social media accounts. Instructographics have a super high potential for sharing: Your task is to design them so they would grab attention and help users solve a problem.
Think of your buyer persona, with their pains and needs, and create an instructographic showing how your brand can be a solution.
2 — AR-powered storytelling
Users are constantly looking for something interactive and entertaining on social media, and content creators do their best to give it. Get ready to see the boom of augmented reality (AR) and virtual reality (VR) technologies in content marketing.
Augmented reality (AR) blends virtual objects with the real world. It adds contextual information to a user and allows a partial immersion in the story.
You see it on social media when adding sounds, filters, visual elements, and other sensory stimuli to a real-life environment. With gameplay or an additional narrative, users can reflect on the content and feel a sense of belonging.
Content makers can include AR in everything from tutorials to product demonstrations. This technology can help you craft interactive ads for customers to see and even try out your product.
Here's an example of how you can create augmented reality content for marketing:
Users test and visualize a product in their own space before making a purchase.
3 — Storyboards
A storyboard is a visual sequence of images, text, and illustrations. As a rule, this content is a part of the video production process: It's a tool to visualize the story frame by frame. However, marketers also use storyboards to create business presentations, commercials, and product demos.
A storyboard can be a great instrument to demonstrate how your product works. Think of it as a comic book where a character (your customer) goes through a journey to solve a problem with the help of your brand.
Why is it so engaging?
First, it's about storytelling creating emotional connections with the audience (people retain 70% of information through stories and only 10% from data and statistics). It's your chance to communicate a message in a way for the audience to remember it.
Second, it's about visuals, which are 60,000 times faster for the human brain to process than text.
You can craft storyboards that tell standalone stories or use them to complement text-based information.
4 — Podcasts
Podcasts are super popular now and will continue to grow in 2023. For a business, it's an instrument to reach a broader audience through alternative channels.
Streaming giants like YouTube and Spotify support and encourage this trend, so you can use podcasts to promote products and connect with customers on a more personal level. Podcasts are great for explaining complex topics:
You won't need to craft long-form content users might be lazy or busy to read but will be happy to listen. Your business can also collaborate with popular podcasters who are influencers in the niche to share brand stories and invite the audience to participate in discussions.
5 — Carousel posts
Users love carousel posts on social media like Instagram, LinkedIn, and Facebook because of their interactive nature. For content marketers, it's another opportunity to showcase products or complex data in a format that keeps people's attention for a longer time. (Read: more visibility, traffic, and conversion.)
Carousel posts earn higher engagement rates (1.92%) than single pictures or videos on Instagram. If you use all ten slides available, you can get that rate as high as 2%.
To get the most out of this content format, craft it with the following specifics in mind:
Ensure the first image in your carousel is super captivating.
Add a call to action to your caption to tell users to "swipe left" and see all slides.
For higher engagement, use all ten images if possible.
Ensure to upload all files in the proper order.
Feel free to add text on slides (different writing tools can help with that), and consider adding a call to action to the last image in the carousel.
6 — Ephemeral posts
Ephemeral content is visual content like videos, images, or gifs that lasts online for 24 hours only. In other words, it's time-restricted, and it will disappear from your social media platforms unless you wish to save and keep it in folders like Instagram highlights.
Ephemeral posts can be a great way to stay fresh for your audience and appeal to their FOMO (fear of missing out). Given these posts' short life span (24 hours), users will try to check them out before they'll disappear.
If your brand does social media marketing on platforms like Snapchat, Instagram, or Facebook, ephemeral content is an instrument to improve visual communication with your followers:
You can post behind-the-scenes content, provide limited discounts or promo codes through it, etc.
For your ephemeral content to work even better, make it interactive: Use brand filters encouraging viewers to try it, ask questions, organize surveys, and tag influencers. They'll repost it, thus making it visible to a broader audience.
Repost user-generated content to promote your brand authenticity and provide social proof. You can also organize live streams, contests, giveaways, etc. It's a quick way to grow exposure and re-engage users by creating urgency and encouraging interaction.
7 — Screencast videos
A screencast is a video recording of your computer screen and includes audio narration. Using a microphone, you show and narrate the content: Think of screencasts as instructional videos when you teach something or share ideas.
Screencast videos are usually super informative and engaging: 80% of viewers say they can recall a video they have seen in the past 30 days.
Use this content type to the most frequently asked questions of your audience (it will save your time) or to explain to them how to do something step by step. Screencasts are great for video lessons, basic tutorials, training videos, and presentations; specific screencast software can help you master this format.
Again, such content works because of its visual and actionable nature: A user sees you convey the story on the screen, listens to your voice, and better process and remember the information. It's that very moment when the "Show, don't tell" principle works best.
Ready to try these content formats for audience engagement?
High-quality and engaging content is critical for brand development and growth. All marketers understand that, and that's why the competition is super high. New content types can help you refresh the strategy, attract a broader audience, and stand out in the crowded content marketplace.
In this post, you've got seven content formats that may surprise and delight your audience. Now it's time to try them and see which of them your targets prefer to consume today. But ensure you base all the content on your brand identity, goals, and users' needs.