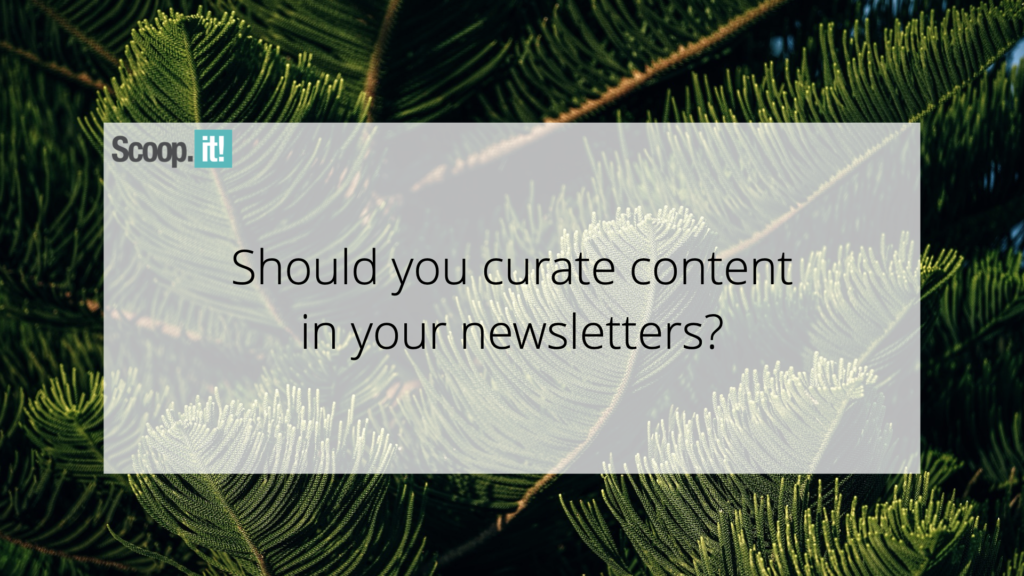 When developing your email marketing strategy, you may be wondering how to create content that is both informative and interesting without spending hours upon hours scouring the internet. This is especially true when you're busy enough trying to scale other aspects of your business, like customer acquisition or product development.
Or maybe you've already invested months into your email newsletters, only to see your hard work go to waste because no one reads beyond the first paragraph. This not only leads to wasted time and resources but can also be quite discouraging.
If you can relate to either of these scenarios, then it's time to stop wasting time and energy on creating original content and switch to what's already working – curating content instead!
Some of the most successful newsletters are those that curate the best content from around the web and package it in a way that's easy for their readers to consume. In fact, 85% of B2B content marketers give credit to content curation for their organizations' success.
If you're ready to stop struggling to create quality content and improve your email marketing strategy, then keep reading. We'll give you all the information you need to know about content curation, including its benefits and how to get started.
What is content curation?
Content curation is the process of sifting through vast amounts of content on the internet and selecting the best pieces to share with your audience. This can be done manually or with the help of artificial intelligence and software.
The key is to find high-quality, relevant, and interesting material, then share it in a way that adds value. For example, you might package different articles around a common theme or add your own commentary to give readers a new perspective.
This is opposed to creating original content from scratch, which can be time-consuming and expensive. But don't worry – just because you're not writing the content yourself doesn't mean you'll be skimping on quality.
Curating content can actually result in a higher-quality newsletter because you can select only the best resources that match your standards. When done correctly, it's a win-win for both you and your readers!
Although you could just focus on cold calling your way through a list of leads since there are a ton of ways to make and receive phone calls via an internet connection, that's not the most efficient way to go about it. Instead, you can use curated content through email marketing to nurture your relationships with potential customers and keep your business top-of-mind.
The two types of content curation
Before diving into the benefits of curating content, let's discuss the two types of curated content.
Strictly curated content
With strictly curated content, also known as "pure curation," the curator doesn't add their voice or opinion. This type of curation is all about sifting through content and finding the best pieces to share with your audience, then presenting them in an easily digestible format.
Hybrid curated content
With hybrid curated content, also known as "curated content with a twist," the curator adds their commentary, analysis, or opinion to the mix. This type of curation is still about finding and sharing the best content, but with the added bonus of the curator's voice.
The hybrid approach is often seen as more valuable to readers because it gives them a new perspective on the material. It can also help you build thought leadership and become an expert in your industry.
However, both options can be highly effective, so it's important to choose the right one for you and your audience.
Benefits of content curation in newsletters
It's easier to be consistent
It's no secret that consistency is key in email marketing. But coming up with new ideas and creating original content regularly can be difficult. You might have a good pace at first, but constantly creating newsletters from scratch can lead to burnout quickly.
With curated content, you'll be able to maintain enough stamina to keep a consistent publishing schedule with ease. This, in turn, will keep your readers engaged and coming back for more – which is the ultimate goal.
Improved quality
As we mentioned, curating content can often result in a higher-quality product because rather than relying on your limited knowledge and experience, you can select only the best resources out there.
Greater exposure
If you're curating content from other sources, you're essentially giving those sources free advertising. And as they say, there's no such thing as bad publicity!
By featuring other brands and businesses in your newsletter, you're increasing the exposure of those companies to your audience. In turn, those companies may be more likely to return the favor and promote your business to their audiences.
Established authority
Content curation can also help establish your newsletter as a source of authority in your industry. This is because you're demonstrating that you have your finger on the pulse of what's going on and that you know where to find the best information.
Over time, this can help position you and your newsletter as a go-to resource for anyone who wants to stay up-to-date on the latest news and trends.
Better deliverability
When you're regularly sending out high-quality content, your subscribers are more likely to stick around. And the longer they stick around, the better your deliverability rates will be.
Deliverability is largely determined by engagement metrics like open and click-through rates. So, if your content is regularly getting opened and clicked on, then you're more likely to end up in the inbox instead of the spam folder.
How to save time when curating content
While it does take some time to sift through everything when curating content, it's only a fraction of the time it would take to create something from scratch.
Plus, you can often repurpose and reuse curated content in different ways. For example, you can share it on social media, use it in future email newsletters, or even repackage it into an ebook or guide. The possibilities are endless!
Here are some additional tips on saving time when curating content:
1) Automate the process: There are several ways you can automate your content curation process. You could use an RSS reader to collect articles from all your favorite websites in one place. This way, you can quickly scan the headlines and decide what's worth reading.
You can even hire writers to do the curation for you. Just send them a list of topics you're interested in, and they'll scour the web for the best content, compile it into an easily digestible format, and add their commentary or analysis if necessary. Hiring a writer can be a great option if you don't have the time or energy to do it yourself. You can expect to pay at least $20 an hour for a quality writer.
2) Set up Google Alerts: This is a great way to get notified whenever new content is published on topics that are relevant to your business or industry.
3) Use content discovery tools: There are several different content discovery tools available that can help you find relevant and interesting content to share with your audience. Scoop.it is one of those tools.
How to get started with curating content for your email marketing newsletter
1) Define your goals: What do you want to achieve with your newsletter? Do you want to build customer relationships, generate leads, or drive sales? Once you know your goals, finding content that aligns with them will be easier.
2) Know your audience: You must have a good understanding of who your target audience is. What are their interests? What kind of content are they looking for? When you know the answers to these questions, it'll be easier to find content that resonates with them.
3) Find sources of high-quality content: Once you know your goals and audience, it's time to start finding high-quality content sources. This includes blogs, websites, podcasts, and social media accounts.
You can even spice things up a bit by finding articles written in different languages, such as Serbian, Mandarin, or even Russian. Curating content in different languages allows you to reach a much wider audience and helps you stand out from the competition.
4) Research other newsletters: Take some time to research other newsletters in your industry and see what kind of content they're sharing and how they're curating it.
Final thoughts
Curated content is not only a great way to save time, but it can also help improve the quality of your email marketing campaigns.
By curating content, you can quickly find high-quality material that's relevant to your audience and goals. Plus, you can reuse and repurpose curated content in different ways to get more mileage out of it.
So what are you waiting for? Start curating content for your next email newsletter today!