Around 91% of users prefer interactive content. And yet, what you feel is an excellent piece of visual, dynamic, and engaging content can be hit or miss with the audience.
With so many brands now tapping into the power of content marketing, now the competition for your audience's attention is at stake. Which begs the question, how do you know what content would grab and keep the attention of many?
The good thing is there's no secret strategy on how to create content your audience will love. It's something you can replicate consistently over time. To help we found a few strategies that can boost engagement and action for your next piece of content.
Let's dive straight into them.
1.
Record Your Evergreen Content
The content you've already published is the first place of insight into what kind of content your audience will love to see from you.
You can grab data from your own social media platform, or take a look at what other brands in your industry are doing, to see what kind of content drives the most engagement.
The first thing you want to do is make note of the content that's drived the best results as well content that drives the worst results.
Before you start making new content take a look at your current content. Once you've recorded these two types of content take a closer look at why they received different results. Ask yourself the following questions:
What media was used (pictures, graphics, or video)

What type of caption or copy was used?

What was the purpose of the content published?

How many followers, likes, saves or comments were acquired?
This activity will help you to create an evergreen content. Evergreen content is content that can be used or enjoyed over a period of time. It's timeless, recycled and updated for your audience to enjoy. This can be a blog post, social media post, graphic or podcast.
For example the article "How to Audit Your Content Curation Strategy" is a checklist strategy most content marketers will need, there's no year or data so this information can be read at any time or year. This can be a form of evergreen content.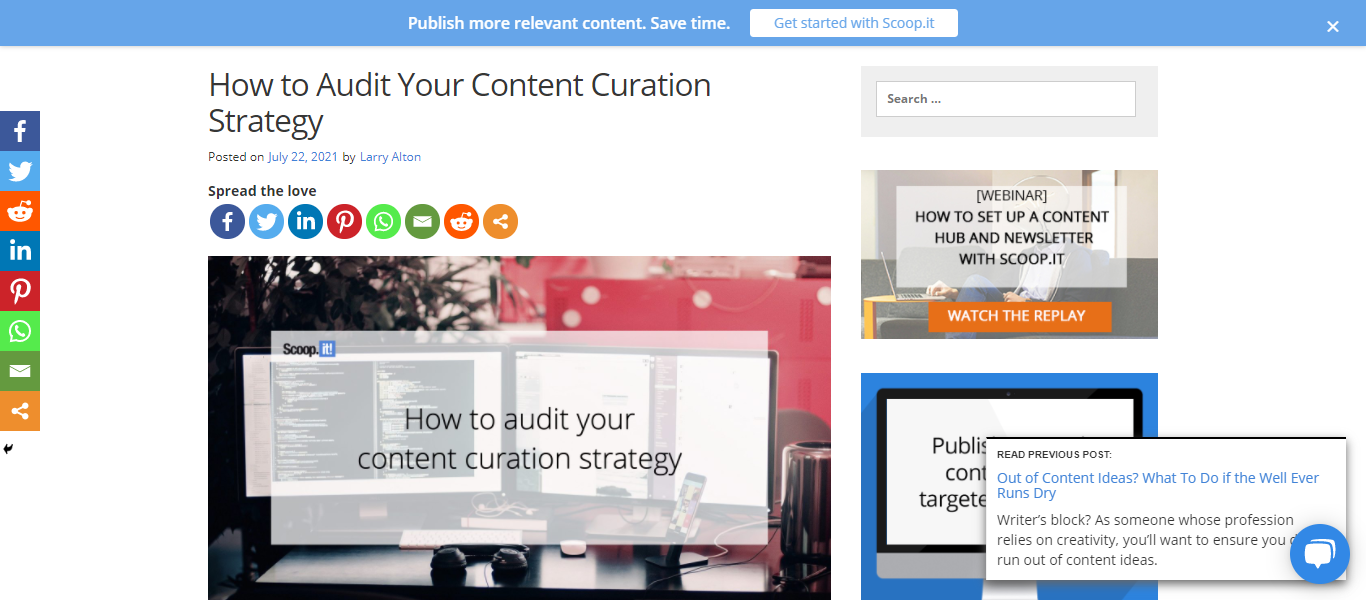 2. Use Social Media & Analytics
If you're actively posting on social media, it's time to dive into your social media analytics. Regardless of your position in marketing, understanding your metrics can not only give you an idea of what type of content your audience has liked so far, but let you know who loves your content the most (demographics) and when is the best time to publish your content (publication time).
Social media analysis tools help conclude the audience's interests based on their behavior while using platforms like Facebook and Instagram.
Most social media apps come with built in metrics that give you can overview of how well your content is going, if you'd like to get a bit more granular you can use social media management or analytics tools like Cyfe, Buffer, Brand24 for a more indepth look at what's going on inside your social content.
Here are some insights you can use to learn more about your social media audience:
Facebook Audience Insights: The Insights tab helps understand what kind of people are interested in your product. It reveals who follows your Page on Facebook and how they engage with your content. Posts with the highest engagement and positive response show what works for your audience.
Source: Louisem.com
Instagram Business Insights: If you manage a business account, Instagram allows you to get some data, such as follower growth, account outreach, and engagement on posts. This information can also nod towards a more favorable type of content.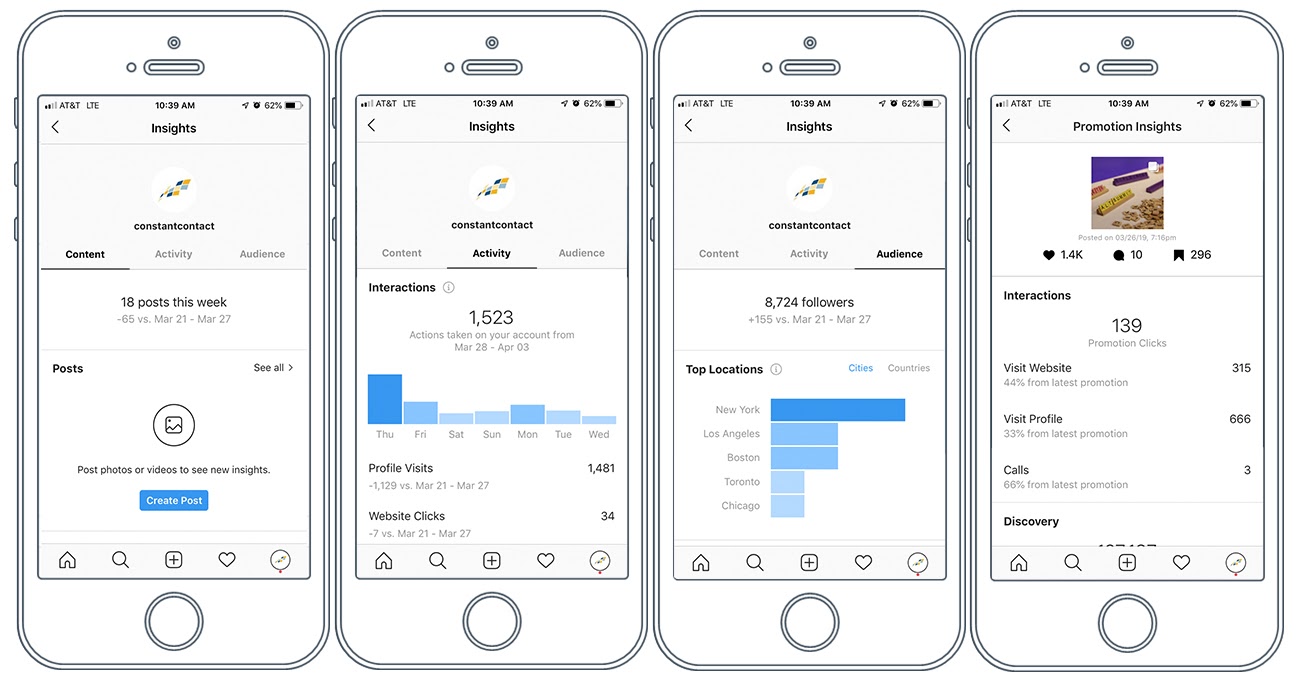 Source: Constantcontact.com
Twitter Follower Dashboard: Twitter Ads account has a feature that shows your audience's interests — what accounts and topics they follow — demographics and behavior.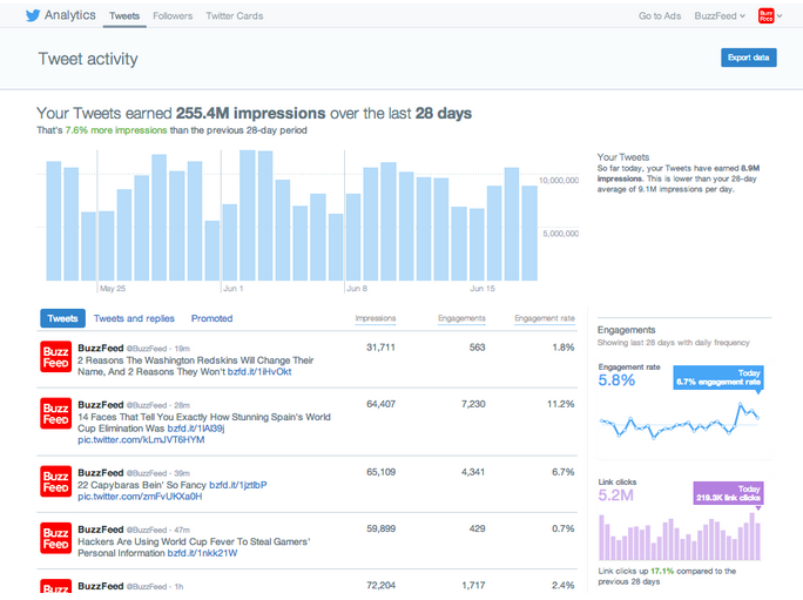 YouTube Studio Dashboard: For video content you can use to publish on YouTube you can get insights on your videos or subscribers. Get aggregate details on when your viewers watch your content the most, average views, shares and UTM clicks.

Source: YouTube.com
And let's not forget about Google Analytics. It's a staple in web analytics and can show how your blog performs. For example, it can offer you many people viewed a particular post and for how long. Or, more importantly, how many people went on browsing your website – look into pieces of content that get readers interested in your product.
Aside from the behavioral data, Google Analytics can also show your audience's:
Demographics (age, gender, language, location)

Categories of interest

Devices and systems they use
3.
Ask Your Audience Directly
One of the most underrated content marketing tactics is getting feedback from the people you're creating content for, after all who knows what they love best than your audience?
Before you charge in head first, consider that if you're going to ask your audience for their feedback or ideas it's going to feel like work or an extra step for them. Which means you're going to have to make it your "ask" or "survey" as entertaining enough for them to be interested in participating.
Get Feedback from Your Email Subscribers
Even if your mailing list is relatively small, this is an excellent opportunity to learn more from the people who read your emails. Unlike social media, email is a personal or 1-1 channel that allows you to speak directly with your subscribers without the usual distractions on social media.
If you're going to send a survey via email or request feedback you'll have to make it short, precise and easy to access. According to SurveyMonkey, the longer the survey, the less time respondents take answering each question, which can make answers less accurate.
When compiling a survey, make sure it's not too personal or extended. If it takes less than ten minutes to answer your questions, you'll get a higher response rate.
Since you're asking your subscribers to help you out they're naturally going to ask what's in it for them. So provide an incentive like a discount, gift card or deal for users who complete the survey. to drive more participation.
If you're not in a position to give an incentive allow customers to contribute new product ideas or get first access to new releases.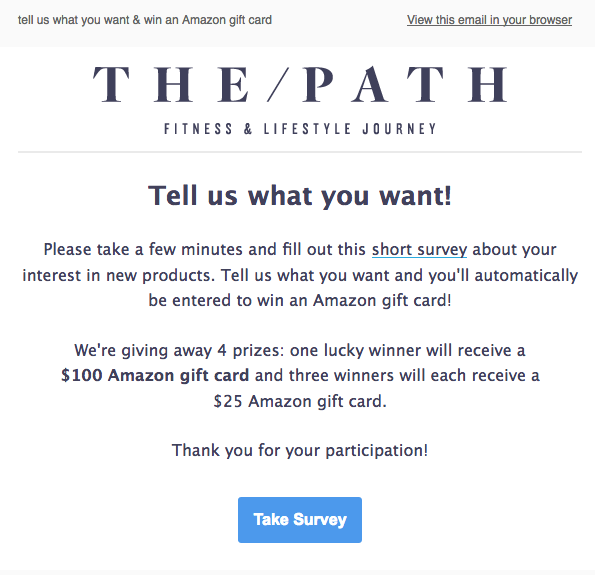 Source: Aweber.com
Use Social Media Listening
Social media listening is the process of tracking your social media platforms for mentions and conversations related to your brand. Then you engage or analyze them for insights to discover opportunities to act.
Reading social media comments is a good way to start social media listening. It should be a regular activity along with replying to comments anyway. The comment section can tell a lot about your posts on the site, blog or social media. It can show what content people like, dislike, what provokes thought or happy emotions.
You should also check your branded hashtags and don't avoid negative comments, in fact 44% more people think that a brand's conversations (including direct messaging or in response to a comment posted) are more persuasive than what a brand's advertising ads.
Communicate with Followers
All the surveys and questions might feel impersonal when readers and clients don't feel the connection. A way to remedy that is by starting conversations with commenters. You can repurpose your survey questions as engagement posts to share with your followers.
This can build and deepen their connection to your brand enough for subscribers to open up about their interests. Over time you'll be able to deliver relevant content with consistency.
Be sure to add CTAs that can also lead to feedback about your content. A simple question under a post or a Yes/No card in Instagram Stories can go a long way.
You might need an employee who will dedicate their work to developing a communication strategy and engaging in conversations with followers. The need will depend on:
the size of your audience

how many people of it you want to reach

your budget
4.
Improve on Your Audience Personas
Everything in business evolves, as your brand changes or improves over time so does your audience persona. If you don't have a brand persona or you haven't updated it in a while this can affect how well your content will do with your audience.
An audience persona helps you create content to better target your ideal customer. Start by looking at your analytics to get a better understanding of who is viewing your content on a regular basis. Write down the following to paint a more detailed picture:
Age

Location

Salary

Favorite Platforms

Interest

Pain Points
Once you get feedback from analytical tools, surveys, comments, you can improve existing personas and make your content marketing more targeted.
5.
Check How Your Competitors and Peers Create Content
Competitor research can stretch to content. You can find out what content worked for other brands and test it on your subscribers. Better yet, check other industries that your audience might be interested in and see what types of content work best.
Here's how you can find the info.
Follow other brand social media accounts
But not just any accounts on any social media. If your brand is only active on Instagram, following competitors on Twitter won't be helpful – both platforms require different approaches to content.
Following other social media accounts will tell you how competitors and peers fare with their content strategies. That is, how much the audience likes and engages with it.
Monitor the web for topical events
The internet is now a host of workshops and conferences, and you can find ones related to content marketing. These events are suitable for discovering cases from other brands. Learn about their approaches and enrich your content plan with new ideas.
6.
Use Specialist Tools
The tools we mentioned at the beginning can only go as far as to show traffic to certain posts, engagements, content marketing ideas and a couple of other figures. But there are content marketing tools that can give you more information about what's on-trend.
Here are a few examples:
7.
Experiment with Different Types of Content
Even with all the tools, you won't know what content the audience enjoys from you until you give it to them. This is why some tests are in order.
First, see what you already have
Before experimenting or adding new content types, analyze what you already have and how it's performing.
Your best-performing content gives an idea of what types work and can be replicated in your content plan. The worst-performing pieces can be improved and only in rare cases deleted.
Set benchmarks
After analyzing your current content, set benchmarks for your future goals. These are metrics that you want to reach with new content efforts, such as the follower or subscriber count, engagement rate, traffic to your website, blog and social post shares, and comments.
The benchmarks can be set and further monitored with the tools mentioned at the beginning of the article.
Monitor results
This part is crucial. You need to measure how different types of content perform. For example, if comparison infographics are doing well, keep posting them regularly.
However, don't double down on any content as the audience might get tired of the repetition.
8.
Repurpose Old Content
You probably have a lot of high-performing content. Then, you can reuse it for other platforms. For example, you can break up an advice blog post into separate tips that you can post on Facebook, Instagram, and even Twitter.
Alternatively, you can take posts from social media that got a lot of comments as blog content ideas. Add them as topics into your content plan and do SEO research. You might be on to a winner.
If you ever made videos or taken pictures for social media, they can also be used on the blog and vice versa.
Pretty up your worst-performing content
Now, what do you do with content that didn't fare well? It needs further analysis.
For one, it might have been low quality – broken links, outdated facts, poor structure. In this case, rewriting the content might solve the issue.
On the other hand, a blog might read well and have good style, but it just doesn't see traffic. This means that you need to reassess its SEO and edit in more appropriate keywords.
Conclusion
There are numerous strategies and tools to find what content your audience likes best and keep them engaged.
You can use analytical tools, social listening platforms, or ask your followers directly. Here's a quick recap of the eight ways you can create content that your audience will love:
Record Your Evergreen Content

Use Social Media & Analytics

Ask Your Audience Directly

Improve on Your Audience Personas

Check How Your Competitors and Peers Create Content

Use Specialist Tools

Experiment with Different Types of Content

Repurpose Old Content
Keep in mind that trends, content and interest change over time so it's important to keep up to date with tools, methods and ways to grab your audience's attention and drive more engagement to your content or brand.