In a marketplace that's become increasingly digital in the wake of COVID-19, it's more important than ever that businesses look to optimize their content for audiences on social media.
Social distancing measures and the rise of working from home has led to a 72% rise in the consumption of social media. However, while some businesses have seamlessly adapted to their larger online audience, others have struggled to engage with users in a competitive social landscape.
Let's explore how businesses can effectively curate content in order to appeal to this widespread social audience and achieve greater levels of traffic back to their websites as a result:
1. Understand Your Audience
There's little point in curating your content if it's not going to strike a chord with your target audience. Establish the demographics of your audience by engaging with them in your comments sections and forums.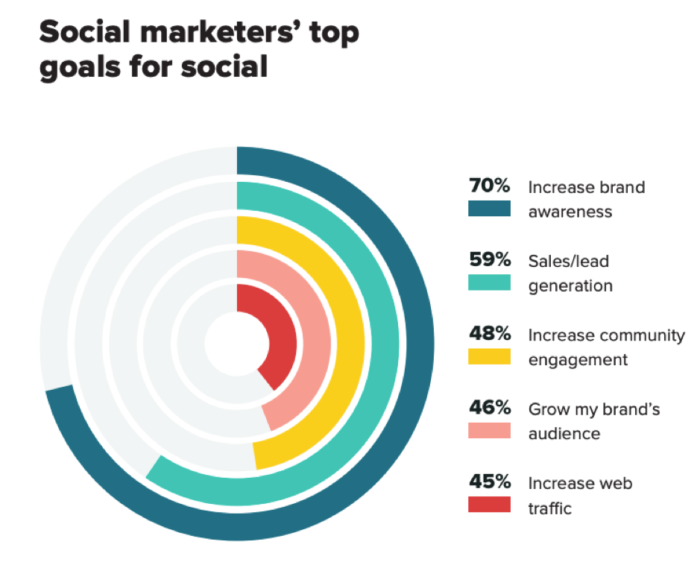 (Image: Smart Insights)
While 59% of businesses aim to use social media for lead generation purposes, 70% leverage content for the purpose of raising brand awareness. This means looking to your audience as genuine individuals rather than an opportunity to make a conversion.
One of the best ways to better define your audience on social media is to conduct some social listening. In a nutshell, social listening refers to when you track your social media platforms for mentions and conversations related to your brand before subsequently analyzing your insights to find fresh opportunities to act.
This is largely a two-step process. The first step is to monitor your social media channels for relevant mentions of your brand, competitors, products, and keywords associated with your business.
The second step is to compile the information you gather and analyze it to discover how to act next. These insights can help you figure out how best to respond to customer queries or shift your entire brand positioning.
2. Categorize Your Curated Content by Topic
Planning is a significant time-saver and categorizing your content will help you to cover a range of topics over time without audiences feeling a sense of deja-vu when similar content appears in a short time period.
90% of social media users attempt to reach out to brands or retailers on various platforms. With this willingness to engage, it's vital that your content is planned out and resonates with them over time.
You need to engage with your audience and work to keep them coming back for more content on social media. One of the most effective ways of leveraging social media engagement is by utilizing a social media content calendar.
With the help of a social media calendar, marketers can plan out posts for weeks or months in advance, helping to free up more working hours or to strategize for future campaigns. Without this level of prior planning, you run the risk of wasting valuable time on a daily basis searching the internet for content to share to stay relevant.
3. Adapt Your CTA
Embedding a call-to-action in your curated content on social media is an excellent way of addressing how your business can solve a problem presented within the text or image.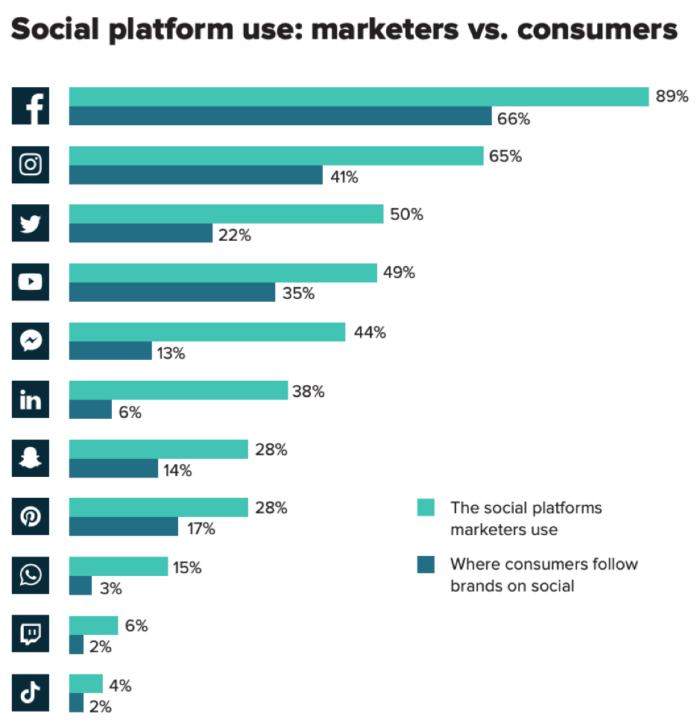 (Image: Smart Insights)
It's especially advantageous to adapt CTAs to your content on social platforms that experience higher volumes of users following brands. For instance, while 89% of marketers have a presence on Facebook, 66% of consumers follow brands on the platform. Whereas, on LinkedIn, just 6% of users follow brands despite 38% of marketers using the platform to generate leads.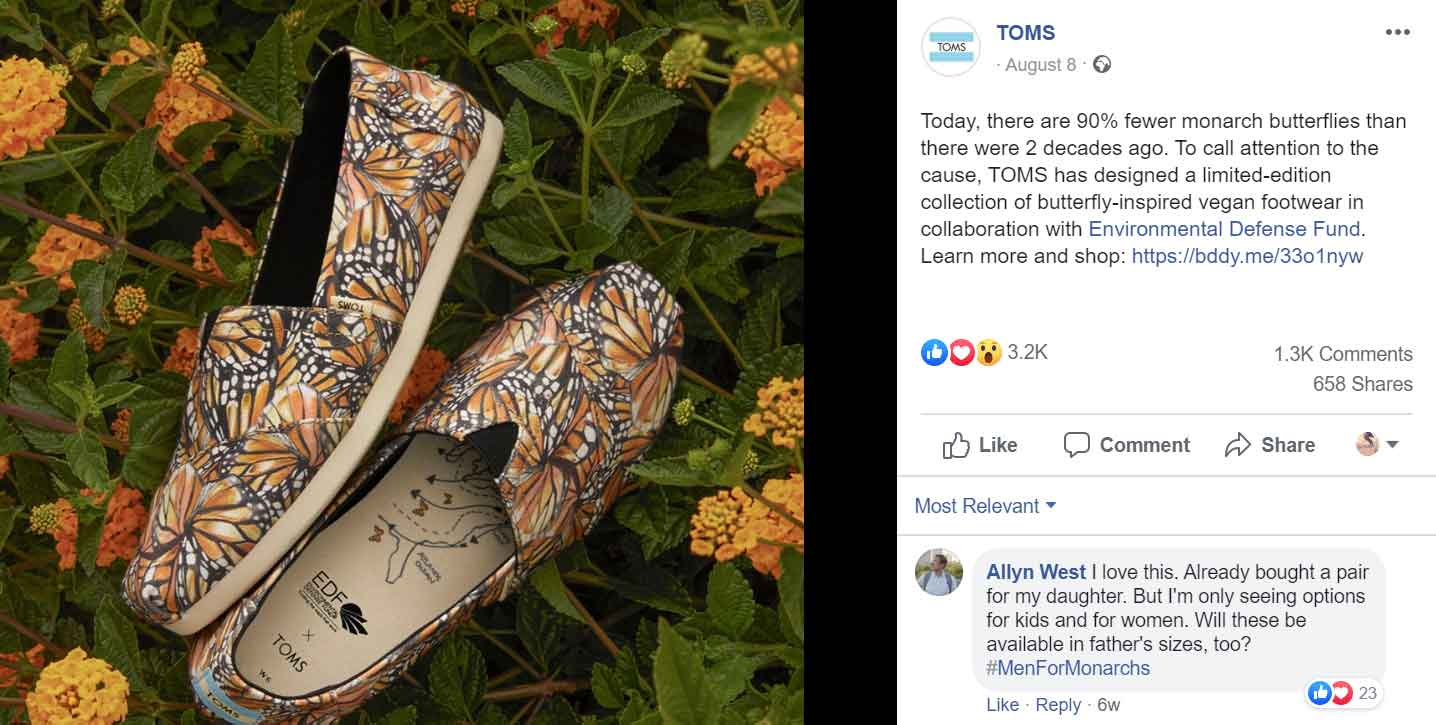 (Image: SocialPilot)
Social media gives businesses the freedom to create CTAs that can appeal to customers on more inspiring levels. In the example above, footwear manufacturers, TOMS has engaged with its audience by appealing to their emotions regarding climate change. With this in mind, it may be worth looking into curating more content surrounding the theme of sustainability – especially considering how the pandemic has inspired more customers to become more environmentally conscious.
4. Always Keep Track of Your Sources
Trustworthiness is vital for businesses in a post-COVID landscape where more consumers are open to exploring new companies to shop with.
(Image: Qualtrics)
In the chart above, we can see that 65% of consumers have stated that a brand's actions can significantly or majorly impact their levels of trust in a time of crisis. This means that things like stolen content and shared posts without sufficient credit could actually be damaging rather than valuable to consumers.
When curating content, always remember to cite the source of the images or text you use. On social media, it's possible to do this by directly commenting under your original post to ensure that credit has been applied where applicable without becoming too much of a distraction from the actual content itself. However, it can also add value to your posts to bring in an extra voice and citing early on – especially if the content directly references your products or brand.
5. Don't Shy Away From User-Created Content
On the topic of trust, there are few better ways of engaging audiences than through utilizing the content that they create. You could use their comments or images to share on social platforms or even invite them to enter their own content as part of a competition. In curating user-created content, you can divert your social media brand advocacy to the thoughts of satisfied customers – generating a greater degree of trust.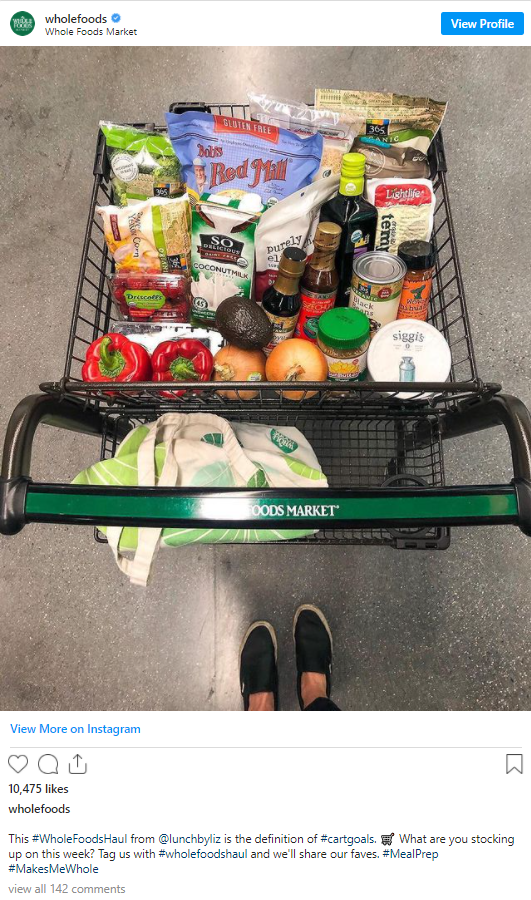 (Image: Hootsuite)
One excellent example of user-generated content comes from Whole Foods, which invited users to share the contents of their shopping carts under the hashtag #cartgoals.
The campaign successfully made the everyday act of shopping into a social activity that spawned pictorial responses from the company's active consumer base – leading to better levels of engagement.
By encouraging your customers to share content of themselves enjoying your products or services, it provides a golden opportunity for curating a wide range of valuable content that stems from a different voice to that of your brand.
Curating user-generated content is a valuable chance for your business to showcase a social proof of your product with a fresh and impartial advocate showing their satisfaction through the medium of images or video content.
6. Tap Into Analytics to Review Your Progress
Significantly, web analytics can help businesses to see how their social media content is performing on various networks. By creating CTAs that lead to different on-site landing pages, you can not only track your impressions and clicks but also how visitors from different platforms interact with your website.
Google Analytics is a great resource for getting to grips with how your social media audience is interacting with your curated content, while Finteza's audiences can help you better understand the digital demographics of social media visitors – such as the devices that they're navigating on and the browser that they use.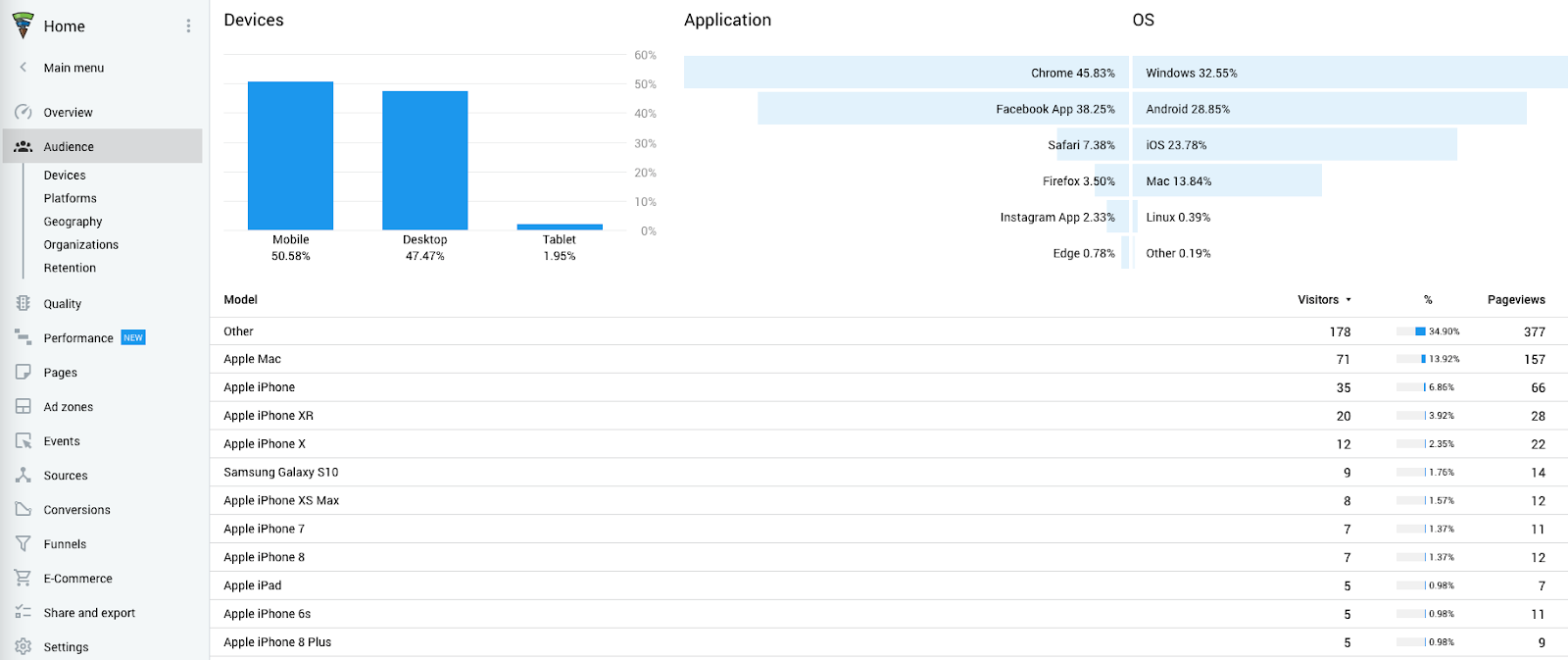 Curating content on social media offers marketers an excellent chance to understand what their audiences like and what they don't like. By setting up different CTAs alongside your content and by linking back to different pages of your website, you can use analytics engines to gain insights into the quality and quantity of click-throughs that you receive.
The quality of your campaigns can be effectively monitored through the traffic you receive and the subsequent conversions that your visitors make after landing on your site. Through analytics platforms, you can use trial and error to see which areas of your content calendar are working well at generating exposure and which areas aren't drawing much attention. This, in turn, enables you to optimize your content curation strategy accordingly and resonate stronger with your customers.