With over four billion daily searches, Google continues to dominate the search engine market in 2021. More than that, its first SERP page is enough for 90% of users to find the desired results.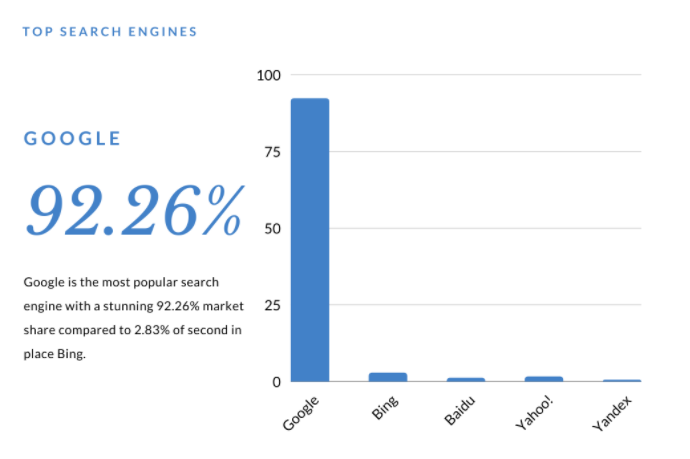 What does it mean for content marketers and SEO specialists?
If you want potential leads to come across your website, do your best to rank high enough for them to see it.
Searching habits change, and Google changes the criteria of what your content should look like to drive more organic website traffic and rank higher. Even the slightest modifications to content can influence your SEO and overall marketing efforts. All you need to do is play by Google's rules and ensure that you make full use of your marketing content in 2021.
In this article, you'll find actionable tips on how to optimize content for maximum traffic and higher ranks in search engines.
What Google Wants from Your Content in 2021
To rank high and bring traffic in 2021, your content needs to meet user search intent. While it's not a new concept, it enjoys a new lease on life after 2020, when searcher behavior changed so rapidly.
As you know, search intent is the reason behind a user's search. Three main types of search intent are:
informational (when a user looks for answers to how, what, or when queries);

navigational (when a user looks for a specific URL or brand);

transactional (when a user looks to purchase, download something, start a trial, etc.)
Your task is to define the search intent and optimize your content with related keywords accordingly.
Another crucial detail to consider:
Draw on Google's E-A-T (Expertise, Authoritativeness, and Trust) guidelines when publishing your content. Google mentions E-A-T in its Quality Raters Guidelines; and while it's not a technical ranking factor itself, appealing to E-A-T in content can help you optimize it much better to outrank competitors.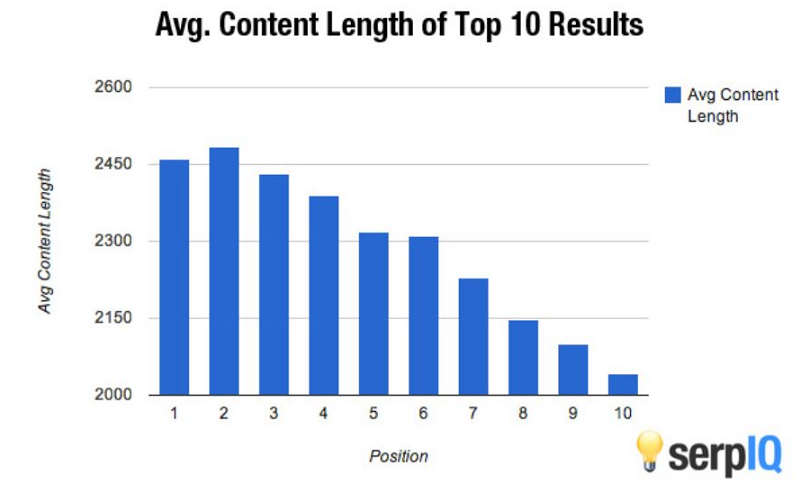 Do your best to create longer-form content in 2021. First, it allows you to meet the above-mentioned E-A-T guidelines easier. And second, it's your chance to outperform websites publishing shorter and vague articles on their blog.
As Ron Lieback, CEO at ContentMender mentioned lately, "Throughout 2020, blogs over 2,000 words dramatically outperform blogs of 1,000 words or less. Expect this long-form content trend to continue in 2021."
Plus, longer content will earn more quality backlinks for your website, influencing its ratings and overall traffic too: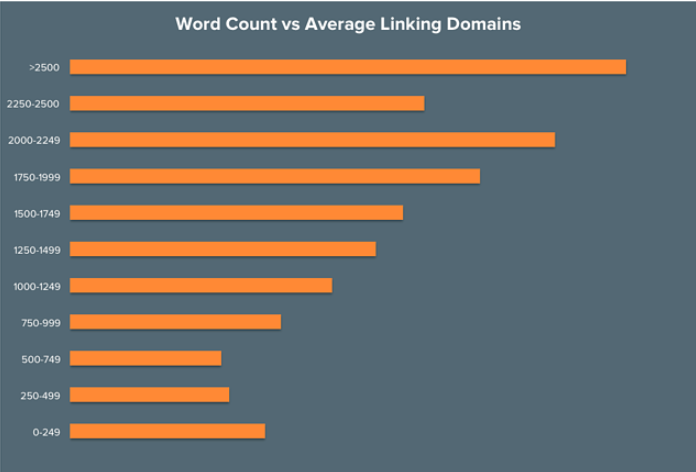 Content Formats That Are Working Now
Sure thing, there's no single type of content that would appeal to every user. That's the reason marketers vary the content formats and submit them to resources with corresponding user preferences.
And yet, some formats are more popular and traffic-potential than others. In 2021, they are as follows:
White papers.

 It's your chance to engage the audience with useful information and show that you're not just about selling but authority and trust too. White papers are about in-depth and research-based content, so corresponding writing apps

 can help you organize it the best way possible.

Checklists.

One of the easiest content formats to create, checklists are extremely popular among the audience because of their usability.

Videos.

72%

 of people prefer video over text, and it makes landing pages 86% more convertible. If you don't have video content in your marketing strategy yet, it's high time to start.

Webinars.

They help you show off expertise and demonstrate products or services at work. After the pandemic of 2020, when all the communication went online, webinars have become a must-have of most marketing strategies

.

Email newsletters.

Not only does it help you highlight other content formats, but it can also be an independent source of traffic and conversion. Given the email's huge ROI of 40%

, you can't ignore this content format in 2021.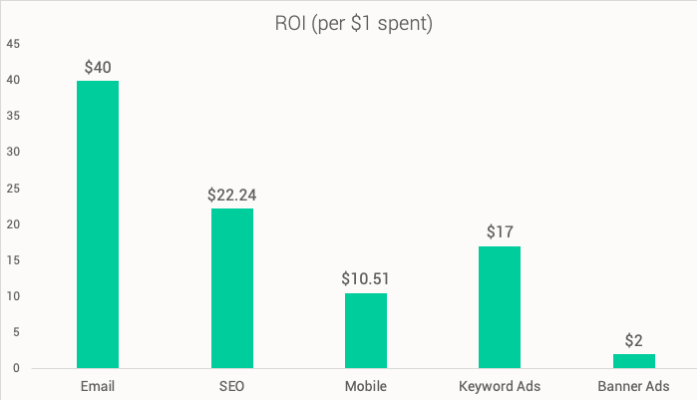 "Be the Source" blog posts and content hubs.

These are in-depth, research-backed content pieces that bring new, useful information to readers. According to statistics, such posts bring more traffic and get more backlinks and shares. A great reason to start a blog in 2021, don't you agree? Just focus on validity and visualize your data for better perception.

(You've probably noticed that all the images of this article are data visualization, haven't you?)

Case studies.

One of the most effective content formats, case studies allow highlighting your competitive advantage. They are your instrument to build authority and trust, as well as publish niche-specific content that will bring value to your target audience.
Content Optimization Strategies:
And now, for the most interesting part: Your steps to content optimization for maximum traffic.
1) Optimize for Video- and Email Marketing
When creating video content, make sure its intro is engaging: You have only 15 seconds to make viewers decide whether they want to continue watching.
When on Youtube, remember about proper optimization:
Add keywords to titles and descriptions.

Think of eye-pleasing YouTube banners

 and engaging thumbnails.

Add closed captions, subtitles, and tags.
Promote your content with email newsletters. Optimize their content so that subscribers won't have any chance to miss it. Backlinko's Brian Dean suggests sending them exclusive content, using a blog post newsletter formula: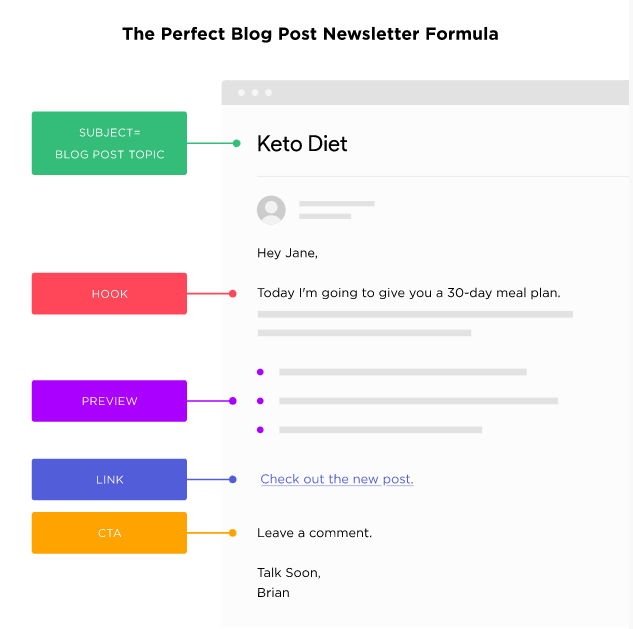 2) Optimize for Mobile and Voice Search
More than half of Internet traffic comes from mobile devices today, making a mobile-friendly website a must for those willing to succeed. We know that Google rewards mobile-optimized platforms with higher visibility and traffic, so do your best to produce mobile-optimized content this year:
Stay concise, write in short sentences and paragraphs, and avoid overly complicated lexical items. It will serve for more comfortable content consumption from small mobile screens.

Use mobile-optimized keywords.

Place the more engaging information to the page-top so that it would load first.
And now, for voice search. Two words:
It grows.
More than 40% of users perform at least one voice search every day, so why not optimize your content accordingly? Therefore, you'll help them find your website and attract more traffic to it.
Include relevant questions to your content and answer them as clearly as possible. Organize content into sections with a title for each to help Google understand what's in there.
3) Optimize for Snippets
We know snippets as Position Zero in Google. They can take the form of a paragraph, list, video, or table, and they steal tons of clicks from the first position in SERPs.
Featured snippets look like this:
By optimizing your content accordingly, you can increase your chances of getting there. For that:
Make it well-structured: use headings, subheads, step-by-step instructions, concise descriptions, etc.

Optimize for a keyword you already rank in the top 10 but not a snippet.

Design a content block on your page, looking like a snippet: add a list, draw a table, or write a definition.
4) Optimize for Common Questions
Google's algorithms become smarter with every passing year. Not only do they understand questions and feature them in SERPs, but they also consider related concepts to answer too, therefore satisfying a user's intent.
In plain English, Google implements semantic factors to search.
Optimizing your content for common questions, you'll improve its organic search visibility and rankings, influence its chances of getting to featured snippets, and engage more users.
Consider "People also ask," "People also search for," "Searches related to," and other tactics to find relevant questions to include in your content.
5) Remember On-Page SEO Tricks
Revise your every content piece before publishing and make sure it's as SEO-optimized as possible. Keywords, meta tags, inbound and outbound links' quality — you can control all this for better visibility and traffic.
Please pay attention to a page's URL: Make it short and use a keyword in it. (Short URLs get more clicks, and that's why they rank better.)

Use a kind of the 80/20 rule for keywords in your content: Target 80% evergreen keywords (those adding value and solving users' problems) and 20% trending keywords. Also, remember to mention related keywords in your content too.

Optimize meta tags: Keep a title short (40-50 characters) and a description — shorter than 150-160 (remember about optimization for mobile). Use your target keyword in at least one subheading of your content. And don't ignore alt-tags!

Always add internal links to your content. They signal to Google about the relevance of other pages on your website.

A couple of outbound links to authority websites are worth adding too.
6) Use Content Design Tactics
The way you format content pieces can drastically influence the dwell time and bounce rate of your page. (Both are critical to convincing Google that your information is worth higher rankings.)
These content design tactics from experienced SEO copywriters can help:
Master the art of writing opening paragraphs: use hooks, bucket brigades

, and APP (agree, promise, preview) or PPB (preview, proof, bridge) introduction formulas from Brian Dean.

Remember content usability: write in short sentences and paragraphs, add a call to action in conclusion, and avoid usability blunders

 such as hard-to-see subheads, wrong color-contrast ratio, etc.

Use high-quality visual content: brand images, original graphs, interactive infographics.

Consider emotional writing tactics and neuro-copywriting tricks

 when applicable: They engage and appeal to users' needs, therefore influencing your content virality.
7) Repurpose and Update Content Regularly
Content standards and formats change so often that we have no time to craft all of them from scratch. However, two tactics can help to get a new boost of traffic and scale up your marketing endeavors:
Repurpose your content: Match it to different formats or reuse its specific sections for other platforms. You can also try organizing content in topic clusters

 for more traffic.

Update your old content pieces regularly: Google ranks new content higher; plus, users will hardly click a five-year-old article, considering its information outdated. Focus on those still relevant for your content strategy.
Takeaways
In 2021, content quality matters more than ever:
Searching habits and content standards change, Google's algorithms become even smarter, and all this makes marketers wrestle with a question, "How to please both a user and a search engine? How to get both higher ranks in Google and more clicks from users?"
Proper content optimization is what can help. Even the slightest modifications can influence your marketing efforts. So, be familiar with the most recent searching habits and content optimization trends, and play by Google's rules to win SERPs.