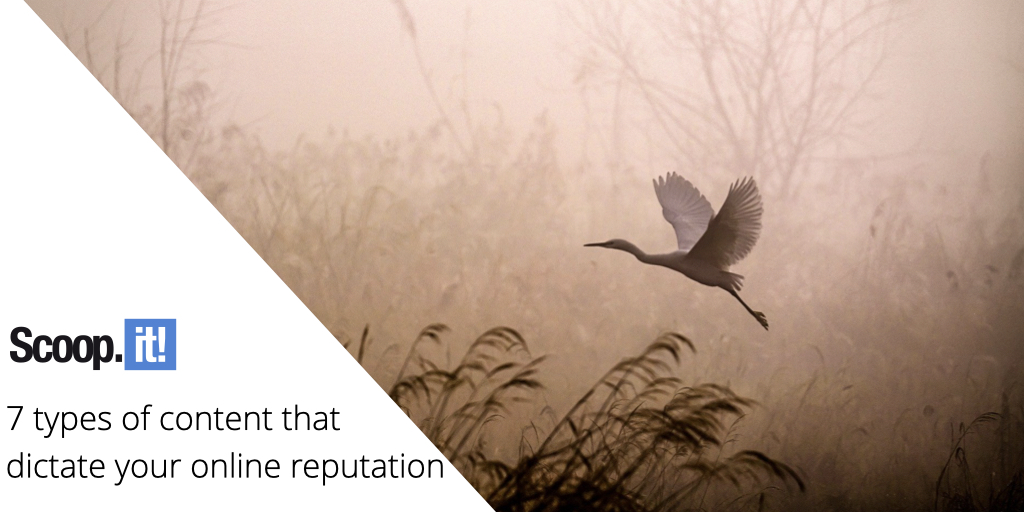 Your online reputation is indispensable. You might be a startup attempting to grow to massive heights. You might be an organization looking to reach more people. Or you might just be a professional hoping to increase your job prospects and network with more prospective employers. No matter what, your reputation will play a massive role in whether you can achieve your goals.
Are you trustworthy? Are you an expert? Do you make accurate predictions? Do you make good on your promises?
These are the questions your reputation will answer—for better or for worse.
The best way to get control of your reputation is with the help of content. But which types of content are most effective and how can you utilize them to see their fullest potential?
7 Types of Content to Consider
These are some of the most important types of content to consider for your reputation:
Owned onsite content. One of the most controllable types of content for your reputation will be your owned onsite content—in other words, the content you post on your blog. You need to have a website to serve as the anchor point for your online reputation management strategy. There, you can write, publicize, and develop the content that you want to be associated with your name. People will visit your site, read this content, and develop an impression of you, so it's important to ensure it suggests the right image. Good onsite content is thorough, well researched, articulate, and derived from expertise; this is your chance to show off that you're a trustworthy source with a lot of experience. 
Social media content. There's also the content you create exclusively for your social media platforms. You may choose to share your onsite blog posts on social media, but this point refers to something different. This is the content you'll write and share on social media by itself; it includes things like status updates, personal commentary, and interactions with other people. You'll want to post regularly to remain active and visible, but make sure you put thought into each of your posts. 
Shared and curated content. Your social media platforms are also useful tools for sharing and curating content from other creators. This is what makes you part of a broader content network, and it relieves you of the burden of trying to come up with new content all on your own. Spend some time building a newsfeed of sources you trust, then review that feed regularly for sharing opportunities. You'll build your network, entertain your followers, and reinforce your reputation further. 
Collaborative content. As you network with more people, you'll have more opportunities to collaborate together on content. Collaboration can take many forms. For example, you can share research and work together writing a piece that explores that research. You could interview each other for your respective podcasts. You could even trade tools or resources to help support each other's content. This shows your openness to collaborate, introduces you to an entirely new audience, and helps you produce better-quality content overall, all of which help your reputation. 
Paid promotional content. Don't discount the power of paid promotional content. Many reputation-conscious marketers in the modern world attempt to do everything organically, focusing on search engine optimization (SEO) and other inbound tactics. But it also makes sense to occasionally pay for your articles to be featured on external publishers or utilize pay per click (PPC) ads to support your content further. It's an upfront investment that can pay off massively with increased traffic. 
User-submitted content. You can also take advantage of user-submitted content—one way or another. With the right platform, you can encourage and support users to create content on your behalf, such as creating and facilitating an online forum for your users. You could also take advantage of things like online reviews. For example, collecting more positive reviews can obviously boost your reputation. You can also improve your reputation by responding maturely and resolutely to bad reviews. 
Earned content. Don't forget about the content you earn through your practices. Getting involved in major industry events, releasing new innovations, volunteering, and doing other good things for your community can all earn you media attention—which can be exceptionally powerful. If you're struggling to cultivate content here, consider writing and syndicating press releases whenever your company does something newsworthy. (This is less accessible if you're supporting your personal brand for career building purposes).
Creating a Reputation Management Strategy
Unifying these forms of content into a cohesive, overarching strategy takes a lot of work:
Start with the highest level. Before you start writing a single piece of content, take a step back and start planning your reputation management strategy from the highest level. What are your main goals? What are your key strengths and weaknesses? Who are your main competitors and how could they threaten you?
Choose ground-level tactics carefully. Next, think carefully about the types of content you plan to integrate into your strategy and the other ground-level tactics that will constitute your approach. Some will help you enhance your strengths further, while others may result in wasted effort.
Measure and analyze your results. One of the most important points here is to consistently measure and analyze your results. You should be experimenting with different tactics and learning which approaches work and which ones fall short. It should be clear when your strategy is succeeding and when it needs additional refining.
Remain patient. Building a reputation is something that takes time, and it's not something that's entirely within your control. Creating content won't make you seen as an expert by itself, and it certainly won't happen overnight. But gradually investing in more content and allowing your reputation to flourish will eventually pay off.
With better content, you'll naturally develop a better reputation. And with a better reputation, you should have a much easier time achieving your goals—whether you're trying to land more sales, meet with more employers, or just trying to reach more people.