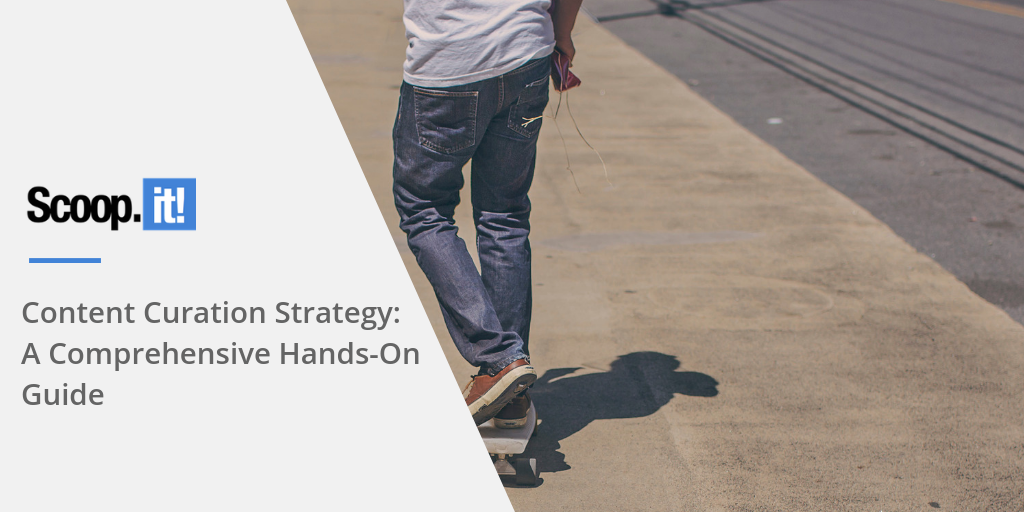 When businesses decide to give content curation a shot, they usually take one of the two paths: they jump in head-first with no strategy at all, or they overthink they strategy and rarely do anything.
You can see the first scenario quite often, and it's no surprise.
Content curation feels like a simple thing to do—you find the content you like, you share it along with your thoughts on it, and you move on. Your content calendar is full and your boss is happy. But this approach means you're investing your time into something you can't quite measure the results of.
On top of that, content curation is so much more than sharing other people's content on social media. It's about enriching others' valuable insights through a channel that your audience loves, including blog posts, email newsletters, or even entire hubs dedicated to the topic.
In other words, don't let the simplicity of content curation stop you from approaching it in a strategic, planned out manner.
After all, as with most things in marketing, following a thought-out strategy is what will set you apart and give you competitive advantage.
Why strategic content curation matters
In this guide, I hope for you to walk away with steps you can work on immediately or take to your team. This is why I don't want to waste your valuable time on the theory behind content curation, which we covered in many other blog posts.
If that's what you need before focusing on creating a content curation strategy, check these ones out first:
Before we get to the strategy steps, however, these are the key reasons why a strategic approach to content curation is crucial.
A strategy will justify your resources and time invested. If your boss is happy now because your content calendar is full, but you can't be sure what worked and what didn't, he won't be as happy when the quarter (or the year) ends. A solid strategy will help you secure budget for tools and tactics that work, and get rid of those that haven't brought you any success.
Strategic content curation makes it easy to share your process and onboard others. If you have a content curation process in place, but struggle to get your team members or new hires to help you, documenting your strategy will solve this challenge. From goals behind your process through to all the tasks involved, involving others in your content curation will become a breeze.
Step 1: Set your content curation goals
Setting goals for anything you do in your marketing means you can get clear on what success looks like and the best ways to measure it.
In fact, the main benefit of documenting a content marketing strategy is aligning the team around common mission and goals—and content curation should be no different.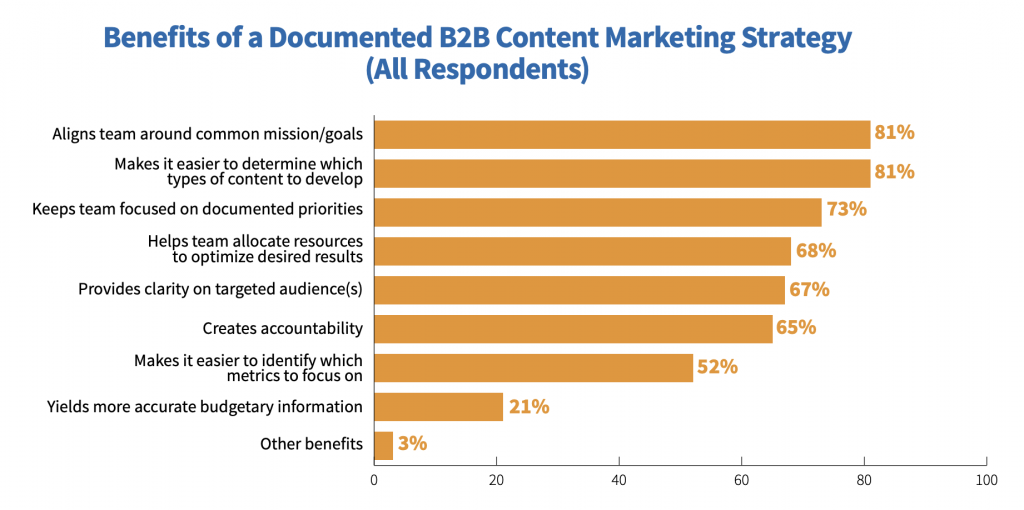 You can look at goals for your content curation in two ways:
Specific goals for curated content only

The impact of content curation on larger goals (such as brand awareness, sales, and other big-picture business goals)
Let's unpack both of these so you can start setting your goals.
Goals for curated content
These goals are what you want your curated content to accomplish on its own. Depending on the content curation formats you've selected, you can start out with some of these goals:
Social content curation

: increase social media reach by X%, attract Y more replies, grow following by Z

Curated blog posts

: drive X pageviews, reach session length of Y minutes

Curated content hubs

: increase traffic on specific blog category by X%

Curated email newsletters

: increase click-through rate by X%
The impact of curated content on larger goals
The role curated content can play in the big picture is exactly why it works.
Don't place your curated content in a vacuum. Instead, make sure to look at the difference it can make in your overall business goals.
Here are some examples for goals you can set in order to get your curated content to work harder:
Increased leads or sales of a specific product

Creating co-marketing partnerships

Building influencer relationships and partnerships

Breaking into new markets or geographies

Increased opportunities that come from brand awareness (e.g. speaking and interviews)
For both of these goal categories, make sure you get as specific as possible. Write down all your goals and remember to track your activities and results to be able to reflect on the success of your curated content on a regular basis.
Step 2: Define your audience
Another trait of a quality curation strategy is knowing exactly who you're curating your content for.
It sounds simple, but if you don't think through this step, it's too easy to make the mistake of curating anything that feels even remotely relevant without giving it a second thought.
Do that enough times, and you'll end up blending into the noise your audience is already seeing every day. You will struggle to stand out.
Here's one of the huge advantages of content curation that isn't obvious: it allows you to create content about all the relevant topics your audience cares about, not just those that closely match your products and services.
Want examples? You got it:
B2C example: A company sells home workout equipment and their original content focuses on making the most out of home workouts, but by curating content, they also cover highly relevant topics such as nutrition, supplements, and even organizing your space for working out at home

B2B example: A company sells workout machines to gyms and their original content focuses on detailed guides on selecting and maintaining gym equipment, but they can use curated content to cover topics such as psychology behind successful personal training, techniques to motivate gym-goers, and more
In other words, use this step to define your audience into finer details so that you can curate content that will complement your original content and become a central place for your audience to get informed.
Here are some of the questions that will help you with this:
What are the key pain points your products and services solve?

What related challenges does your ideal customer go through along with the main one?

What is the emotional result of solving them? (e.g. relief, confidence, inspiration)

Which popular publications does your audience frequently consume?
Step 3: Identify the real value you can provide
Not sharing for the sake of sharing (frequency + context)
One of the popular benefits of content curation is that it keeps your content calendar full, and this is where it's easy to fail.
Content curation really does help with that—and there's nothing wrong with that!
However, just like we mentioned in the previous step, avoiding curating content simply for the sake of sharing anything. Your readers and customers will see right through that.
Instead, as you set your goals and become more clear on what each piece of curated content can do for your goals, take the time to identify the value it will provide for your audience. This is about them, not about you.
To build this step into your content curation strategy, always place yourself in your audience's shoes and ask yourself: What's in it for me?
The more you do this, the higher the quality of your curated content becomes because everything you curate will serve a purpose.
The What's in it for me? (WIIFM for short) approach isn't complicated—aim to answer with a single sentence to make sure the benefit of each piece of your curated content is clear.
Step 4: Set and categorize your schedule
In this step, your content curation process is starting to take shape in the form of categories and publishing frequency.
To define your categories, work from the audience definition in step 2 and write up to 10 topic categories you can think of. If you need help, you can spark ideas in these two easy and free ways:
Google your main topic and look at the related searches at the bottom of the search results page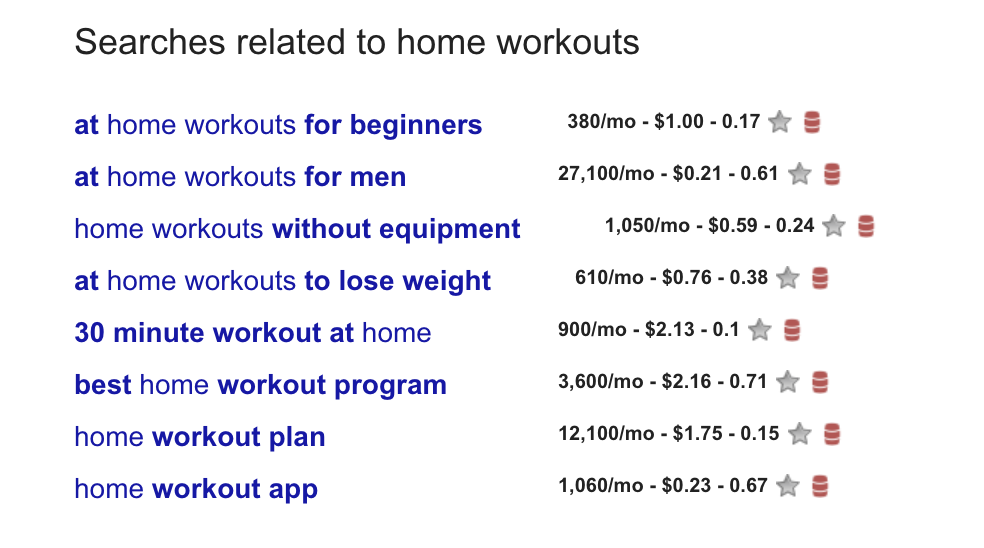 Use

Answer the public

to enter your main topic, scroll to the bottom of the page to 'Related' and note down any larger, most relevant topics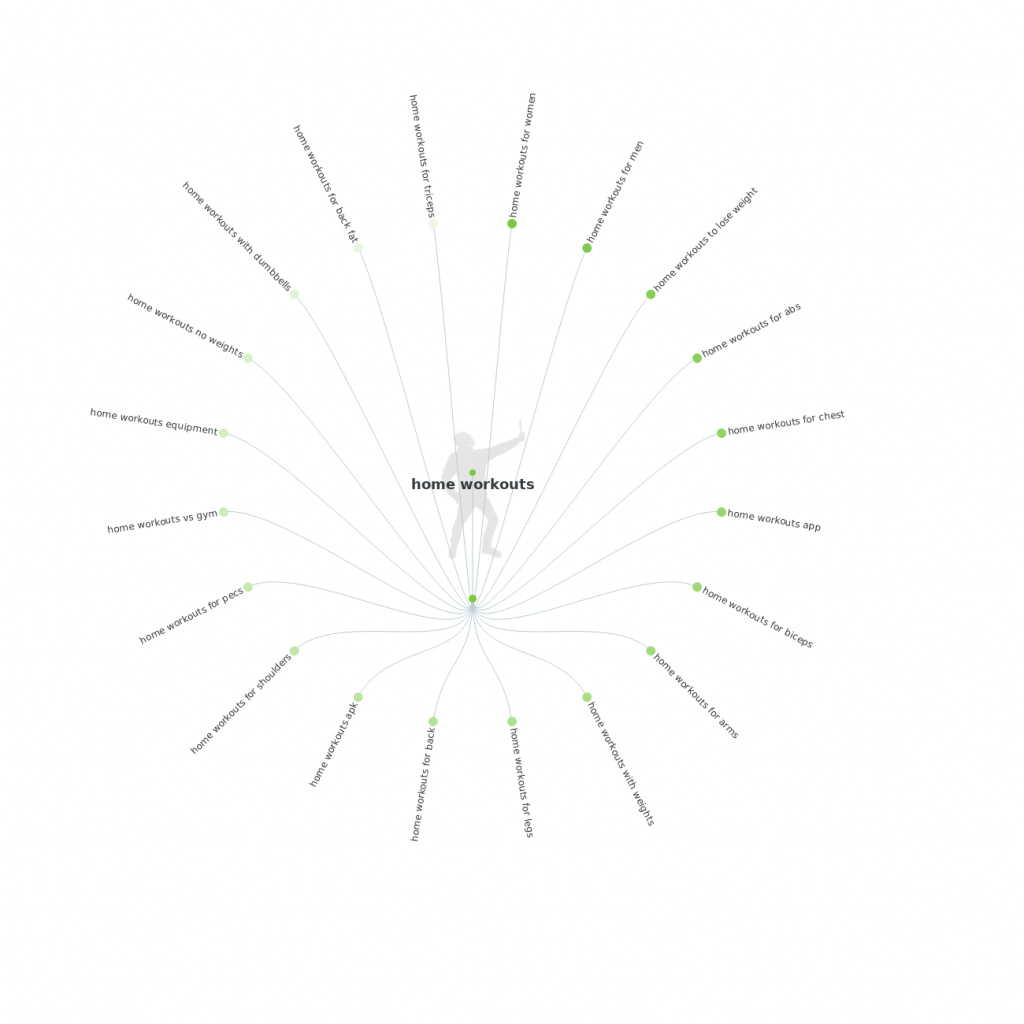 In the case of home workouts, you might end up with content curation categories such as:
Home workouts for women

Home workouts for men

Home workout apps

Weight loss at home

Home workout plans
To identify the best frequency for your curated content, make sure to tap into your insights from any past content activity you've done.
For social media, look into your Twitter analytics and Facebook insights to find the days and times your audience is most active. For Twitter, make sure to also use the free tools in Followerwonk. These insights should give you an idea of how many times per day and per week you should be posting curated content.
For curated blog posts, look at your Google Analytics in Audience > Overview through these two views:


These will show you the nature of your audience's behavior on your website and indicate how many times per week or per month you should be publishing curated blog posts and the best times to do it.
For curated newsletter, analyze the newsletters you've sent in the past and look for those with highest open rate and click-through rate. When in the week were they sent? How soon after the previous one? That's the timing you should be testing.
Step 5: Build a bank of topics and sources
Finally, you need to organize your sources into a manageable library that you can refer to time and time again.
There are many ways you can do this, varying from more manual ones to those that are more automated. A manual process means you'll have to add posts to your own document yourself, as well as transfer it into a scheduler, your social media account, or your blog manually.
Google Sheets. As you use search engines and social media to find new content, you can manually add it to a Google sheet and create a tab for each of your categories.
Google Alerts. You can also set up a Google alert that will monitor the content that Google crawls and create alerts and feeds of content that matches the term you defined. You can filter these by language, source type, and region.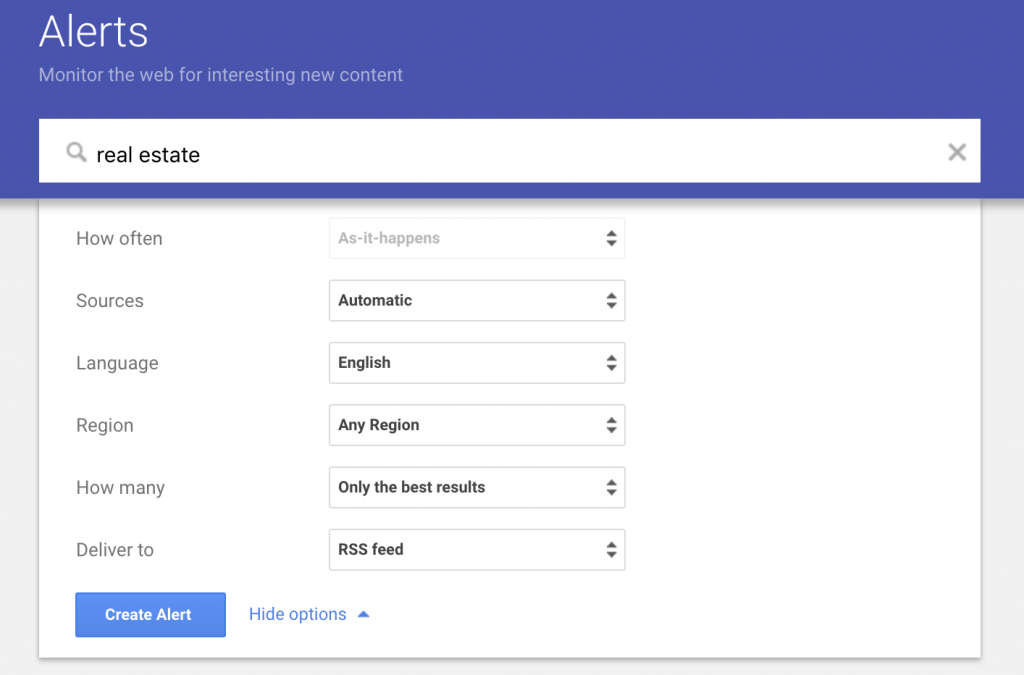 RSS feed readers. You can add various blogs and publications to an RSS feed reader, sort it by categories, and curate your content that way. While this is a more manual way of collecting and collating industry content, you will still have to manually sift through to find the most popular content of the highest quality and transfer it into your content management system or your social media scheduler.
Scoop.it's content curation solution. Content curation through Scoop.it is easy! After creating a topic, you can add content to it through the suggestions engine, which uses keywords, freshness of content, number of social shares, and more to recommend the best of the best.
You can publish or schedule to your social profiles from there, or simply save content to your topic page, which you can then turn into a newsletter or a blog post with a few clicks.
Both of these options are available right from the topic page at the very top, through the Newsletter and Integration buttons.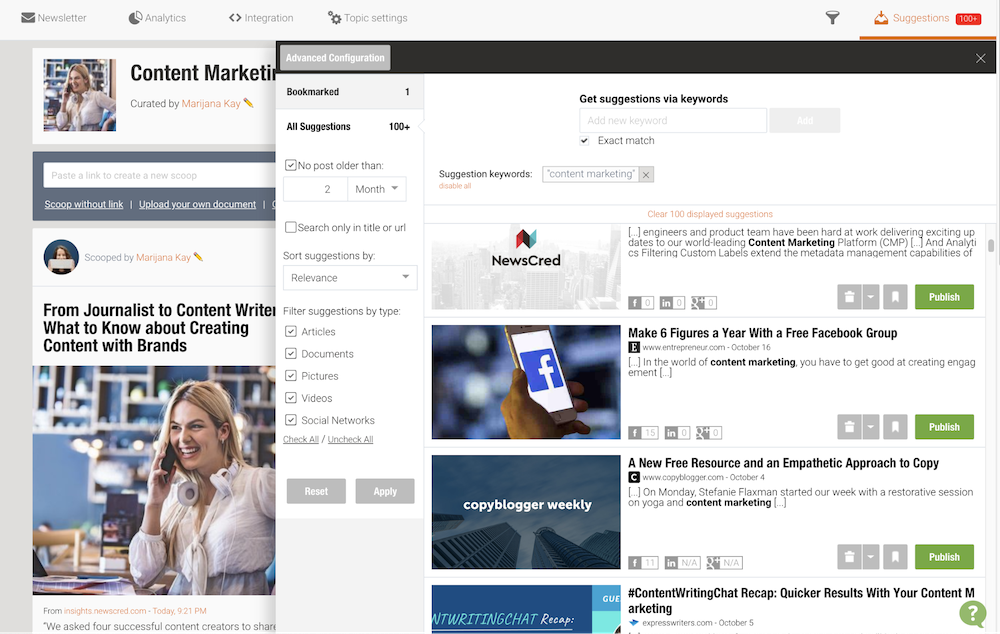 No need for copy-pasting or any manual tasks—everything happens automagically!
Final thoughts
I don't want you to feel stuck with content curation just because you don't have a strategy. Sharing even a few pieces of curated content each week is better than not curating at all.
But with a solid, well-defined content curation strategy, you will be able to build a process that you can then share with your team and over time, it will be a natural part of your overall content marketing strategy.
With clear goals, a defined audience, and the value-first approach, you'll be curating irresistible content in no time.
Want to have more tips on how to use content curation for your strategy? Just read this eBook  and become an expert!