A few months ago, we had the pleasure to host a webinar with our friends at Sociabble (If you missed it, you can catch up here). At that time, we announced our exciting partnership to make curation an essential piece of your employee advocacy / social selling initiatives.
Today, I'd like to show you how both platforms work together, so you can start enjoying its benefits and make your social selling strategy more effective asap. Here we go.
Create one or several topics pages on Scoop.it
For those who don't know Scoop.it yet – topic pages are the core of the platform. What's a topic page, you may ask? Well, it's a page built to gather content on a special theme, that can be managed by one or several experts in your company. In other words, it's a page for content monitoring.
Scoop.it helps you:
– Create one or several topic pages on the theme of your choice
– "Scoop" pieces of content from the entire web and benefit from millions of sources offered by its 4 million curators. Of course, these sources can be filtered by keywords.
Start by creating a topic page: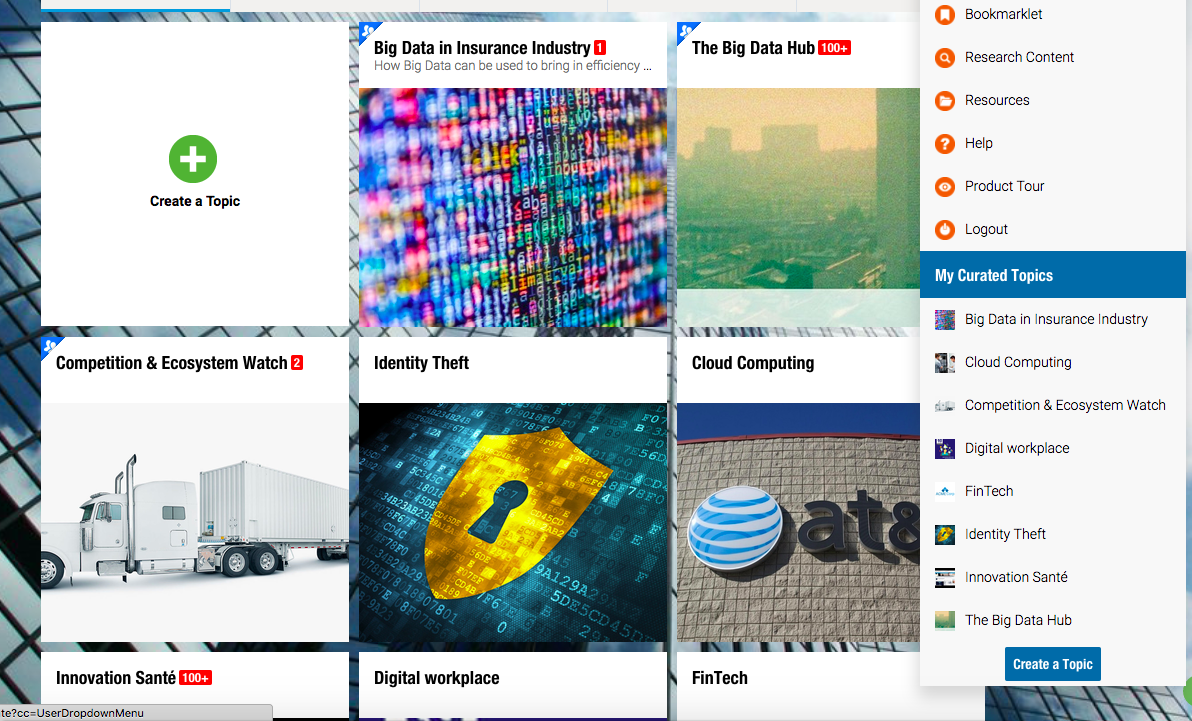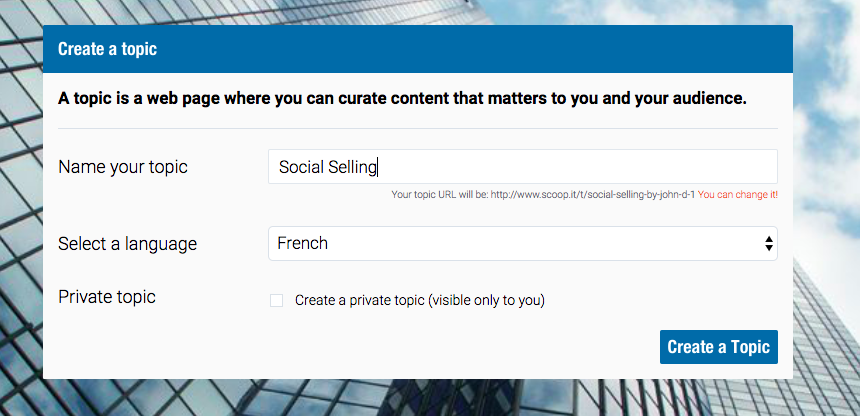 Then, let Scoop.it do the work and suggest the most relevant content. Here, for example, we chose the keyword "Social selling":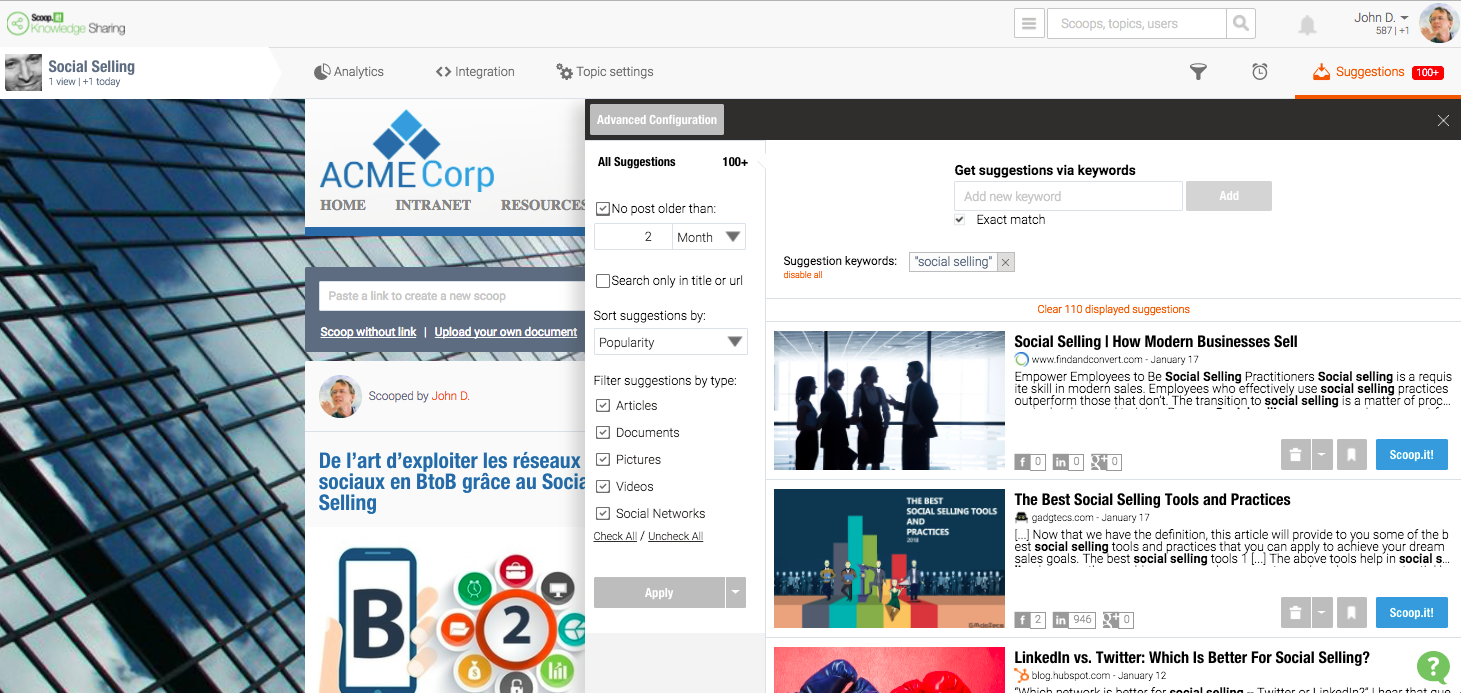 The content you publish on Scoop.it can be edited. You can modify the title, the image, and the short snippet displayed by default. You can also add your own insight (contextualizing is key – it makes it easier to understand for the rest of your team or for your targeted audience), and finally, you can tag your content so you don't get all lost :).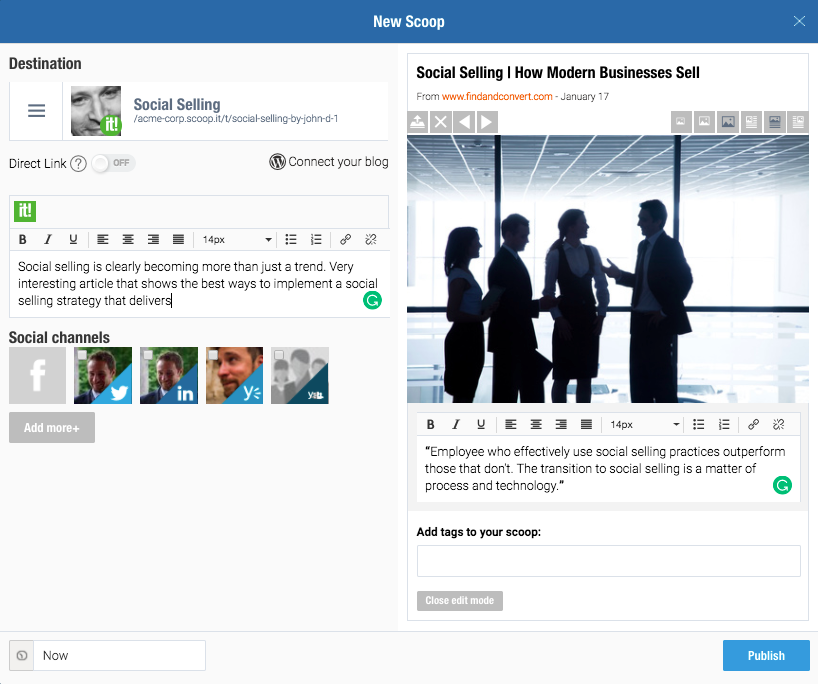 Each piece of content published on a topic page is stored and available, but curators can choose to either edit or delete them.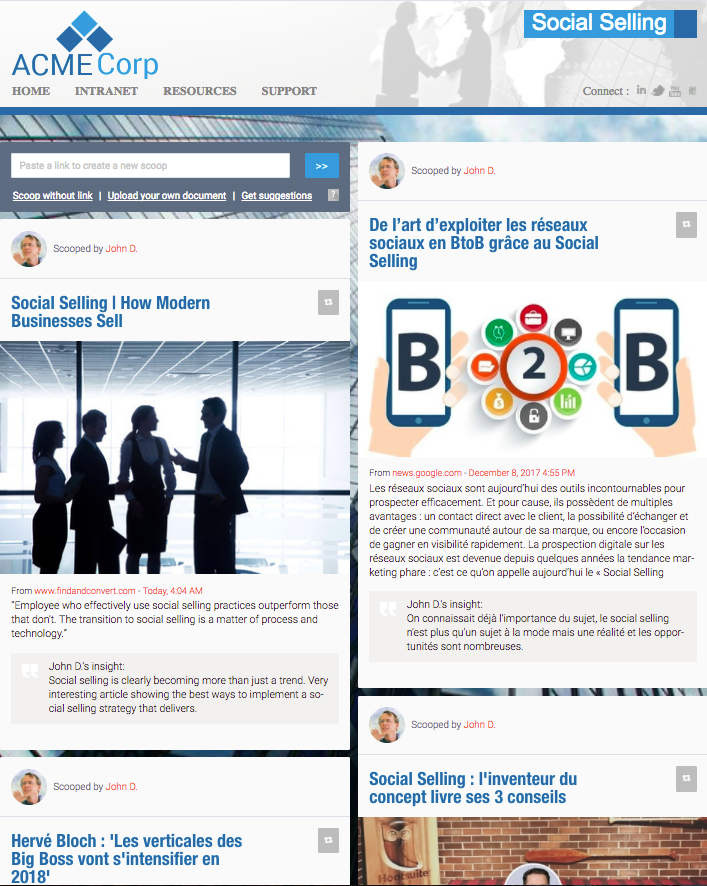 Integrate your topic pages within Sociabble
Here you go, you're curating! You must make sure that all these content gems discovered by curators are available within Sociabble. To do so, you need to be granted admin rights.
On the admin view, click on "Content" > "Social networks" and finally "New"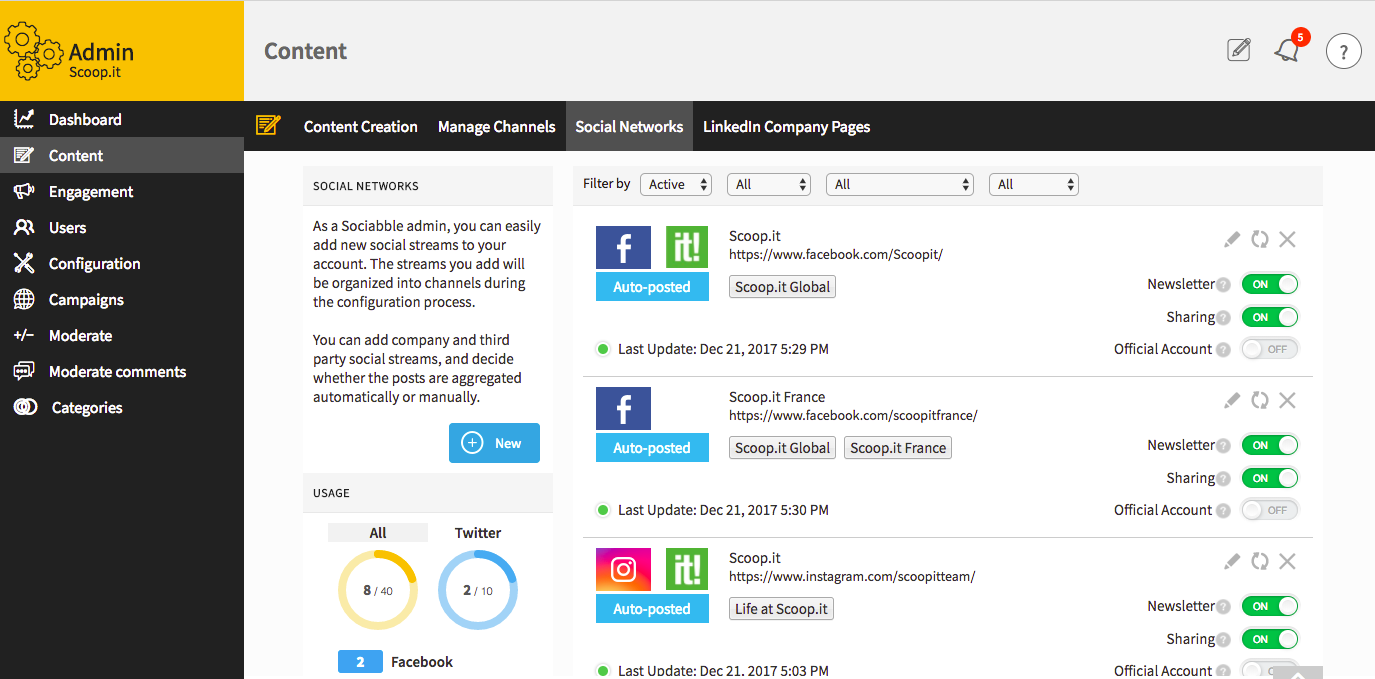 Then, just select Scoop.it (it's not a trap I promise)
Enter the URL of your Scoop.it topic page: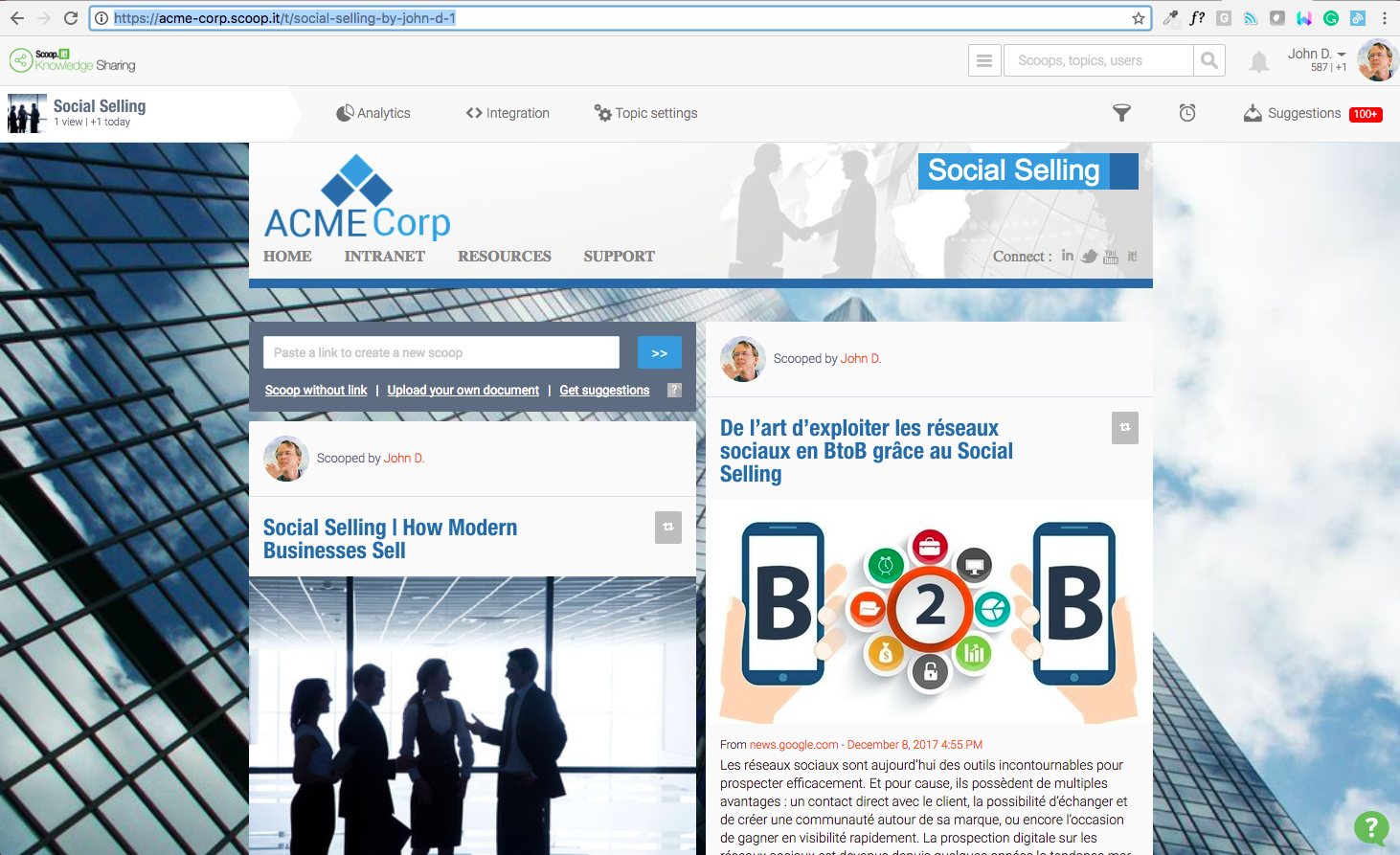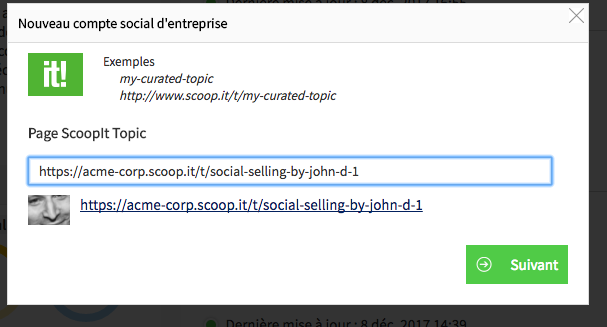 Choose the relevant associated channel and voila!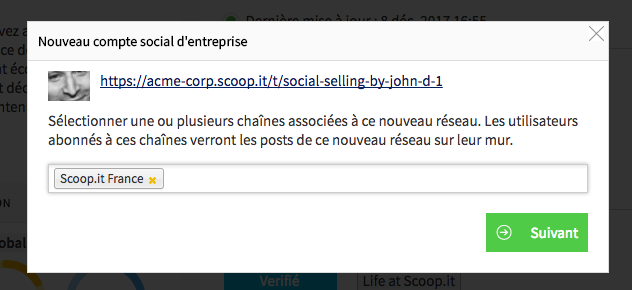 The pieces of content on your topic page are available for Sociabble users (on the dedicated channel). It's now time to amplify with Sociabble!
Be careful though – the Sociabble integration is not available for every version of Scoop.it. If you want more info, just contact us!