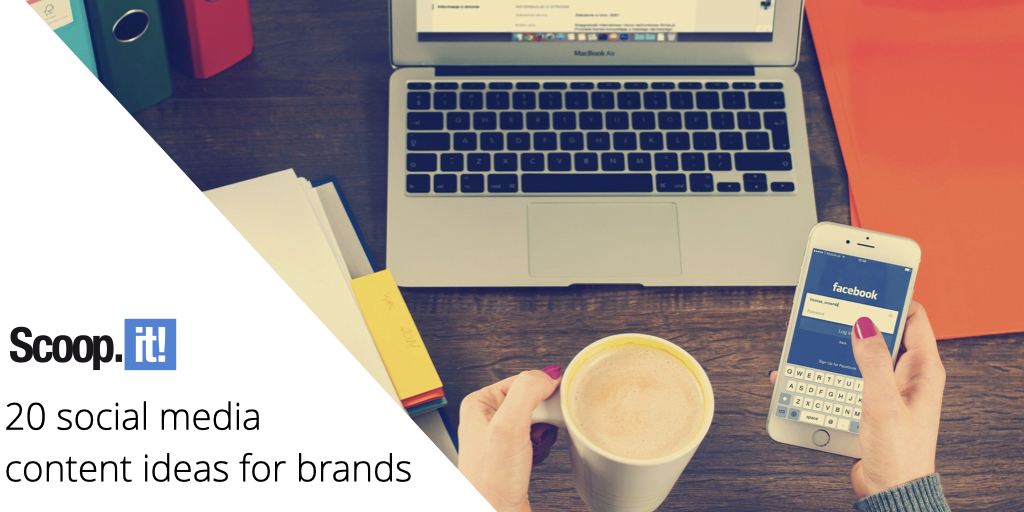 If you are running a profitable business in the twenty-first century, you probably have a social media presence.
Yes, opening a social media account is pretty easy — but the account won't manage itself. You've got to put out content every single day.
And that's where social media content ideas come in handy
You've probably heard the saying — out of sight, out of mind.
Well, it's applicable for online business and how you promote your brand on social media.
Regular posting on social media platforms boosts brand awareness, puts your brand in your potential customers' eyes, and improves your overall visibility in the marketplace.
If you are in for the long game and play your cards right, you would pretty much boost your conversion rates — and that's good for business.
Don't get it twisted — there is a thin line between regular content publishing on social media platforms and spamming.
For the former, you would have to build a solid social media strategy. If done right, then you are in for some huge rewards
Spamming is entirely different. It's a typical commercial content that's solely aimed at selling. 
Unlike the regular social media content that offers value, helps the customer solve a pressing need, and pretty much promotes the product (or service), spamming sells.
It does nothing for the customer.
Zero value, zero solution to the customer's challenges — just nothing!
Moving on, posting content on social media platforms is not easy — you need grit and tons of creativity.
Here are some content ideas to help you get it rolling.
1. Weekly Series like podcast/tweet chat
One of the sure ways to bore your audience and make them lose interest is to be publishing content with a lackadaisical attitude.
Random publishing of content here and there won't cut it. To curb the risk that comes with random content publishing, you've got to create an air-tight content schedule — possibly making it a weekly series.
Here are the upsides to a weekly series.
First, you get the opportunity to communicate directly with your audience. 
It's superbly easy with tweet chat.
Here's how NBA Star LeBron James is pulling in lots of attention with his weekly Taco Tuesday.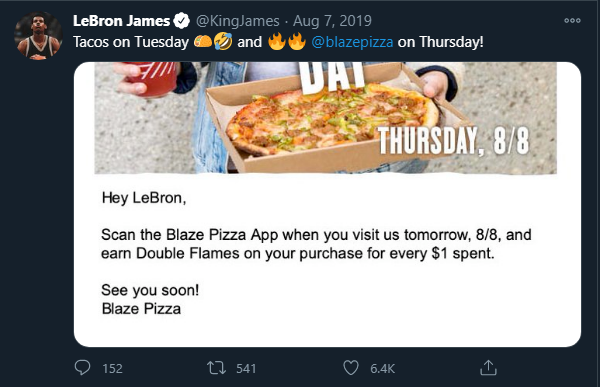 Yes, Taco Tuesday may not be a revolutionary idea, but it gets the job done.
If you are into audio content, you can opt for a weekly podcast.
Folks like Ryan Cal and James are making a killing with their weekly podcast Cal's Week in Review and Hide and Seek, respectively.
By now, you already know that your audience sticking around is not dependent on the quantity of your content. It's largely dependent on the quality of content you produce.
Therefore, to get going, you've got to churn out quality weekly series.
2. Live Videos
Everyone is producing videos and for good reasons.
First off, you must understand that humans are visual creatures. And if you desire to get and keep their attention, you've got to add some visuals into the mix — and that's where videos come into play
Videos are all cool and fine, but you should consider live videos if you desire more excitement.
A survey done by New York Magazine and Vimeo revealed that four out of five people would opt for a live video than read a blog post.
You can use live video for press conferences and events. If you desire a live demonstration or preview of upcoming products, then Twitter Live or Facebook Live is your best bet.
Here's how Seth Godin is using Facebook live to connect with his audience and also generate more engagement.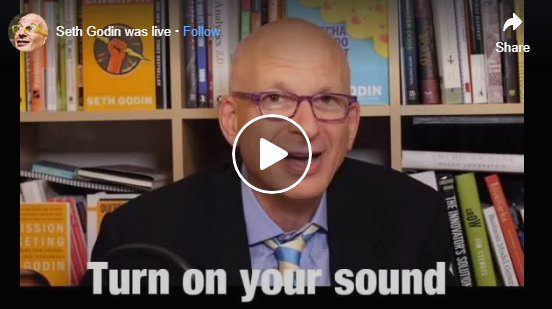 3. Hashtag Contest
A hashtag contest is the best way to generate organic content and also reward your followers.
Whether you opt for an Instagram contest or a Twitter hashtag contest, you'd most likely generate a good result.
To do that, you've got to know how to use hashtag tracking.
The beauty of a contest is that it is a great time to reward your followers. Also, you would most likely boost your engagement and gain new followers.
But it comes at a cost — giveaways!
Giveaways are fancy names for rewarding your followers. You can add some spice to the mix by promoting new products and services with the same strategy.
Here's how a brand is generating massive traffic using a hashtag contest.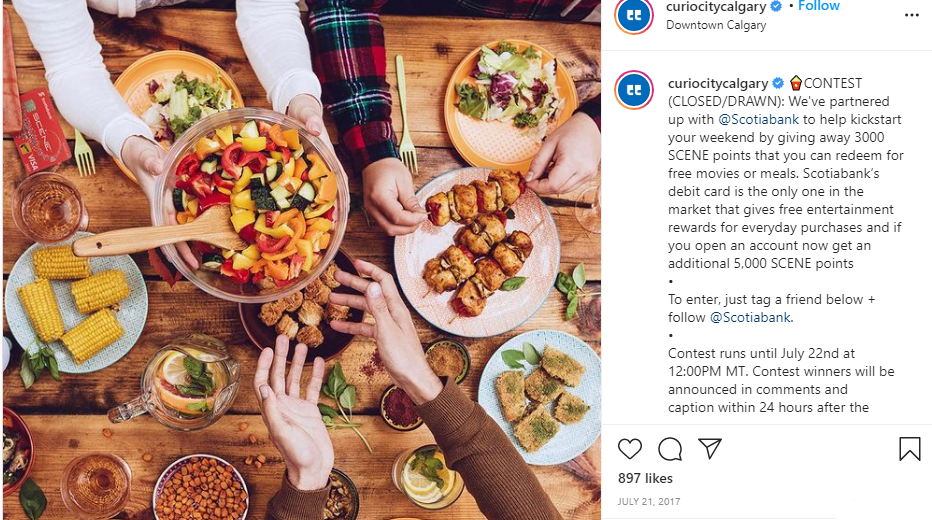 4. Host Ask Me Anything Session
If you are in the information industry, or you pretty much want to build a deep level of connection with your audience, then the Ask Me Anything session is a good way to start.
Also known as AMA, ask me anything provides an avenue to engage and educate your followers, share your experiences, knowledge, and insight about your industry.
It's quite useful for folks who promote their product, service, or content using platforms like Quora and Reddit.
Whether you are a renowned thought leader or a regular business owner, you can use AMA to share your success stories and let your audience live through your journey.

AMA is another model for a Question & Answer (QnA) session.
Here's how a WWE Superstar is having much fun by prompting her audience to ask her anything.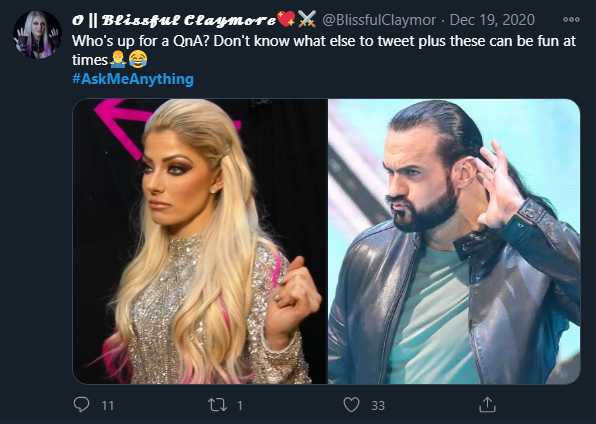 In a nutshell, a good AMA helps you to
Show off the face behind the business. It may sound counter-intuitive, but customers enjoy the personal side of the business owner.

Raise brand awareness without being overly salesy or pushy

Know more about your customers.
Furthermore, if you manage a large team, you can have them host separate AMA sessions. If done well, the traffic would most likely be overwhelming.
5. Share Using Regram and Retweets (Influencers Content)
You don't have to do all the talking — you can share and retweet content generated by your audience.
But it has to be relevant to your brand or the industry.
Yes, you probably think it's a bad idea. But if you do it the right way, it's a great way to join the overall conversation.
As a general rule of thumb, your social media content should follow the 80/20 rule. 80% regular content (which may be entertaining or engaging content), and 20% promotional content.
Here's how President Obama is pulling in big numbers by merely retweeting.
Again, you don't have to create every content on your feed. You can get more retweets by sharing content relevant to your brand.
6. Team Up With Another Brand
One sure way of generating massive awareness is by teaming up with another brand. This way, the two brands get exposure to the audience of the other.
Let's say you team up with another brand to promote a new product or service. The traffic that would be driven to such a campaign would be almost unimaginable.
The key is to partner with brands that are not your competition—for instance, a sports company partnering with a food company to promote a new product or event.
Here's rashadbilal is doing a cool job of teaming up with multiple brands to celebrate and promote his content on Instagram.
7. Influencer Content
If you are not into influencer marketing, you are leaving money on the table as a business or brand owner.
Search for an influencer that fits your brand, and let the influencer create content that would be shared on both your social media platform and the influencer's platform. This way, you get to boost your online following without much work
Yes, it's that simple!
For instance, if you run a diaper business, you would get the most benefit by using an influencer who shares tips on being a good mummy.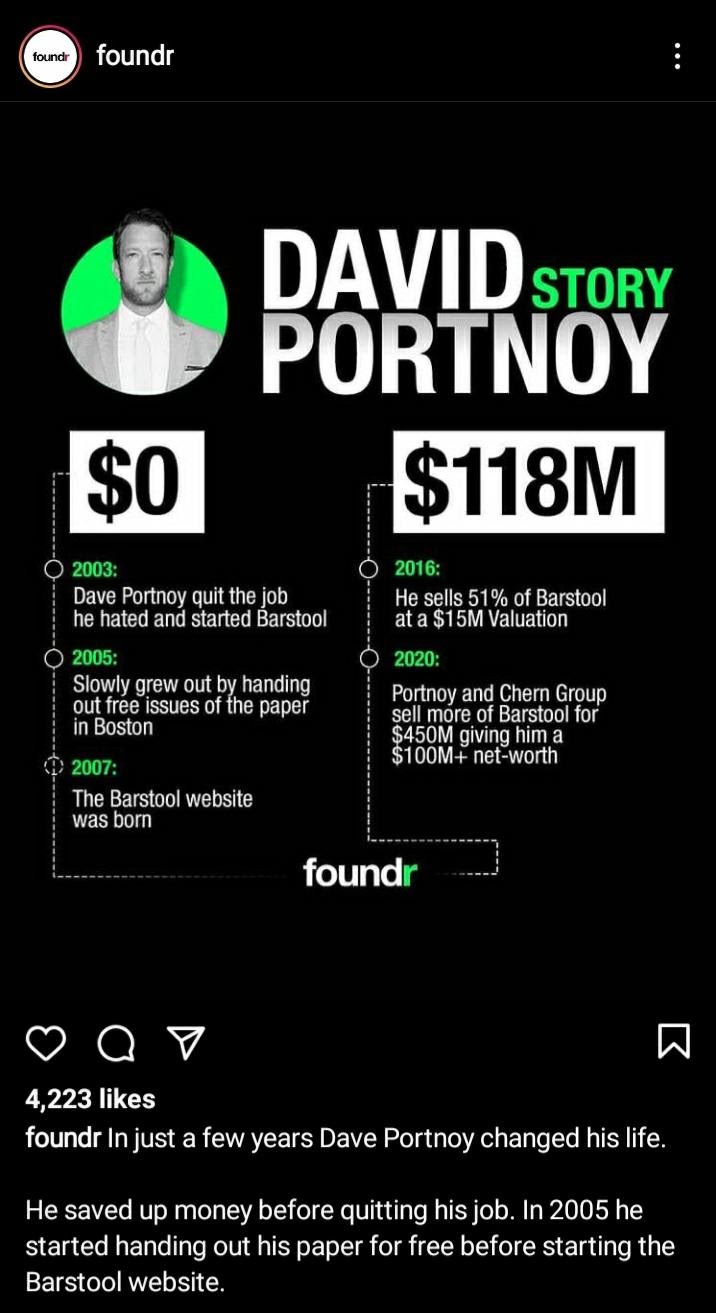 Yes, partnering with a huge brand like Foundr could mean the difference between success and failure.
8. Inspiration Quotes
If you manage an A-class team, they are more likely to have something to say — maybe a piece of advice or something. Your role is to turn it into an inspirational quote and share it with your audience.
Also, there are pieces of your blog posts that are worth sharing — share them and keep your audience inspired along the way.
If you add some visual elements to the mix, then you are in for something big.
A good piece of inspiration can go a long way to generate massive engagement for your brand.
9. Infographics
Infographics are a good way to compile lots of great content into a simple, presentable format.
For instance, if there are interesting market stats to share, you can display them in an infographic. This way, the viewer gets to see it at a glance. You can also repurpose your blog post as infographics.
Folks who use Pinterest as their primary social media channel can get more work done with Infographics.
10. Customer Photos
It's quite fascinating to see what you'd find by merely searching your user name or hashtag on various social media platforms.
The thing is, some customers must have shared photos of themselves using your service or product.
You can use these photos as fresh content. Before using these photos, you've got to seek permission from the customer.

UpWork, a leading freelance platform, promotes their freelancers every now and then on their Instagram profile.
11. Blog Posts
If there is a company's blog, you can share the blogs' direct links on your social media platforms.
When fresh blogs about a job opening, product launches, company news, or industry development are published, you get to share the blog links on your social media platforms.
If LinkedIn is your primary social media platform, you get to share the company news and recent development on your feed.
You can opt to post the link in your bio or use the Swipe up feature in the Instagram Story for folks who use Instagram.
Although brands of all sizes can use Instagram, it is much more useful for brands with over 10,000 followers on its platform.
12. Events
Event posts are straightforward — it's used when you are hosting a workshop or party. But you can take it a step further by using it when you are hosting webinars.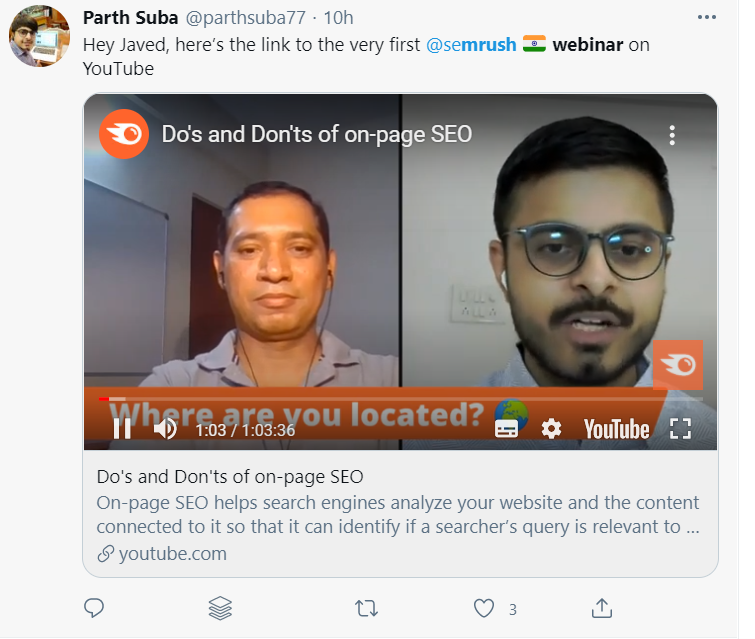 When using event posts, folks who indicate interest will be reminded. It's much better than a regular post where the individual may forget about the event's date.
13. Polls
Everyone has an opinion, and they love to be asked about it. With social media, your job is easy — create a poll (or a survey) and ask for your audience's opinion on the subject matter.
You can add some twist to it by asking your audience to pick a product launch color.
Creatively spice it up and watch the magic unfold.
Here's how a thought leader is using polls to generate content ideas.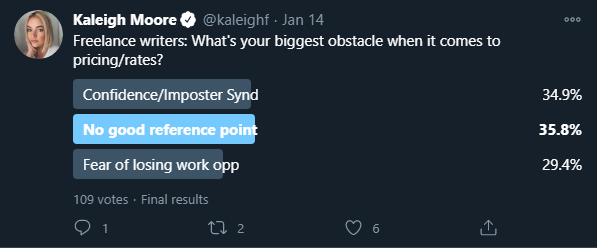 14. Conduct Interviews
Interviews are great alternatives to a Question & Answer session. You get to bring a celebrity, an influencer, or an industry professional on Facebook, Twitter, or Instagram Live.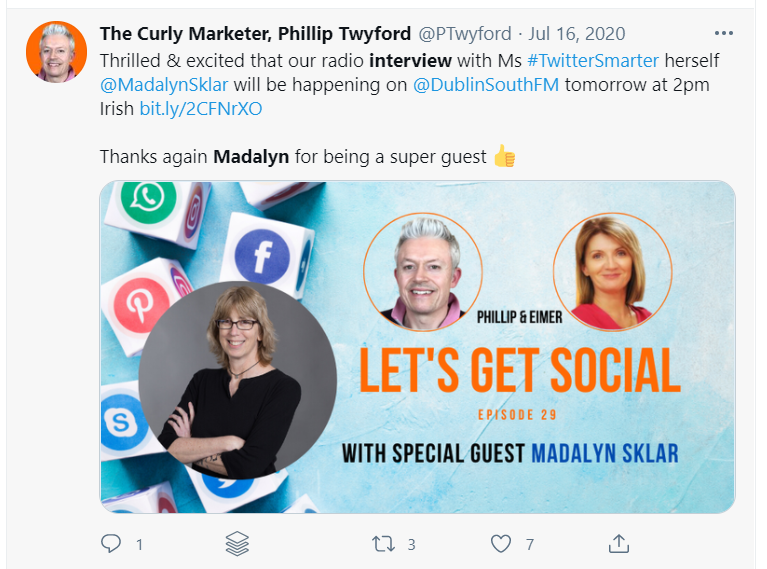 The best part..
You can easily split the screen using services like BeLive.
15. Post on Trending Hashtags.
Content ideas can come anytime — and one of such times is when hashtags are trending.
By closely following such trending hashtags related to your domain, you can capitalize on them to promote your brand.
Don't be too pushy — follow the tides and watch the magic unfold.
Yes, the window of opportunity for marketing on trending hashtags is quite small. But if you take advantage of it, you would drive massive traffic and generate enough engagement for your brand.
There are exceptions to this rule…
You've got to avoid sensitive or political topics, especially when in doubt.
16. Share a Milestone
Your followers, fans, and customers want you to succeed. Your success is their success — therefore, share a relevant milestone with them.
The milestone could be as little as an office renovation or being featured in a major publication.
However small or large the milestone is, share it!
Chances are, your audience would be excited about the news.
Upwork shared their latest milestone — project catalog, and both freelancers and clients on the platform are loving it!
17. Respond To Followers.
Everyone wants to feel valued — and one way of doing just that is by responding to your followers.
These folks are in your comment box or possibly in your message. Respond to them and let them know that you value and care for them.
After all, without your followers, you are pretty much out of business.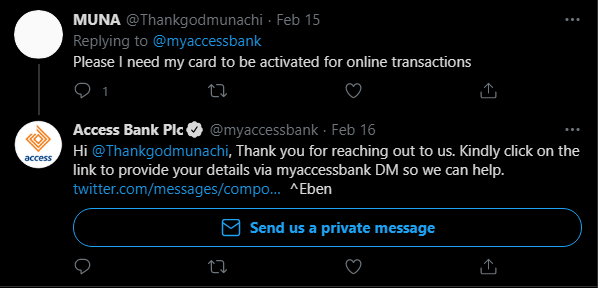 Social customer care is a big deal these days — and Access Bank is doing a good job at that.
A response is also a vital aspect of good customer service.  Please do not shy away from it; it's a good way to build loyalty among your audience.
18. How-To Guides.
How-To Guides are not limited to blog posts. You can get much more work done by using social media
Here's how it works…
You create a compelling video clip (maybe sixty seconds video) on how to perform a task.
To get the best out of your clip, it has to be high-quality.
Also, you can use Instagram stories to publish short how-to guides.
Whichever route you choose to use, it's much better with high-quality visuals.
19. Holiday Posts
Create good posts that revolve around a holiday and use it to fill up your content calendar — it's no crime, and your audience would love you for it!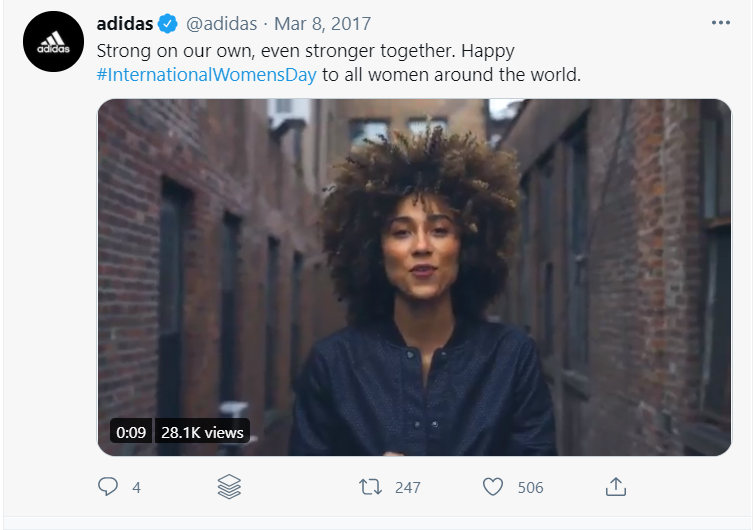 Whether you are using #ThanksgivingDay #IndependenceDay or other holiday celebration, the key is to create thrilling posts that revolve around it.
20. Post Answers to Questions
If you are like most brand owners, you probably desire more engagement on your various social media accounts — and one way of doing just that is by asking questions — open-ended questions.
The key is to ask questions that can't be answered with a yes or no.
Here's how it works…
You get to ask questions in a text format or ask questions using Instagram question stickers.
Here's how getbigi is doing just that.
The best part…
You can share your answers as Instagram stories.
Quite fascinating, right?
Conclusion — Build a Profitable Brand With the Right Social Media Content Ideas
Social media content goes beyond product promotion. It should be fun, thrilling, exciting, and with a spice of promotion.
To get the best out of your social media marketing, you've got to track your progress using third-party platforms like Socialert.
You can use any of these content ideas to grow a more thriving community online.
Now you know the various social media content ideas, which will you use for your next social media post?