The bounce rate is a universal problem for all email marketers. It is the percent of email addresses that fail to receive your message as it is returned from the recipient's mail server.
Here's the average bounce rate recorded across some of the industries.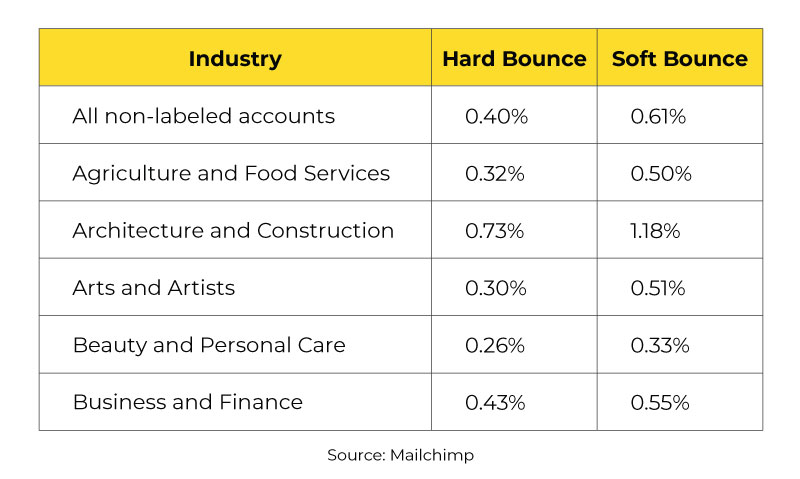 An email bounce is accountable to inadequate space in the inbox, temporary server issue, or invalid email addresses. While the former two reasons cause soft bounce, the hard bounce is because of the latter.  
With that overview in mind, let's delve deeper into its types.
Hard Bounce
Hard bounces occur due to a permanent reason for an email not making it to the subscriber's inbox.
Why does a hard bounce happen?
The primary reason for a hard bounce is an invalid email address. For example: If a customer's email address is

kevingeorge@uplers.com

 and he provides

kevingeorg@uplers.com

 by mistake, it would result in a hard bounce. Also, if you have an official email address and the person quits the job at the place, it will result in a hard bounce. Let's assume, Jenny used to work at Uplers and you have the email address

jenny@uplers.com

. Once

she

 quits the job, you will not be able to send an email to this email ID and it will lead to a hard bounce.

The delivery of emails is blocked at the subscriber's email server.
These subscribers are instantly cleaned from the subscriber list in the ESP itself. They would no longer receive your email campaigns.
What is a soft bounce?
If the recipient's server encounters a temporary delivery issue, it will be shown as a soft bounce in the email performance report. A soft bounce is not as damaging for the email sender reputation as a hard bounce.
Generally, such a temporary delay in delivery is caused because of the following reasons:
The subscriber's mailbox has no space.

The configuration of the recipient's mailbox is incorrect.

The subscriber's inbox is not active.

The email server of the recipient has some technical problem or is offline.

Too many emails have been sent to the recipient's email server during a specific time period or the email takes up a huge space.

The email content fails to meet the requirements of the subscriber's server.

The domain name is invalid.

Email message violates the

Domain-based Message Authentication, Reporting & Conformance

requirements (DMARC guidelines).

The email does not adhere to the anti-spam guidelines of the recipient server.

 The servers do not allow email delivery.

Sometimes, a soft bounce is possible because of unknown reasons.
In case the email address shows as a persistent soft bounce in the subsequent campaigns, it will be treated as a hard bounced and pruned from your subscriber list. As an instance: Mailchimp allows seven soft bounces for inactive email addresses before considering it a hard bounce. On the other hand, if the subscribers have shown activity in the past email campaigns, the ESP will allow 15 soft bounces and then remove it as a hard bounce.  
How does a high bounce rate influence your email marketing strategy?
If your email campaigns show a high bounce rate, it will hurt the sender's reputation. ISPs have set a specific limit for bounce rate, abuse reports, and unsubscribes. In case your reports exceed that limit, ISPs can issue warnings or in the worst scenario, suspend the account. While choosing the ESP, you must take into consideration how it reports parameters like bounces and how can you manage your sender reputation.
That brings us to the question: How can you prevent email bounce and ensure better email deliverability?
Best Practices to Reduce Email Bounce Rate
Use double opt-in method to build email lists
A high bounce rate can be attributed to purchased email lists. Therefore, you must build your subscriber list organically with well-designed sign-up forms. It is advisable that you use a double opt-in method to get genuine subscribers who are willing to hear from you. Through this, you send out an email verification email to make sure that the email address provided is correct.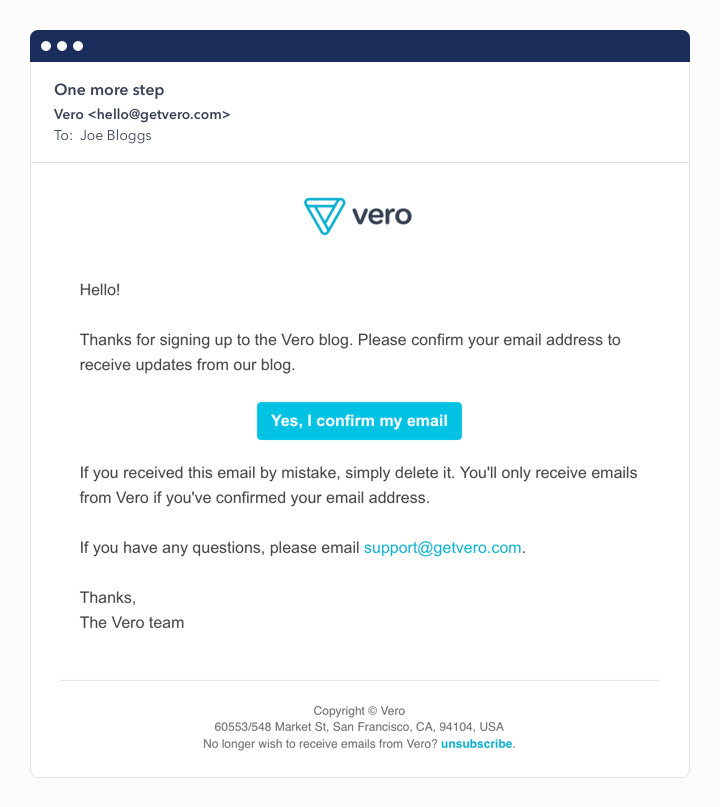 Source: https://www.getvero.com/resources/double-opt-in/
Send re-engagement emails to revive inactive leads
If your list has disengaged subscribers, it can lead to the emails getting bounced in the future. To make sure that this does not happen, you should send win-back email campaigns to re-engage them and prompt them to take action. Send out these email campaigns to any subscriber who has not engaged with your emails in the last three to six months, depending on your industry and target audience.
Give the dormant subscribers the option to unsubscribe
If you send out re-engagement emails to the subscribers but they still do not show any activity, you must give them an option to unsubscribe. Also, let the subscribers adjust their email frequency and other preferences. Doing so would allow you to send out emails according to the convenience of your subscribers and enhance subscriber engagement.
Maintain list hygiene by regular pruning
Almost all ESPs automatically remove the email addresses with hard or soft bounce but if they don't, you must monitor the email metrics regularly and remove these subscribers. Additionally, you can also manually remove the subscribers who have not engaged with your emails for a long time. In that way, it will help you maintain list hygiene and avoid any bounce rate.
Avoid using free sender domains
A classic example of a free sender domain is Gmail. You must use premium sender domains that are authenticated. Your sender domain must have cleared the DMARC authentication policy. This will keep your deliverability rate at an optimum level while reducing the email bounce rate. Also, it will not send security alerts to subscribers.
Create emails that deliver value
Last but not the least, it is imperative to send out emails with relevant information that the customer might be looking for. Do not send spammy and promotional emails that might not be of any value to the recipient. Furthermore, do not send an email as a single image. Keep your text to image ratio at 80:20 so that there are no deliverability issues or bounces. A bonus tip is to send emails consistently. For example: I have subscribed to Really Good Emails and their email sending schedule is every Tuesday and Friday. That makes it easier for me to interact with their emails. In fact, I look forward to receiving their witty newsletters.
Wrapping Up
Following these tips would not only enhance the email deliverability but also improve the conversion rate. More importantly, it would help to cut down expenses that get squandered in sending emails to disinterested subscribers. Just remember to keep testing your email campaigns, monitoring your email metrics with every email you send, and optimizing it for the best results.