Are you looking forward to the best tactic that thoroughly helps you in attracting new customers? If the answer is yes, then the most preferred answer for it is content marketing. No wonder if your mind questions the previous statement. But trust me, in the next few minutes, as you read the entire article, you will happily agree with it.
In this online and digitally growing era, it is even more back-breaking to acquire new customers. Beginning from gaining their attention to converting them into your future customers is a tough job. That's why the right and the most suitable way to let them know about your organization is through your creative content. The more you optimize your content, the more you rank up on the search engine results. The figure below shows the entire funnel of content marketing.
Image (Source)
Let's take the instance of you reading this article. How did you come across it? Either by asking Google or by typing particular words. Isn't it? By doing so, you opened the blog and started reading. If you enjoy it, you will surely prefer to look for it in the future. This way, the whole concept of content marketing revolves. The preference level rises as and when the need for any product or services increases. Supporting this point, about 78% of the consumers prefer to know about the company via articles rather than ads.
But what are the potent ways to add new clients to your customer base continuously? You do not need to ponder about it as the article will thoroughly show the best approaches for doing it.
Let's begin this most pleasing marketing journey!  
Usability of Content Marketing For Attracting Customers
According to Hubspot, nearly 70% of marketers are focussing on content marketing. But may fail to get expected results in the form of attracting new customers. Due to this reason, "Content Marketing Strategy" is the most searched query related to content marketing.    
The following points summarize the top five ploys your company can use to grab customers' attention.  
Create Captivating Headings
Headings act as a game-changer element in the beginning as well as the end of the new customer's journey. That's why it is pretty important to pay adequate attention to it. Robert Bly shows the effectiveness of a great title by saying- 'Stop! This is something you want.' This is the foremost requirement your content should reflect to let the customer's eye be enthralled by it.  
By adequately framing the content's title, you can improve your customer base and, as a result, the conversion rate. But, what are the possible ways to do so? You might want to ask this question. Then do not worry as you will find answers for the same in the following points.
The foremost aspect you should keep in mind when you sit for writing a title is that you should give preference to numbering in the headings. No doubt you can frame the title in any of the following formats-
Question form

Listing form

Resource form

Normal form

Reader addressing form, etc.
But the usability of the number format is more prominent than others. The figure below clearly shows the worthiness of numbering than other formats by presenting the same title in multiple formats.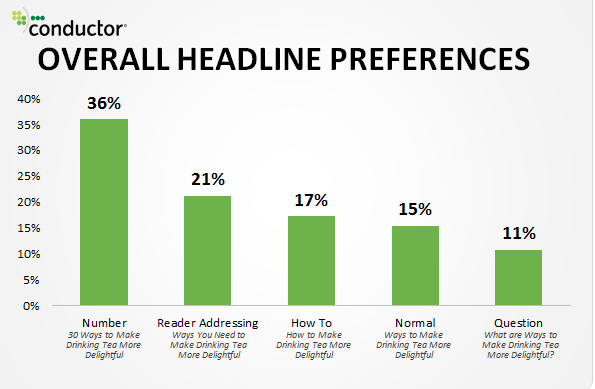 Image (Source)
Let us look at an example of a great title, "44 Social Media Tools Recommended By The Pros." Due to the catchy heading, this post receives over 22K shares. Here the whole thing revolves around the psychological aspects that show that human nature captures numbers faster. Using such formatting will help you transform the matter of uncertainty into practicality regarding your article in the customer's view.  
In the example, the number reflects the quality of your blog, as '44' is a considerable number. The next catchy part of the title is the 'social media tool.' It is a trending topic that has the maximum possibility to be searched. Lastly, the end portion of the title shows your expertise as it mentions the usability of the tools by the top authorities. All these together will bring customers' attention towards you.
Attractive headings bring many rewards for you, as shown in the figure below-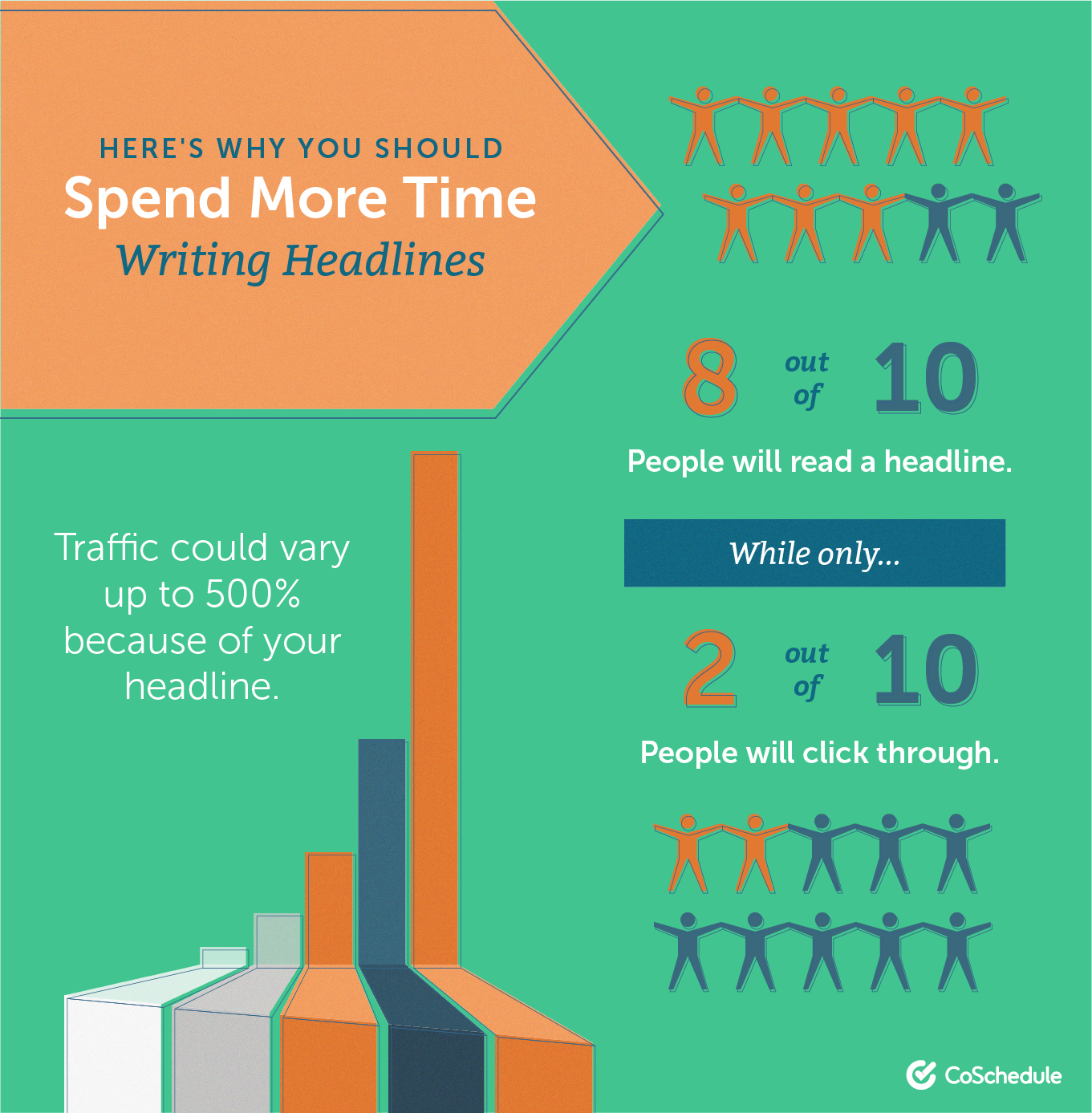 Image (Source)
Curate Compelling Content
Much out-of-this-world content already exists on the internet, so why not use them to attract customers. Surely it would help in adding authenticity to your content as a well-researched piece. The content that you desire to share with your targeted audience can be anything. It could be a great blog, expert advice, a viral post, or anything else that you think can share its hands in getting customers' attention.
It would be best to undertake content curation as it undoubtedly plays a significant role in your business's content marketing strategy. When asked in a survey about the period in which they share the curated content with their customers, they found the following answer-
Image (Source)
It is a perfect way to add your own flavor and then present it in the most organized way that grabs future customers' attention in one go. It contributes to both time-saving and lead generation for your business as you do not need to begin from scratch. Curating content will bring more usefulness to you as the audiences will know that you respect other's perspectives too.  
By telling you to focus on content curation, I am not at all taking you away from content creation. Rather, you must include this aspect in your content marketing strategies to keep your audience engaged.
The usability of content curation is spread everywhere. As per a survey, about 95% of the marketers have curated content in the last six months, and this trend will continue endlessly.  
For sharing the content on social media platforms, you can consider the 5-3-2 rule. Wondering what it is? It is a basic formation which you should follow with the sharing of every ten posts.
Five curated content created by a third party that you find relevant to your audience.

Three original pieces of content which you created.

Your two personal pieces of content that include funny, entertaining, and even personal comments which make the audience more connected.  
You can consider this approach as one of the best ways to keep your calendar occupied and your customer engaged.
Showcase Your Valuable Content
Why should I consider you? This is the most fundamental question of every customer while looking towards your business. Ensure them rightly that fulfilling their requirements regarding content is your ultimate purpose.
This is where your whole concept revolves, i.e., by balancing the quality and quantity of your written piece. The more your work sticks to its primary goal, the more it gets accepted and appreciated by the customers. To support this point, factoHR.com rightly mentioned that customer experience value is everything an organization needs to drive its business.  
For doing so, you can consider one formula:
Authentic content + Customer attention = Great Response
Yes, you have rightly heard the term authentic content. The primary focus of such content remains on showing the value of your content. Once you master this art and get a pat on the back from the customers for such work, you are indeed at the top of the competitor's list. But  57% of clients say that only a few companies prioritize authenticity.  
Your approaches can take the form of e-books, blogs, testimonials, case studies, infographics, etc., but firstly, it should focus on forming connectivity with the readers. The better you understand their needs or problems and address them in your content, the better will be their response. This will help in retaining and motivating them to work with you.               
Use AIDA Model
AIDA stands for:
Attention

Interest

Desire

Action
The AIDA model is the well-known Lewis principle used in the field of marketing, and its usefulness in content marketing has been on the high rise from a long time. This model is all about the whole journey of the customer with your business. Starting from getting their attention to making them perform certain actions, all are covered under this model. Its motive is to make your content more engaging, effective, informative, and pursuable. It allows you to perform content marketing at all four stages in the most appropriate manner.  
By going through all the stages, the consumers will come to know about your brand, develop connectivity with it, which in the end allows them to take certain actions that you wish for.
Now let us get an overview of all the four stages of this model.
Attention- Mostly, all the businesses suffer from many difficulties in this phase. Once you successfully cross it, the possibility of improving the customer base increases. You can call this stage the 'brand awareness' phase. To properly undertake this process, you have to think solely about the topics that deeply connect your clients with their target audience. You can segment this process in the following simplified form-
Who is going to read it?

Which problems do they majorly come across?

What solution will this content give?

Which type of concepts will bring their attention immediately?
Jotting out answers for it will make your work even easier.
Interest- The best way to gain the interest of the clients is to let them know you understand their problems. If your product belongs to the health sector, you can showcase your content in such a way that they feel engaged with it. Combining emotional connectivity with the possible techniques at this phase will help in retaining their interest.
Desire- This stage is considered as the shifting movement stage from the liking phase to the wanting phase. Rightly showing that your product or service can solve their issue will make their wish to get it even more powerful.
Action- This is the closing stage of your deal. The respective action can relate to purchasing a product, signing in a newsletter, or any other action. It is all about accomplishing your motive behind content creation.
A big congratulations to you when the audience successfully goes through all the processes, and you add them to your customer base by using this model.      
Properly Utilize Different Multimedia Sources
Varieties of multimedia sources are available in the market. You just need to use it properly to make your content more appealing. Content with proper visuals will improve the chances of getting it to read. Human brains are attracted to visuals more than written content, and its speed is about 60,000 times faster than the text. Podcasts, videos, images, infographics, presentations are some of the top multimedia you must embrace in your content.
One good way to understand the usefulness of multimedia is the case study of Slideshare, using which Anna Hoffman created presentations. Within a month, the posts experienced a sudden rise from 0 to 243,00 with the use of good presentation mediums. That's why never miss utilizing such multimedia sources in your content marketing.  
Conclusion
Hey, we reached the end of the article. Yet, it could be the beginning of your attempts to grab the clients' attention by using an evergreen tactic called content marketing. It works as a most effective and supportive source to welcome your new customers. Hence, use content marketing by following the best approaches as discussed to form a magnetic field-like atmosphere to attract customers to keep your business growing.