Though content is the king in digital marketing, all-text-without-visuals is a thing of the past. Visuals spice up and empower the content to give your marketing efforts a tremendous boost. Owing to the increasing use of Pinterest, Instagram, and other social media channels, visual content marketing has gained quick momentum and has now become mainstream. To make your campaigns relevant to meet your audience's ever-changing needs, invigorate them with the right mix of visuals and text.
If your content marketing efforts are not furnishing you the desired outcomes, use visuals to take your campaign to the next level. Visuals evoke an emotional response and serve as the crucial success factor for content marketing campaigns. Still need some convincing reasons to believe in the power of visuals? Read on this blog post!
Statistics that Reflect Effectiveness of Visuals in Content Marketing
Over 1.25 billion people visit Facebook Watch every month. (Information Source – HootSuite)

The average engagement rate for Facebook video posts is 0.26%. (Information Source – HootSuite)

Tweets with pictures get 89% more top favorites, 18% more engagement, and 150% more retweets. (Information Source – American Press Institute)

According to the predictions made by 40% of marketers, between 51% and 80% of businesses will heavily count on visual content in 2021. (Information Source – Venngage)

Pins that show a service or product in action are 67% more likely to drive sales. (Information Source – Pinterest Business)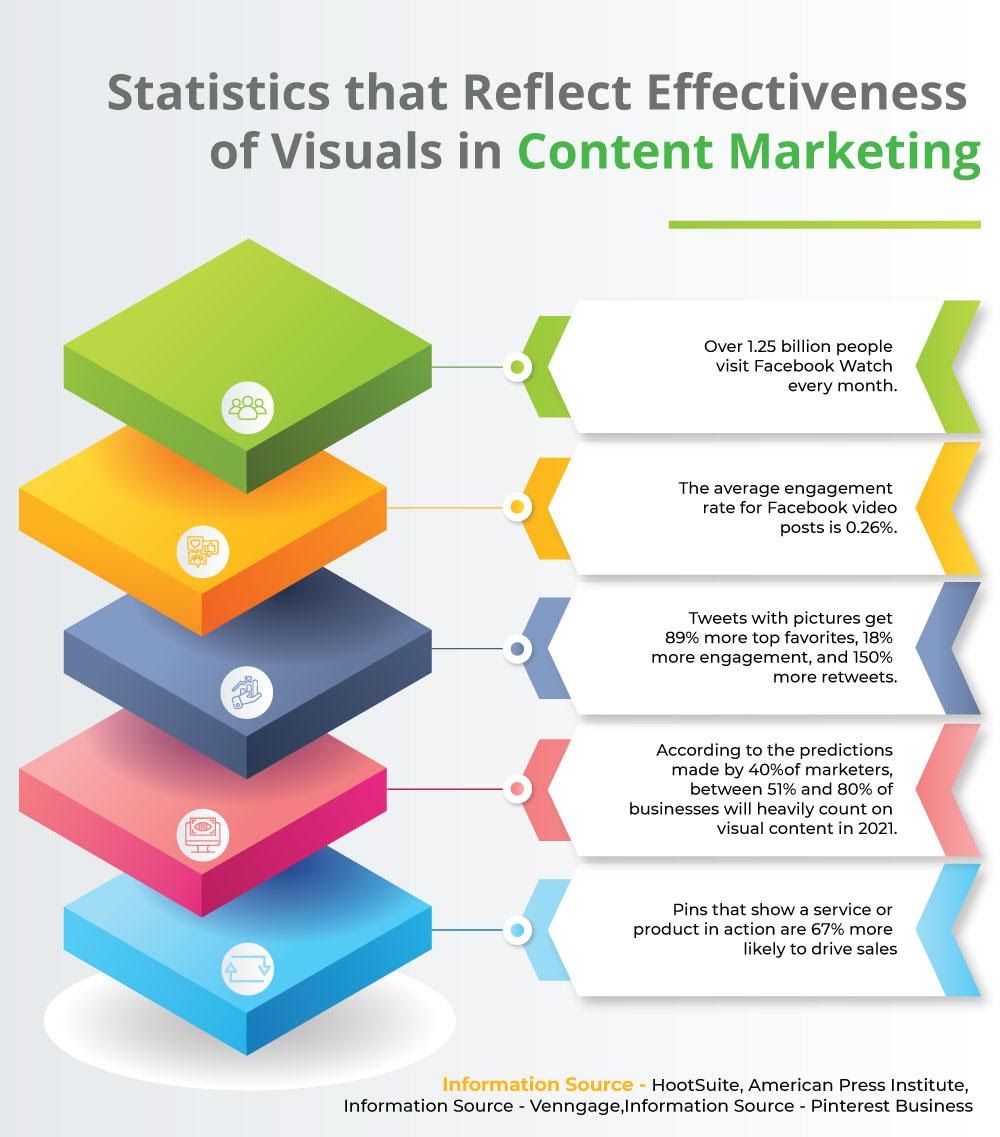 Some Good Reasons to Invest in Visual Content
The use of visuals in your content marketing strategy will enhance your return on investment and help you achieve your business objectives. Below are a few more advantages of inculcating images, graphs, charts, memes, and other visuals in your marketing efforts.
Customers develop a viewpoint about your brand long before they make their mind to purchase it. Visual content enhances your brand recognition and helps you build loyal customers even if you are new in the industry. Further, the recall factor of your brand can be boosted through consistency in messaging and visual elements across all the campaigns and platforms.
Bonus Tip – To strengthen your online presence and expand your brand reach, add a watermark of your brand logo in all the visuals you use for marketing purposes.
Easier and Faster to Understand
As 65% of people are visual learners, they can comprehend and absorb the information better with videos, images, and other graphics. The human brain processes visuals 60,000 times faster than textual information. Visuals make your complex content easier for the intended customers to skim and digest, thereby changing their behaviors, attitudes, and perspectives.
Visuals like memes, infographics, and images are liked and shared more on social networks and online communities. By linking these visuals with your websites and landing pages, you can make the content viral and get tons of inbound links. Relevant and high-quality inbound links improve your search engine ranking, thereby giving more visibility to your brand.
Generate More Views per Post
According to research studies, the engagement rate of social media content can be increased by 37% if you optimize your marketing campaigns by adding gripping visuals. Moreover, engrossing visual content can generate more shares, comments, and likes, and increases your followers and subscribers.
Solicit Quick User Action
According to a report, 40% of users provide better responses to online visual content than text-based content. The design and color combinations of visuals influence how a specific viewer will take action. This, in turn, helps increase the conversion rate.
Engage the Viewers by Influencing Their Emotions
Emotion drives a lot more of the customers' decisions, but eliciting emotion is easier said than done. Using relevant and high-definition visuals, you can create an engaging story and connect with customers at an emotional and personal level, and encourage them to purchase your brand.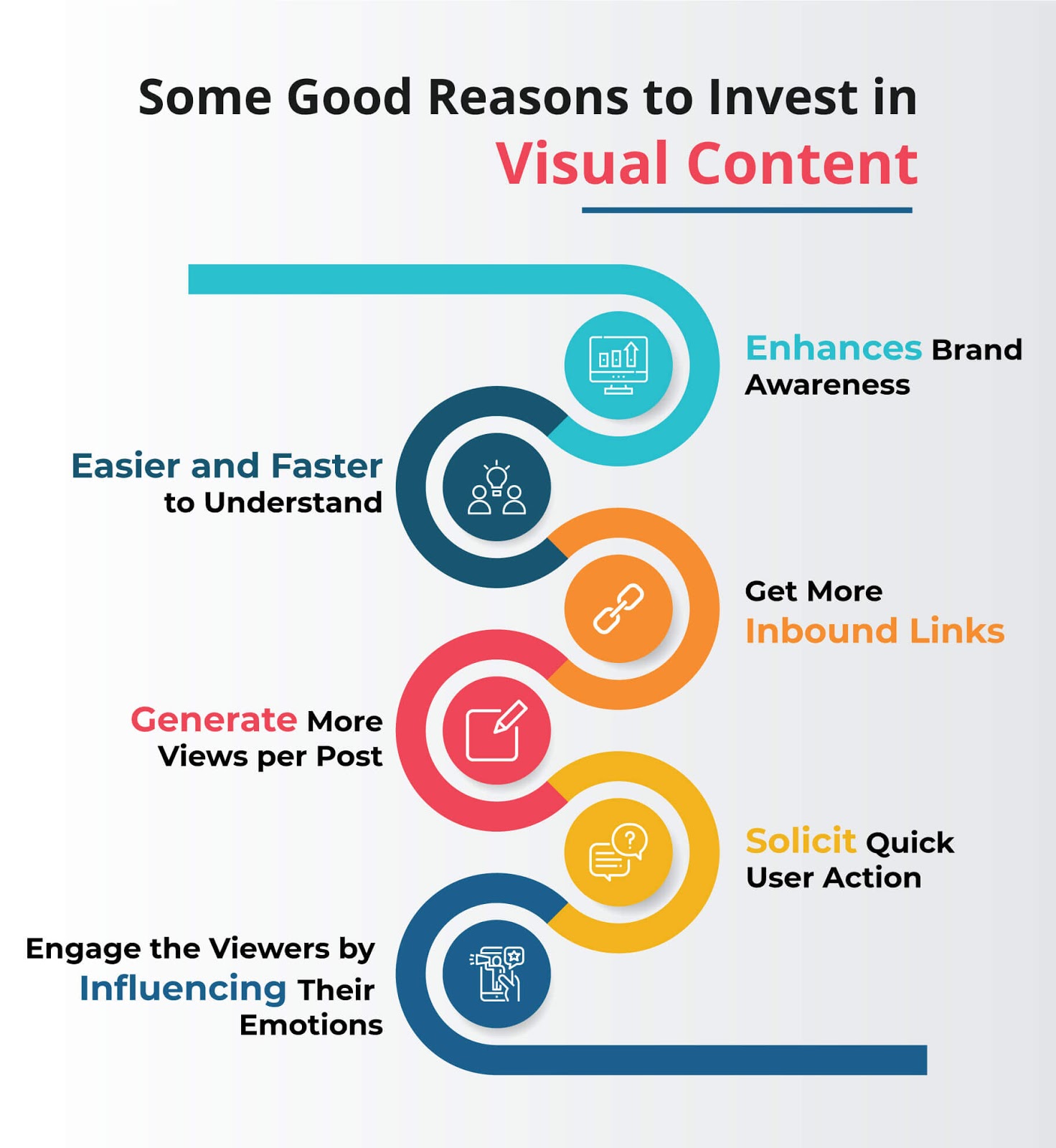 The Bottom Line
The impact of visual content on your marketing campaigns can't be overlooked. Visual is a universal language that can be used to communicate to every audience. So, if you are a startup owner, entrepreneur, or advertiser and struggling to improve online visibility or presence, it's high time to take quick action and include visuals in your content marketing strategy.
What's your take on including images, infographics, and other visuals in your content marketing campaigns? Do let us know your thoughts in the "Comment" section. If you like the blog post, do share it on your social media handles.