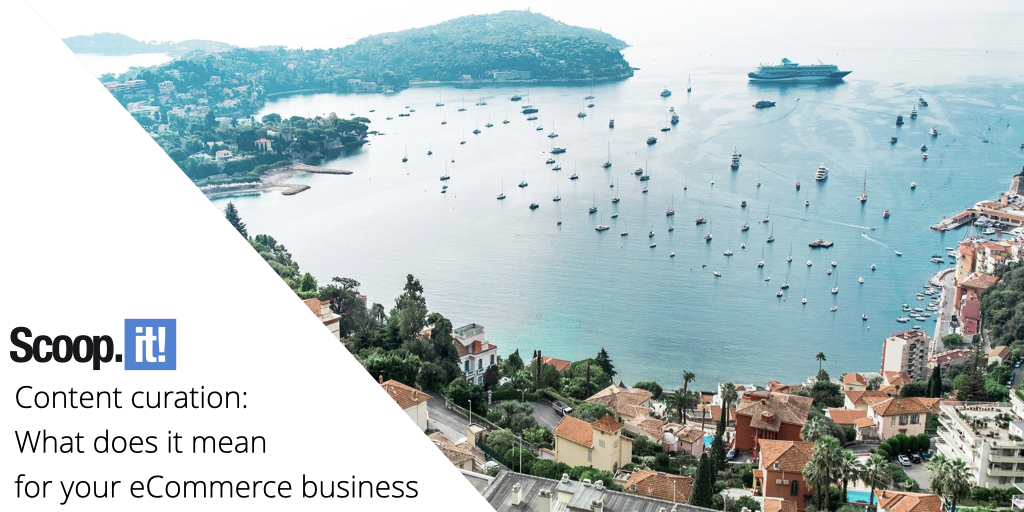 The more information is circulated around us, the more anxious we get. We want to cover it all but simply can't do that. That's why various digests, guides, abstracts, tops, and other compilations are so popular. All of them are formats of curated content that imply selecting, structuring, re-packaging, and delivering valuable information to users.
Most of the time media outlets and varied blogs leverage curation, but it can be beneficial for online businesses as well. If you are the brand that mindfully selects interesting chunks of data and info in your sphere from numerous sources, your customers will find it handy and appealing. And if they read your newsletters, blog, and social media more willingly, it leads to higher trust and even better conversions.
In this article, we'll explain the potential advantages of curated content in your eCommerce marketing strategy and share some ideas of such pieces.
Features of Curated Content
Business owners should constantly consider new ways of promotion, customer engagement, and retention. New trends in eCommerce emerge every year, and some then become macro trends that are with us for a long time. For instance, the current macro trend in web development is a tendency to convert a Magento website to a PWA. SEO & content marketing now focus on strong E-A-Ts and even more thoughtful content with a great deal of research, proof, and relevant data. Strong curated content is totally in line with such a paradigm!
Let's briefly outline the core features of curated content:
It's always based on already existing pieces: articles, studies, posts, or tweets. There can be either material created by others or by your company.

It's always thoroughly selected and often perfectly organized/reshaped to become more attractive and readable.

It brings added value to your customers. Curated content is relevant only if it gives new important information, handy advice, educates, and entertains people.

It saves precious time and provides users the opportunity to get acquainted with info that otherwise they would have passed by because of lack of time to read the large material.
Created and Curated Content: a Balanced Approach Matters
The important note here is the following: do not exploit curated content too often and do not underestimate the unique one.
It's vital to continue producing texts, photos, and videos from scratch to stay fresh and catchy for your audience. At the end of the day, your own posts, guides, and research are also the basis for future curated pieces.
One more hint: be rigorous. Content curation is all about finding the most compelling information and extracting the essence. Thus, don't just repost something related to your field. Select the best for your beloved clients. Try checking the facts and credibility of sources beforehand in order not to screw up in front of your audience.
Hence the third tip follows from the above: study your customers' preferences, tastes, and interests. Don't waste the time of your followers on something too abstract, lengthy, and boring.
Curated Content Ideas for Online Retail Businesses
Large and small eCommerce brands as well as other companies that sell online leverage content curation to:
improve their authority;

resolve SEO tasks

;

optimize the content strategy and spendings.
Let's see which formats you can implement to your newsletters, posts on social media, and articles on the website.
1. Simple Yet Efficient: Reposts
It won't cost you anything. Instead, it will bring fruitful results. Brands actively repost and retweet content that can be useful for their followers: articles, opinions, reviews, tutorials featuring a particular product or service.
Sometimes a company can be mentioned by celebrities and respected sources or media. But, most of the time, you're tagged by customers. User-generated content (UGC) is a vital part of any content strategy if a business wants to build close relationships with consumers.
Take a look at the screenshots below from the Fenty Beauty Instagram. The makeup brand regularly adds videos created by its fans and professionals who use these products and tag the account. Such content tends to engage even better than direct advertising and collaborations with bloggers because it's a sincere and unpaid recommendation. Moreover, people can learn how to use a foundation or eyeliner and find inspiration for their own beauty experiments.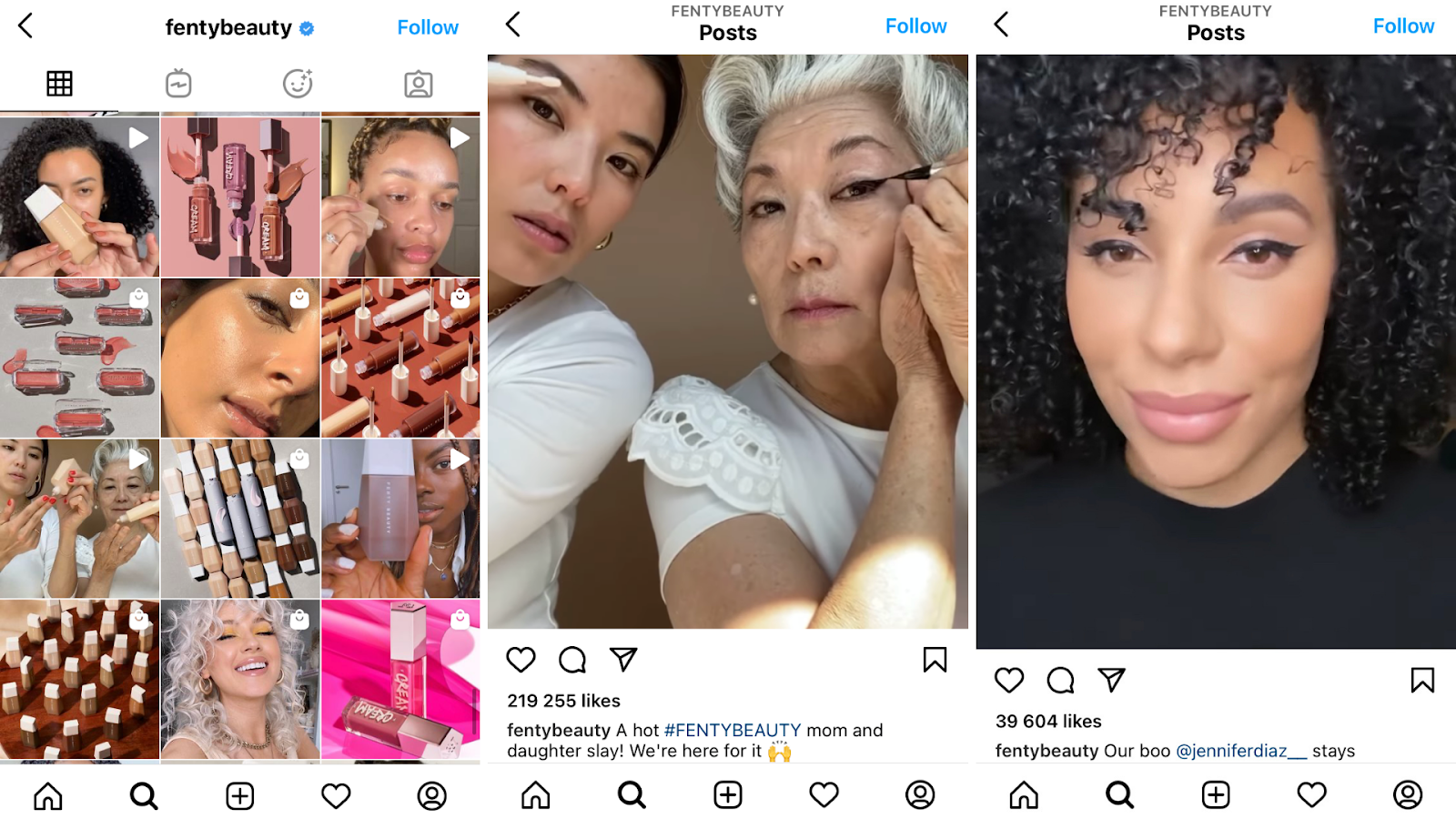 Screenshot taken on the official Fenty Beauty Instagram account
2. Classic: Digests
First and foremost, this is one of the best formats for newsletters. Basically, they include varied discounts and other promotional info. But, to show off your attitude to customers, give them a little more.
Look at the screenshot from the NET-A-PORTER website. They explain why it would be a nice idea to subscribe to their email send-outs: I'll receive style advice, news, and promotional offers. Sounds good, so I've agreed. Can't wait to start receiving letters from them.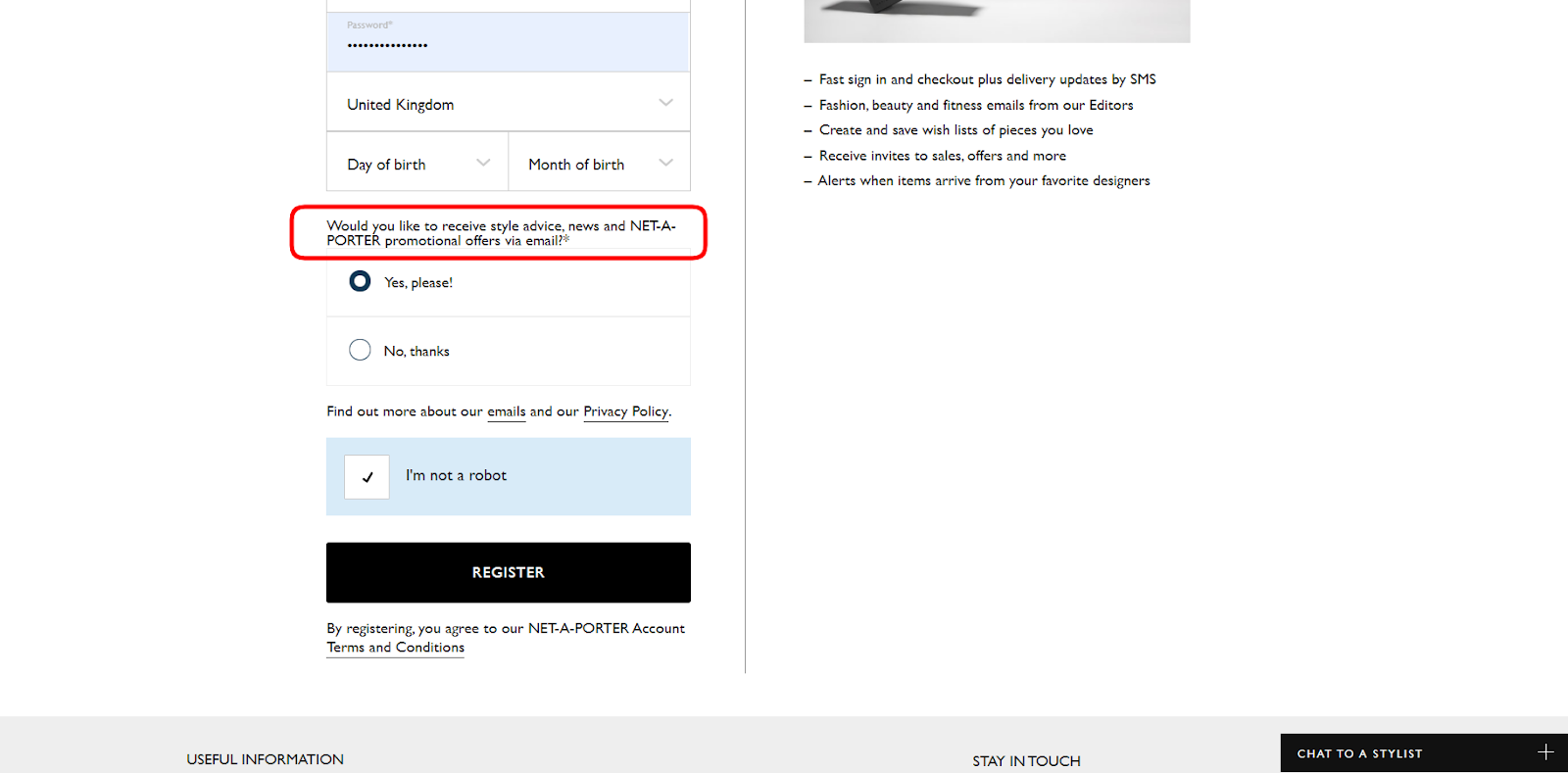 Screenshot taken on the official NET-A-PORTER website
I expect to see something like newsletters from Preply. They send me digests that represent weekly selections of helpful articles, tips, offerings, and tricky questions for English language learners. Preply smartly structures their existing content and kills two birds with one stone. The service provides clients with wholesome content and increases the website's key metrics. Without these emails, I wouldn't have discovered all these articles. Somebody (it might be Rosy herself) presented them to me in the most convenient way.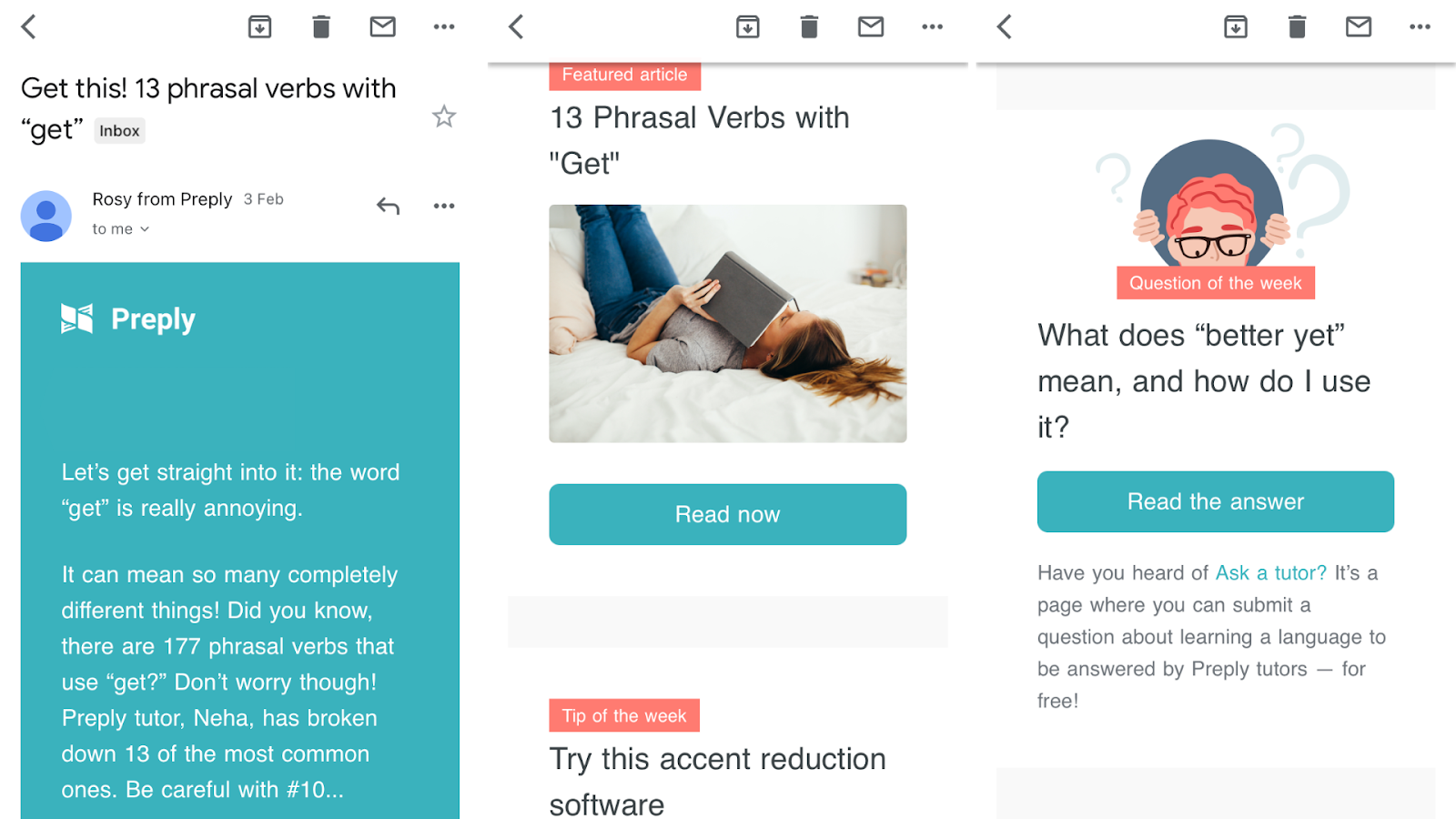 Screenshot taken from the newsletter from Preply official website
3. Inspiring and Striking: Quotes & Stats
A brand cares not only about sales but also about its image. Take a look at the screenshots from Nike's Instagram. Here we see which ideas the company promotes: to encourage people, to make them believe in their strengths. Nike does that by different means, and one of them is sharing wise thoughts of famous people and prominent professionals in sports. This also can be regarded as curated content.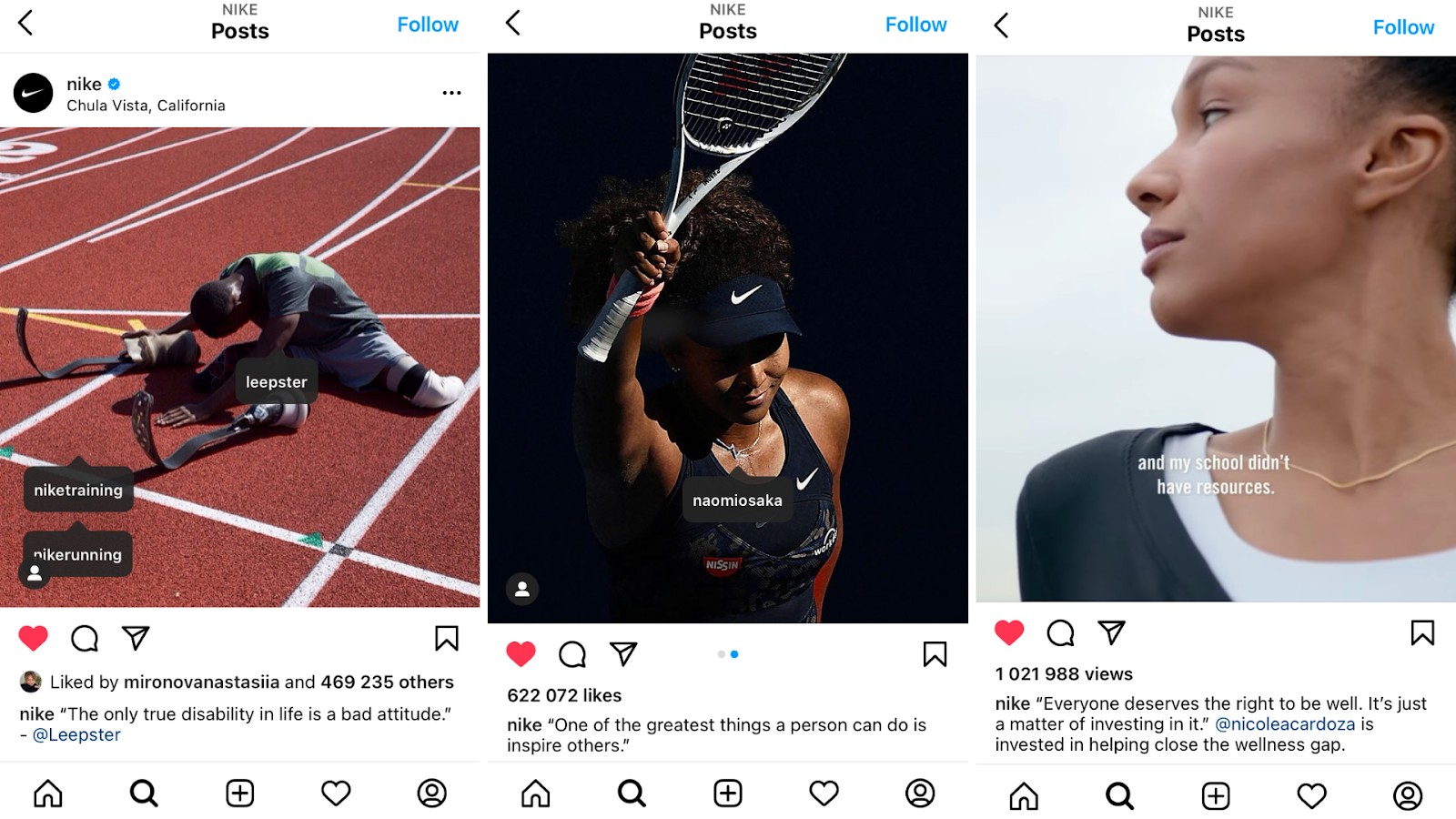 Screenshot taken on the official Nike Instagram account
Another bunch of screenshots below is from the Instagram account of Salesforce. Their content strategy here is partially based on drawing attention to some painful issues. For instance, they shared important statistics about gender pay inequality. They borrowed digits from a reliable resource to underline their position and reinforce authority. Users, in turn, gained some useful data while just browsing through the Instagram feed.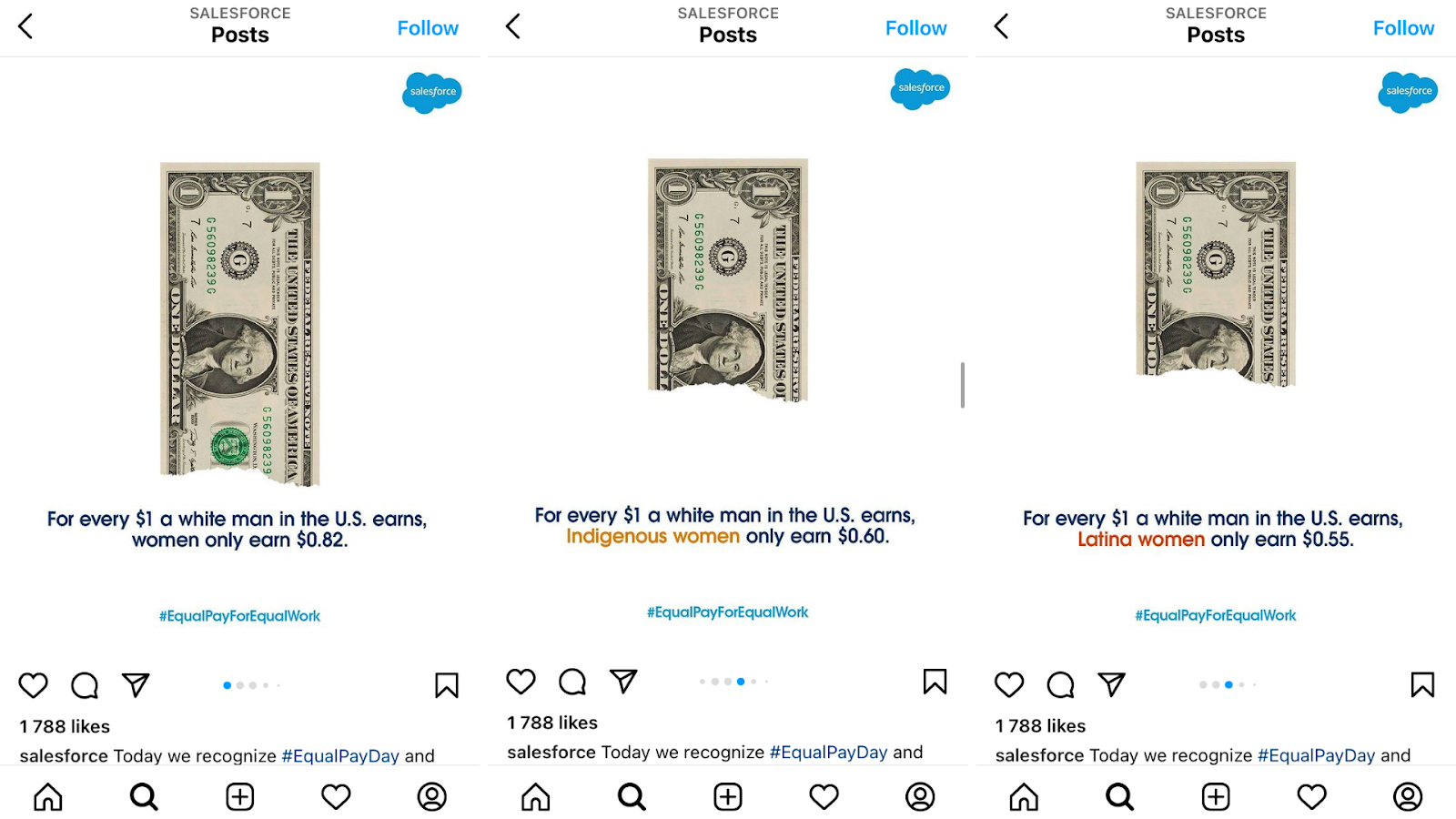 Screenshot taken on the official Salesforce Instagram account
4. Advanced: an Abstract or Guide
Finally, some eCommerce websites deliver customers not just goods but profound knowledge about their main subject by making impressive blog posts.
A beautiful example here is FARFETCH with its Fashion Feed. In the screenshot below, we can see lots of curated content that definitely required deep elaboration of large data amounts. In this case, content makers do the toughest work: study brand history, names, collections, size grids, etc, so that we can read a kind of an abstract or guide with all significant takeaways in one place.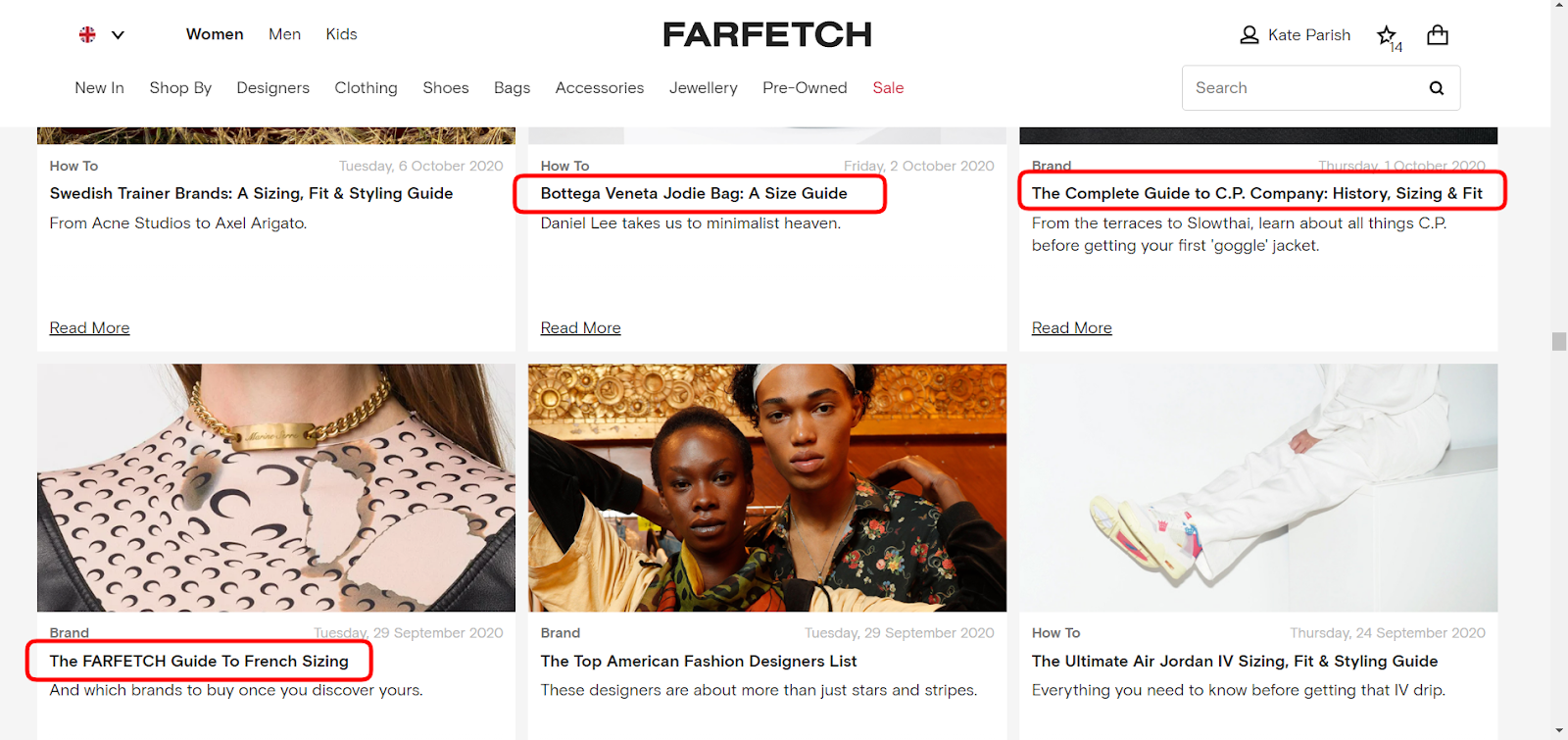 Screenshot taken on the official FARFETCH website
To Conclude
Curation is a versatile approach to delivering wholesome content to your audience via all possible channels of communication. When thoroughly selected and improved by eye-catching visuals, curated pieces will be a worthy part of your content marketing strategy.