The past couple of years have seen a significant shift in the way successful SaaS brands approach marketing.
With rapidly changing consumer behavior caused by a global pandemic coupled with the growing popularity of cloud services (predicted to reach $123 billion in consumer spending in 2021), marketers are constantly searching for new strategies that will help them meet their goals. And, it turns out that content marketing is more relevant in 2021 than ever.
But the thing is, more and more companies are investing in content. According to Semrush, 84% of companies employed a content marketing strategy in 2020 (compared to 77% in 2019). Even more, only 33% of brands decreased their content marketing spend in 2020 due to Covid-19-related budget cuts.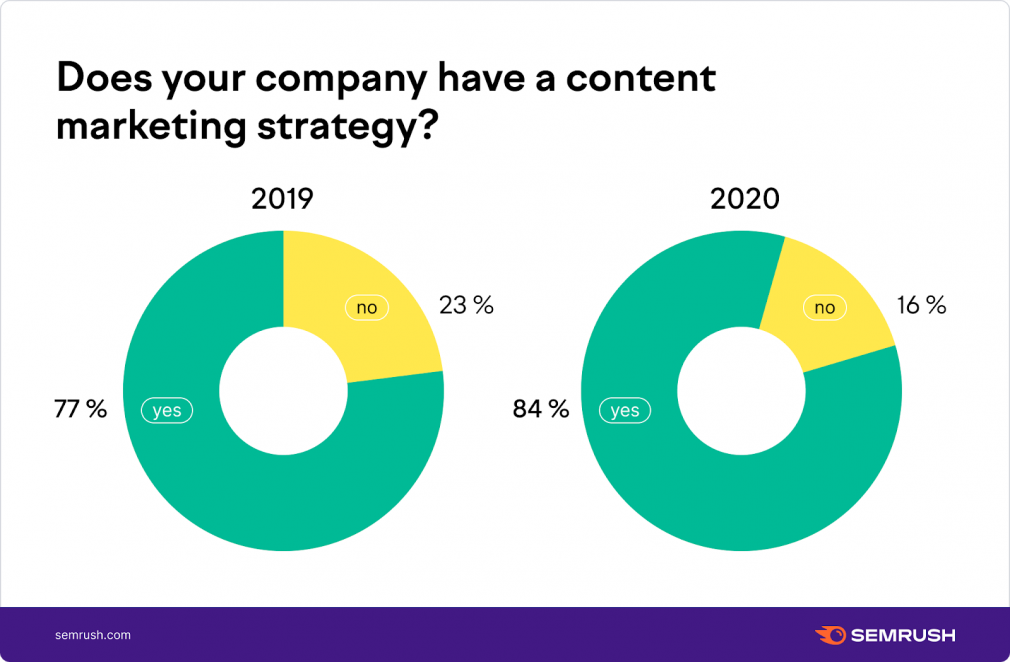 Source: semrush.com
With this in mind, it comes as no surprise that for content marketing to work for SaaS, it needs to be executed expertly. Fortunately, the following SaaS-specific content marketing strategies are sure to bring results in 2021 and beyond. Read on to find out all about them.
Setting Up Goals & Metrics
One of the elementary aspects of building up your SaaS business for success is having a clearly defined set of goals that you want to achieve. And, when you've set those targets, the best way to check whether you're on the right path is to continually monitor your progress.
So, it's only natural that your first step in developing a SaaS content marketing strategy in 2021 needs to be a setup process for relevant goals and metrics.
When investing in content, you're working with the benefit of having a versatile marketing strategy that allows you to address several different goals (and audience segments) at the same time. So, you can continually work to do all of the following:
Boost organic traffic to your website by producing relevant SEO-oriented content

that ranks high on SERPs.

Invest in branding and increase brand recognition amongst SaaS users in the top and middle stages of the sales funnel

to generate high-quality leads you can nurture into paying customers.

Build relationships and community to use non-intrusive marketing strategies, which rely on brand authority and expertise.

Boost customer lifetime value by minimizing churn rates

and prolonging contract lengths.
To know whether you're doing any of these, you have to determine the relevant metrics for your goals.
These can be anything, from traffic volume and source to bounces, page views, average session duration, backlinks, and conversion rates. What matters is that you're consistent about keeping an eye on them and actually use the data to improve your content marketing efforts.
Create Content for All Stages of the Customer Journey
The one thing that's true about all content marketing is that one size does not fit all.
Even if you're just starting your company and have no customers, you still have to consider that your potential buyers won't all be in the same stage of their buying journey (or even be looking for the same features).
Sure, some people will just be figuring out that there's such a thing as a piece of software that could meet their needs. But others will already have used similar products and might be looking for alternatives. For this reason, you need to come up with a content marketing strategy that serves different audience segments and different consumer pain points.
To better understand the versatility that content marketing offers when targeting consumers, check out these two posts by MailChimp and Mozart Data.
The first example aims to educate newbies on the topic of email automation. It's meant for consumers who are still at the top of the sales funnel and are just starting their journey.

The second article is written for people looking to use data analysis for their business but still aren't familiar with all the details of storing the collected data. These people populate the mid-funnel position and are closer to making a purchase.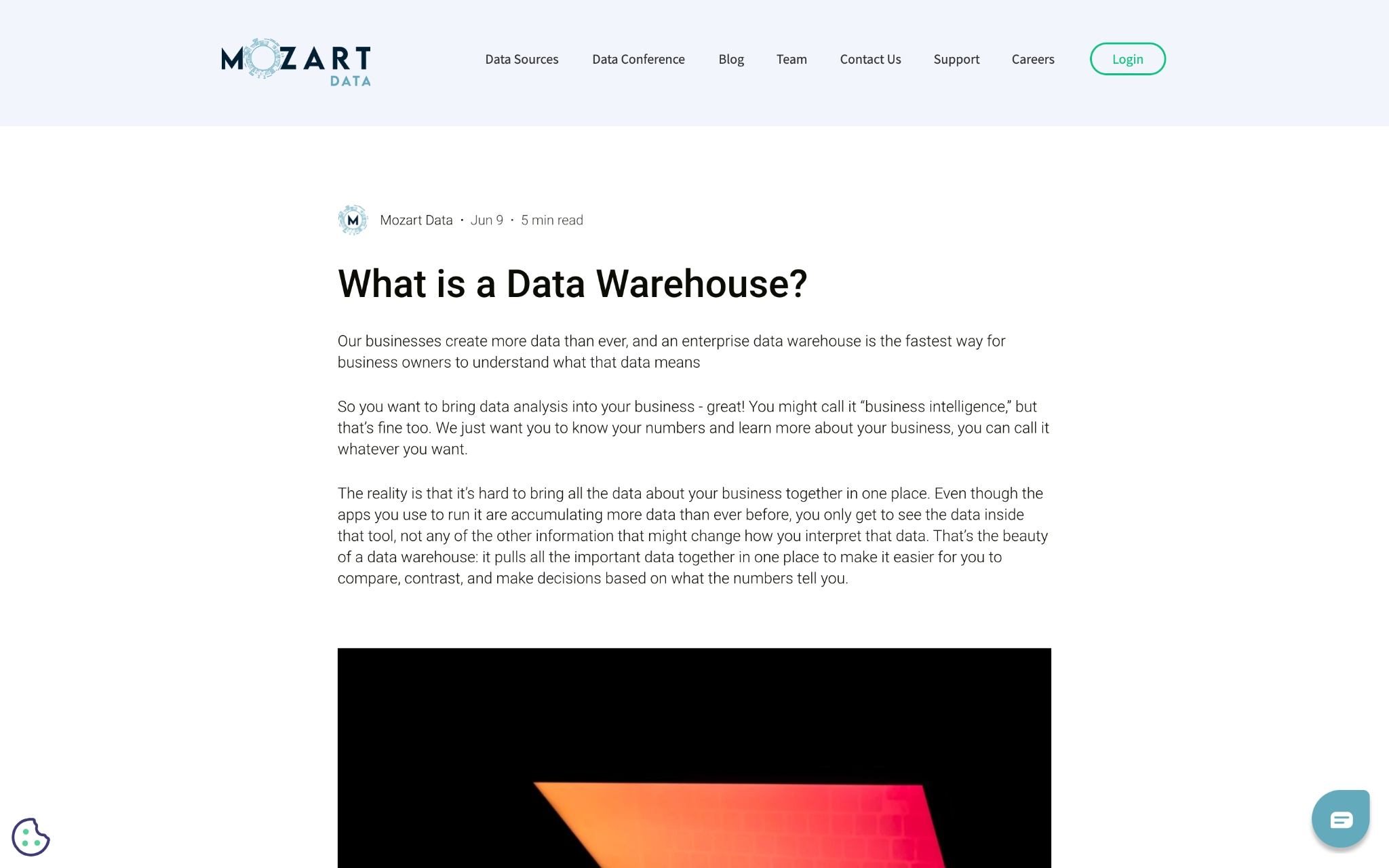 Source: mozartdata.com
Now, you may be wondering: how do I know what topics to cover if I want to produce content for all stages of the customer journey. Well, the best answer to that is to do thorough keyword research.
Generally, the broader the keyword is, the more it will be geared towards consumers in the awareness stage. But, as you start to target more specific (lower-volume) search terms, you'll be writing for people with a better understanding of the topic. And that means you'll have to bring all your expertise to the table.
Explore Different Formats
One of the biggest content marketing strategy mistakes you can make is to limit yourself to a single format. Yes, blogs may be the most logical type of content to produce. But, you might be capable of getting much better results by exploring less popular options like podcasts, videos, or webinars.
Research shows that younger generations show a strong preference towards video and social content. And amongst consumers aged 55+, what gets the best results are news articles (59% prefer this format) followed by research reports, social media posts, and email.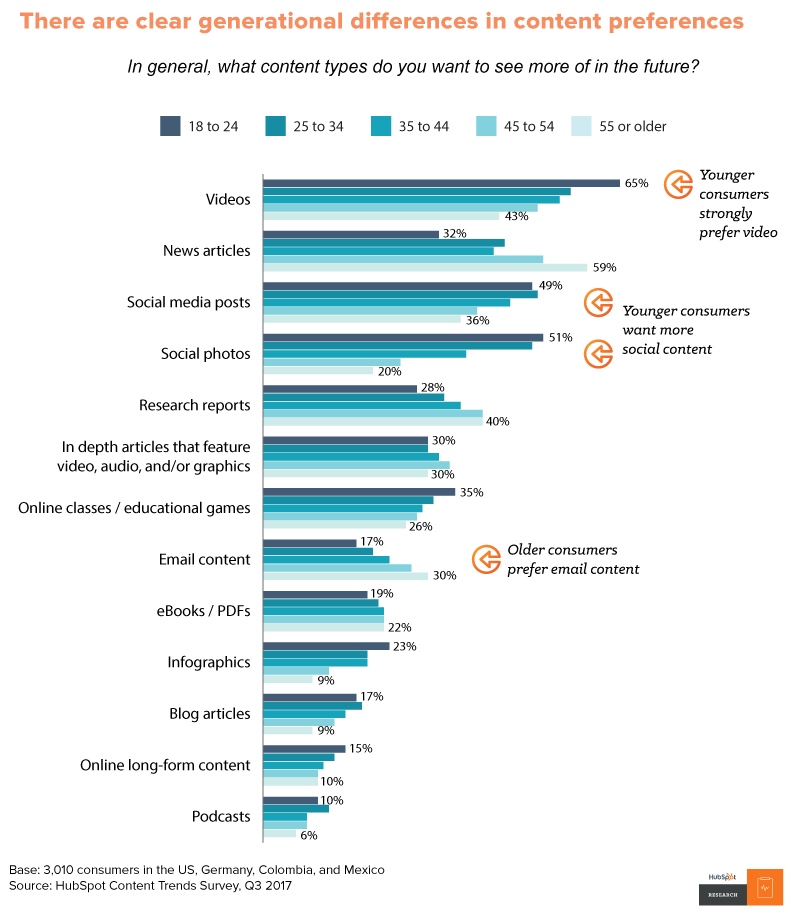 Source: hubspot.com
For this reason, the best content marketing strategies you can adopt in 2021 rely on versatility.
To put this plan into action, try to tie together the various formats (you can do something along the lines of AdBadger, a SaaS brand that produces a podcast, a newsletter, a Facebook group, and a website blog section). This way, you'll be able to establish as many points of contact with potential customers as possible.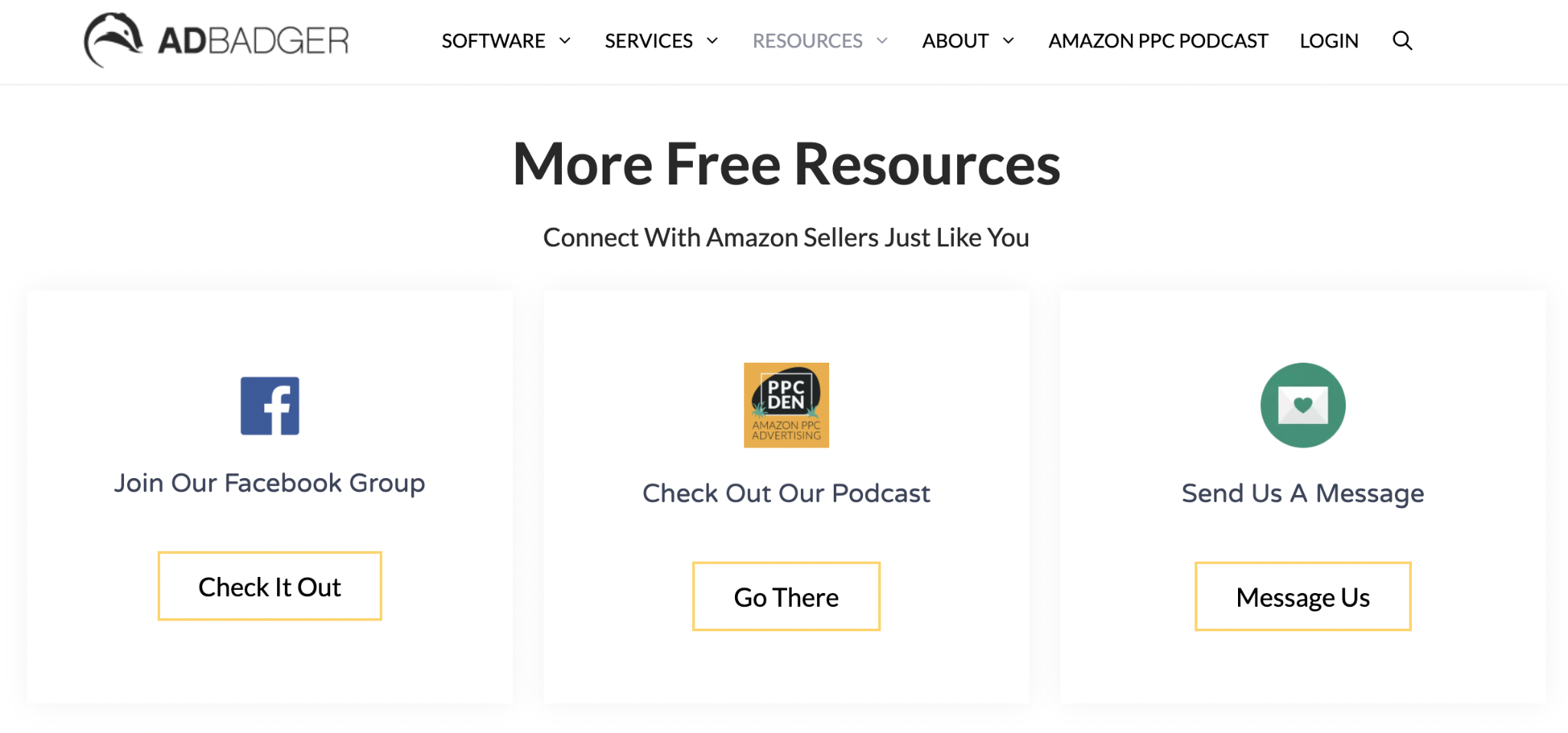 Source: adbadger.com
Be User-Centric Instead of Maker-Centric
One of the easiest traps to fall into when coming up with a content marketing strategy for your SaaS business is to only invest in content centered around your software.
Sure, taking the time to describe the features and possibilities your product offers makes for an integral part of selling to new customers. But, more often than not, your users will want to read (or watch) something a bit more personal to them.
To achieve this, the Nielsen Norman Group suggests utilizing user-centric language for all website copy. Basically, the idea is that by avoiding the overuse of industry-specific jargon and feature-driven language, brands can do a better job at engaging readers/viewers and help them relate to the content they're consuming.
An excellent example of this principle in action comes from IBM Cloud. This company has a fully user-centric YouTube channel, where it describes its main features in bite-sized videos that cover the many different ways its clients use the software. So, for example, this video explains the concept of Edge Computing by describing how NASA uses the technology to transfer DNA data from the International Space Station to Earth.
Other ways to implement this tactic to your content marketing in 2021 include the generation of case studies, as well as the use of user-generated content. Both of these can be excellent ways to give detailed descriptions of your product, all the while allowing potential customers to imagine the practical uses they could get by investing in it.
Curate Content
Are you searching for content marketing strategies that will help your SaaS brand stay relevant in 2021? Then you'll definitely want to look into those that'll help you provide your audience with the amount of content they're ready to consume.
You see, the secret to content that drives growth isn't just that it needs to be high-quality, user-centric, engaging, and innovative. It also needs to be published on a pretty regular schedule. And, for smaller teams in particular, this can create significant obstacles – especially when they're working with money or time constraints
Fortunately, there is a solution to this problem: content curation.
By collecting already available information from trustworthy resources, you can create a fresh marketing strategy that introduces your target audience to the knowledge they may not have come by without you.
Roundup posts, like this one by Flamingo, make for great examples of curated content. By putting together a list of remote work tools, Flamingo created an easy-to-follow guide for remote teams, all the while positioning itself as a must-have piece of software.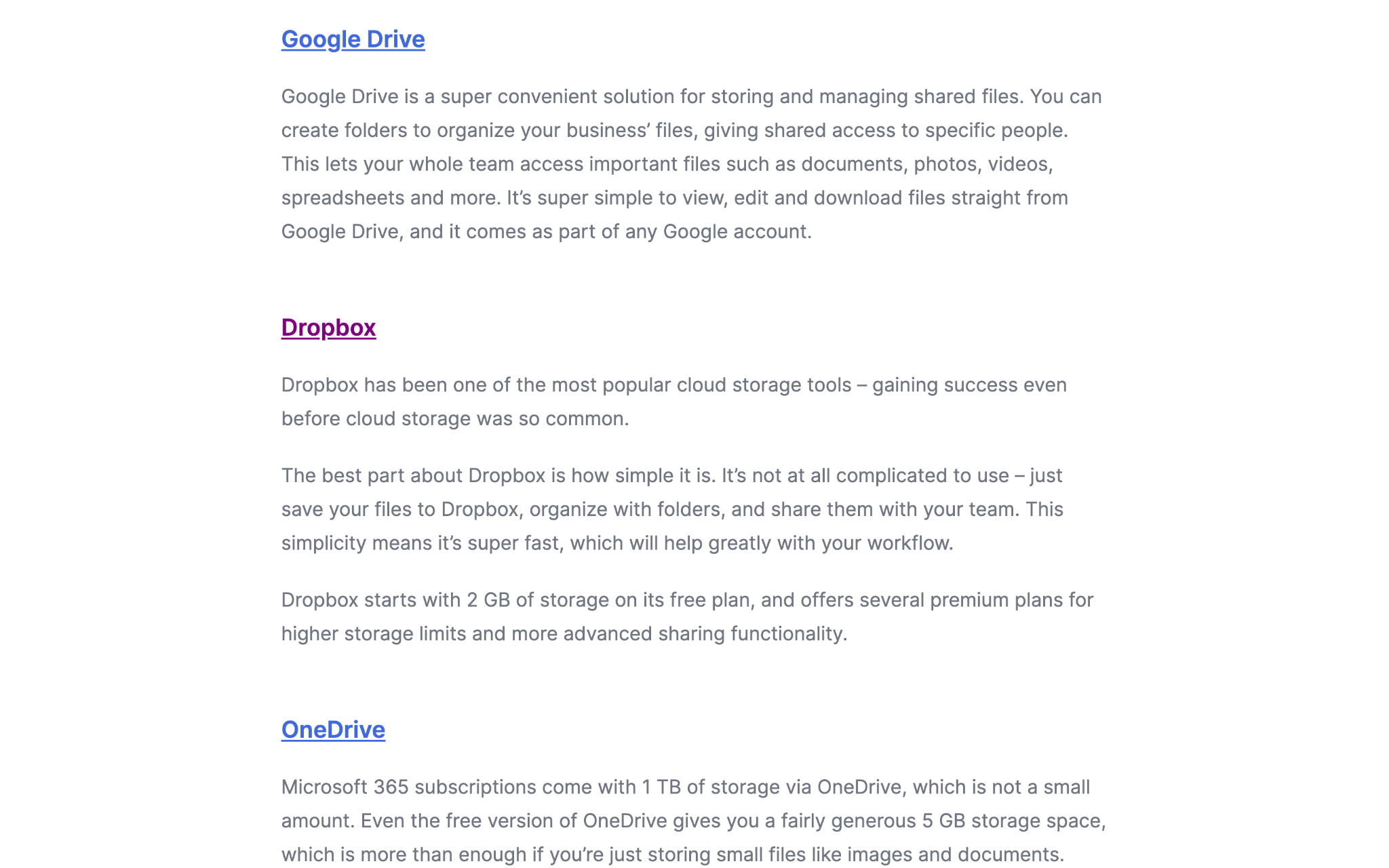 Source: helloflamingo.com
If doing something like this still seems like too much work, you can also implement the social media approach to content curation.
As you can see in the example below from Lever, you can present your followers with relevant content in your industry and find ways to start conversations around these topics. (It's also a great way to test the waters for future topics or blog sections.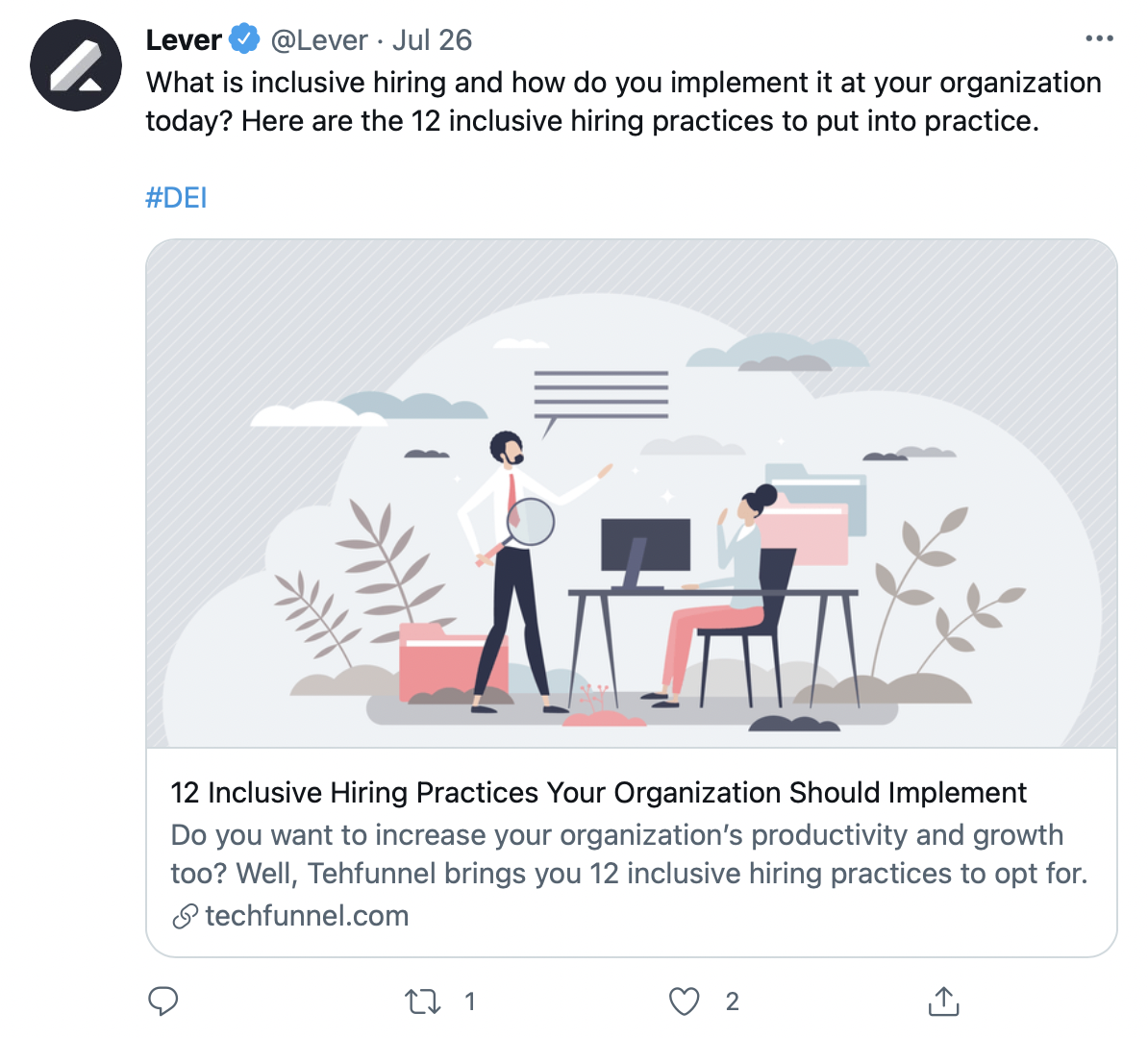 Source: twitter.com
Of course, for this strategy to work, you'll still have to produce original content. The idea is not to eliminate the need to do anything. It's to take some pressure off of your budget and your creative team.
Outreach & Promote
Depending on your target audience, it's safe to say that you may not always be the best advocate for your products. Yes, you may have expertise and experience. But, if you're yet to make a name for yourself, then you might want to find ways to speed up the process of being seen as a trustworthy name in your industry.
In 2021, one of the best ways to do that is to turn towards collaboration. Whether you choose to work with influencers (who are 4x more effective at driving brand familiarity than celebrities) or work with other brands is entirely up to you. But rest assured that adopting this type of strategy won't just introduce your SaaS brand to new audiences. It will also give you a head start in establishing its trustworthiness.
For example, Google Pay recently sponsored a video by Matt D'Avella, which was an excellent decision considering this creator's audience and focus topics (minimalism, finances, productivity, etc.). And, by doing so, the SaaS service gained exposure to over 200k viewers in under a week, including people who aren't yet using similar software but would be willing to take advice from a trustworthy name such as D'Avella.
Build a Community
Last but not least, to get the most out of your content in 2021, you need to find ways to make it an essential part of your audience's lives. Whether that means dropping a new episode of your super-entertaining podcast every morning at 8 A.M. sharp or starting a newsletter where you share fun new research with your followers is up to you.
But, what matters is that you find a way to make the content itself an irreplaceable part of your customers' and followers' lives.
One great way to do this for SaaS brands is to bring people together in online communities, such as Facebook groups. Seeing how the focus of SaaS companies is to come up with problem-solving solutions for their clients, a digital gathering point can be an excellent place to promote content and reach new people.
This is what Aura does with its Facebook group for Amazon sellers. Essentially, it allows professionals in the field to get together to find solutions to unique problems. Moreover, its expert representatives offer advice and personalized help to software users. And, the group even serves as an impactful selling point to potential customers.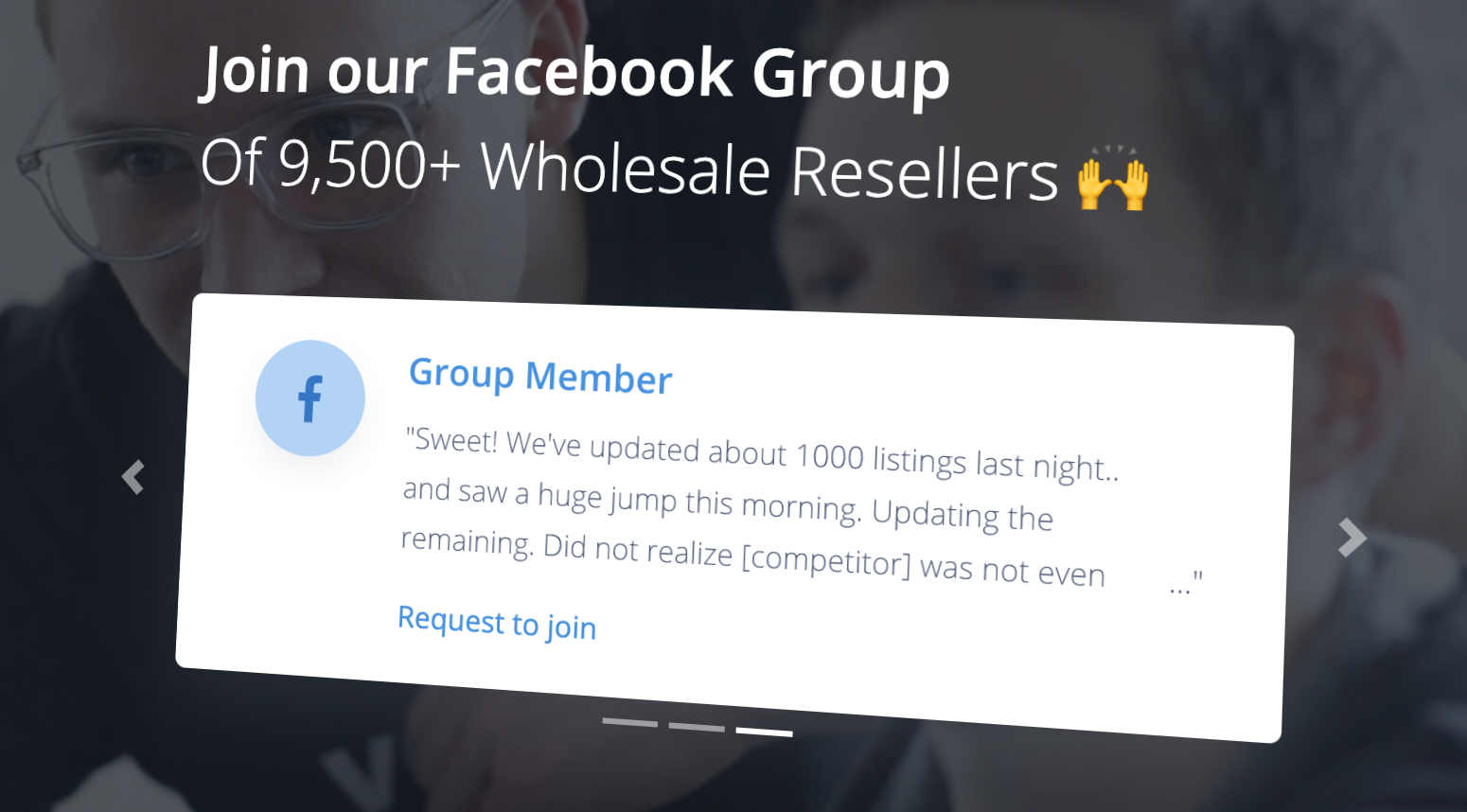 Source: goaura.com
This marketing strategy can be particularly beneficial to those who find that their paid advertising campaigns aren't bringing the desired results, seeing how they circumvent the problem of intrusive ads and make the promotional material something their audience seeks out instead.
Source: statista.com
Final Thoughts
There's no question about the fact that content marketing is here to stay. After all, people are consuming more and more of it every year.
But, with increased popularity comes increased competition and, for most SaaS startups, $100,000 marketing budgets are out of the question.
It is for this reason that businesses must find ways to keep their content strategies fresh, relevant, and high-return. Fortunately, that doesn't take a boatload of money. In fact, amazing content marketing strategies can be implemented even with a shoestring budget. All you have to do is know your goals, try things out, and keep an eye out for your key metrics. Keep at it, and success is sure to follow.