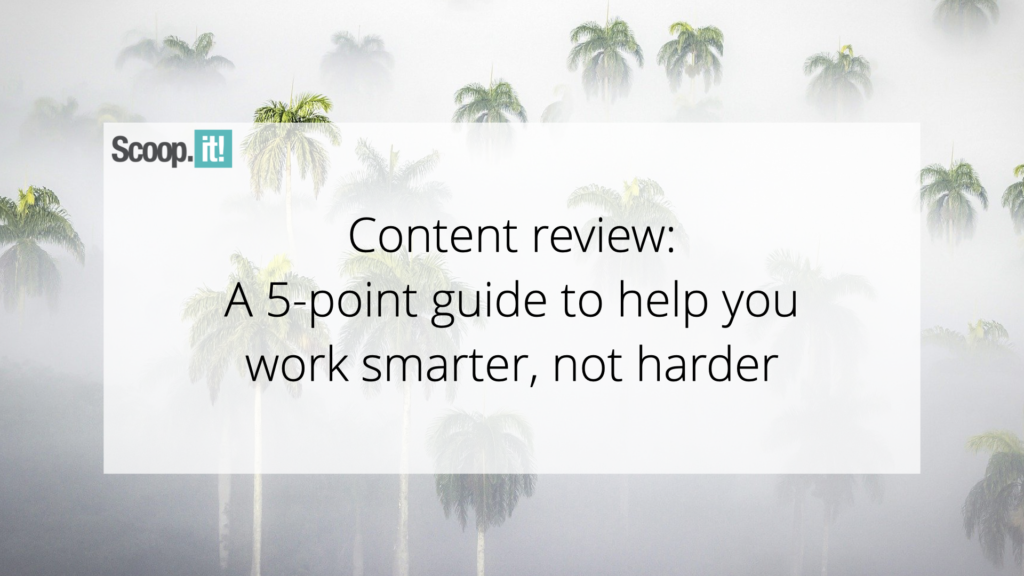 What does your content review process look like?
As we churn out more and more content for our ecommerce websites and blogs, it becomes increasingly difficult to ensure that all of our content is up to standard.
We get distracted with generating new content. The scope of the content becomes lost in the noise. Drafts get stuck in never-ending feedback loops and final approvals are delayed. As a result, we end up with content that is off-brand, littered with errors, and doesn't align with our content marketing goals.
Luckily, implementing a strategic content review process can eliminate all of these challenges. If you're looking to improve the quality of your content and the productivity of your marketing team, it might be time to invest in your content review process.
What is Content Review?
The content review process refers to the steps that every piece of new content should go through before it goes live on your website. It involves everything from meticulous proofreading to making sure that the content meets brand consistency, target audience, and SEO requirements.
Content reviewing can also involve the periodic monitoring of content. This is to ensure that your content remains relevant and your web pages and customer touchpoints continue to display and function as they should.
Importance of Content Review
Why is content reviewing so important to your content marketing strategy?
Maintain brand consistency
According to Lucidpress, a huge 77% of businesses see off-brand content created in their company. This is despite 68% of businesses saying that brand consistency contributes to revenue growths of between 10-20%.
Free to use image sourced from Pexels
Finding, perfecting, and maintaining a consistent brand identity is hard work, especially when you have lots of different team members involved in the creation process. This is why checking for brand consistency is one of the primary tasks of content reviewing. It helps to align your content with your brand's mission statement, visual aesthetic, and tone of voice.
It saves everyone's time
Content reviews help you establish clear rules, guidelines, and standards, from your SEO strategies to your brand voice. As a result, marketing teams can work collaboratively to achieve unified goals, eliminating confusion and improving productivity.
Encourages growth among team members
The content review process embraces feedback, which in turn promotes a culture of growth and opportunity.
Rather than have one specialist team member be responsible for creating and reviewing specialist content, you can involve other writers in the creation process. Your specialized team member can then get more involved in the reviewing process, using their expertise to simultaneously refine content and provide valuable feedback to budding writers.
Makes sure even small errors are inspected
It doesn't matter how many times we check, double-check, and triple-check our own writing – there's bound to be a misplaced comma in there somewhere!
The reason why it's so easy to miss your own typos is called generalization, and it can leave you with typo-riddled copy that reduces the impact of your marketing material. Content reviewing tackles this problem by putting drafted content in front of fresh eyes. This increases the likelihood of those small errors being spotted before content goes live.
Feedbacks are organized and centralized
An organized content review process streamlines feedback. At a glance, you should be able to identify who created the original draft, who reviewed the content, who adjusted the content, and the reasons why these changes were made. With insight into where your content is at any given time, you can give the appropriate feedback to the right person.
Free to use image sourced from Pexels
Ensures set targets and end goals are being achieved
With so much content being created and team members constantly coming and going, it's easy to lose track. The content review process aims to govern a piece of content from the draft stage to the approval stage with a focus on meeting end goals. So, whether your goal is to increase your SEO value or build loyal customers, your content review strategy will ensure that this is the focal point of your initiative.
Who performs Content Review?
There are three main personnel involved with the content review process.
Content Writer
The content writer is the original creator of the content. They're responsible for producing the first draft and submitting it for review. The content writer plays a critical role throughout the content review process because they make the bulk of recommended changes.
Content Editor
Your content editor is your primary content reviewer. They don't necessarily have to be a professional copy-editor to take on this role but they do need a meticulous eye for detail and subject expertise. Your content editor is in charge of providing your content writers with feedback and recommendations, guiding them through the revision process.
Content Manager
Your content manager oversees the entire review process from start to finish. They organize the assigning of content at each review stage and ensure that it's moving through stages without delay. It is also their responsibility to ensure that content editors are thoroughly reviewing work. Once the content has been edited and refined, the content manager will issue its final approval and publish the content.
Free to use image sourced from Pexels
How to execute a seamless Content Review
An effective content review process is implemented strategically with a solid plan in mind. Here are the essential steps to follow.
Set clear objectives, end goals, and targets upfront
Diving into the content creation process without a set of clear objectives and goals is a fast track to disaster. It results in aimless, disunited content that adds no value to the bigger picture.
Every piece of content you produce should have a purpose. Are you trying to:
Improve your SERP ranking?
Attract new customers to your website?
Drive social engagement?
Educate or entertain your readers?
Sell a product or service?
Remember to be specific. If you want to drive social engagement, what is your primary focus? Are you trying to get comments on your blog? Acquire more Instagram followers? Receive more Facebook ads comments? The more specific you are, the easier it will be for your team to create content that achieves these goals.
Construct thorough content standards and editorial guidelines
Empower your writers to create consistently high-quality content by providing them with content standards and guidelines. These guidelines should be constructed into a physical resource (such as a brand style guide) that includes all the information needed to create content that aligns with your brand's style and expectations.
Your brand style guide should go into detail about:
Your brand's persona
Mission statements and values
Target audience
Color schemes and palettes
Typography
Tone of voice
Communication style
Images
Content curation tools and resources
Here's a page from Ivy Lane Events' brand style guide where they discuss their brand persona.
Screenshot taken from issuu.com (Ivy Lane Events – Brand Guide)
Use document-sharing software like SecureDocSharing to manage your internal knowledge documents securely.
Conduct a meeting and discuss the review process with team members
All of your marketing team should have a say in how the content review process should be executed. Begin the meeting by outlining your content ideas, your creation process, and the different steps involved in the content review. Remember that these steps should align with your wider content marketing objectives.
Invite your team to make suggestions and provide feedback. Armed with a solid content plan in these early stages, you can more effectively implement a review process that helps you meet your end goals.
Delegate tasks to the right team members
The content review process can get messy if you're not careful. To avoid it descending into disorganized, unproductive chaos, make it clear from the beginning who is in charge of what and why.
Every team member should have a clearly defined role that aligns with their individual expertise and your content marketing objectives as a whole. Say, for example, your goal is to create a high-ranking blog post – your content editor should be someone with SEO expertise. If your goal was to create an article to drive engagement, your content editor should be someone clued up on customer engagement strategies.
By delegating tasks strategically, you place talent in the area that drives the most impact.
Keep your focus until the final approval process
New content often goes through multiple rounds of revisions before it's approved. Everyone involved in the content review process needs to keep their focus throughout every revision, taking care to align the content with large-scale business objectives at every stage. This ensures that objectives don't get lost in translation or pushed aside at the emergence of newer projects.
Why every team member can benefit from creating an uncomplicated yet effective Content Review Process
The content review process is designed to foster a business-wide culture of collaboration and growth.
Content writers get the opportunity to improve their writing skills. Armed with a set of guidelines, end goals, and plenty of constructive feedback, they can continuously hone their writing skills in alignment with business objectives.
Content editors can benefit from an organized content review process that takes their expertise and interests into account. It increases their productivity and the value that they can inject into a piece of content. They also have access to the same set of guidelines, rules, and goals as the writer, thus improving communication and unifying collaboration.
And of course, the streamlined insight achieved by content managers enables them to guide content to the final approval stage with efficiency.
Free to use image sourced from Pexels
Conclusion
An effective content review process does more than ensure there are no spelling mistakes in your copy. It enriches every drafted piece of content with the expertise of other team members while keeping it on track to meet goals.
By implementing a strategic content review process, you can foster a culture of feedback and growth that drives the creation of consistent, on-brand, error-free content that meets objectives every single time.