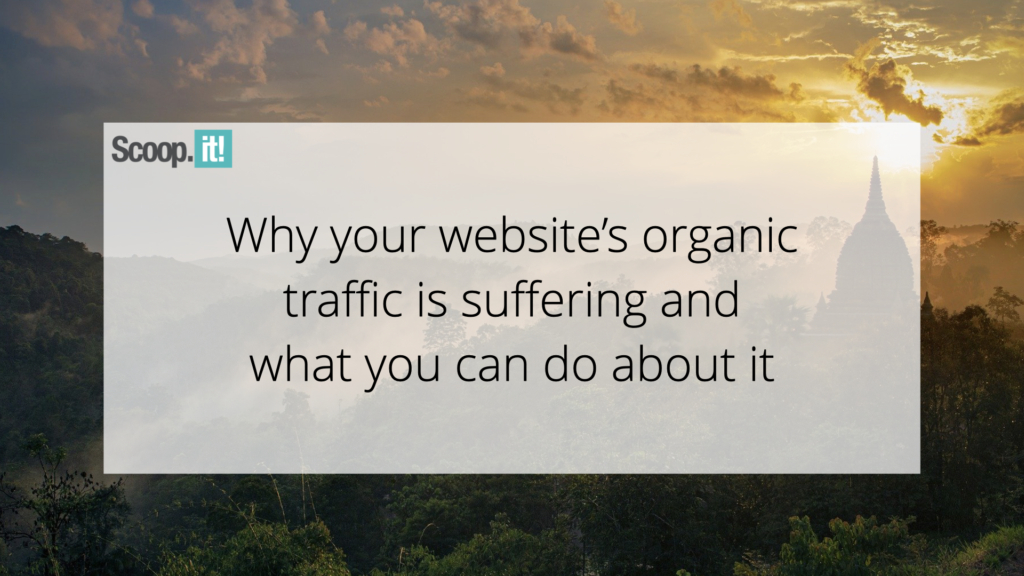 Did your website's organic traffic suddenly take a nosedive? Perhaps you were slowly losing traffic, but you didn't notice.
Don't panic. Many website owners experience this unwelcome phenomenon from time to time.
The good news is that there is a solution — as long as you know where the problem lies. But how do you know what the problem is? When is the time to call in the experts?
Keep reading as we discuss the most common reasons for a sudden drop in website traffic and how you can fix them.
Why is organic traffic important?
Organic traffic results from a search engine's algorithm working to bring the most relevant and trustworthy results to its users.
If your website answers the user's query, the algorithm will reward you by directing traffic to your website. That means you don't have to pay for people to visit your site because they are coming to you naturally (which is invaluable).
The benefits of organic traffic to your website are numerous, including:
Highly qualified leads
It is more sustainable
Higher conversion rates
It improves brand loyalty
Customer intent-driven ROI
It is cost effective
It brings highly engaging customers
Customer intent drives it.
Your main problem is SEO
According to Backlink.io, the number #1 result on Google gets a click-through rate (CTR) of 27.6%. The second-placed result gets slightly above half the CTR of the first-placed result at 15.8%. The third result gets 11.0% CTR. And the first result has a 10x higher CTR than the tenth-placed result.
Source: Backlink.io
This emphasizes the importance of search engine optimization (SEO) for ranking higher in search results and attracting more visitors. Typically, a sudden drop in your website's organic traffic means your SEO efforts aren't as effective as they should be.
SEO involves optimizing a website for search engines by incorporating the right keywords, backlinks, and other elements to increase the chances of appearing in search results, and attracting more organic traffic to your website. Getting to the top of the search results requires you to understand the core principles of SEO:
Keyword research and integration
Title tags optimization
Meta description optimization
Link building
User experience optimization
Content development.
How SEO impacts your organic traffic
If executed well, SEO will impact your site's organic traffic by improving your search rankings, thereby bringing in more qualified leads. But it isn't an overnight process, so you should be patient when implementing an SEO strategy.
Source: Bloggers Ideas
The most common SEO issues
Here are the most common issues that can affect your search rankings and, consequently, your organic traffic.
Duplicate content: According to Google, Duplicate content is substantially similar to another page on the same site or another site altogether. And that content won't rank well because it has no unique information to offer search engines. Duplicate content, if found to be deliberately duplicated to manipulate rankings and increase traffic, not only lowers your search rankings but can also cause Google to remove your website from their index entirely.
Broken link or poor link building: Link building can increase your website's organic traffic, but it needs to be handled carefully because every link to your website needs to be relevant and have an appropriate anchor text for search engines to value it appropriately. When a link is broken or non-existent, the spiders that search the web for new information won't be able to find your page, resulting in a lower CTR.
Bad mobile experience: Over half of the web traffic comes from mobile devices, and this number is rising. If your website isn't optimized for mobile, i.e., if it doesn't have a responsive design or doesn't load properly on mobile devices, users will click away, increasing your bounce rate.
Slow website: A slow website harms your site's organic traffic and could result in users clicking away. Most users expect a page to load in 1-2 seconds, and anything beyond that will cause them to abandon the website.
On-site optimization: Also known as on-page SEO, it helps Google understand what each piece of content on your website is about, which is essential to search engine optimization (SEO). It's a bad signal for Google if your website content is not relevant to users' search terms.
Bad navigation: Poor navigation could also hamper your site's organic traffic. If users can't find the content they are looking for on your site quickly, they will leave and go to a competitor's site. Search engines may also stop crawling content buried deep on your website, resulting in lower rankings and overall visibility.
Poor user experience: User experience is just as critical as search engines take user experience into account when ranking a website's content. If users experience a problem on your site, they will leave quickly, and search engines will detect that your website isn't optimized. As a result, it will rank below websites with superior user experience.
How to pinpoint SEO and quality issues
Source: AltaStreet Financial Websites
Now that you are familiar with the typical SEO issues that can hurt your site's organic traffic, it is time to find out how to identify them.
1. Use an SEO analytics tool
SEO analytics tools like Ahrefs or Semrush analyze your site's traffic, search keywords, backlinks, and other SEO metrics. They can help you identify opportunities for improvement and help monitor your site's progress over time. Nowadays, even website builders have good SEO tools. They help you focus on the right keywords, format your content properly, and add a proper meta description.
2. Track Google Updates
The Google search algorithm is estimated to be updated at least 500 times a year. These tweaks address user intent better and improve the overall search experience. For example, the Google update in August 2022 emphasized that creators should focus on people-first content.
They advised authors to create content demonstrating first-hand experience, among other guidelines. Keeping up with these updates can be the difference between losing organic traffic and not. Here are some tips to keep up with Google updates:
Set Google alerts
Watch Google Analytics
Follow industry leaders
Follow Google Search Central on Twitter.
3. Compare the quality of your content with your competitors
Another way to pinpoint content quality issues on your website is to compare it with the competition. A good SEO tool can analyze your competitors' content on the spot, and show you what SEO elements are working for them and where they are failing. This way, you can mimic successful characteristics, address problematic areas, and avoid their mistakes altogether.
4. Double-check your keyword strategies
You may be deploying an outdated keyword strategy. A keyword strategy refers to a list of keywords and phrases people search for to find content relevant to their needs. But this strategy should be updated from time to time to accommodate the latest search trends and be more effective.
For example, some keywords may be seasonal, which means there are times that they are less popular or searched than other times. Others may be obsolete due to changes in user behavior.
To build your website traffic back, you must:
Review your keyword strategy for outdated or generic terms
Look for lower-competition, higher-volume keywords
Revise your content to include these alternative keywords
Your keyword research will often reveal new content topics for your website. In terms of content marketing and SEO, this is a big win for your overall website performance.
6 Bulletproof tips for improving your organic traffic
Source: Megalytic
1. Resolve any major technical issues
Technical issues can negatively affect your rankings and cause problems with crawling and indexing. To resolve these issues, you should check the following:
Check whether there are any broken links on your web pages
Fix duplicate content
Make sure your website is mobile-friendly
Test your site speed
Eliminate flash and other resource-heavy design elements from your website
Fix image and video sitemaps
Check whether images have alt tags
Add missing meta descriptions
Check the sitemap of your website for errors
Test your website.
2. Make sure your website looks good and is easy to use
You should assume that your users are in a rush. With thousands of websites offering similar content, why would they go to your website? If you want them to stay on your site and reach your business goal, make your website look good and make it easy to navigate. Here are some ways you can do this:
Make sure that your pages load quickly
Design your website with a responsive design
Provide short but informative content
Don't forget a call to action.
3. Make sure you are following on-page SEO best practices
Here are a few on-page SEO best practices that will make your website much more attractive to search engines and users:
Use keywords strategically
Include keywords in your title tags
Add keywords to your headings and subheadings
Keep keywords ratio between 1 to 3 percent
Use keywords in your H1 tag
Add keywords to your image alt tags
Create internal links pointing to other relevant pages on your website
Fix broken internal and outgoing links
Use relevant anchor text when linking to other pages on your website
Make sure that your pages are optimized for mobile devices.
4. Improve the authority of your website through link building
Link building is an effective way to increase your website's authority and boost its rankings strategically. However, it must be done strategically because too many poor quality external links can hurt your rankings. Here are the most effective ways to get backlinks for SEO:
Build high-quality backlinks from websites with high domain authority (DA)
Build backlinks from relevant websites in your industry
Reach out to guest contributors and ask them to include backlinks to your website in their articles
Reach out to online influencers in your industry and ask them to promote your site
Reach out to niche forums and ask users to add links pointing back to your website
Submit press releases online to increase awareness of your product or service.
5. Focus on user intent and content quality
Always focus on providing users with the information they want and need. This means:
Write for people and not for search engines
Make sure that your content is valuable and relevant
Address issues that your audience is interested in
Give them the information they need with step-by-step instructions
Prompt them to take action by providing them with clear CTAs.
6. Use content curation to offer better-quality content
Content curation involves finding and sharing relevant content with your audience. You can use curated content to engage your audience and help you better understand their needs. Here are some things to consider when curating content:
Choose high-quality content over promoted content
Make sure the content you choose aligns with your brand
Repurpose the content to make it unique to your audience
Include a link back to the original source and author
Make sure that the source of the content has followed on-page SEO best practices.
Conclusion
Your website is more than just an online real estate for your business. It is also an important marketing tool that you can use to acquire new customers and turn them into brand ambassadors.
But a considerable drop in organic traffic can compromise your marketing strategy and affect your bottom line. To improve your website traffic, you should identify the source of your traffic drop and fix it immediately.
Follow the tips above to help prevent a drop in website traffic and engage your audience more. You may need to consult an SEO expert if things aren't improving.