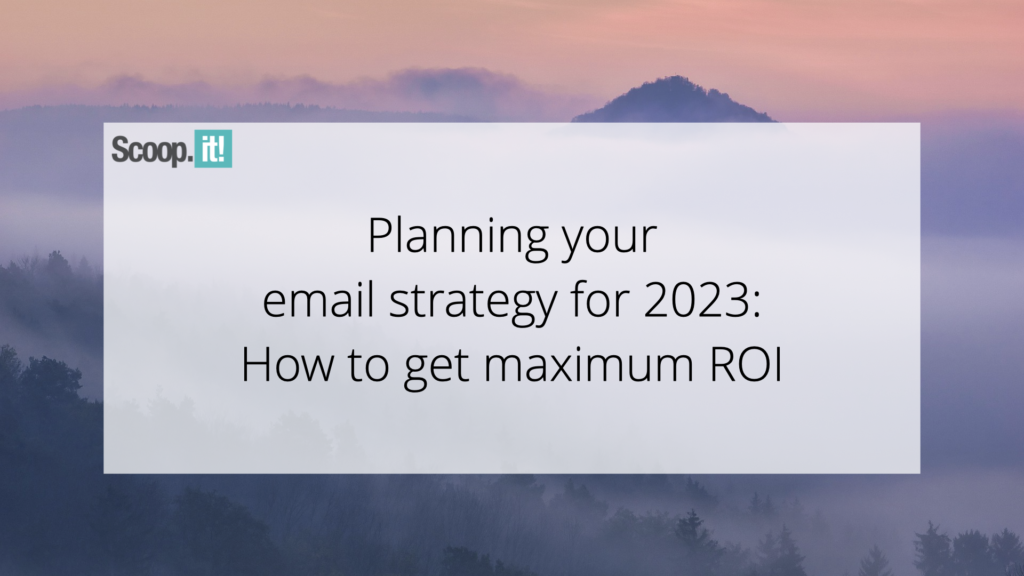 According to Statista, 347.3 emails will be sent and received per day in 2023. This goes to show that email will continue to be the most popular communication channel as well as marketing platform. Despite the mushrooming of messaging apps, marketers love email as it is a permission-based channel and allows them to send personalized communications.
To make it work, you must keep evolving your strategy and incorporate new tactics to woo your subscribers. So, how will you formulate the email strategy in 2023? Let's see actionable tips to keep up with the upcoming new trends.
Make the use of omnichannel marketing
Of course, email is a powerful marketing channel. But, owing to the intense competition, you will have to invest in other marketing channels too if you want your prospects or customers to remember you. That's what omnichannel marketing is all about. It is about creating a coherent experience for the users by following a consistent messaging approach. So, in addition to emails, you will have to use social media, paid search, and search marketing to boost subscriber engagement and beat the competition. Some brands will even consider adding SMS, in-app, push notifications, and channels like WhatsApp.
Switch to click-through rate from the open rate
With the launch of Apple's MPP, your customers using iOS 15 will be able to hide their IP address. Also, Apple will automatically download the tracking pixels even if the user has not opened the email. Therefore, marketers won't be able to accurately track the open rate, where users open their emails, the device used to open them, and activity on that device. In other words, open rate will be an unreliable metric and marketers will have to consider click-through rate and conversion rate to measure the effectiveness of emails.
BIMI will get more popular
Apple has introduced new support for BIMI. So, Brand Indicators for Message Identification (BIMI) will go from a trend to a must-have element in 2023. After Gmail and Yahoo! will comply with Apple's BIMI specifications, the logo will appear next to the sender's name in more than 90% of the emails they send on an average. Although BIMI requires an exhaustive course of action, it is definitely worth the effort, especially for large organizations and enterprises.
Take a look at this image for the entire list of mailbox providers supporting BIMI.
Source: BIMI Group
Here's how an email by Wayfair will look in the inboxes supporting BIMI:
Use AI-assisted personalization strategy
Most customers expect hyper-personalized communications that go beyond their first name. AI will be extensively used to get detailed insights into the customer behavior. It can surface hard-to-find information that can be used to create more meaningful email campaigns. Even small businesses will use GPT3 type tools to generate content for newsletters and campaigns. It is a great idea to use software like Scoop.it in combination with these tools to prepare more impactful emails in 2023.
Expect an increase in the adoption of video email marketing
In 2023, marketers will embrace videos in emails to increase subscriber engagement. They not only help in capturing the reader's attention but also convey the right emotions. Videos in emails also add a human touch and increase the engagement rate. If you want to incorporate a compelling storytelling moment in the user's inbox, videos are the best bet for you.
Here's an email by Flywheel that nails the usage of video in emails.
Brands will experiment with long-form email content
While we have stuck to the "succinct and sweet" doctrine for emails, 2023 will see a revival of long-form emails. Savvy marketers are realizing that subscribers like reading detailed emails if they are informative. In the coming days, many brands will jump on this bandwagon.
theSkimm has used this tactic for quite a long time, as seen in the example below.
Businesses will utilize customer data platforms to build more effective email strategy
Owing to the sunsetting of third-party cookies, launch of Apple's Mail Privacy Protection, and App Tracking Transparency, businesses will be obliged to use their cross-channel customer data. It will facilitate better decision making and creation of more effective emails. However, the challenge is that the data is spread across the organization in several databases that are not in sync with each other.
In 2023, usage of customer data platforms will gain immense momentum. These systems help aggregate all customer data in a central repository. They clean the data and enable better usage across different channels. As a result, you will be able to create personalized emails with better segmentation and smarter automation tactics.
Focus on creating out-of-the-box email designs 
Segmentation, personalization, and automation are all important for your email marketing to work in 2023. But, there's something else too that's equally important. It is the email design. You will have to come up with fresh email designs that cut through the inbox noise. Here are some tips to help you with the same:
Use a combination of shapes, illustrations, and real images to create a unique visual appeal
Incorporate enough passive and active white space in your emails
Add interactivity in your emails, especially in the occasion-based emails to encourage the user's participation
Give a shot to memes and add a dash of humor in your 2023 emails
Take the help of wave patterns to make the emails easily readable
Apply gradients to add more depth to the email design and encourage the readers to scroll till the end
Here's an email by Winc that uses gradients, wave patterns, and shapes to create a remarkable design.
Wrapping Up
Email is one of the most powerful marketing channels and if done right, it can open new avenues for business growth. Moreover, you must plan your strategy well in advance so that you have enough time to execute it. The recommendations shared here will surely help you create a robust email strategy in 2023 and beyond.
Do let us know the most promising tactic in the comment section below.