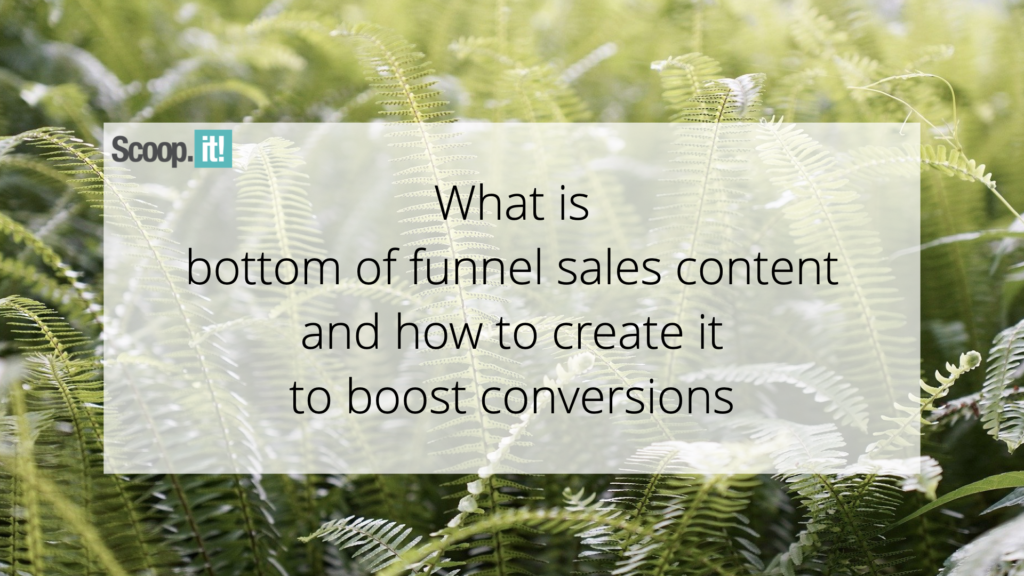 Experienced marketers and sales experts understand that each stage of the sales funnel is equally important in guiding potential customers on their journey. Content creation and dissemination plays a crucial role at every stage of the funnel and the overarching journey, helping you build awareness, spark interest, incentivize consideration, and inspire conversion.
Keep in mind that quality content plays a vital role in nurturing and retaining customers as well, turning them into lifelong brand advocates down the line. But what about the bottom of funnel sales content, or BoFU content as it's also known? How important is content creation for this particular stage, and can it help you convert more? The answer is a resounding yes, but you need to know what you're doing.
Let's talk about BoFU content, what it is, why it matters, and how to use it to maximize your sales potential in 2023.
The sales funnel and its stages
Before we talk about BoFU content and the various tactics you can use to your advantage, let's first consider the funnel and its stages. The sales funnel has three main parts:
Top of the funnel
Middle of the funnel
Bottom of the funnel
The top of the funnel, where most of your leads are generated, is composed of people who either have no clue you exist or are just now finding out about your brand. This stage is the one in which you build brand awareness.
The middle section of the funnel is where you turn visitors into qualified leads by providing them with value-driven content and messaging in exchange for their contact information—typically an email address.
The bottom portion of the funnel is crucial for an eCommerce sales funnel and other funnels in highly competitive industries, as it is the tipping point for the customer. This stage is where you need to communicate with prospects and deliver more valuable content. This is to prove you're the right choice and quell any doubt they might have about buying from you instead of your competitors.
The stages of these three segments are:
Awareness
Interest
Consideration
Intent
Evaluation
Purchase
Loyalty
Everything past the Consideration stage you can consider BoFU, which is where you need to target leads with conversion-oriented content without being overtly sales-y or pushy.
Here's how to do it.
1. Use reviews and testimonials for social proof
People will search for and analyze customer testimonials on a brand at every stage of the funnel, particularly at the bottom of the funnel as they near the conversion point. As people continue towards the end of their journey and prepare to convert, their need to validate their decision to buy from you will rise as a result.
People will look for genuine written and video testimonials from previous happy customers that go more in-depth about the brand and the products they're looking to buy. They need to see that others have already put their trust in your brand and are satisfied not just with the product, but the whole brand experience.
Customer testimonials are all about building social proof for your brand. You should not only publish testimonials on your website and promote them on all your customer touchpoints, but also make sure you have stellar reviews on all third-party platforms, like Google reviews and Yelp.
As for the occasional negative review, do everything you can to fix the issue and turn disgruntled customers into happy ones. You'll then be able to ask them to take down or amend their initial review
2. Invite prospects to a webinar
High-quality educational content has a place at every stage of the funnel, but rarely do business leaders use it at the bottom of the funnel. This oversight occurs because sales experts tend to focus solely on selling at this stage and less on providing more value to the customer before they're ready to buy.
That's why you should take a different route from your competitors and emphasize educational formats in your BoFU strategy. This doesn't mean that this content should be the same educational content you use for building awareness or sparking intent, however.
Instead, it means optimizing the content to have a sales-oriented note while delivering value to the prospect. For example, you can create an educational evergreen webinar that's conversion-oriented, focuses on resolving common pain points, talks more in-depth on a product or service, and even provides a special offer.
Everyone who attends the webinar needs to get something tangible out of it— not just more information. If people are ready to buy, prepare a limited-time offer for the attendees of your webinar.
If they're not ready to buy just yet but are getting there, send them additional materials after the webinar like a case study or a price-feature comparison.
3. Optimize CTAs for quick conversion
Calls to action (CTA) can often make all the difference for conversion, which is why they're such an important element in brand-customer communication on all channels. No matter where people are consuming your content, whether it's on your site, social media, or in an email or DM, give them a clear yet value-driven CTA to inspire them to take the next step.
If you don't have a CTA, you're letting potential customers move on to the next piece of content without ever knowing that you had an amazing offer for them. Therefore, it is crucial to think carefully about your CTAs.
Some of the best call to action examples are from brands that invest heavily in personalization and CTA specialization. CTA specialization is when businesses optimize a CTA specifically for a certain product or a specific step in the customer's journey.
Keep in mind that it's not just what the CTA says, it's also about the visual design and the placement of the button. Here are some key tips:
Use contrasting visuals to make the CTA pop but avoid spammy red hues
In emails, put your CTA in the above-the-fold section but not before the first sentence
On your site, place more than one CTA on every page but no more than three
On social media, one CTA per post is enough 
Use an active voice in the first person
4. Use direct messaging for content dissemination
Direct, or instant, messaging platforms are a crucial part of your overall communication, marketing, and sales strategies. These direct messaging platforms both deliver value directly to customers and help you achieve many goals pertaining to sales, marketing, and support.
Direct messaging includes online and offline communication channels, everything from good old SMS to WhatsApp and Messenger. For example, using WhatsApp in your sales funnel allows you to maintain communication with leads and disseminate sales content to BoFU prospects.
You can send out automated messages and link to valuable content on your website, which will vary depending on the exact position of the individual in the sales funnel. Link to your new case studies, product tours, and price comparisons, and don't forget to send out deals and discounts to those who are ready to convert.
5. Provide them with a relevant case study
Case studies are the ideal content format for BoFU leads; you should use it extensively in your sales strategy. Case studies increase in relevance and importance as the lead moves through the funnel and becomes more engaged and interested in the brand and what you're selling.
As their interest peaks and they start considering a purchase, customers will look for informational content that validates their decision. There are other important types of website content you need to use at this stage, such as guides and product tours, but the case study shows customers concrete numbers and results.
Your goal in sharing case studies is, as always, about personalizing the experience for your customers. Don't just send out the same case study to every lead; instead, curate your selection. Match case studies to relevant lead segments and ensure they get the content they actually need.
This approach will make all the difference with your prospective customers and will show them that you provide exactly what they're looking for.
6. Use video content to your advantage
Over the years, video content and video marketing have grown in popularity to become one of the most powerful content types in the online world. While it won't dethrone written content, it's important to leverage videos for your sales and marketing strategies in 2023 and beyond.
The fact that this format is highly engaging and shareable makes it easy to optimize your sales funnel with video that educates your audience and inspires them to take the next step. It can be especially beneficial for BoFU leads that want more content variety and are already up to date on your written and user-generated content.
Your videos can also vary in their formats and the topics they cover. Use a marketing video maker to generate new product tours, explainer videos, case study breakdowns, and other quality video content to keep things fresh and personalize the experience for your potential customers.
7. Gamify the BoFU experience
Gamification has not only become an extremely popular tactic for generating leads, but also for keeping engagement high throughout the sales funnel and the customer's journey to conversion. Gamification is also a great way to nurture and retain customers after the sale, as you can shift the format to open cross-sell and up-sell opportunities.
When it comes to closing the deal in the first place, however, sometimes a simple product recommendation quiz followed by a detailed landing page or a comparison sheet is just what the prospect needs to make the right decision. This type of quiz is a good choice for leads that are not yet ready to convert but are highly interested in your brand. The quiz shows them some of your product selection and the product best suited to their needs.
Promote your quizzes on social media, DMs, email, and on other communication channels. Keep in mind that there are lead generation quizzes that people can play in exchange for contact information; however, those are best for top of funnel strategies.
8. Win people over with special deals and promotions
Should you offer a discount or a special deal to a potential customer? Absolutely, because many customers are waiting for a product to go on sale or to get a small discount to make the purchase. Instead of letting them go to your competitors, close the deal right away with a unique discount.
Special promotions and deals also require quality BoFU content as a key part of your sales process; a discount itself is not enough to convert. People need to connect with the brand, they need to know why you're offering the deal, and they need to feel appreciated. That's why this type of content demands personalization.
When your marketing and sales experts are crafting this promotional content and offers, they need to leverage the data from your CRM and dig deep into your lead segments to personalize the messaging for each group. This approach causes the promotional material to stand out and inspires people to finally purchase a product.
Personalizing this and other content ensures customers feel more appreciated and sets the stage for a deeper brand-customer relationship.
Over to you
The bottom of the funnel is a stage where people are either considering making a purchase or are ready to buy and need an extra nudge to take action. This stage is where BoFU content comes in as one of your most powerful conversion tools that not only builds brand trust and authority, but also provides conversion-ready prospects with all the information and validation they need to take that final step.