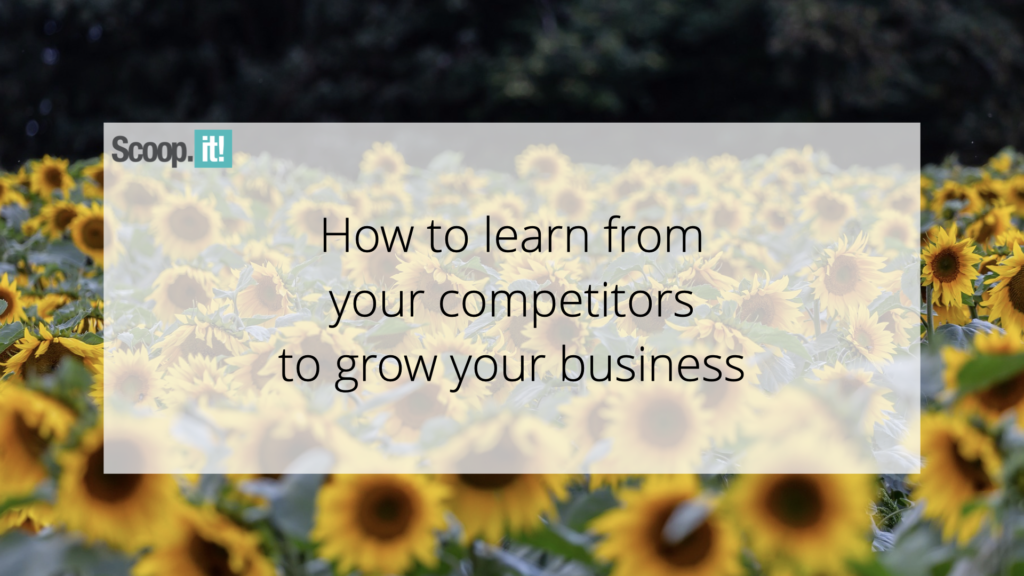 Analyzing your competitors' strategies can help you identify areas for improvement and create products that satisfy your client's needs better than your competitor's offerings. So what does it take to carry out proper competitor analysis?
8 Ways to Learn About Your Competitor's Strategies
The process of analyzing your competitors is time-consuming. However, its benefits are great. By learning from your competitors, you can get insights into improving your business strategy and offering more value to clients.
So what does the process of conducting competitor research involve? Let's take a look.
1. Identify Your Competitors
Before you go down to a more granular analysis of your competitor strategies, you should first find out who the key competitors are, what sets them apart, and their general characteristics.
Various tools can help you perform competitor research in just a few minutes. They collect open-source information and pull it into one dashboard so that you can get all the necessary information.
Take Similar Web as an example. You can quickly check key competitors to your domain and their total traffic with just one click. When studying each competitor, Similar Web lets you learn about their marketing channels, keywords that drive traffic, and other critical information.
2. Test out Their Products
Once you know your competitors, it's time to find out what they offer. And what could be a better test of the offering than using their products for a while?
That's why it's worth signing up for your competitors' free trials or becoming a secret customer. This way, you can learn about their products' core features, advantages, and disadvantages.
Before testing, consider the criteria you want to include. It can be specific features or pricing tiers. Next, create an Excel chart to work with during testing.
Also, choose the right tools to monitor how your competitors perform. For website-based analytics, you can use SEORadar or ContentKing.
When testing your competitors, be unbiased. Put yourself in the boots of an independent investigator. The idea here is to collect as much helpful information about your competitors as possible.
In the next step, you can use the information to evaluate how your competitors compare to each other and your business. This strategy will help you draft your action plan — what you should improve in your offering to become more competitive and what unique ideas you can implement to offer some features that no one else offers.
3. Perform SWOT Analysis
A SWOT analysis identifies strengths, Weaknesses, Opportunities, and Threats related to your competitors. You have to perform this analysis for all competitors and see how your business compares against them. When performing a SWOT analysis, ask yourself a few questions:
What are the strategies of my competitors that work well? (it can refer to products, marketing strategies, or support)
What are the areas where your competitors outperform your brand?
What are your competitors' weak points?
Where does your business outperform competitors?
What are the areas that your competitors could improve?
What strategies of your competitors are regarded as threats?
What are the opportunities your competitor has identified that you have overlooked?
Make sure you don't only analyze product strengths, but also their marketing strategies such as engagement on their Instagram account or activity on LinkedIn. When working on this task, you can use a SWOT matrix to list the four elements of the strategy, like in the infographic below.
4. Analyze Their Sales Strategy
Your competitors can use different strategies to improve their sales. For example, they can build huge sales teams or follow a low-touch sales model where customers order directly from a website without sales agents' support.
Their strategies can provide you with some ideas on how you can improve your sales. However, it can also turn out that your competitors' sales strategies are not effective enough, and you can quickly come up with better ideas and solutions to improve your sales.
You can improve your sales process by adequately analyzing your competitor's sales techniques, distribution channels, reseller programs, receipt making system and affiliate partnerships.
5. Learn From Their Mistakes
Imagine having learned that your competitors are investing a lot in display ads. But does it mean this strategy gives a good return on investment? Is it right to copy your competitors' strategy and invest in this advertisement type?
"Don't rush your decision, but check if the strategy works or burns their advertisement budget. The best way to understand what works for your competitor is by analyzing how long they have been investing in a particular tactic without significantly modifying it," says Martin Ochwat, Co-Founder of Dundas Life.
Your competitors can run tests, and they may fail. As a result, they will put them on hold after a short testing period. For example, if you have seen your competitors doing Facebook ads and putting their campaigns on hold, you can deduce that it hasn't brought any meaningful results.
6. Research Their Backlinks
Backlinks can be a great source of information about your competitors' link building strategies.
You can use backlink monitoring tools to find out which websites are linking to the pages of your competitors. You don't only get the list of these sites but also the anchor texts, domain authority and traffic metrics.
Once you have the list of backlinks pointing to your competitors' pages, investigate the linking patterns. You will get the answers to the following questions:
What's their link building strategy?
What are their link sources?
What content are they linking to?
This data can help you craft better link building tactics for your own website and find new sources where you can also get links.
7. Check Client Reviews
Analyzing client reviews of your competitors can help collect feedback on customer experience and the quality of products. Clients often leave reviews when they are unhappy with a company's service, and this feedback can help understand your competitor's weaknesses.
There are various ways you can analyze client reviews. First, you can head directly to Google and look through the listings or portals where customers leave reviews. Look at Google My Business accounts of your competitors, G2, TripAdvisor, or Yelp — the resources may vary depending on your business niche.
When analyzing reviews, make notes on what clients find positive and what experiences that rate as unfavorable. Learn from your competitors' mistakes and think of how you can improve customer service both by traditional channels and social media customer service, because that's where customers usually leave negative reviews.
8. Interview Their Clients
Carrying out client interviews is an excellent opportunity to learn about your competitors' pros and cons and ask open-ended questions about the needs of your target audience that hasn't been satisfied. In addition, this practice helps you identify market problems that your competitors haven't resolved yet and give you a chance to create better products that will sell.
Collecting the information about the uncatered needs will let you work out the strategy for improving your offering and building a better communication line with your prospects.
What Should You Do with the Competitor Research Findings?
At first sight, competitor analysis is a lot of research. However, its primary role is not getting as much information as possible but getting the right insights from it.
The information you gather should help you understand where you stand as a business and how you differ from your competitors. In addition, it should give you a few ideas on improving your offering to outperform your competitors in various areas and make it easier to understand your market differentiators.
While you might get carried away with copying all the nice things your competitors are already offering their customers, this strategy can lead nowhere. That's because you will never stand out by simply copying someone's features or tactics. So instead of doing it, focus on finding ways to offer something your competitors are not showing yet.
It can be much faster support or a revolutionary feature in your product that instantly stands out from the competition. Whatever it is, proper competitor analysis will make it much easier for you to find the right thing.
Wrapping up
Competitor analysis is based on collecting and analyzing various information about your competitors. When doing your research, you should identify competitors you want to study, setting criteria for your analysis. Then, it's worth testing your products on your own, using open-source information such as client reviews or conducting interviews. All this will give an idea of the competitive landscape in your niche and create a strong market differentiator for your business.