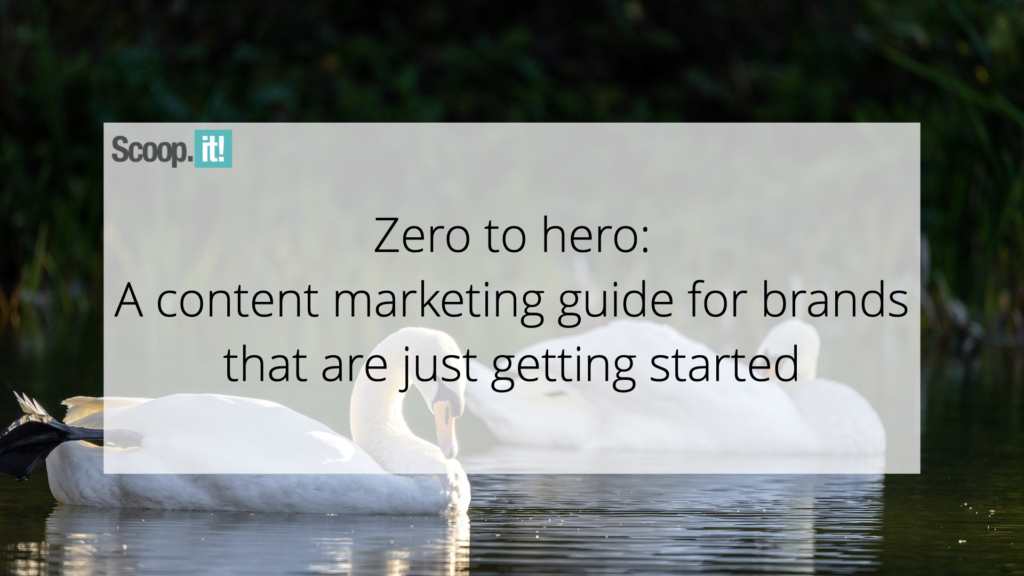 You might have heard that content is an elixir for growing a small business. Marketers swear by its effectiveness in generating leads and sales, building brand awareness, and even boosting customer loyalty. 
But how do you start to create high-performing content that cuts through the noise, moves people to take action, and grows your business?
That's precisely what we'll be discussing in this blog post.
From fundamentals to how to measure it and why you should even bother with it, we've got you covered. So let's dive in.
What Is Content Marketing?
Content marketing is a time-tested strategy for creating and publishing relevant, valuable, and informative content to a clearly defined audience to drive business goals.
CMI (content marketing institute) defines content marketing as:
"Content marketing is the strategic marketing approach of creating and distributing valuable, relevant, and consistent content to attract and acquire a clearly defined audience – with the objective of driving profitable customer action."
Content marketing aims to build trust and credibility by providing your audience with valuable information that helps them solve their problems.
Why Should Brands Bother With Content Marketing?
Content helps your audience at every stage of their buying journey—from discovering you to moving forward in the sales cycle to becoming a loyal customer.
Besides, here are 4 more reasons why businesses should care about content marketing:
Establish thought leadership
Consistently creating and publishing helpful, relevant, and educational content helps customers build trust in your business and establish you as a thought leader. And as we know quite well – people do business with people they trust.
Attract and retain customers
Your audience is inundated with marketing messages and content from every direction—social media, emails, videos; you name it.
So by creating a strategy for your content, you can easily create and publish consistent content that builds a relationship with your audience. This helps in increased sales in the long run.
Differentiate from competitors
In a competitive market, you're up against hundreds of companies offering similar products and pricing, so how do you differentiate yourself from them?
You guessed it right, with content.
With content as your main game, you're providing your audience with something more valuable, which keeps them loyal to your business and helps you stand out from the crowd.
Improve search ranking
Content is the fuel that drives you to the top rankings on search engines like Google.
Furthermore, improving search rankings help you build brand awareness, drive traffic, and increase sales.
Types of Content Marketing and Picking the Right One for You
There are limitless possibilities when it comes to creating content. With various formats come unique benefits.


But, when starting, you want to ensure you're prioritizing the quality of content over a number of channels. So here are 6 content formats that are low-cost and highly effective.
Blogs
Blogs are one of the most versatile, low-cost, and evergreen types of content.
Blogs can be an incredible way to reach your audience, answer their burning questions, and build a loyal following.
Besides, blogs, specifically long-form ones, are a great way to build authority and rank on search engines. Unlike social posts, whose reach dies down within a few days, blogs live on your website forever, bringing in traffic and improving search ranking.
Blogs are usually used to educate your readers and provide a hub to gain industry and product-related information.
According to HubSpot, most marketers who leverage blogging say it's effective, and 10% say it generates a higher ROI (return on investment). This is one of the primary reasons why it's worth investing in learning to blog properly.
Best used when: you want to boost search visibility and build a knowledge hub for your audience.
Social media content
3.43 billion. That's how many social media users will be globally by 2023, making it one of the best channels to keep in touch with your existing customers and tap into a greater audience base.
You can do this by keeping your company profile updated, and sharing the latest company news, alerts, promotional offers, and more.
Of course, which platform you leverage depends on your business type. For example, while a fashion brand might gain a lot of success off Instagram, an IT company might get the most ROI out of LinkedIn.
So to get the most out of your social media efforts, it's worth your time to understand your audience and what social media platforms they use before diving deep into one.
Best used when: you want to engage your audience on social media, reach a broader audience, or if your business depends on it.
Email newsletters
One unique benefit of email marketing is that your message lands directly in your customer's inbox. This way, you're sure they have received your email, which is a great way to foster a relationship 1:1.
Not only this, but on average, email drives an ROI of $36 for every $1 spent, which is higher than any other channel. While this might require an email marketing tool, it's well worth the investment in terms of long-term lead nurturing and relationship building.
Best used when: nurturing leads, sending regular newsletters, or if it drives revenue for your business.
User reviews and testimonials
Imagine a new cafe opening up in your town, but you're not sure it's worth the hype. Then, one of your friends shares their raving reviews about their food, ambiance, service, and more—you'll be convinced to visit right?
That's how reviews and testimonials work—they're the word of mouth of digital media.
What's best is that since your users generate these reviews, they don't cost you anything. In fact, 82% of consumers read product reviews before making a purchase. They also work especially well on eCommerce websites or below product descriptions on your store.

Trade Safe, an industrial safety LOTO device manufacturer, utilizes customer testimonials on their website to showcase the effectiveness of their products. An example of this can be seen on their page.


The best testimonials serve as your greatest marketing assets. Utilize them to build trust and authority with your audience.
Best used when: you want to boost trust and credibility.
Case study
Your audiences have specific pain points they're looking to solve. While other content types tell them you're the expert in this field, case studies demonstrate how you can help them.
Case studies take potential customers on a journey and show them a real-life scenario where a persona similar to them uses your offerings from start to end. It helps them visualize how you can help, and boost their trust in your brand. It's a staple in every marketer's arsenal. Case studies are particularly powerful when creating content around brands in the health and wellness industry.
Apart from case studies, other methods like discussion forums, product comparisons, and surveys also work well to build trust. American mattress company Sleepjunkie's product comparisons are a great example of this however readers expect transparency in terms of data before they can trust your content.


Video content
For the past three years, as HubSpot tells us, video has been the primary content created by marketers. Moreover, 70% of viewers purchased from a brand after watching their YouTube video as Google tells us.
Videos are undoubtedly one of the best marketing assets you can produce. Unlike any other type of content, you can connect visually with your audience.
Although this content takes more time and resources, it yields higher ROI, improves customers' understanding of your product, and boosts sales.
Best used when: you want to connect with your audience visually.
Measuring the Results With These 6 Metrics
Creating and publishing the content is only half the battle won. If you ask any successful marketer their secret, they'll tell you it lies in the numbers.
But to gain actionable insights, you need to know which metrics to measure.
And while in marketing, there is a number for everything, not every metric is essential. Especially when starting, you want to consider which metric impacts your business goals and which numbers you can act on.
Moreover, the frequency of measurement also matters. Checking on numbers every other day or week isn't going to get useful insights. The ideal time to analyze your metrics is on a monthly basis.
So here are the top 6 metrics you must measure to quantify the effectiveness of your content marketing:
Website Traffic
Just like a physical store measures its footfall, website traffic tells you how many visitors poured in on your website. It further reveals how many of them were unique or returning visitors.
This gives you an idea of which content is performing the best, where the traffic is coming from, and how much time people spend on each page.
Click-through-rates (CTR)
Click-through rates (CTR) are the percentage of visitors that clicked on your CTA (call-to-action). This can be measured in emails, social media posts, landing pages, and more.
This tells you whether or not your campaigns are effective and where you can improvise.
Conversions
Conversions are the metrics that are directly tied to your bottom line. But conversions can be anything. It could be a visitor turning into a newsletter subscriber, an abandoned cart shopper returning to make the purchase, or a lead turning into a sale.
Social media engagement
Likes, comments, shares, and mentions are all social media metrics reflecting how your audiences are engaging with your brand.
While likes show people enjoyed reading the post, comments reflect a more profound impact. Moreover, mentions and shares reflect an even deeper connection and a positive brand reputation.
Keyword ranking
Over half of marketers use keyword rankings to measure their SEO marketing effectiveness, as noted by HubSpot.
This metric shows which keywords or terms your audience uses that you're ranking for on the search engines results page (SERP) and on which position.
Other metrics to measure SEO effectiveness are organic traffic, time spent on the page, CTR, lowered bounce rates, and more.
Bounce rate
Bounce rate is when visitors visit the website but bounce off or leave too quickly without taking action.
A high bounce rate may suggest something wrong with the page, visitors aren't finding the right information, or they cannot access the information.
Why Content Marketing Works Best for Small Businesses?
Small businesses don't often have the budgets or the resources that larger firms do. So you've to ensure the strategy you're selecting is cost-effective, will appeal to your target audience, and positively influences your bottom line. Luckily, content checks all of these boxes.
As CMI tells us, 67% of markets generate demand/leads using content marketing, and 81% of marketers see content as a core business strategy.
Demand Metric says content marketing products 3 times as many leads as outbound marketing and costs 62% less.
Therefore, content is a marketer's favorite as it allows you to tap into a larger audience, generates leads, and helps you grow your business cost-effectively.
Wrapping it Up
Content marketing, indeed, is an elixir to grow a small business. However, the key is understanding your audience, creating a strategy, creating high-value content, and publishing it consistently.
When done right, content marketing can reap the highest ROI, prove to be the most cost-effective, and help achieve business goals.