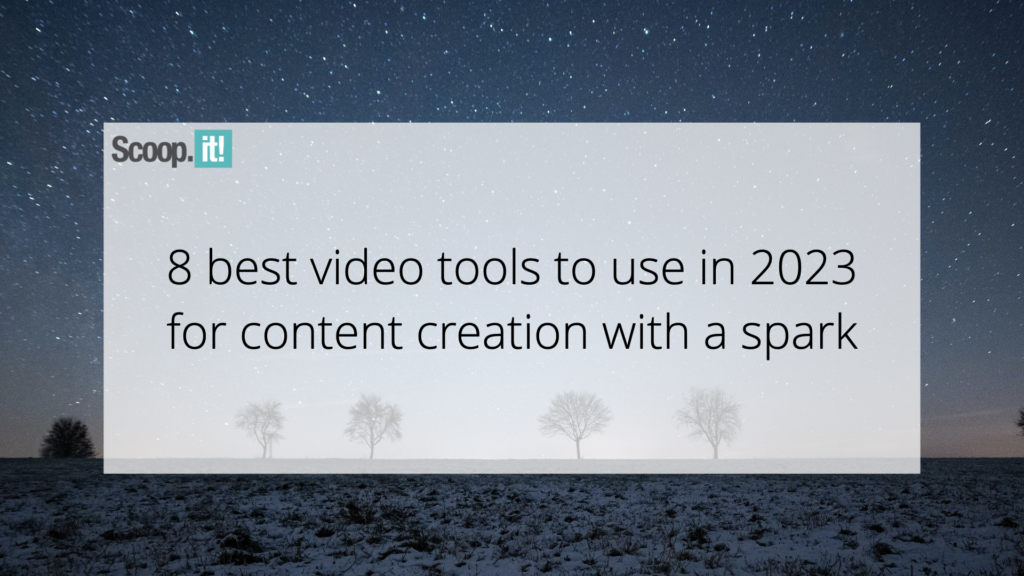 There are many types of content that marketers, creatives, and business owners should invest in nowadays to build their competitive advantage. While written content remains the foundational pillar of all marketing activities, we have to note the importance and rising popularity of video content as well.
To make sure that your video content is on par with your storytelling, and that you're able to portray your brand and business properly with video, you should be able to produce high-quality videos.
Fortunately for many of us, there are a host of different video tools you can use to ensure quality content for your audience and to keep your marketing efforts as competitive as possible.
How do you pick the right tools of the trade for yourself? That challenge is why we've created this article, to give you an overview of some of the most helpful, versatile options available; hopefully you'll be able to test out a few options listed here to find what works best in your industry and with your audience. Let's dive in!
Adobe Creative Cloud Express
A name we're all familiar with, Adobe is surely not a surprise on this list. After all, if you've dabbled with visuals before, you most likely know your way around Photoshop, as well. So, if you're keen to add another tool to your visual design toolbox, play around with Express to see how you and your team like it.
With its freemium model, you can test out most of its features, and if you decide to go with it full-time, you can start a paid subscription. Given the numerous stunning templates and easy drag-and-drop features available, you can get started with Adobe Express even if you don't have that much experience under your belt.
Test out the tool by creating videos for your Instagram story games, which allows you to stay on-brand with the same templates, and see which visuals are getting the most engagement. Since the tool itself is user-friendly, you can create multiple videos and have them ready to publish on a regular basis to test out how this tool serves you.
Animaker
Not a professional designer or video-maker? Not a problem. Animaker's super-easy web-based platform is ideal for those who have yet to find their unique content creation style, videos included.
However, don't be fooled by the cute and cartoonish look and feel of the platform. It is used by some of the world's leading brands, such as Target and Bosch, which means that even pros can have a go at it and make something engaging and wonderful.
You can try it out for free, but you will notice that the paid versions offer many more features, so getting the real sense of this tool will depend on your goals. The more advanced you become with creating your videos for your marketing efforts, the more features and assets you will need.
Animoto
Animoto is a great way for professionals and non-pros alike to try their hand at crafting stellar, compelling videos for all kinds of purposes. Given this tool's built-in library of available templates, you can try creating instreaming video ads that are impactful and brief, so that visitors actually want to engage with your content without feeling annoyed.
The beauty of this tool is that all the templates are customizable, so even if you select a specific "theme" for your next video campaign, you can play around with colors, music, individual blocks, or anything you wish to adapt.
Try it out for free and you'll get a better idea of its capabilities and if it's a good fit for your needs.
Videowise
Shoppable videos are all the rage nowadays, as content interactivity continues to drive audience engagement and gives customers a quick and easy way to get their hands on the products they want. This is especially important now that short-form videos like Instagram Reels have completely taken over social media.
Videowise is one of those platforms that allows you to create shoppable videos on your website and market them across the online world. You can easily create and share curated content pages containing shoppable videos and create entire campaigns that focus on video marketing and sales.
While Videowise is definitely a great way to put a unique twist on your video content, it's also important to note its additional features such as in-depth video analytics. What sets it apart is its video management feature that also allows you to quickly upload all your videos and turn them into shoppable, interactive experiences.
Biteable
Another useful tool of the bunch, Biteable is intuitive and easy to use for a wide array of different teams, and is often loved by individuals who aren't professional video makers but need to create compelling video content quickly and effectively.
For companies that want to utilize a virtual assistant for such projects, Biteable is a good option due to its user-friendly nature. It is a useful tool to create explainer videos, onboarding sessions, as well as brief and effective ads.
You can have more team members test out the tool before you choose the right one, and of course, you can always leave it up to each department to pick their favorite, especially if the freemium version can do the trick.
Vyond
Animated videos with three distinct styles (contemporary, business friendly, and whiteboard) available on Vyond make it easy to create engaging videos with minimal effort and no professional knowledge.
The free trial is available for two weeks and gives you a decent run at the tool, so you can make sure the look and feel of the videos you create are suitable for your brand. The tool is used by cross-collaborative teams like marketing, sales, HR, customer success, as well as for internal communication.
You can even filter and find the right template based on the purpose of your video; whether you're going for a use case example of your brand, a webinar, or you need to build a video presentation, Vyond has got you covered.
iMovie
If you're an Apple aficionado, all the more reason to turn to iMovie, the pre-existing video editing app you can use on your desktop or phone alike. Highly intuitive and user-friendly, iMovie makes it easy for you to craft engaging videos on the go that you can use with a YouTube description generator for posting quickly online, and when you're looking to create an urgent social media post that will generate traction.
Given the brand from which it stems, iMovie is a testament to the value of UX design and user experience in the modern content creation lifecycle. With this software, you can set up cinematic videos that tell a story, follow a blog post, or help you start an entire podcast series.
The accompanying library of visual effects and smart editing features make it an even more fun experience, allowing you not to stress over creating video content, but actually focus on creating memorable video experiences. And, if you have a Mac operating system, the software is free. Windows users can get a taste of the software for a month.
Podcastle
When you're starting a podcast and you wish to focus on the substance of it instead of stressing about videos, Podcastle is the way to go. Now that podcasting has become one of the most popular video formats consumed by so many audiences, it is all the more crucial to master the art of podcast creation.
Since it's focused on this particular format, Podcastle helps you leverage the platform both as a project management tool helping you guide the creative process from start to finish, and as a video editing tool.
The beauty of the tool is that you can focus both on the audio and the visual aspects of building your podcast. You can make sure the sound quality is superb while you record video interviews, for example, so that people don't have to strain to pick up the most relevant bits of information.
As one of the most valuable content formats, podcasts will definitely be of use to any organization that wants to educate its audience. The Podcastle freemium option is a good starting point, but if you plan to build longer podcasts, you might want to consider a dedicated plan for you and your team.
Over to You
As the content trends stand today, and according to many marketing experts out there, video is definitely expected to be the leading content format for most audiences and industries in 2023 and beyond. However, since not every brand is built the same way, it makes sense to start looking into the best ways to impress your target audience with video content by ensuring quality, regular posting, as well as proper editing options.
Depending on the type of video content you want to create for your audience, many of these tools will come in handy during your content creation journey. Your choice will also depend on the complexity of videos, as well as your own personal preferences and how intuitive you like your tools to be.
That said, try out more options to find the best ones for you and your needs. Testing them out will give you a better idea of what you feel confident will serve your purpose well, and it will let you focus on the actual process of video making as opposed to spending too much of your time on exploring the tools themselves.