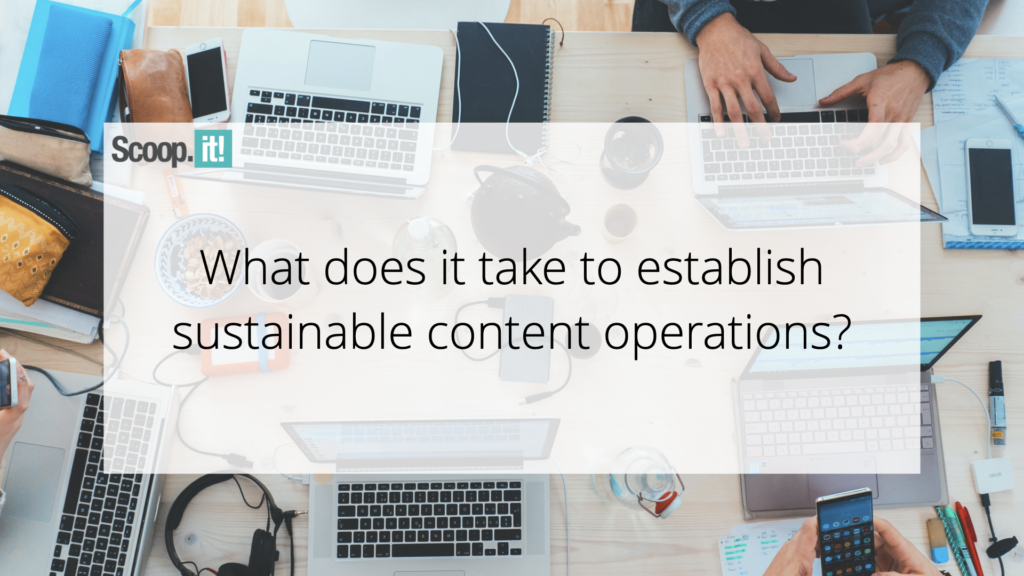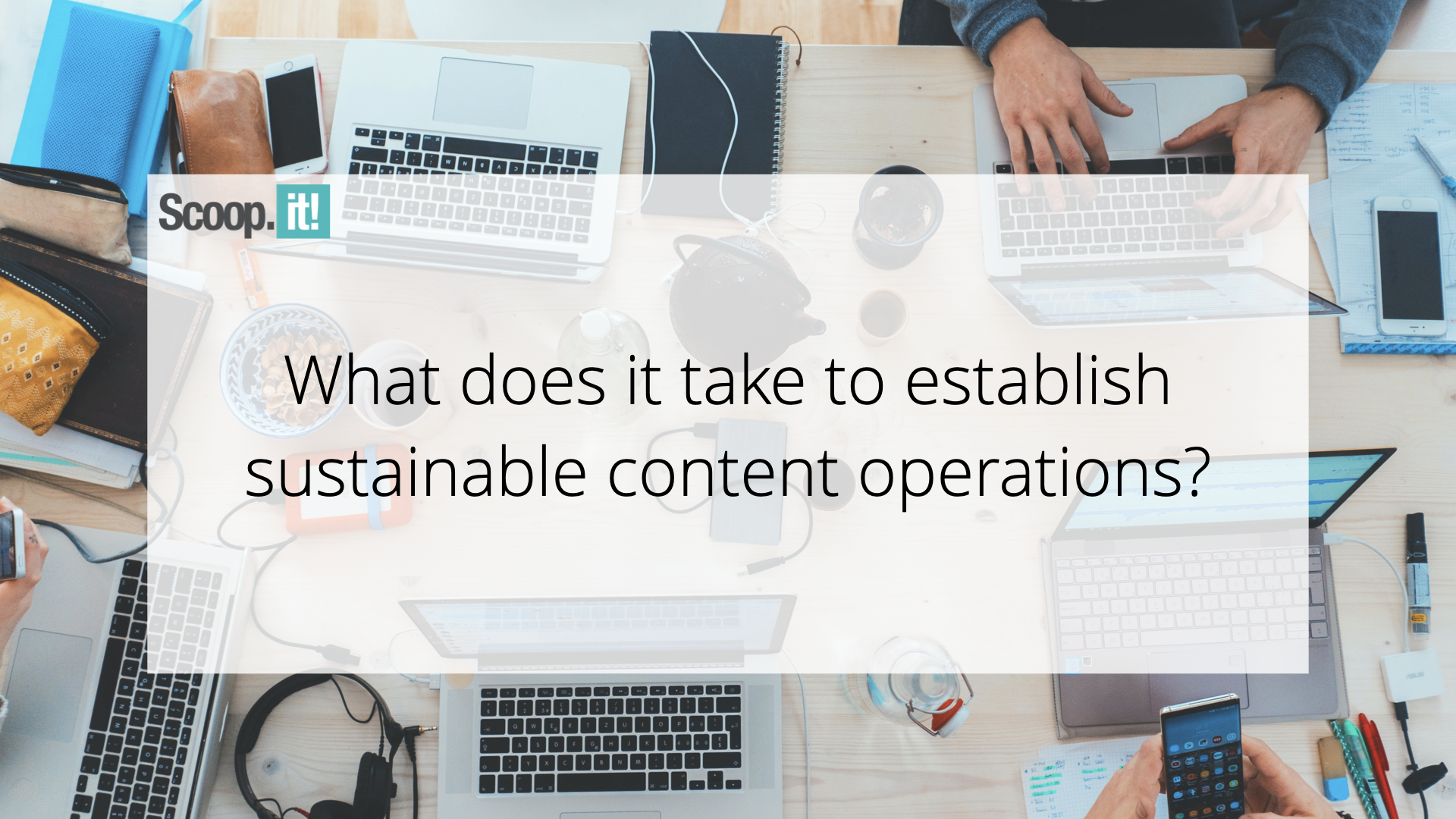 Creating one or two pieces of great content doesn't always require a strict content operations strategy. But if you want to develop high-ranking, high-quality content regularly, it's a different story. 
Content operations is the behind-the-scenes management of all your content creation activities. Each step in the production, publication, and distribution process must be optimized, from developing your content strategy to performing content analysis.
This ensures that your content is high-quality and can continuously meet your business goals.
The foundation of sustainable content operations
There are three foundational elements of sustainable content operations: people, process, and technology. Let's explore each in more detail . . .
Original image created by author
People
People are at the heart of your content. While content marketing places the end-reader as the primary focus, your overarching content operations rely on the content team's roles, responsibilities, and structure.
Everyone involved in the content process needs to have a clearly defined role. Typical roles, such as your content writer, content editor, and graphic designer ,might feel self-explanatory. But responsibilities within these roles can overlap.
For example, failing to establish your content writer's editing responsibilities can mean that they spend more time editing content than creating it. This reduces the productivity of your writers and editors simultaneously.
Creating a well-defined content team structure with clear roles and responsibilities is the first step to achieving sustainable content operations.
Process
Starting with content brainstorming and ending with the analysis of published content, your content production process should be mapped out from start to finish. Your content team should know who is responsible for what activity at each stage.
A typical B2C content marketing process for publishing blog posts might include the following steps:
Brainstorm and strategize
Create a content brief
Establish a timeline for completion
Write the blog post
Add relevant graphics
Edit the blog post, leaving time for revisions if necessary
Perform SEO optimization
Publish at the scheduled time
Share content with your audience – this could be via social media or a newsletter
Track and analyze metrics
A structured content process with clearly defined responsibilities helps to easily move content along. If something does go wrong, it's much easier to identify the bottleneck and rectify the issue.
In addition, when supported by a content governance model that dictates the brand style and company-wide standards, content production can be executed with consistency, compliance, and accountability.
Technology
In the modern age of marketing, it's difficult for content operations to achieve sustainability without technology. It's become essential for everything from content collaboration to analytics and reporting. 
The leading technologies required for sustainable content operations include:
Content management systems (CMS) and project management systems
Content scheduling tools
Word processing and editing tools
Web and graphic design tools
Collaboration software
Analytics and reporting
How to establish sustainable content operations
Ensure compliance with legal and ethical guidelines
Effective content operations should establish legal guidelines and regulatory requirements for content production. It should also cover the ethical guidelines for content curation to prevent negative repercussions.
For example, truthful advertising, privacy rights, and defamation require strict consideration. Failing to adhere to compliance standards can land your business in hot water, whether from a legal, financial, or reputation standpoint.
Embed compliance standards into your content operations to ensure that your end-to-end content process complies with legal and ethical guidelines.
Uptrain and develop employees
Employees who struggle to use the latest CMS or enterprise resource planning (ERP) software are going to disrupt the sustainability of content operations by reverting to inefficient tools.
In addition, marketers who aren't clued up on the latest marketing trends or SEO tactics are at risk of producing low-quality content.
Sustainable content operations rely on the continuous training and development of employees. Create a culture of learning and development by regularly upskilling everyone involved in the content production process.
Produce evergreen content
Evergreen content is timeless. Unaffected by seasons or current trends, it delivers value to your readers long after its initial publication. This enduring relevance drives consistent lead generation, increased traffic, endless backlinks, higher search engine performances—the list goes on.
How-to posts and lists have the highest chance of becoming evergreen. On the other hand, presentations, press releases, and infographics have a short shelf life.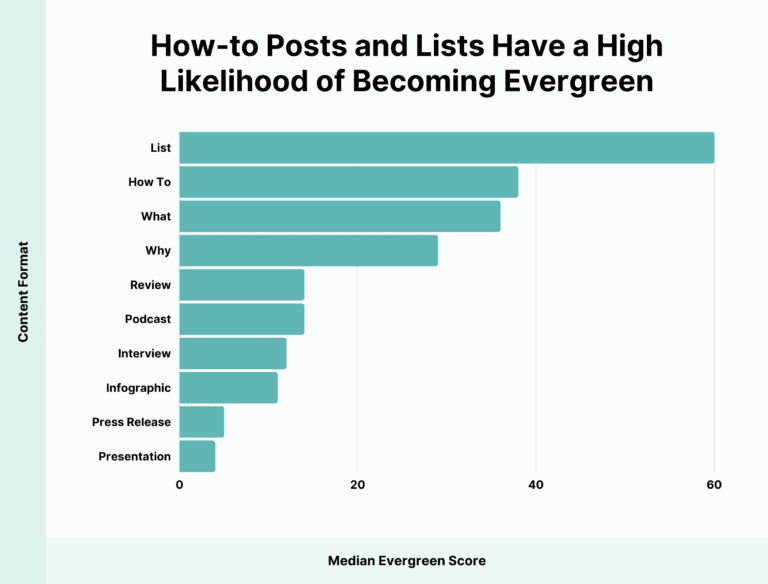 Image Sourced from backlinko.com
However, blindly creating a bunch of how-to blog posts isn't the way to go.
A streamlined content operations process can help you create a library of future-proof evergreen content. It can also inform how and when this content should be distributed and updated to maximize its effectiveness within your entire content strategy.
Track your content KPI
Routine KPI monitoring and analysis are foundational to the success of any marketing initiative.
Content operations should dictate which content KPIs and metrics you need to track. It should also define who is in charge of data analysis and reporting and establish standardized reporting across content teams.
Performance tracking using KPIs can refine operational processes, significantly improve content, accelerate growth, and maximize return on investment (ROI).
There are lots of valuable content KPIs you should be measuring, but some of the most essential ones include:
SEO metrics: This includes organic traffic, SERP ranking, click-through rate, keyword ranking, and backlinks.
Engagement: As well as likes, shares, and comments, other engagement metrics include average time on page, scroll depth, bounce rate, and pages per session.
Conversion rates: Conversion metrics can be measured through sales, email newsletter subscriptions, and new social media followers.
Financial success: The financial success of your content strategies can be measured using metrics like content marketing ROI, cost-per-acquisition, and cost-per-click.
Sustainable content operations fuel the successful implementation of other growth strategies, such as initial public offering (IPO). If you're ready to take your business to the next level and are considering offering shares to the public for the first time, an IPO is invaluable in helping you to raise equity capital.
By selling a portion of your company in the IPO, you can generate millions in cash, which can be reinvested back into content creation to help fuel future growth.
It's worth familiarizing yourself with accounting for IPO. Investing in software means you can generate real-time reports, data visualizations, and dashboards that deliver accurate insights for the financial team. This data can be filtered down to your content marketers, helping them develop additional KPIs to grow further.
Build a culture of sustainability
Company-wide sustainability doesn't happen overnight. It takes dedicated time and effort to build a strong culture of sustainability around your content operations.
So, where do you start?
Define what sustainability means to your company to align employees with brand values.
Establish clear roles and responsibilities to maximize skill sets, reduce work duplication, and improve productivity.
Centralize assets to reduce the amount of time employees spend searching for resources.
Streamline workflows while adding value to your content with a content curation strategy.
Encourage employees to strategically repurpose and reuse assets.
Standardize content to increase efficiency, consistency, and compliance.
Utilize automation to streamline workflows and facilitate content production and repurposing.
Choose the right technology for your team
Technology is one of the three foundations of sustainable content operations. So, ensuring that your team has the right technology is critical.
For idea generation, utilize social media listening and digital whiteboard tools. For planning, invest in project management and content scheduling software. Make sure that your creatives have the tools they need to efficiently produce high-quality content, such as word processing, design, and video editing software.
When it comes to analysis, it's worth equipping teams with ERP software.
ERP software compiles and centralizes real-time content analytics, facilitating their use alongside other business-critical data like sales records, inventory, and social media.
As a result, you can streamline end-to-end content operations, optimize content processes in alignment with company-wide initiatives, and drive the generation of informed content strategies.
Final thoughts
Content operations maturity comes with time. For startups at the beginning of their journey, content operations tend to fall into place when managers implement best practices from the beginning.
To get started, establish clear roles and responsibilities, invest in the right technologies, analyze content KPIs, and nurture a culture of sustainability.
By uniting the three foundations of content operations—people, process, and technology—you'll be able to establish an efficient process. The result? High-quality content, a successful strategy, and plenty of room growth.