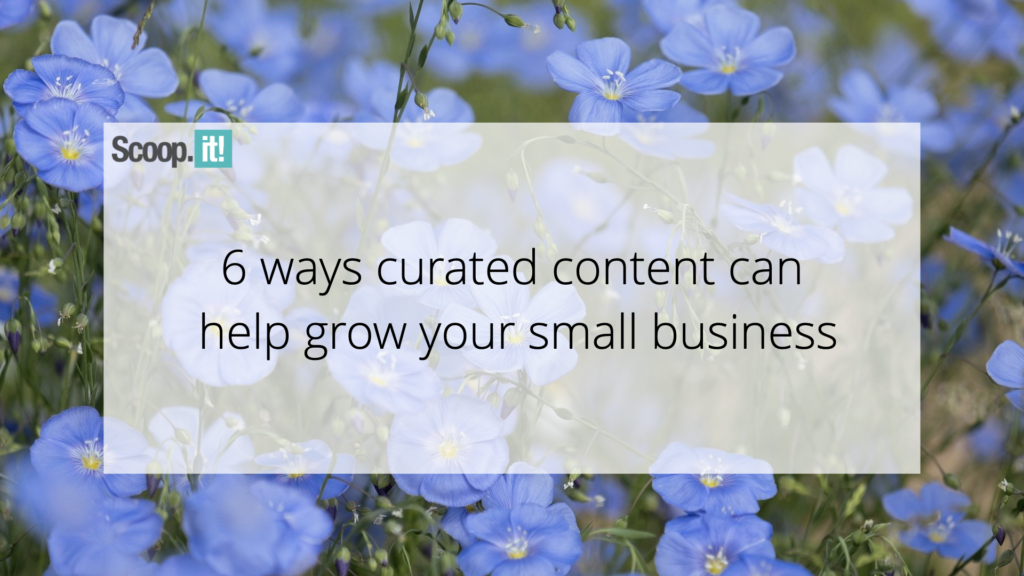 Today's marketing landscape is competitive. To attract and retain customers, you must constantly engage and stay in touch with them. One of the best ways to achieve that is through content marketing. But as every marketer knows, publishing original content like case studies, whitepapers, videos, infographics, and industry research takes time. 
So, how do you stay in touch with your audience as you work on your original content? Enter content curation.
Content curation keeps your content pipeline running and your calendar active. It helps you feed your audience's hunger for content and prevents them from running to your competitor. At its best, content curation allows your business to stay relevant in a content-driven marketplace.
Content curation is more than content sharing. It requires a deep understanding of your audience's wants and needs and a willingness to invest the time and effort necessary to curate high-quality content that meets those needs. Content curation allows you to optimize your sales funnel, generate more leads, and grow your business.
So what is content curation, and how can you leverage it to grow your small business?
What is Content Curation?
Content curation is the act of consistently finding, organizing, annotating, quoting, and sharing high-quality content from relevant outside sources through social media posts, blogs, or other marketing channels. It involves finding content that exists elsewhere online and repurposing them to engage your target audience.
A good content curator filters relevant content and adds insightful commentary to appeal to their audience. The commentary can provide additional context or share personal perspectives. Content curation doesn't involve creating original content. Rather, it leverages the best content on the internet to educate and inform your audience.
There are multiple ways to curate content. It can involve simple steps like retweeting content that might benefit your audience, sending a newsletter containing industry news to thought leadership content, or sharing expert advice.
Here is a perfect example by Forbes Magazine:
Alt: Screenshot of a Forbes Webpage showing an example of content curation.
Through their Expert Panel forum, Forbes has perfected the art of content curation. They interview industry experts, get them to offer opinions on different subjects, and share their views as content on their website.
Content Curation Strategies to Keep Your Audience Engaged
The primary goal of content curation is to engage your audience, but the cascading benefits can have far-reaching benefits for your business. You'll be able to grow your business and position yourself as a valuable resource in your industry.
Curated content is a powerful tool your business can use to grow its online presence, attract customers, and generate leads. Additionally, content curation is more cost-effective than traditional content marketing, which requires you to create original content from scratch.
These benefits make content curation an important tool in every marketer's arsenal. But reaching your business goals using content curation doesn't happen overnight. It requires clear strategies that will help you engage your audience.
Here are six strategies for engaging your audience through content curation and growing your small business.
Have a Clear Plan
When curating content, you want to publish something that will help you meet a specific business goal. To achieve this, you need a content curation strategy – a plan to guide how you curate content from ideation to publication.
A strategy is important because It will help you:
Discover your audience's needs and preferences – As a business, you want to ensure that the content you are curating is something your audience is interested in. There are multiple ways to find out your audience's content demands. You can use social media listening tools, conduct surveys, analyze competitors or perform keyword research.
Decide what you wish to achieve from the content – Do you wish to generate more leads or boost your brand awareness? Your business goals will inform how you curate content. For instance, you can share positive customer reviews to generate leads. When you want more visibility, you can hop into a trending topic to share an opinion or react.
Promote your content more effectively – Your curated content will only be helpful if it can reach your audience. Therefore ensure you know when it's the right time to post on Facebook or send an email blast.
Aim to Generate Value.
Your audience follows you because they trust you. They want to hear your thoughts and recommendations on the content you are curating. When curating content, you must remember this and adopt a strategy that will help you preserve that trust. And that requires curating valuable content.
How do you generate value?
Curate content that addresses the pain points of your audience. The content should be informational and educational. Your audience relies on your insights, and the content you share shouldn't make them doubt your authority.
Curate content that aligns with your brand values and messaging. This will benefit the reader and allow you to sell your services/products without watering the content.
Don't be biased – Your aim should be to share knowledge with your readers and start a conversation rather than impress them. Give them various perspectives.
Curate from industry leaders and experts – If you curate content from untrustworthy sources, you risk betraying your audience's trust.
Take advantage of technology to make the content more engaging
Researching, gathering, and sorting content can take time. And in a fast-paced environment where competitors share the same content, you have to find industry-related news fast, curate them faster, and share them with your audience. If your audience can't find what they're looking for from you, they'll find it elsewhere, and you risk losing them.
The use of technology to curate content isn't new. For instance, Scoop.it offers content curation tools to help you develop thought leadership content to show expertise in your area. It allows you to find industry news you can add insights on and share with your audience easily. This content can increase your site ranking, help you build authority, and grow your business.
Carry out in-depth research to ensure content authenticity.
You can use curated content to supplement gaps in your content creation efforts, but that doesn't mean you should go overboard with it. You need to be picky about who you curate from and confirm the authenticity of the information you share. If your audience doubts your credibility, they can lose trust in your brand, ultimately hurting your business growth.
Once you have compiled the content you want to curate, filter through it. This will help you share content that your audience expects from you and avoid the danger of putting out false information. In essence, it pays to be selective. Remember, it's not about the quantity but the quality of the curated content that you share.
To ensure authenticity when researching and curating content, ensure that:
You collect views from different perspectives. This is especially important when curating industry news or general news that affects your industry.
Add your insights to curated content to demonstrate thought leadership.
Credit your sources appropriately.
Use well-known sources your audience recognizes and trust.
Repurpose and Upcycle Content
One of the goals of content curation is to reduce the cost of content production. Creating original content, like case studies, requires commissioning research which can be expensive. Freelance writers will charge a median of $20 per hour to create new content, which adds up in costs for businesses that produce content on an ongoing basis. Content curation, on the other hand, leverages existing content to ensure a steady flow of content to keep your audience engaged.
One of the best ways to curate content is through repurposing and upcycling your original and user-generated content. Here's how you can do it.
Start a branded hashtag or giveaway context to encourage customers to engage with your brand. This will help you drive up awareness and reach new customers.
Update old content on your blog by adding new information, deleting outdated stats and resharing them as new.
Repurpose your content in different formats. For instance, you can convert your blog posts to speech and share them as podcasts or break it up and share it as a Twitter thread.
Repurpose customer testimonials into marketing materials for your landing page and blog.
Always Analyze and Optimize Your Curated Content
Content curation doesn't end when you share the content. It is an ongoing process. You must analyze your curated content to determine how well your audience received it. This is important as it will inform how you develop your future strategies.
You can analyze your curated content by looking at how it helped you achieve a specific business goal and how the audience reception was. For instance, if you planned to increase engagement, what percentage of your audience responded to your call to action?
If your engagement rate was lower than expected, you might have to re-evaluate your strategies and research your customers' needs and interests. Once this is done, you can choose to take different actions. You can optimize your content or delete it if it is causing more harm, e.g., there's backlash from your audience.
Your content optimization should be an ongoing process. Just like how you monitor your original content throughout a campaign, do the same for your curated content. Over time, you will be able to understand your audience better and get more value from your content.
Conclusion
Content curation can offer you a great avenue to engage your audience and reach other business goals. But it is not as easy as it sounds. Innocent mistakes like sharing content without crediting the original creator can expose your DCMA strikes and hurt your authority.
Additionally, your audience can frown upon low-quality spammy or syndicated content, and you should avoid them. To ensure that your content curation effort benefits your business, constantly review your campaigns and optimize your strategy.