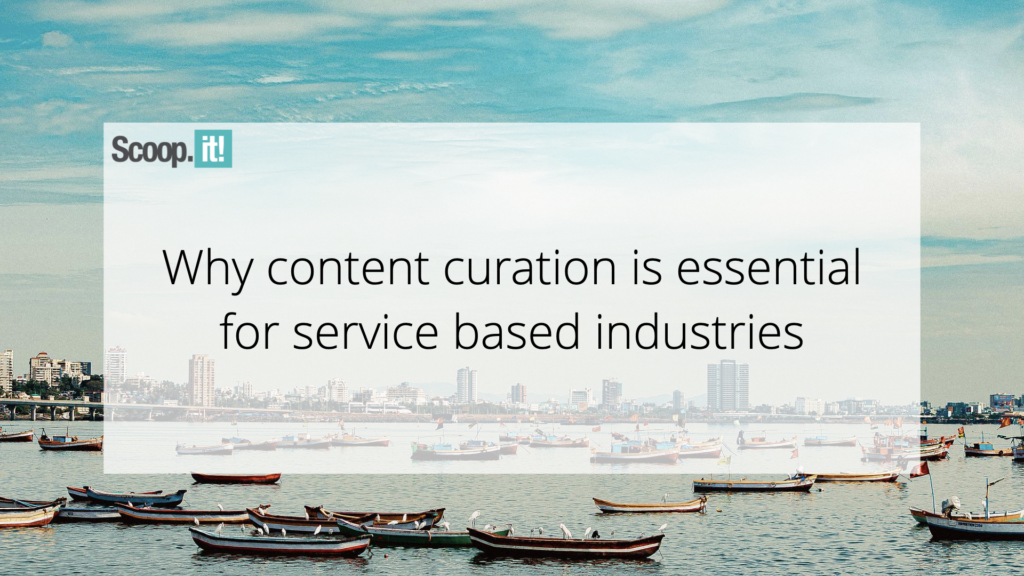 Do you think content curation is just another term for content creation?
While you're not alone in assuming the two terms are synonymous, they're actually different.
Content creation means creating and publishing new content on your blog, social media, or website for your own specific purposes. For instance, if you're a career coach, you might write blog posts about how to write a compelling resume or how to land your first engineering job.
But here's the deal with content creation. While it's an extremely valuable marketing tool, it's time-consuming, to say the least.
From topic research to consumer behavior analysis to outlining, drafting, and editing, there's a lot of work to do. Not to mention the struggle to keep up with brands that have linked arms with content agencies to scale massive amounts of content.
So, what's a service-based business supposed to do?
Consider supplementing content creation with content curation.
Content curation can relieve unnecessary pressure off your marketing team and free up company time and resources — especially when your "marketing team" is just you. That's because content curation focuses on sharing valuable content from other sources on your blog, website, or social media.
So, how does it work?
Simple. You gather, organize, and share high-quality content someone else made with your audience. Ideally, content based on specific subject matter related to your business and your audience's core needs.
If your marketing team has been feeling the pressure lately — or if you're pressed for time — content curation can be a godsend for your service-based business.
Let's take a closer look at why content curation is essential for service-based industries.
Why is content curation important for service-based industries?
As a service-based business, you're always pressed for time — so what better way to alleviate some pressure than to supplement with curated content?
In this section, we're pulling back the curtain on content curation and discovering why it's important for service-based industries.
Ready?
Let's take a look.
1. Build trust in customer relationships
Building a relationship with your customers starts with presenting yourself as a valuable source of information. But if you haven't crafted a dense knowledge base section on your site, a booming blog, or consistent social media content, it can be tough to get your content seen.
That's because the content world is becoming saturated with endless bloggers and marketers ready to grab any search engine user that comes their way.
In other words, curating content can help you stay above water so you can compete with top competitors and give customers the information they're searching for.
Here's a real-world example:
The transport and trucking service industries are flooded with content and product offers about truck wheels, car parts, accessories, and more. Having an in-depth blog with original and curated content gives businesses in this industry a fighting chance at attracting more visitors and generating more sales.
For instance, American Trucks curates guides based on top products and accessories consumers are looking for. This allows its customers to get valuable comparisons and share their opinions, which simultaneously increases their trust in the platform.
American Trucks isn't limited to the content its team creates. By supplementing with curated content, American Trucks keeps up with the high content demands its industry has without sacrificing quality.
To build trust with your audience using curated content, we recommend:
Sprinkling your own perspective into the content where relevant
Creating a process to help you curate and publish content consistently
Using a real person to verify, select, organize, and publish content
Fully vetting every content asset to ensure it's valuable, honest, and lines up with your target audience's core needs
2. Educate your customers
Sharing content with customers can be a form of educational marketing that provides them with a deeper understanding of the benefits of your service.
Leveraging curated content is an especially great way to educate your customers when your company offers multiple services with detailed features, such as tailored onboarding for government fleet management software or virtual medical assistant services.
Here are some ways you can use curated content to educate your customers:
Keep customers in the loop via email
An easy way to go the extra mile for customers is to send them relevant articles and guides by email. Emphasis on the word "relevant".
To educate your audience with curated content, send out a survey questionnaire asking them what kinds of topics they're eager to get into.
Psst … wanna use curated content to generate internal email newsletters in just a few clicks? See how we can help.
Collect and publish hot of the press case studies on your blog
Once you have a clear understanding of the topics your customers want to learn more about, dazzle them by collecting and publishing relevant and new case studies on your blog.
Collect and publish webinar series in your niche about topics your customers value most
Create a knowledge base section on your website and dedicate a portion of it to republishing valuable, topic-worthy webinar videos. Take this up a notch by hosting a podcast show to analyze and recap the webinars you've published.
Create ultimate guides using a collection of the best sought-after advice
Compile the best advice articles you can get your hands on into ultimate guides and catalog them by topic. These make for great lead magnets, too!
3. Establish yourself as an authority
Curating content that's relevant to your audience helps you establish yourself as an expert in your field. And that's a big deal if you want to become a magnetic powerhouse for organic traffic.
When looking to establish yourself as an authority figure in your industry, it's pivotal to get a grip on the types of articles you'd like to align yourself with.
For instance, if your original content uses a friendly, conversational tone, you'd need to stay away from curated assets that use a formal or dry tone. It's also important to vet the stats and information provided in the curated content so you can make sure the data is correct and free of plagiarism.
Here are some additional ways to position yourself as an authority using curated content:
Interview the original authors in a video or podcast show
Have you recently published curated content that got raving reviews and feedback? Keep the momentum going by interviewing the original author in a video or on your podcast show.
To get the most out of this tip, show up to the interview well-prepared by:
Researching the author thoroughly before the interview starts
Asking the author pre-interview questions so you can get additional context and inspiration for the official interview
Asking the author engaging, open-ended questions during the interview
Collecting questions from your audience to ask the interviewee
Having a natural give-and-take during the official interview
Add a personal reflection or analysis after every major section in an article
Love republishing articles? We don't blame you! But to give your curated content your own authoritative touch, we recommend sprinkling in personal reflections throughout the article after every major section.
Republish content by influencers in your industry and catalog them into cluster topics
There's nothing quite like affiliating yourself with influencers to increase your street cred.
To take advantage of this tip, we recommend creating cluster topics so customers can take an in-depth dive into any given subject on your blog.
Use the right tools or hire a content writing service to scale your content
Scaling your content is pivotal to positioning yourself as a true industry expert — but we've already talked about how time-consuming that is.
To show your customers you're the real deal, consider using a content writing service or AI writing tool that can collect and scale curated content for you.  
4. Provide value
Content curation allows you to provide value to your customers and community by sharing helpful content that's relevant to your niche.
If there was one word we could use to blanket every marketer's content focus, we'd choose the word "value". In an information-obsessed world, is there really another word that's more appropriate?
Let's break this down a bit.
Do you sell project management services? If so, then your customers are going to need content that answers burning questions like:
How can I make sure my project timeline always stays on track?
What are the top project management tools every project needs to thrive?
What should I look for in a project manager?
What does a project manager do?
How can a project manager save my project?
Do you sell personal training sessions? If so, then your customers will be looking for content that answers questions like:
What can I expect from my first personal training session?
How can I get the best results when working with a personal trainer?
What workout equipment do personal trainers recommend?
Do personal trainers offer exercise modifications?
What do I need to bring to a personal training session?
As you can probably guess, some of the best content formats to answer questions like these include how-tos, listicles, guides, videos, behind-the-scenes snippets, case studies, and webinars.
You can also survey your audience to see which content formats they consume most. If you use this tip, don't forget to dedicate a section of the survey to asking respondents which top questions they have about your industry.
5. Stay relevant
Do you cringe when a competitor covers a hot topic before you do? Do you feel embarrassed when you're the last to know of new developments in your industry?
You're in luck because working with curated content can help you stay on top of industry trends so you can always be in the know.
Here are some ways you can use curated content to stay relevant:
Dedicate time every week to research the latest industry reports
Recap the highlights you learn from industry reports on Twitter, LinkedIn, and in your newsletter
Recap the highlights you learn from industry reports on your blog
Dedicate time every week to look for (and learn from) industry-related case studies
Dedicate time every week to see if there are any news updates or current events related to your industry
Recap the takeaways you learn from case studies via live videos on social media — invite viewers to join you on camera to engage or ask questions
Pin newsworthy updates and current events at the top of your social profiles
Implement the lessons you learn from the content you consume in your service-based business to stay competitive
Conclusion
If you've made it this far, then we hope we've convinced you just how essential content curation is for service-based industries.
But as a refresher, here's a quick recap of what we covered today …
TL;DR:
1. Content creation means creating and publishing your own content.
2. Content curation refers to collecting and sharing content made by other sources.
3. Content creation is time-intensive, which can create unnecessary pressure on your marketing team if it's the only focus.
4. Supplementing original assets with curated content can help you meet your goals without burning out your team.
5. Curated content can help you build trust and educate your customers.
6. Curated content helps position yourself as an authority, provides value, and helps you stay relevant.
And that's it! Are you ready to start supplementing with curated content?
We're here to help. Check out how Scoop.it can help you research and publish the best content on the planet. Sign up for free, today.