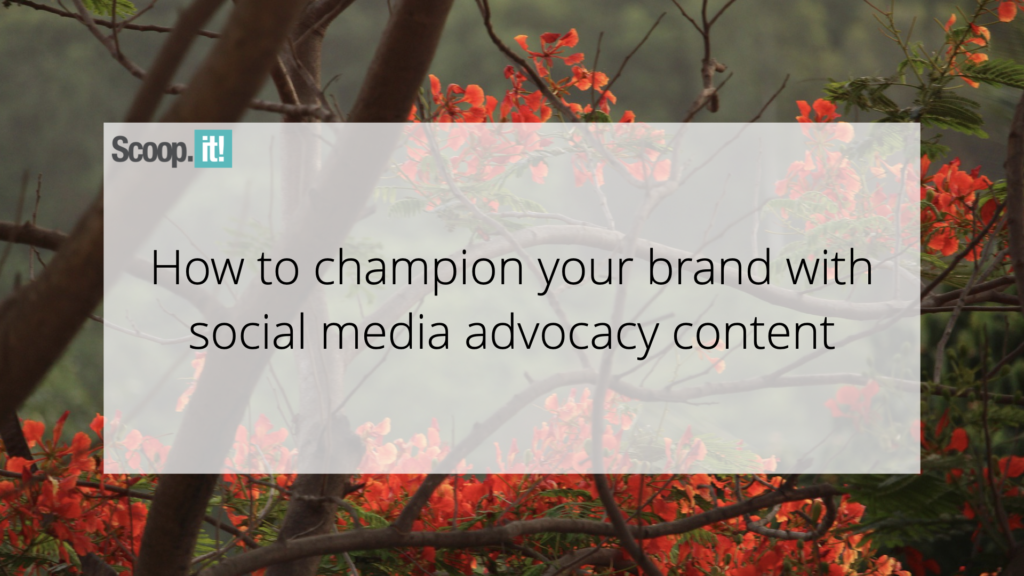 GoPro. Nike. Apple. These brands are known for their large social media followings, but what's even more impressive is their loyal (sometimes even die-hard) online entourage.
Businesses don't create an army of brand advocates by accident. They devise a carefully curated social media advocacy strategy including fostering emotional connections, creating exceptional customer experiences, delivering consistent value, and more.
What Is Social Media Advocacy?
Social media advocacy involves leveraging social media networks to forge and nurture positive relationships. The ultimate goal of a social media advocacy strategy is to create brand advocates who naturally love and champion your brand.
What Having a Social Media Advocacy Strategy Does For Brands
Brand advocates don't just buy more. They jump to our defense in the face of controversy. They recommend you to friends and family. They like, share, comment, and mention. All these actions incur immense benefits, some of which we'll discuss below.
Builds Brand Trust
Brand advocates are instrumental in establishing your brand as trustworthy. They share their positive experiences via online and offline platforms, bolstering your brand's reputation and trust.
93% of consumers say that friends and family recommendations are their most trusted information source, closely followed by customer reviews.
Image sourced from marketingcharts.com
Increase in brand awareness
The total number of social media users exceeds 4 billion, and the average consumer has access to 600+ contacts across their social media channels. Building a social media following of brand advocates allows you to increase brand awareness through content sharing.
Generate higher revenue
Customer advocates are your highest-value customers, buying more frequently and spending more each time. Businesses boasting high brand advocacy are better positioned to increase the prices of their products or services. Similarly, employee advocacy content generates revenue by creating better content.
Strengthen customer loyalty
Social media gives you a platform to engage with your customers intimately. By investing in brand-customer relationships through social media interactions, you can nurture loyal customers into becoming advocates.
Can boost content creation
User-generated content (UGC) is one of your most valuable content types. While you don't have to lift a finger to create it, you do need to encourage users to create and share testimonials, YouTube videos, social media graphics, blogs, etc.
Not only does this provide your audience with even more content to enjoy, but it can enrich your content curation and even spark those creative juices for some ideas of your own!
Who Can Be a Great Brand Advocate and Why?
Did you know that both customers and employees make good advocates? Here's why.
Customers
Customer advocates drive lead generation through friend/family recommendations and social media sharing. They also create UGC on their social media channels, driving conversions and influencing purchasing decisions.
Put simply, customer advocates do a lot of your marketing for you, all while championing and purchasing from your business.
Employees
If customer advocates are valuable, employee advocates might be even more so. According to Oktopost, almost 50% of CMOs cite employee advocacy as their best-performing social initiative.
Image sourced from oktopost.com
Employees are also responsible for 30% of your brand's engagement and are 14x more likely to share your social media content.
How to Start Implementing Social Media Brand Advocacy
Even if you're new to social media advocacy, chances are you've already taken your first steps. As long as you have contact center software that facilitates omnichannel social media messaging, then you're on your way to creating valuable brand advocates.
Here's how to do it.
Lay Out Your Plan and KPIs
For your advocacy strategy to work, you need to have measurable, attainable goals in place. KPIs help you track your performance and make data-driven decisions.
KPIs for Reach
To make sure your strategy is generating leads and building brand awareness, you need to keep a close eye on your reach KPIs. These KPIs consist of things like:
Impressions
Post reach
Web traffic
Follower count
Reach KPIs may only track your passive interactions, but they tell you a lot about whether your advocacy strategy is targeting the right audience.
KPIs for Engagement
Consumers are almost 3x more likely to engage with your social media content than any other content type. You need to keep track of engagement levels to ensure they're hitting your targets. Some of the most crucial engagement KPIs are:
Likes
Shares
Mentions
Profile visits
Comments
KPIs for Conversion
Turning one-time website visitors into brand advocates is a meticulous process. To ensure that your advocacy strategy is actually converting customers, the KPIs you should be tracking include:
Lead conversion rate
Sales revenue
Email newsletter subscription rate
Review Previous Campaigns and Start Adjusting Based on Audiences
Were your previous campaigns successful? If not, why? Sometimes, targeting the wrong audience or failing to personalize messaging can result in failed campaigns.
Other reasons for failed campaigns include a lack of legacy digitization (to which you can use enterprise microservices as a solution), insufficient research, and a lack of creativity. So, review your previous campaigns and identify what did and didn't go well. You could even ask your audience for feedback.
Track Existing Brand Advocates
It's likely that you already have brand advocates – and they won't be hard to find. 56% of consumers are more likely to engage with social media than any other type of content.
Image sourced from tintup.com
Identify the customers who are very engaged with your brand. Take note of where they are in their customer lifecycle and how they engage. Not only can you target these customers for hyper-personalized brand advocacy, but you can use them to devise a profile of your potential brand advocate persona.
Make Customer Experience More Personalized
A recent Salesforce study illuminates what we already know – customers want personalized engagements, shopping experiences, and customer service.
50% of millennials and 45% of Gen-Zers admit that they will completely ignore your message if it isn't personalized. And simply addressing them by name won't cut it anymore. Messaging and experiences should be tailored to the customer's individual buying preferences and browsing behavior.
Give Perks and Rewards
Recognizing your customer's loyalty goes a long way, as does appreciating the content they create. Why not reward your customers with a discount, shoutout, or exclusive content? 37% of consumers are drawn in by loyalty programs, so creating a reward-filed loyalty or referral program is a good place to start.
Create Content With Brand Advocates
Influencer marketing has exploded onto the mainstream with a worth of approximately 13.8 billion dollars. According to the Influencer Marketing Hub, it is revered as one of the most effective marketing strategies.
You can partner with influencers, affiliates, and loyal customers to create valuable content. The company Make, for example, entices customers to become an affiliate by promising a 20% commission.
Image Sourced from influencermarketinghub.com
7. Provide Proper Orientation and Training to Brand Advocates
Brand advocates love creating content to support the brands they love, but they don't always know where to start. 60% of consumers wish that brands would tell them what type of content they want to see. So, devise a resource for your brand advocates that gives them UGC tips.
8. Encourage Employees to be Brand Advocates
Aside from creating a dedicated advocacy program (or outrightly asking for social media engagement), you can focus on cultivating a supportive and communicative team culture instead.
Provide user-friendly interconnectivity with a VoIP phone system or unified communications platform. Prioritize your employee's growth and development with regular upskilling and reskilling. Include employees in more of your decision-making and content creation. And, lastly, recognize and reward their hard work.
9. Provide Consistently Great Customer Experiences
It's simple – provide a good experience, and your customers will tell their friends about it. They'll also post about it on their socials, follow you on your platforms, and (hopefully) go on to make more purchases.
Optimize and personalize every step of your customer's journey. Provide omnichannel customer service. Target them with personalized SMS or email marketing campaigns. Nurture them smoothly down the sales funnel and into brand advocacy with streamlined experiences at every touchpoint.
Examples of Brand Advocacy Campaigns and Why They Stand Out
Want to see brand advocacy campaigns in action? Here are a few that stand out as the best.
Adidas' Club
What stands out about Adidas' club is that it isn't your run-of-the-mill 'here's 20% off' loyalty program.
Advocates are treated like royalty for supporting Adidas on social media, uploading UGC, referring friends, and more. They're gifted with high-value rewards like VIP event access, members-only products, early access to new launches, and celebrity meet-and-greets. It's a sustainable strategy that puts advocacy at the heart of growth.
Electronic Arts – E4 Insiders
To tackle internal disunity between globally-dispersed employees, electronic arts set up an advocacy program with a difference. The E4 Insiders program used gamification to boost community spirit and drive employee engagement. It succeeded in connecting employees while generating thousands upon thousands of social shares each month.
Free to use image sourced from delightfulcommunications.com
Starbucks – "Tweet-a-Coffee"
Starbucks ran a Twitter campaign to let people buy their friends a coffee. They asked fans to @tweetacoffee alongside their friend's handle. The first 100,000 people entering the campaign would also get a $5 gift card.
The simplicity of this campaign is what made it so successful. Starbucks incited 27,000 brand advocates to participate and linked 54,000 users' Twitter IDs to their mobile phones and customer IDs.
Conclusion
There's no escaping social media and the hold that it has over your brand's reputation. Leveraging social media advocacy has multiple benefits including increased awareness, trust, loyalty, and revenue.
Personalize your customer experiences. Create campaigns that resonate with your target audience's values. Spur your employees to create employee-generated content. Collaborate with customers and encourage the creation of UGC.
The more authentic your relationship is with your customers, the stronger your brand advocates will support you.