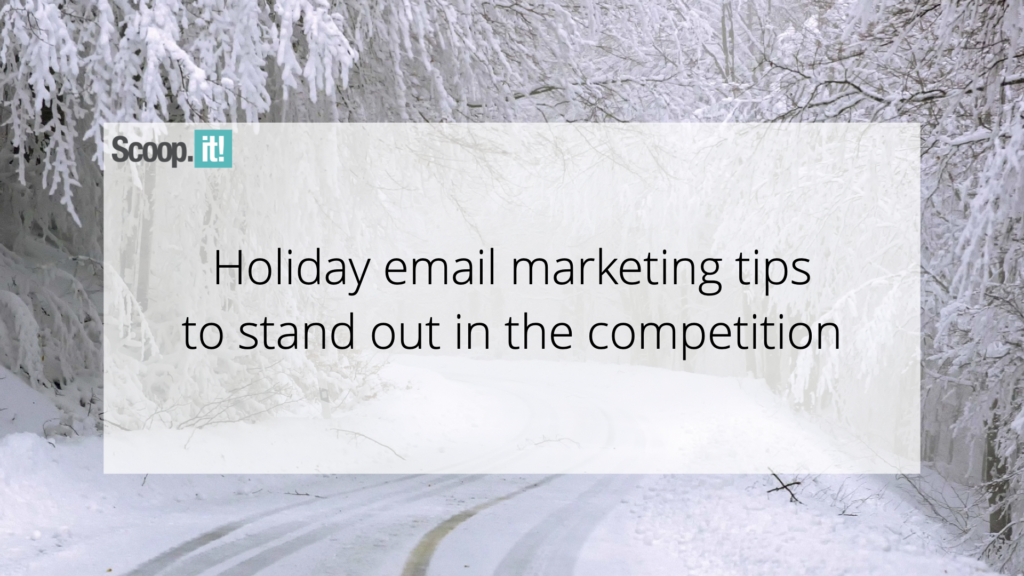 The global online Holiday spending was expected to reach USD 910 Billion in 2021 and 46% of shoppers started their Holiday shopping earlier.
To make the most of the purchase intent in this peak season, you must build effective email marketing campaigns that will appeal to all your prospects and customers.
Here are some Holiday email marketing tips that will let you stay ahead of the curve.
Try to solve the user's challenges through your emails
Your customers expect easy returns, free shipping, attractive discounts, and gift wrapping facility during the Holiday season. Use emails to let them know that you offer it all. Also, remind them how your products or services make things easier in their life. A protip would be to create a sense of urgency by adding a countdown timer to get instant conversions.
Segment the lists with advanced parameters
Consumer shopping behavior is different during the Holiday season when compared to the rest of the year. The reason being that people might be shopping for their family and friends too apart from themselves.
Here are some parameters you must consider in addition to the basic ones like gender, geographical location, and demographics.
Shopping preferences
Average order value
Browsing behavior
Purchase frequency
Shopping behavior
Cart abandonment behavior
You can use different tools to facilitate the segmentation strategy.
There are six segmentation possibilities to get maximum conversions during the Holidays.
Acquire new leads ahead of the Holidays
Subscribers you acquire before the Holiday season are more likely to purchase from you. So, target them separately.
Target early Holiday shoppers
Prompt the users to indulge in pre-Black Friday purchases by launching an early-bird offer.
Create a gift guide
Organize your gift guide emails by persona like Gifts for mom, Gifts for the outdoorsmen, Gifts for the fashionista, etc. Keep track of the browsing data on different kinds of gifts and people your customers are planning to buy for. Accordingly, you can then segment the people.
Target last-minute shoppers
Keep tabs on the purchase history of the customers and identify a segment that shops on the last day. You can target this list and encourage them to finish their shopping earlier.
Create a pre-holiday survey
Plan a pre-holiday survey so that you can understand your subscribers better. Through this tactic, you will be able to create smaller segments and target them with relevant offers.
Highlight last chance shipping
Based on the location of your fulfillment centers, you can segment the people according to their geographical location and promote last chance shipping. Get them to purchase in time so that their Holiday gift does not get delayed.
Use attractive visuals or video content
With the growing popularity of Instagram, TikTok, and YouTube, video content is gaining immense momentum through all marketing channels. Emails are no exception. Use GIFs or short videos to promote your offers and the huge range of products at your store. You can also use interactivity and gamification to increase subscriber engagement and encourage them to take action.
Check this Christmas email by Email Uplers in which they have used an interesting idea to wish the subscribers.
Holidays are not just about making money. Sometimes, you can even send out fun emails that would reinforce the Holiday vibes. Or send emails to wish the users without any promotional pitch.
Monitor the email cadence
Your subscribers are getting too many emails during the Holiday season (and even otherwise). To make sure that you do not end up annoying them, you must keep a close eye on how many emails you are sending/they are receiving. Pause the automation workflows if needed. Avoid resending the emails to non-openers automatically. As Apple has launched Mail Privacy Protection feature, the open rate might not get tracked correctly and it can lead to too many unnecessary communications.
Revamp your email automation workflows with relevant content
Running the email campaigns on autopilot makes life easy for the email manager. But, you can revamp the automation email campaigns during the Holiday season to serve relevant content. For example: You can create an exclusive welcome offer for subscribers who sign up during the Holiday season. In the cart abandonment emails, you can include additional discounts to increase the likelihood of cart recovery and drive higher conversions. Holidays are also a great opportunity to revive the dormant leads. Let them know about any new features you have launched during the peak season. Incentivize them with attractive offers that they cannot refuse.
Deliver a consistent experience throughout all marketing channels
It is a good idea to ask for the user's mobile number in addition to the email. You can then send them a text message too for important notifications and cart abandonment notifications. eCommerce marketers can use back in stock emails and text messages to make sure that the users do not miss out on any important notifications.
Follow the accessibility principles to the T
The key to a winning Holiday email campaign is to create accessible emails that reach to each and every subscriber. Add concise text and use visuals judiciously. Animations flashing at 2 to 55 Hz are a strict no no. Pick the color contrast in such a way that all the important Holiday elements stand out. Select the font size and font color considering the visual limitations. Add suitable al-text to all the visual elements so that subscribers using assistive technologies can understand what the images are about. It will also help subscribers who have their images turned off by default.
Monitor email deliverability rate regularly
Email deliverability becomes another issue during the Holidays as the send volumes reach sky high. Therefore, you can consider setting up an additional subdomain, particularly for the Holiday season. Clean the email lists before the Holidays and monitor the deliverability rate for every Holiday email that you send. If you notice any increase in the bounce rate, spam complaints, or unsubscribes, overhaul your email strategy.
Wrapping Up
There was a time when people resorted to blast emails and sent generic communications even during the Holidays. Those days are passé and your subscribers expect personalized messages that cater to their needs.
The tips shared here will surely give you a direction to create more effective emails during the Holiday season.