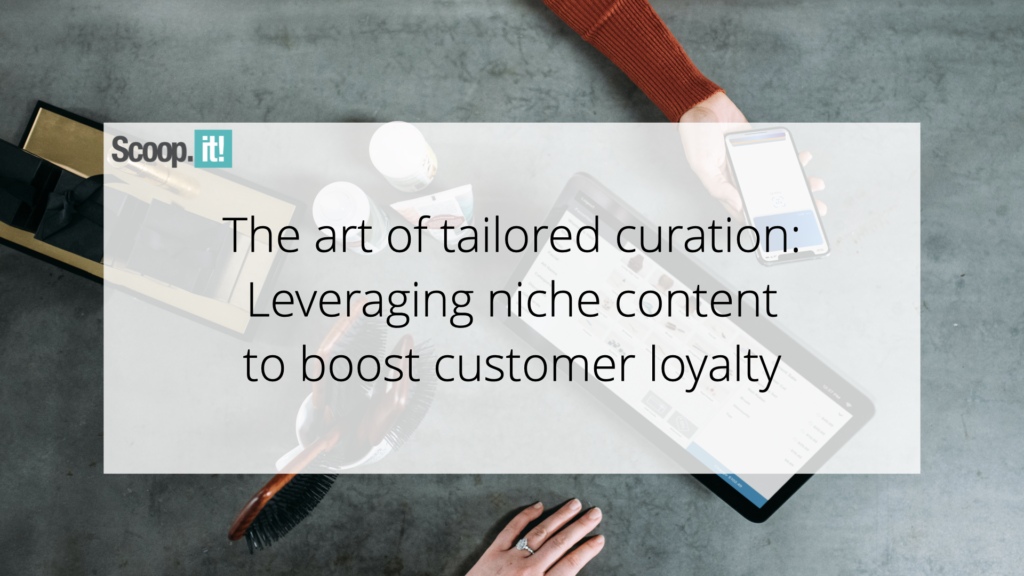 These days, it's not enough to just publish a ton of content aimed generally at your target audience. Modern consumers, particularly among the Millennial and Gen Z generations, want content tailored to their specific needs, interests, and desires.
Your brand might already practice content curation, which is the art of researching, collecting, and publishing content from your brand and from elsewhere for maximum consumer benefit. But you can go even further with this philosophy through tailored curation. Today, let's break down what tailored curation is, how it works, and how you can leverage the most niche content to boost customer loyalty and more.
What is Tailored Curation?
To understand tailored curation, you first need to understand content curation overall.
Put simply, content curation is the art of collecting, organizing, and publishing content from other sites or sources on your site or social media profile. In some limited cases, it can also mean taking old content you published yourself, updating it, then republishing it with new and accurate statistics or information without changing the core content format or type.
Content curation is highly effective for digital marketing since it:
Allows you to take high-quality, well-researched content from elsewhere for the benefit of your target audience
Spread your brand authority into different niches or sectors
Saves time and money compared to creating every piece of content published on your site from scratch
Tailored curation is a version of content curation. In essence, it involves finding content specifically tailored to or focused on the unique needs of a niche target audience.
For example, you might have a very specific target audience that wants to know about a particular subject or topic. Finding content just for that target audience, even if it's a segment of your overall customer base, is tailored curation.
The Benefits of Tailored Curation
When done properly, tailored curation can provide many important benefits for your brand.
For example, tailored curation doesn't have as much competition, as any tailored content you provide to your audience members will be more focused and less generalized by definition. Furthermore, tailored curation can also significantly save you money.
In contrast to creating new pieces from scratch for a very small audience base, practicing tailored curation to get that content is much cheaper. In this way, you can maximize your revenue and overall profits without having to massively increase expenditures.
More broadly, tailored curation boosts brand loyalty among the customers who consume the content. If you curate the right content for that target audience or audience segment, they'll become more convinced that your brand has the information they need for their particular questions.
How to Practice Tailored Curation Successfully
Of course, to see the above benefits, you have to know how to practice tailored curation successfully and smartly. There are a few different steps to doing this.
Know Your Audience Inside and Out
First and foremost, you need to know your audience inside and out. Do a lot of market research and segment your overall customer base into different smaller audiences. This is the best way to determine the differentiating factors and needs of different customer groups within your overall target audience.
Of course, this is a key element of content marketing in general, not just for tailored curation. When you understand your target audience as well as possible, you'll be better equipped to provide them with the best products, services, and web content for their needs.
Develop Content Resources for Long-Term Curation
Next, you'll want to develop networking resources for long-term content curation. This may involve striking up partnerships with journals in your industry or partnering with other brands that sell similar, yet not directly competing, products and services.
By developing these content resources, you'll have a steady stream of content for your target audience base. This will ensure that you never run out of new things to share with your key consumers, improving brand loyalty and the authority your brand has in its niche even further.
Scan Previously Published Content from Your Brand
At this stage, it may be wise to check out previously published content already on your brand website. There might be some older pieces that still have a lot of valuable information to offer their audiences; they just need to be updated.
With that in mind, you should take a fine-tooth comb to that high-quality content and try to update it where possible. Then you can republish that content and provide your audience with meaningful information or entertainment, all without having to create, pay for, and research a new content piece from scratch.
Publish on the Right Channels & at the Right Cadence
Good tailored curation means publishing that content on the right channels and at the right speed or cadence.
For instance, you may wish to publish your tailored content on a variety of social media platforms like Facebook, Instagram, and your website. The more places you publish the content, the better. But you should publish that content on the channels or social media platforms where your target readers/consumers are most likely to be.
Similarly, publish content at a good enough speed that your audience numbers feel satisfied, but not so quickly that you burn through all of your tailored content too quickly. A good rule of thumb is to try to publish content once or twice per week.
Continually Analyze and Iterate
The last step in the tailored curation process is to continually analyze the performance of your curated content, then iterate on your findings. In a nutshell, you need to track important KPIs or key performance indicators to determine:
Which pieces of content resonate most with your target audience
What content you should continue to publish or republish in the future
What your audience wants to see in future content
An example of a KPI to track is website visitor or conversion rate. Website visitor tells you how many people view a specific piece of content, while conversion rate can tell you how many people that content has converted into paying customers or subscribers.
Note that this is also a critical way to improve your customer support strategy. By analyzing your target audience members' responses to different content and interaction, you and your team of customer service agents can provide continually better solutions, recommendations, and troubleshooting no matter what your product or niche happens to be.
Conclusion
Ultimately, tailored curation could be just what your brand needs to thrive in its niche or market. Through smart tailored content curation, your target audience members will be surprised, delighted, and informed, plus feel like you know them deeper than any competitor in your industry.
If practicing tailored curation by yourself seems a little daunting, platforms like Scoop.it can help. As a dedicated content tool, Scoop.it is the ideal means to research and publish targeted content for your target audience in no time.