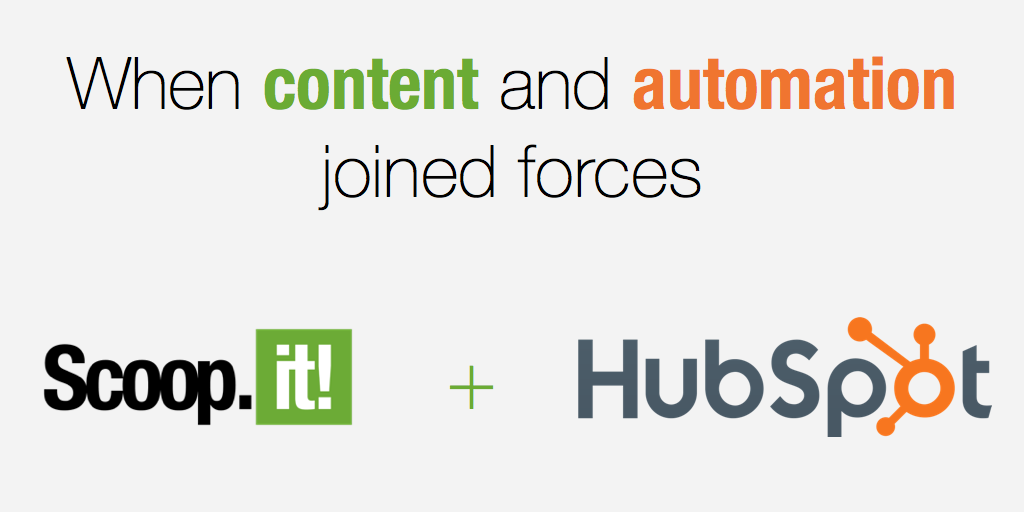 Blogging is no longer something companies can avoid. It has become common knowledge that a content marketing strategy is not required but vital if you want to cut through the noise of the internet and reach your targeted audience.
I like the way Circle Studio has defined a successful online marketing strategy: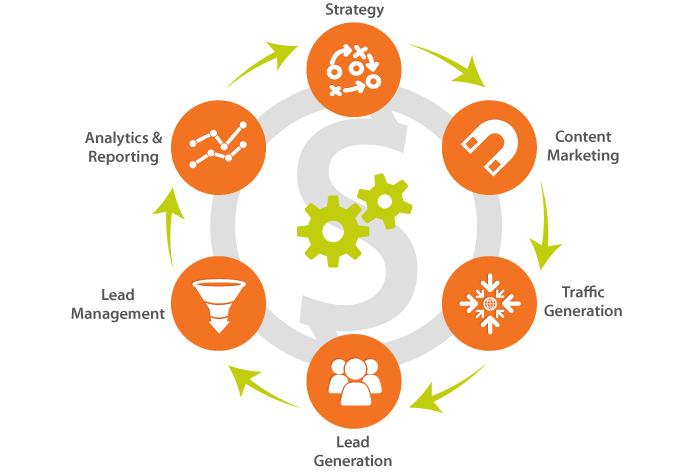 Many components make a successful online marketing strategy, and for each component there are so, so many tools available today. You'll find lists of the top 20, top 30, top 40 tools for this or that specific marketing function. Some are free, some are cheap, some are very expensive. But one thing is sure: none of them do it all.
As a content marketing software startup, we always try to deliver the best product possible, fitting the needs of most marketers out there. And since there are many components in online marketing, content marketing (and our software) has to find its place and what I mean by that is to integrate with other best-in-class tools for the other components of your strategy.
A few weeks back, we announced that we were the first content marketing software to integrate with hundreds of apps through our integration with Zapier.
Today we are so proud to announce that Scoop.it Content Director now integrates with Hubspot – the #1 Marketing Automation software for SMBs. Oh, and we also co-wrote an eBook together to help you build and scale your content marketing like a pro!
Combining Content Director with Hubspot brings you 2 main (huge) benefits:
Help you create more content for your HubSpot blog
Help you distribute your HubSpot blog's content better across all your channels.
Now, in detail, here are all the things Content Director brings to Marketing Automation.
Source the best content available on the web to feed your inspiration
One of the main challenges faced by marketers today is the lack of time to create content. Content Director allows you to save precious time by automating what can be automated in the content marketing process: content discovery.
Scoop.it developed its content search engine over 4 years ago, resulting in the most robust algorithms to find the appropriate content available on the web (articles, documents, blogs, social networks, etc.).
With a few specific keywords about your domain, our software can find the most relevant content available on your topics on an hourly basis. This content can then be used for inspiration and/or for curation, meaning that you can create a blog post and send it to your CMS system with just a few clicks (and some things to say about the article!).
Content curation has been proven to:
improve SEO rankings (for long tails keywords and in general thanks to more pages indexed)
drive more traffic to your content through search and referrals
help you develop a relationship with influencers in your field through attribution
save time: in average it is 3 times faster to create a curated post vs. a created one.
Content curation is not content aggregation. It's about attributing the source you're basing your argument on, and then adding your insight, your opinion or any other type of text on a piece. Here is the infographic you should read if you'd like to know how to create the most effective curated blog posts.
Gather all of your content in one place
Just like we integrate with WordPress or Drupal to plug in your blog production into our smart calendar, now if you use Hubspot's CMS system you'll be able to synchronize your blog posts scheduled or published with Content Director.
Just like the picture below, you'll be able to see all the blog posts scheduled from your CMS, whether they are original or curated content.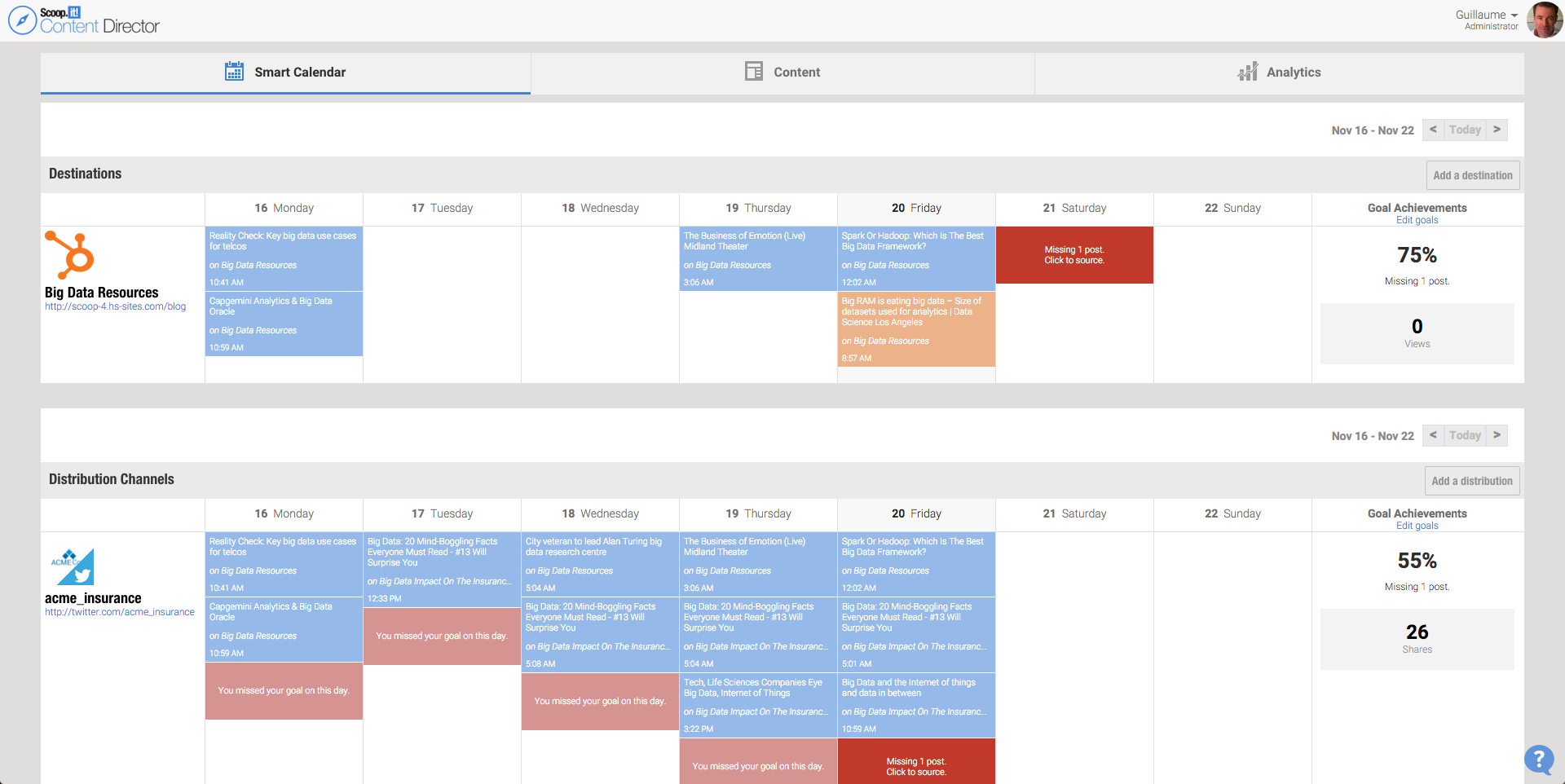 Share across all your social media channels in 2 clicks
You can share any blog post to all your social media channels (including those of your company advocates) in a couple of mouse clicks: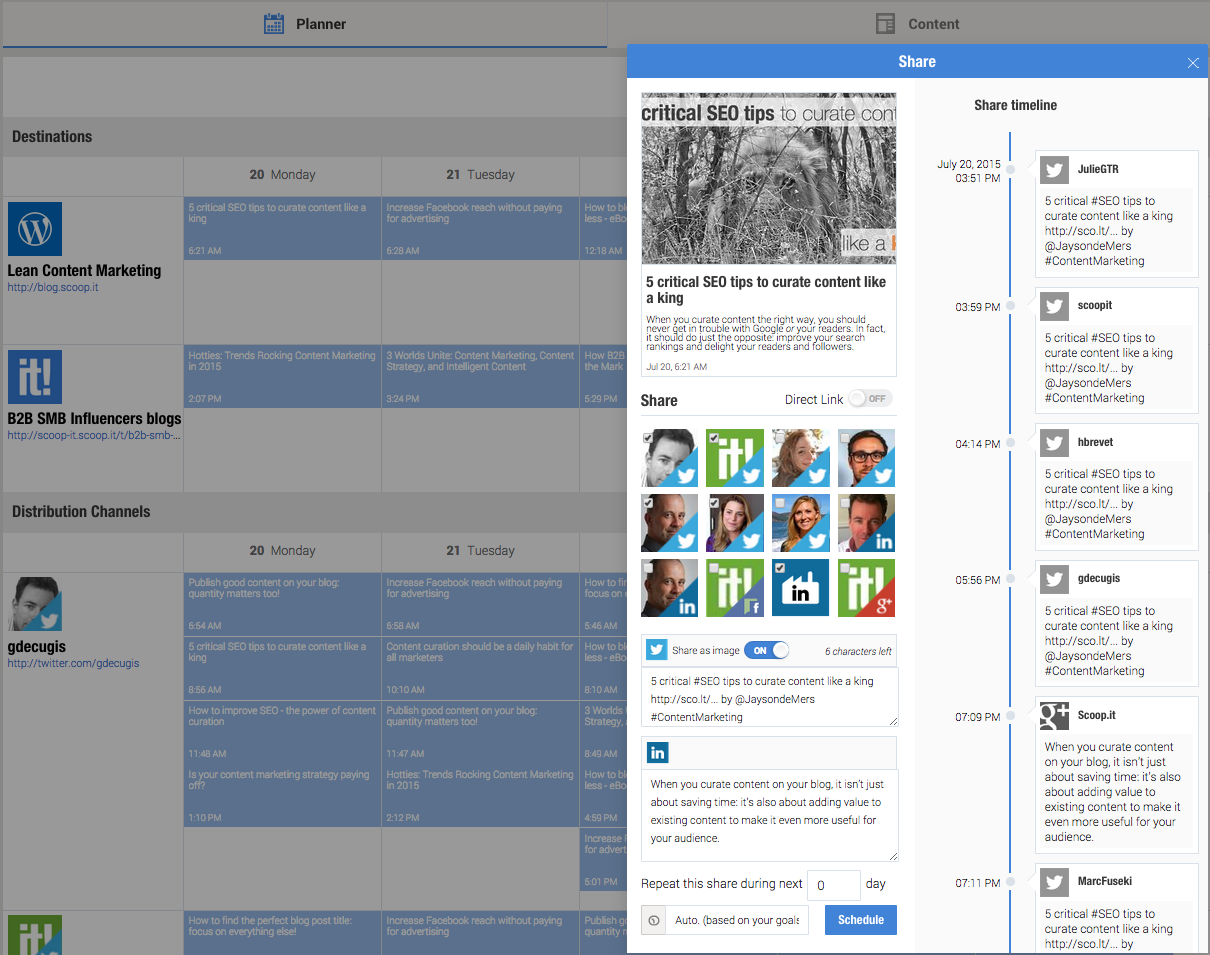 Schedule your messages the smartest and effortlessly way
Don't want to send all the social media messages at the same time?
Don't want to manually pick an hour for each social media message?
You're covered: you set your publishing goals once (how many messages each day per channel), and enter the hours you'd like to publish for each channel (great if you have team members on different time zones, or if you're aware of the best times to publish on Facebook, G+, LinkedIn or Twitter).
Then simply hit "Auto based on goals" and we'll schedule your message on one of the the time slots you've saved.
Reshare your successful or evergreen content multiple times in seconds
Radio DJs have to play new songs multiple times before they become hits. And they also replay back catalogue, evergreen content years and years over. So why wouldn't you do the same as a content marketer?
By running our interactive Content Marketing grader for the past few weeks, we found out that about 65% of content marketers didn't republish their blog posts multiple times on social media. That's a huge number for such an efficient practice that is proven to work. Of course, we all know why: it's time consuming to do so and many marketers run out of time.
So here's how we're solving that: by making it one click to pop-up your latest, most successful or evergreen content from your HubSpot blog. Simply select and hit Share: the Scoop.it smart calendar will take it from there and you'll be rocking like a content marketing rockstar DJ in seconds.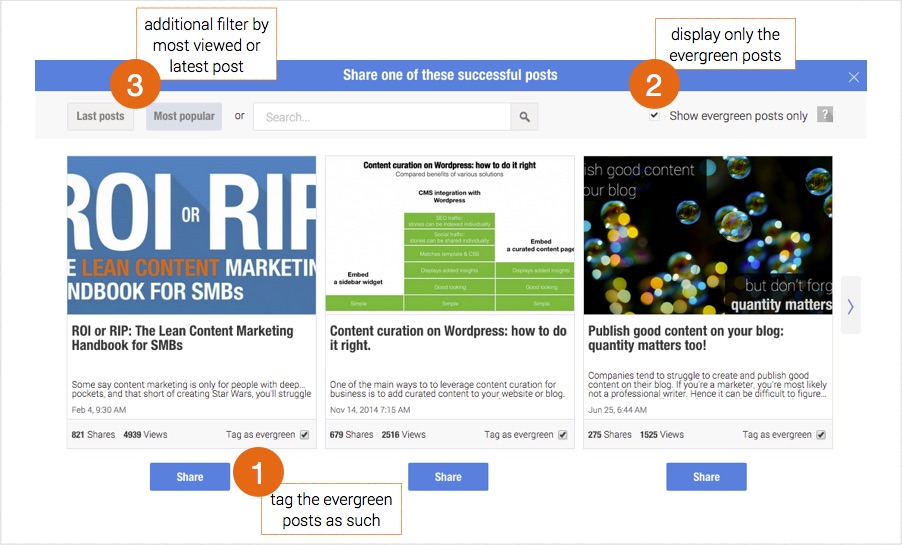 What message for each channel?
Tired of going to twitter fo find the appropriate handle?
Or to go back to LinkedIn to figure out which message had the best engagement rate?
Again, you're covered.
When you want to publish a blog post, we'll display the historic of all the previous messages sent. You just have to copy and paste the one that you'd like, the hashtags and mentions are already there!
So what are you waiting for? Work smarter and start generating real results from your content marketing today. Find out how to use the new Scoop.it Content Director to help you become a smarter marketer!