Content marketing Institute's founder Joe Pulizzi does a yearly round-up of influencers' prediction for content marketing collecting thoughts from various industry influencers. I was honored to contribute last year and here's what I had in mind.
My prediction for content marketing in 2015:
Content marketing had so far primarily been a big player game: sure some Small/Midsize Businesses (SMBs) didn't wait for 2015 to get started but not enough in my opinion. Success stories that were told also focused primarily on RedBull, Intel and other big players (a simple look at CMI's content marketing award winners confirms that)
The show stopper for SMBs was the lack of a clear ROI equation: while big brands can spend big budgets exploring and learning, SMBs need return fast. As we like to say, it's ROI or RIP for the rest of us entrepreneurs and small team members.
But this bottleneck was about to disappear: thanks to better methodology, technology and software, marketers now have the needs to prove and improve the ROI of content.
Paving the way for greater content marketing adoption by SMBs.
Of course, I didn't mean this as a passive observation: at Scoop.it we were already busy building Scoop.it Content Director, our integrated content marketing software for small marketing teams, as a solution to the above problems. And beyond software, several consultants, agencies or influencers we talk to had seen similar trends and developed content or practices around that same topic.
But so one year down the road, it's time to ask ourselves: where do we stand on this?
Is content marketing ROI clear yet?
I'm going to use a CMI reference again (but hey, they do a great job at… content marketing) and quote the 2015 benchmark they publish together with MarketingProfs. I read this report every year: it's awesome. And this year, they've have a pretty precise answer to that question:
44% of yes means 56% of no / unsure so we can be a little optimistic and say we're halfway there (which also means there's a long way to go).
Can content marketing ROI be measured now?
While clarity on success is not universal yet, the measurement aspect has changed dramatically this year. While it wasn't possible or easy to do so before, you now have analytics and tracking tools to attribute key performance indicators such as lead generation to individual pieces of content.
As I said before, we weren't passive observers of these trends and needs and in our own analytics, you can now generate a report like this one given you for each blog post traffic, social amplification and the number of leads the post contributed to generate: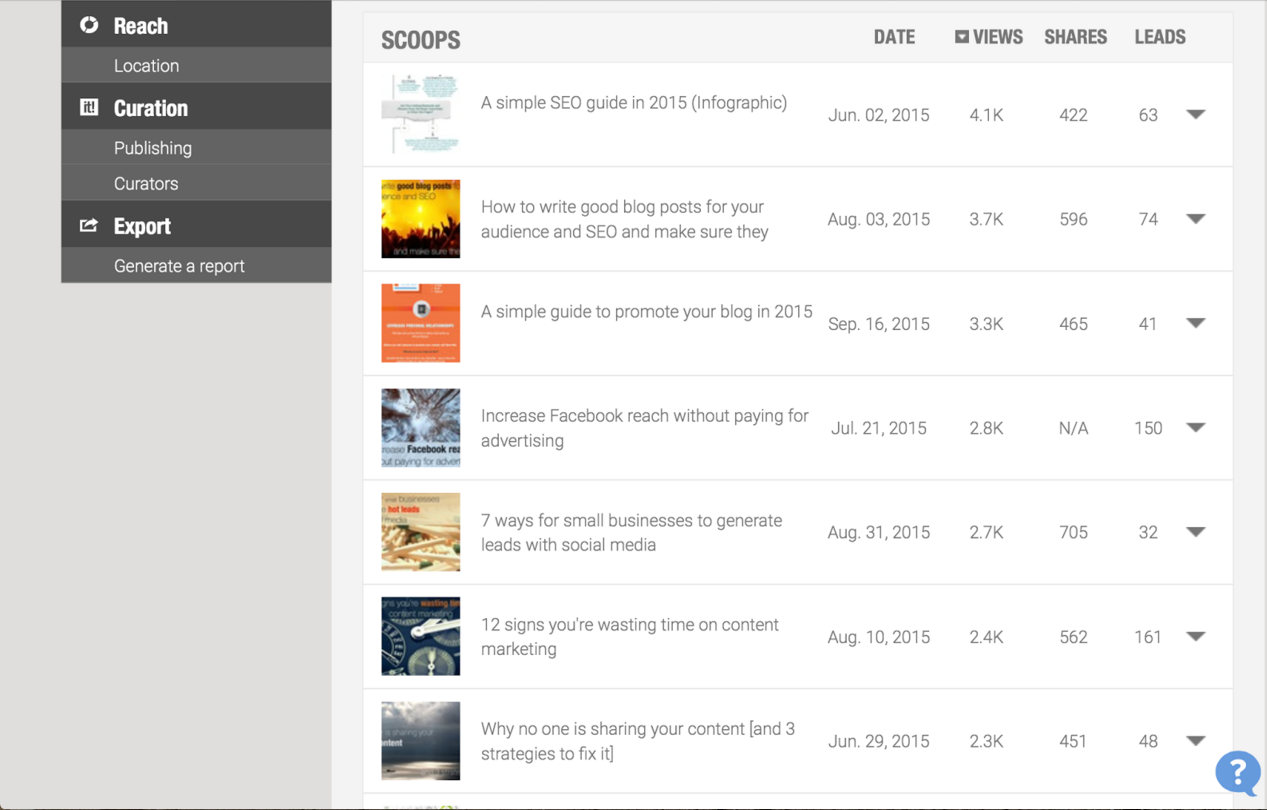 This level of granularity is essential as it enables marketers to really understand what works and what doesn't for each piece of content they have: not just through vanity metrics but with KPI's that matter to their own boss and their C-levels. Content marketers can now demonstrate the impact they have on lead generation which is a game-changer for B2B small/mid-size companies.
Have SMBs embraced content marketing massively yet?
I didn't find any good data showing progress of adoption by SMBs of content marketing (so if you have some, send it my way: thanks!). On our end we certainly saw an inflexion point through the launch of Scoop.it Content Director that has rapidly been adopted by hundreds of SMB marketers. Of course, considering there are millions of SMBs in the US alone, this sample is not statistically significant as it's still a drop in the ocean. So in other words, we're just getting started…
So what are your own predictions for content marketing 2016?