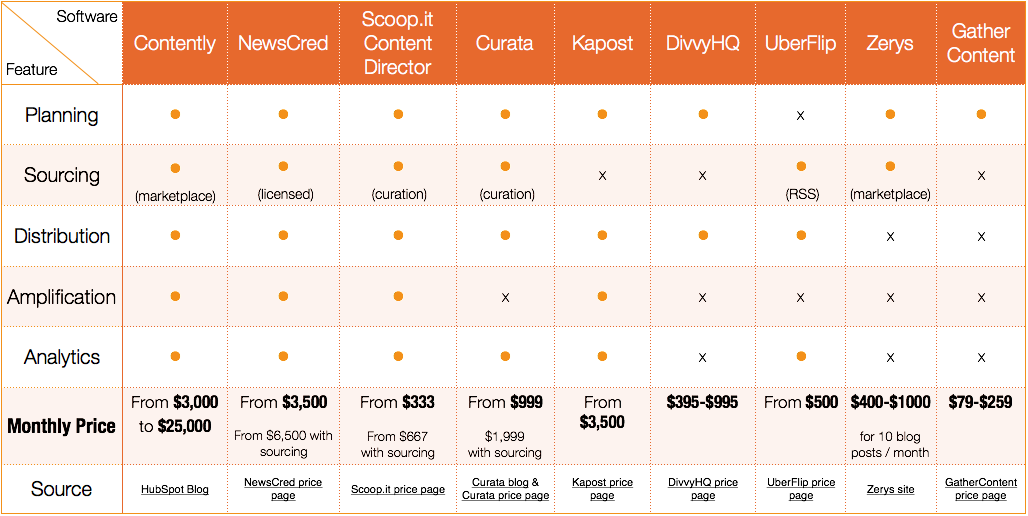 As content marketing matures, there are more and more reasons why you need content marketing software. TopRank – Lee Odden's leading content marketing agency – recently released its selection and review of the best content marketing software you should consider to plan your content marketing strategy for 2016. I encourage you to read it: ok, partly because we're proud and honored to be in it… but also because it does a great job at highlighting the key benefits of each of them.
As so as you do read it, the next question you might have is:
How much does content marketing software cost?
As content marketing software providers ourselves, we get asked this question constantly and we also had to define our pricing model which really means understanding the ROI equation for our customers. The thing is that there doesn't seem to be a lot of resources on that so we've done the research for you and that's what this post is about.
Yes, it means talking about our competition and running the risk of appearing biased but hey, we believe in one of the key premises of content marketing ourselves: if the information is out there, our customers will find it anyway so we might as well save them time getting it. So we've tried to be as objective as we can and hopefully you'll find that helpful.
What does content marketing software do?
Not all areas of the content marketing cycle are covered in the same way by all the software selected by TopRank. So to compare apples with apples, we had to do the analysis and broke down the content marketing activities along these modules:
Planning

content operations: consistency being a must for content marketing to generate results, it's important to get organized and many solutions in the list provide tools for that.

Producing

content: from content curation, to ideation to full outsourcing, content marketing platforms offer various solution to the problem of not having enough content to publish.

Distribution

: at the very least you should share your content across social media which is what this module is about.

Amplification

: basic distribution however is unlikely to be enough if your industry is somehow competitive. To prevail, your content will need to benefit from amplification which can be done through social, email (both being organic) or paid distribution which some platforms started to offer.

Analytics

: at the end of the day, none of this is going to matter if you can't convince yourself of the value of content. Measuring ROI in a convincing way (for you and for your boss) is essential to grow and scale your content marketing by identifying what works from what doesn't.
Of course, within these various modules, there are still a number of differences in the way each product adds value. I'll come back to that but we wanted to come out with some kind of high level scope vs pricing matrix as we believe it would be useful to the market.
The price of Toprank-selected top content marketing software
Here is how the various softwares compare from a scope and pricing point of view:
Note that we've excluded the following softwares that were originally in the TopRank's list:
Expion

and

Oracle

because we couldn't find any reference to their pricing. Happy to correct and add them in if we can get access to this.
Scribe Content

because even though it's an awesome tool for content writers, it has a very different scope than the rest.
Another thing to take into account is that Zerys charges per blog post according to length and quality ranking of the author so we've assumed a selection of 10 blog posts a month in the above table.
How to choose the best content marketing software?
As the above table shows, price can be very different across the various offers. Even though TopRank curated this first list for you, assessing all the various products through individual demos can be complicated and time-consuming. So how should you think about the decision you're making?
By Scope:
When looking at the scope covered by the various players, a first group emerges: the integrated content marketing platforms (Contently, NewsCred and Scoop.it Content Director) cover the entire content marketing cycle. This is a critical point because a lot of value from content marketing software comes from managing all your content operations from the same place. Many marketers complain they're wasting a lot of time on non-essential tasks: by doing things manually or by duct taping many heterogeneous tools, they end up copy/pasting content, going back and forth with contributors by email, not being sure what the latest revision is, aggregating data from various places to build reports, repeating posts across social networks, formatting emails, etc… All of this time wasted becomes a drag on ROI which is what integration solves.
By price / market segment:
The other thing that the above chart shows is that there's a big difference in the pricing of the various solutions. A first reason for that is the natural consequence of the above: different scopes should mean different pricing. But the price grid above also shows that some platforms are going after large marketing organizations big budgets. So if you're part of a small marketing team, software that is available for a few hundred dollars a month include Scoop.it Content Director, DivvyHQ, UberFlip and GatherContent.
And yes, as I'm sure you'll observe: we're in both tables. How can we be? Well, about a year ago, when asked by Content Marketing Institute's founder Joe Pulizzi about what trend I saw for content marketing in 2015, this was my reply: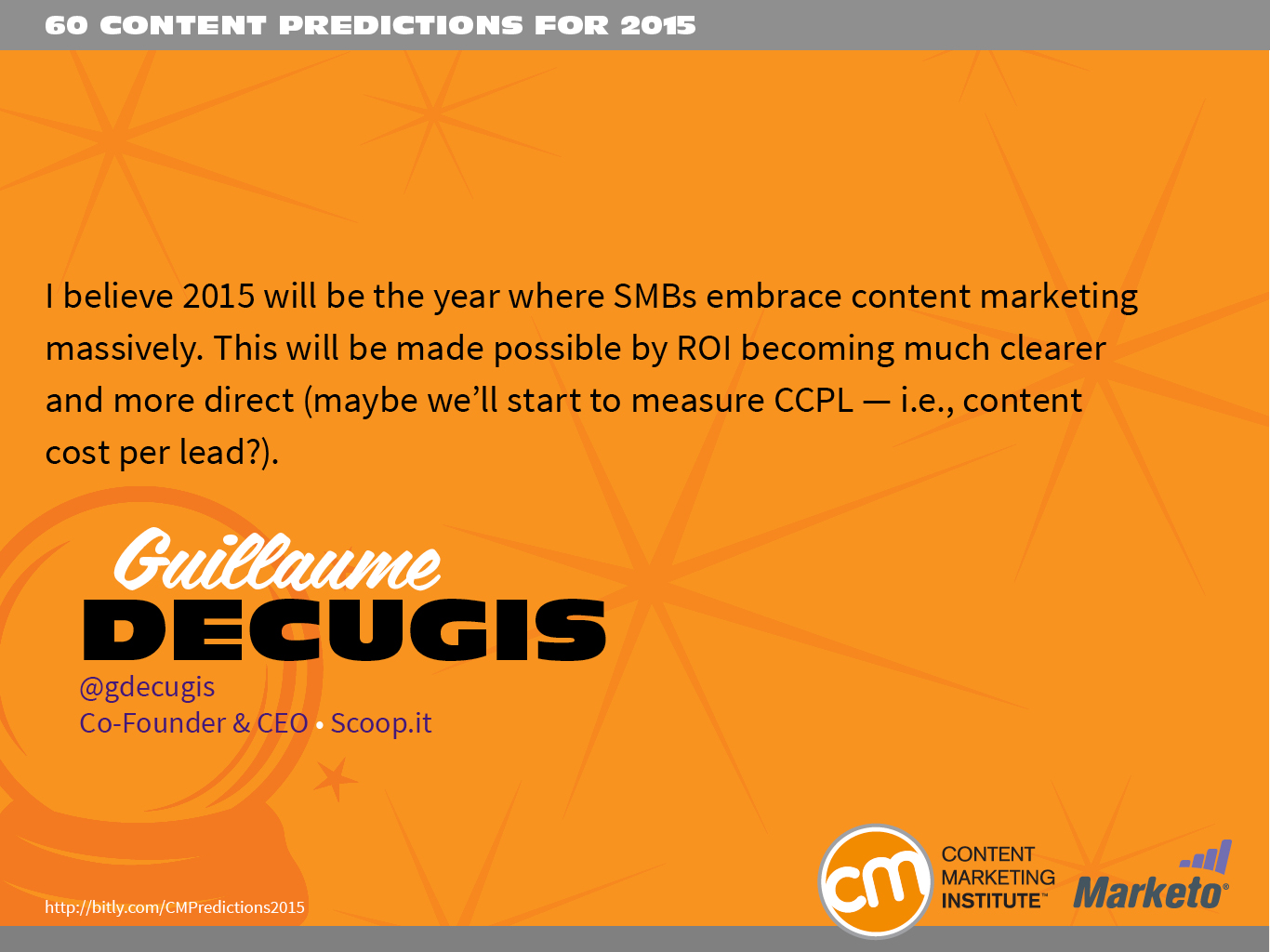 As you can see, this wasn't just a passive observation. We firmly believe that ROI-driven small marketing teams deserve an affordable yet full scope and simple-to-use content marketing platform: that's what we've been busy building and that's why we're pricing Scoop.it Content Director in such a way.
There are of course other criteria than cost when deciding to invest in content marketing software. Building software that does what you need and that is easy to use is and remains our core focus when developing the Scoop.it platform. But as ROI-driven marketers ourselves, we also feel the cost component is important to address and should be in alignment with the results you might expect from content marketing software. So let us know if you found this research helpful or if you have follow-up questions.
Want to work smarter and start generating real results from your content marketing? Find out how to use the new Scoop.it Content Director to help you become a smarter marketer!