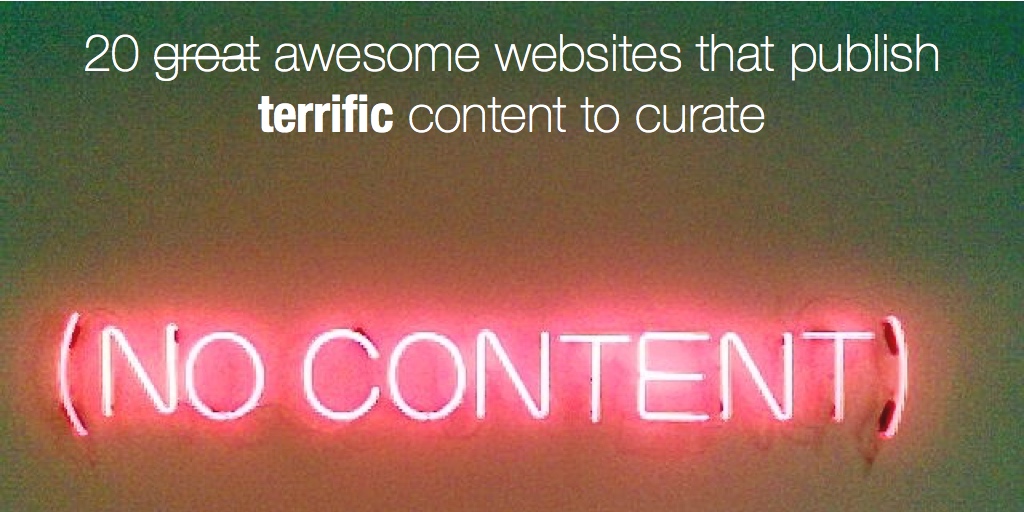 Google is a great tool. But it has its limitations. Like when you're tired of doing keyword searches for content to share with your audience. You want to find the good stuff, but not the same old stuff everybody else has shared.
And then there's the millions of pages out there with great content – but those pages haven't been well-optimized for search. So they don't get ranked. And all that awesome, undiscovered content never sees even page two of the search results. No matter how many Google search tricks you use.
Over the last year we've talked quite a bit about how to do content curation. We've covered the best practices to get results for it, lead nurturing, growing your audience, and improving your ROI.
But one thing we haven't covered is where to find the super-great content to curate. The undiscovered gems. The stuff your audience will love, and hasn't ever seen before. Finding that type of content can actually take some work.
Of course, you've probably already got at least a dozen sites you know and love, and those are a great start for curation. But they're just a start. How about a suggested list of some of the most interesting, most shared, most useful sites online?
We've got you covered. With this roundup, you'll never be short for great content to share.
AllTop was doing content curation before there was even a name for it. As their About Us page says, "The purpose of Alltop is to help you answer the question, 'What's happening?' in all the topics that interest you."
They do that by rounding up content from the top blogs and publications across the web, then group those articles into "aggregations". Follow the aggregation that's most closely related to your subject to find content to share. AllTop is updated "approximately once an hour."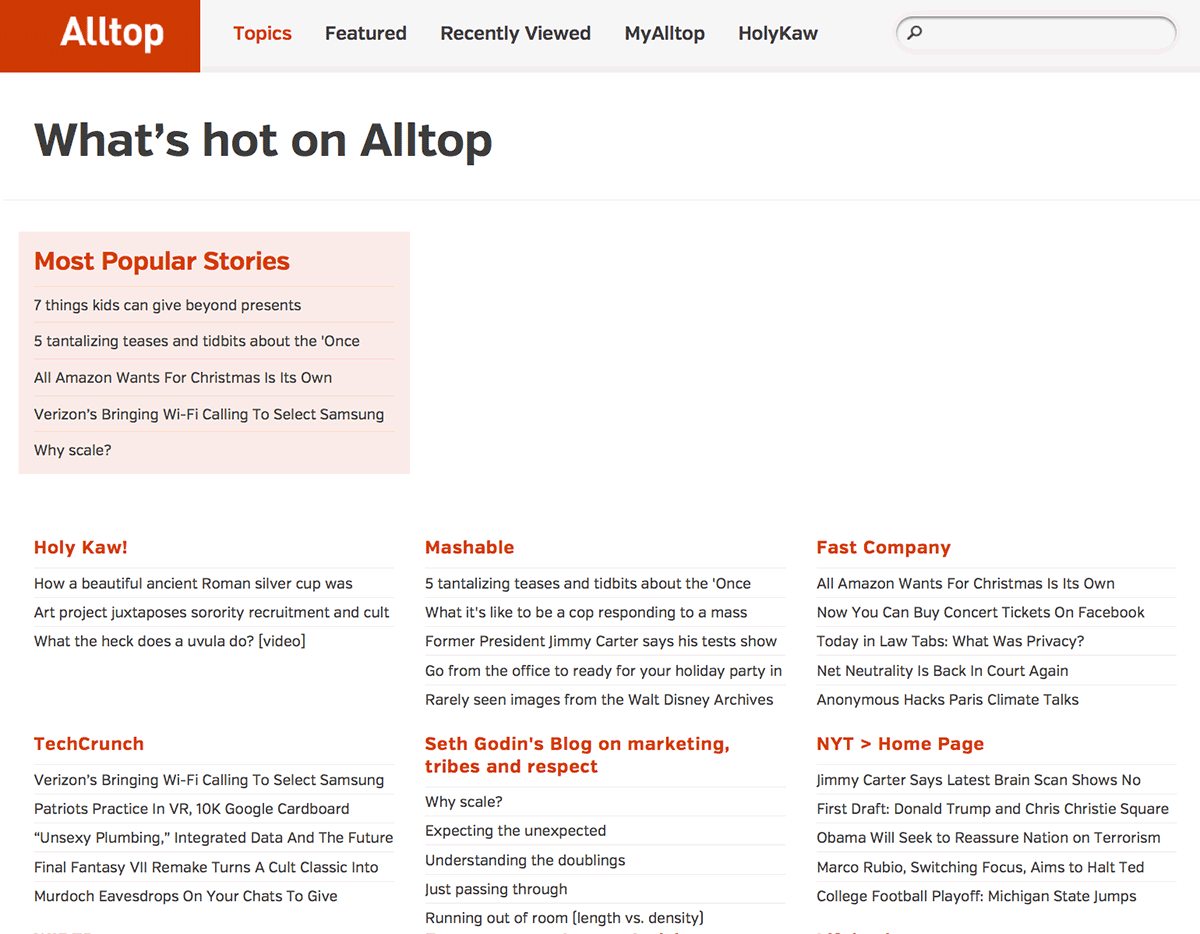 Reddit is a whole world unto itself. A rowdy, fast-paced, spike or strike sort of place. It can be used for content promotion (once you've built your rep up), but it's also a fab place to find out which content is most loved at any given time, for any given niche. Each niche on Reddit is called a "sub-Reddit". Have fun exploring – there are thousands of sub-Reddits.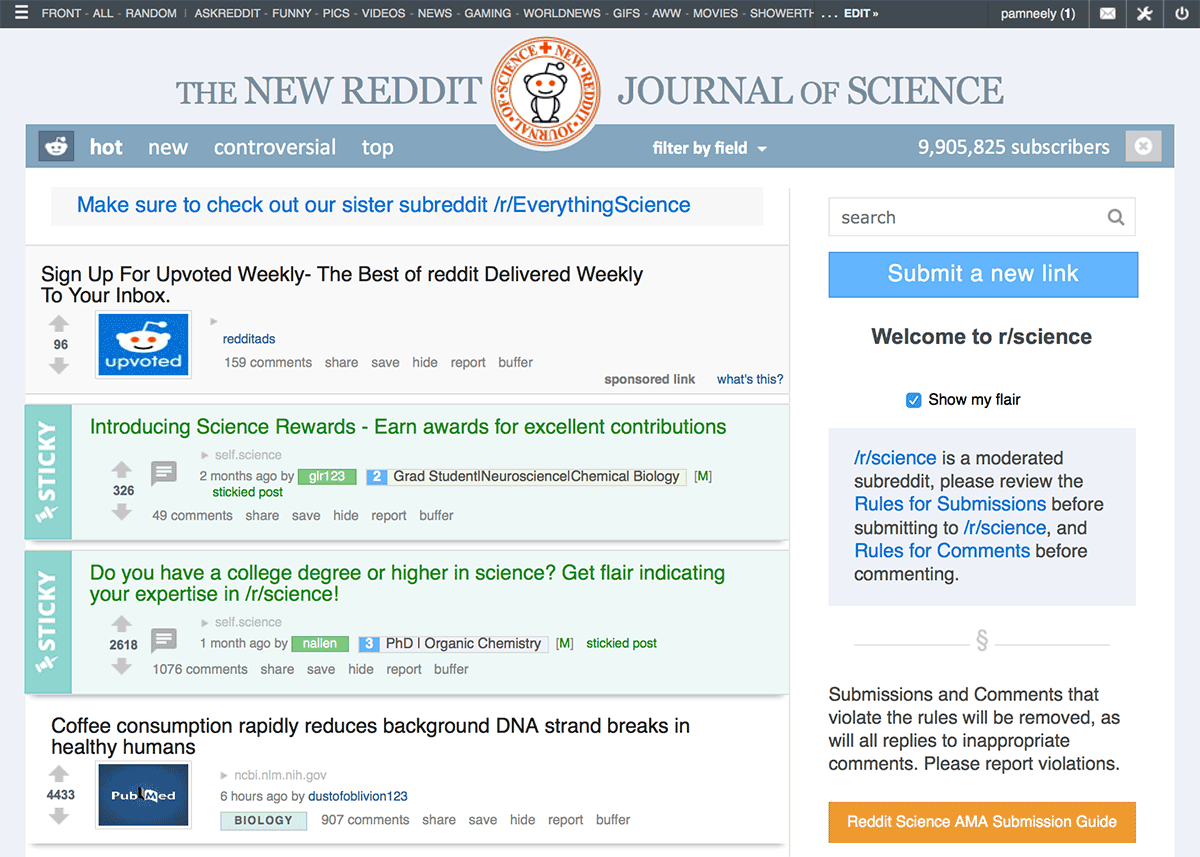 If you spend any amount of time on the Internet, odds are good you've come across a Mashable article at one time or another. Mashable's topic list is vast, so you're almost certain to find something for your audience. But more importantly, every article they publish is designed to be optimally shareable.
Another content aggregator site. It breaks out content into a few different streams you may find useful. Like YouTube videos, Gifs, Google News, Digg, BoingBoing, Flickr and many more.
It all comes down to being human. That's the secret to social media, the secret to attracting an audience… maybe even the secret of happiness. Psychology Today have a huge backfile of articles on pretty much every topic imaginable. And because we all want to know what makes people tick (and if we're normal, exceptional or freaks), there's always an interest in psychology.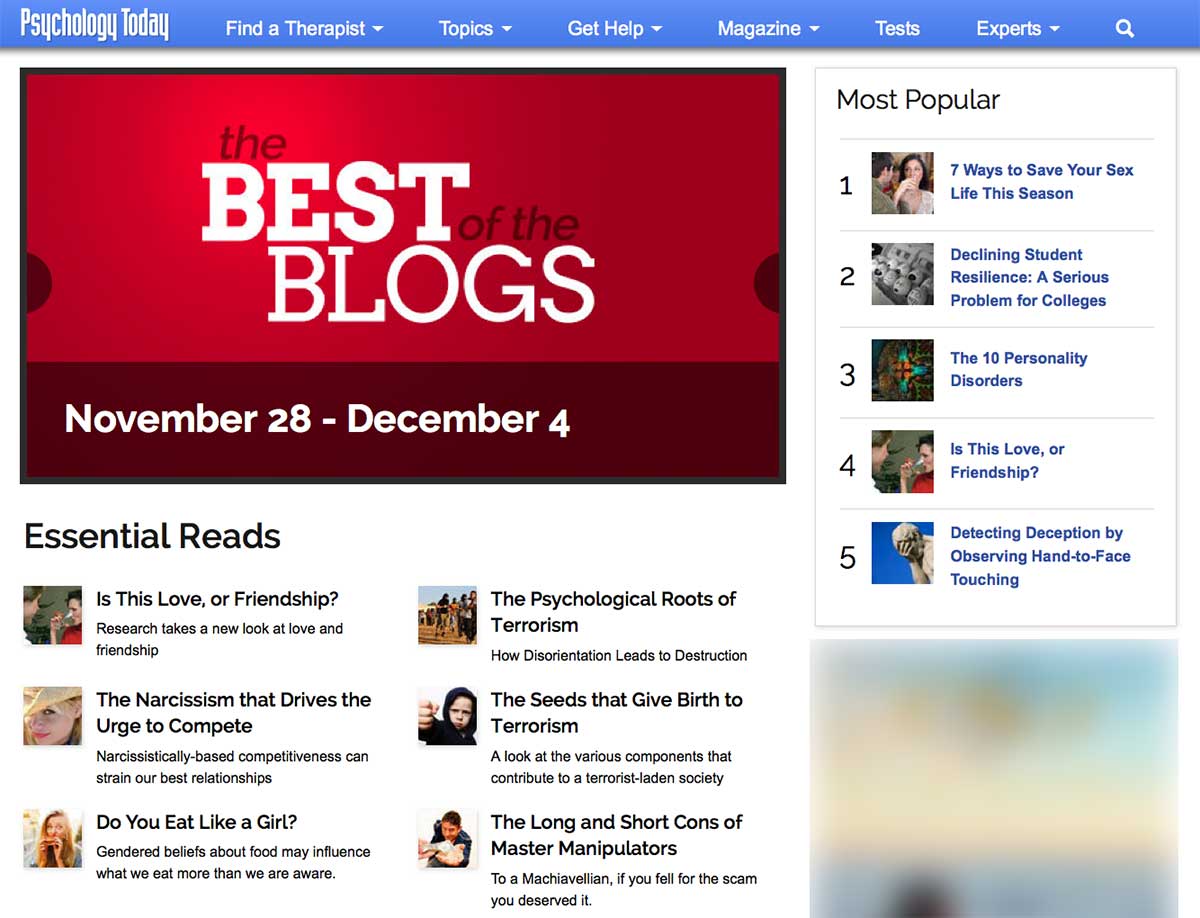 BuzzFeed is similar to Mashable, though its audience is a bit smaller. While it's content might not be on par with, say, The Harvard Business Review, Buzzfeed has good fodder for social media updates. Everything they publish is designed for maximum social shares.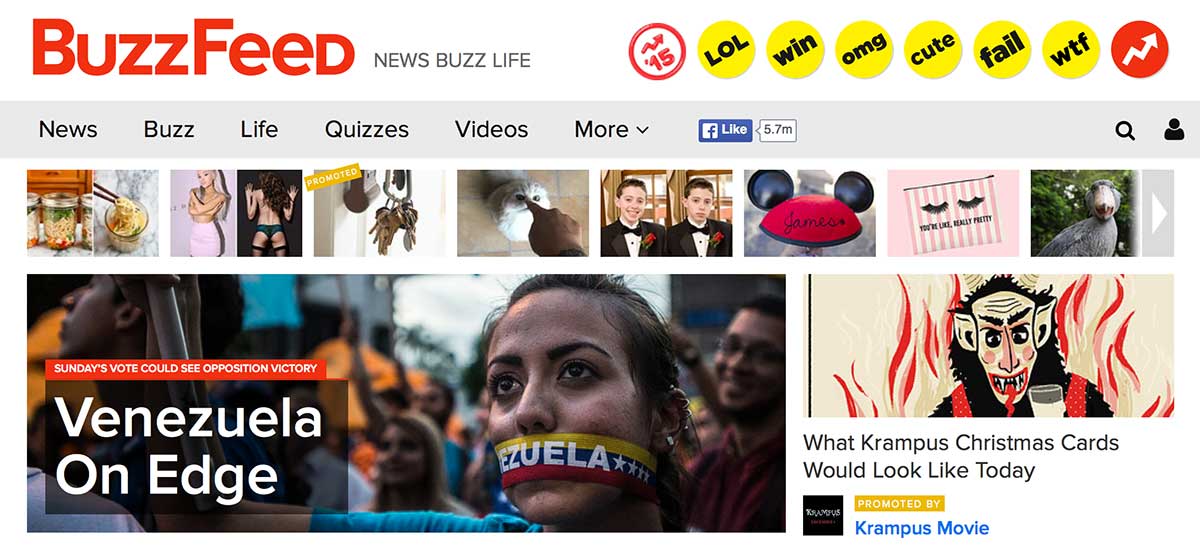 Similar to BuzzFeed and Mashable, Upworthy has articles on an extremely broad range of topics, and they're all written for maximum social shares.
StumbleUpon has been around forever. It's a massive repository of remarkable sites – places you might never find in the search results because you'd never think to search for them. Narrow the results down by interest, or you might get lost in website wonderland all day.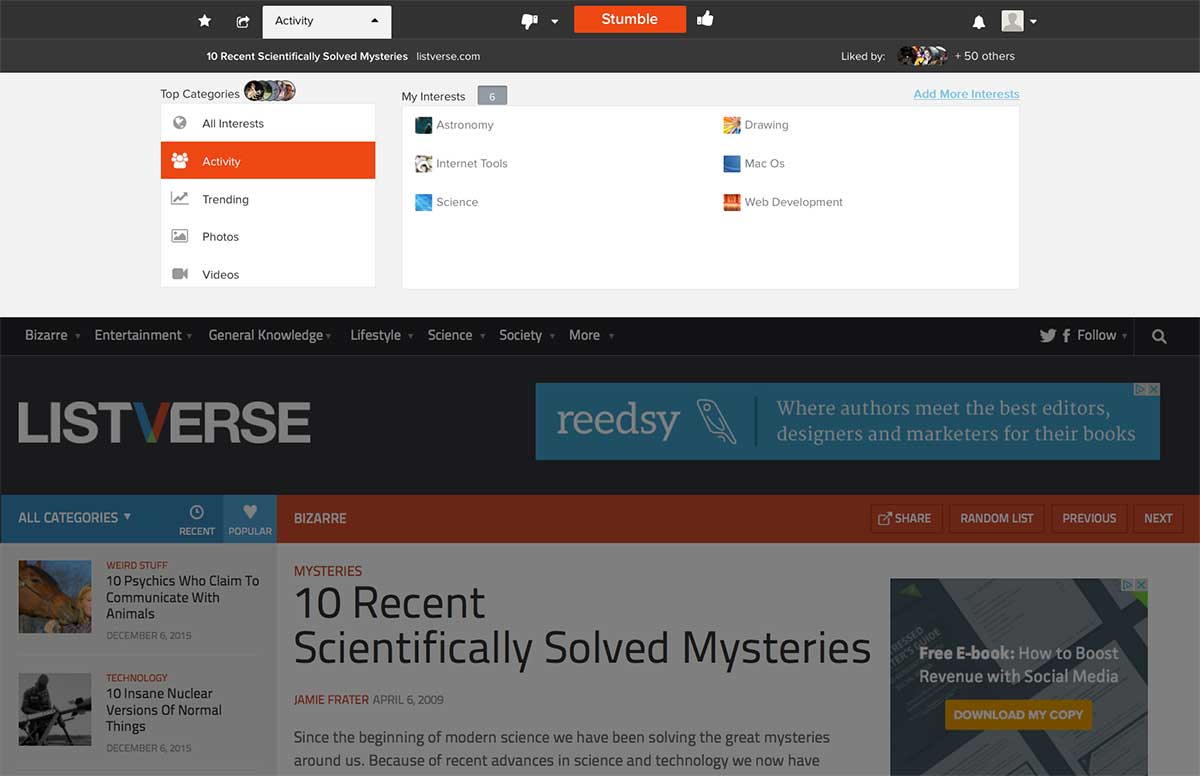 If you're a visual person, Flipboard might be fun. It let you assemble pieces of content into what's called "flipboards". You can also follow other people's flipboards.
It's just yet another way to peek into which content people think is most interesting. And because it's a bit off the beaten path, you've got a shot and finding some undiscovered first-rate content.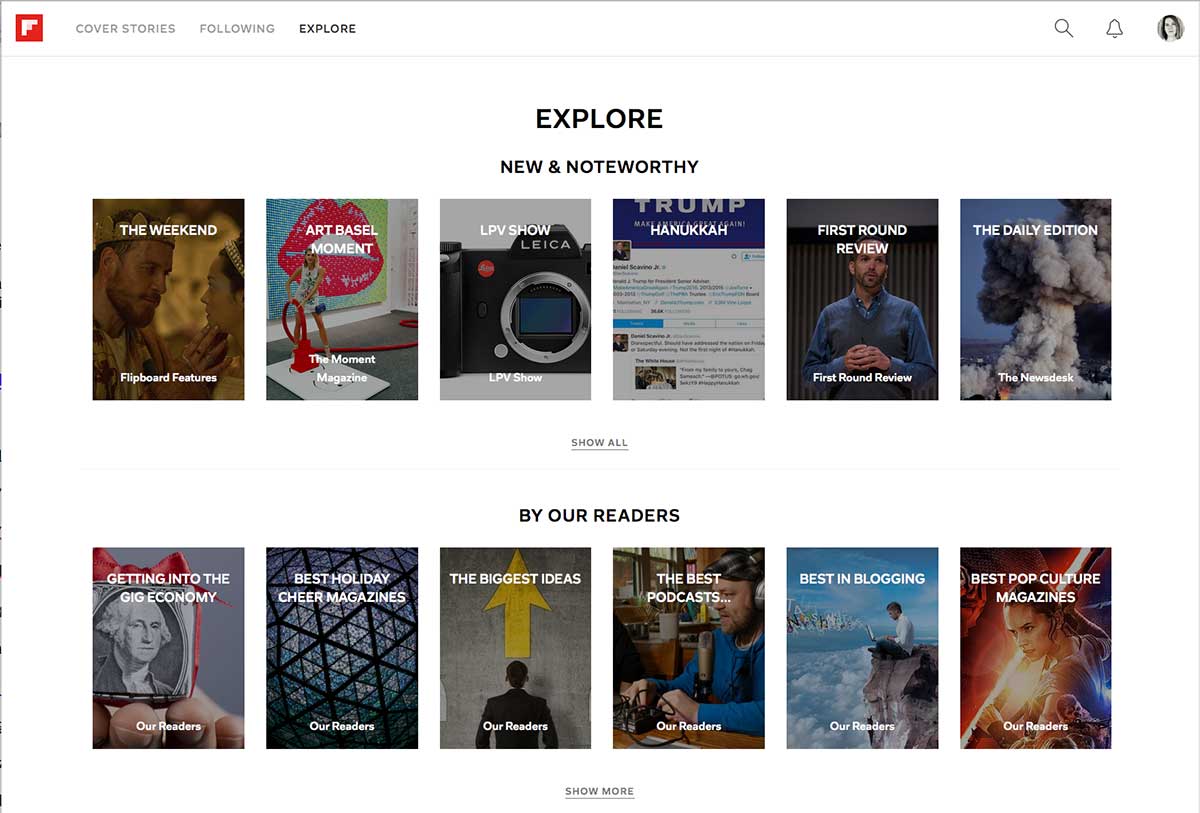 Medium is a site where anyone can blog in public. Every post gets rated by readers and the best floats to the top of the "Top Stories on Medium" list. The result is some fantastic content – original thinking, fresh perspectives, and a chorus of cool new voices to discover. If you curate content, sprinkle at least a few posts from Medium into your mix.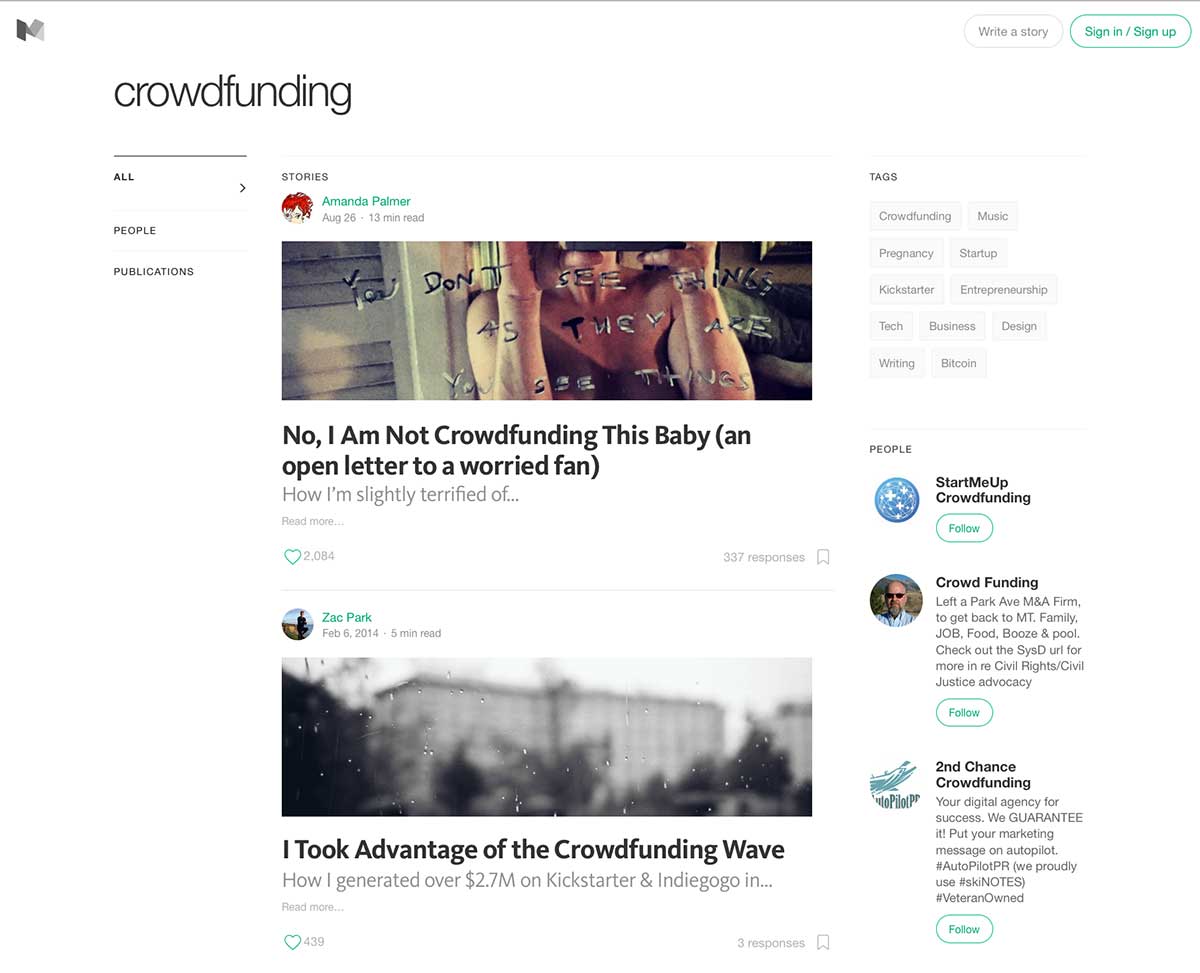 When you're curating, it's really easy to get stuck in one format. So add YouTube to the mix to shake your formats up a bit. Lord knows there's enough content there to keep anybody's social media feed full for years.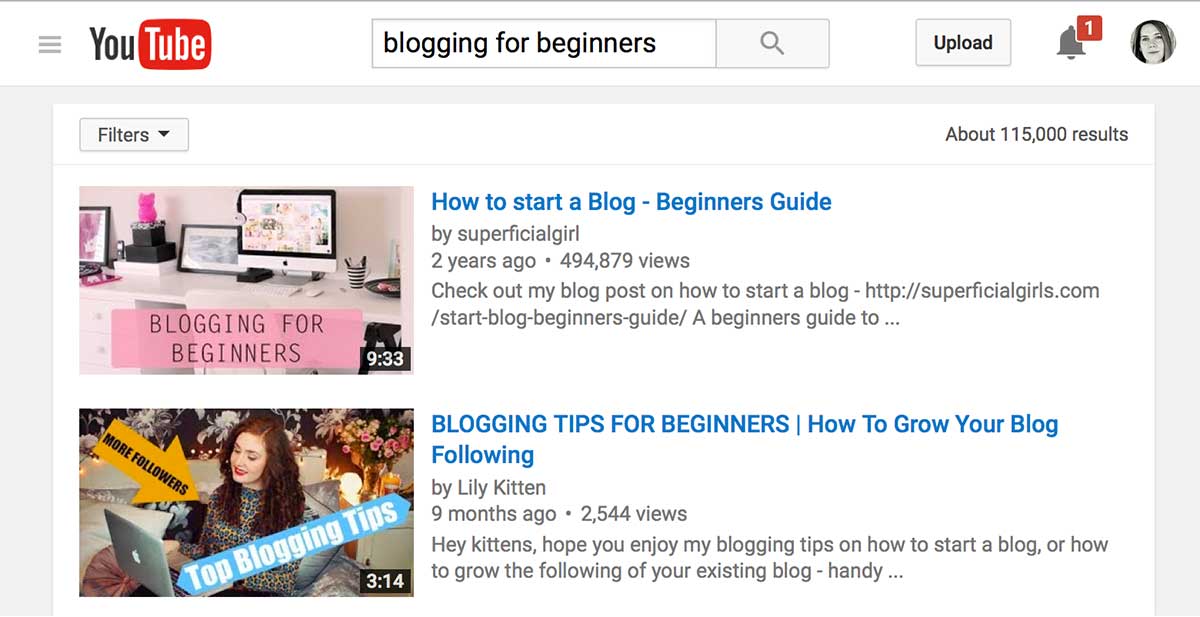 World news got you down? Worried about the future of humanity? Watch a TED Talk. Watch a bunch of them.
Aside from toddlers on Christmas morning and new puppies, there's nothing better to turn a bad mood around. And if you need world-class content on pretty much any possible subject, well, this site can deliver that too.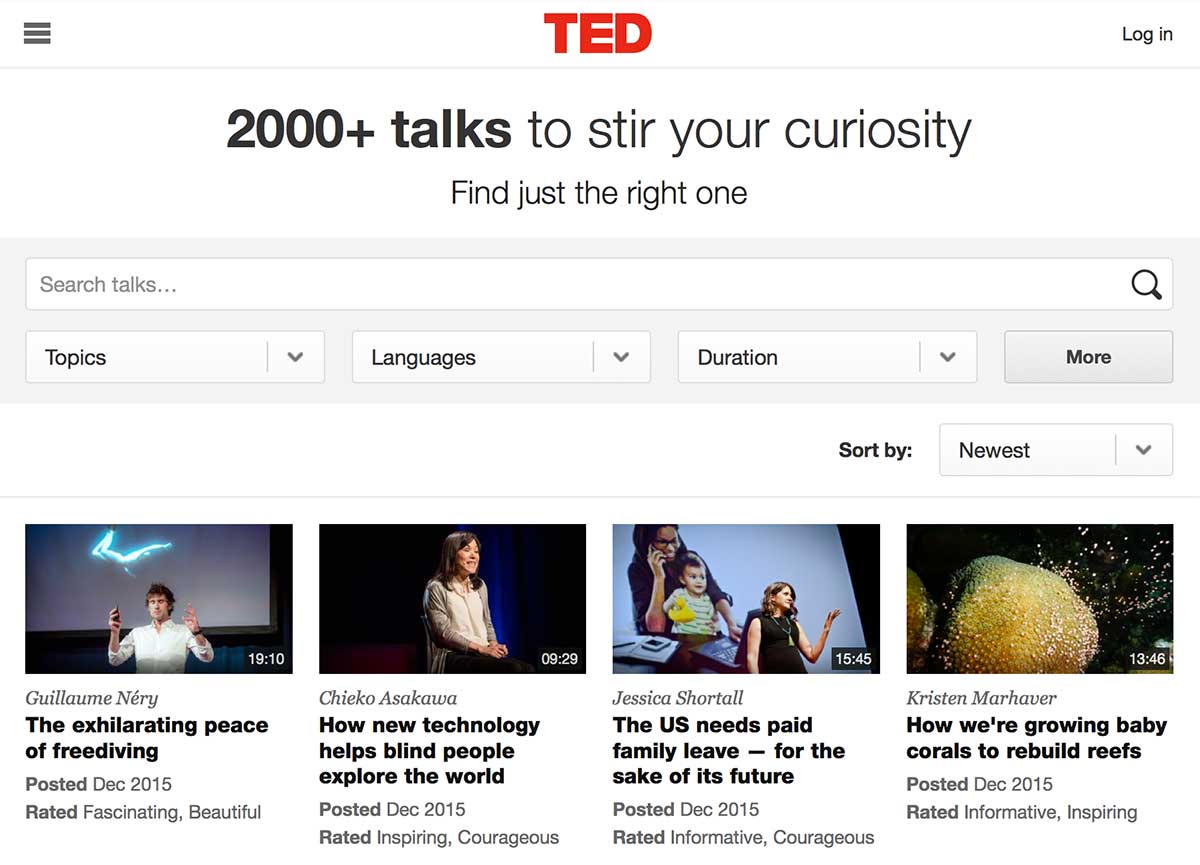 If your audience has an affinity for tech and lifestyle hacks, there's almost always something to be found on LifeHacker.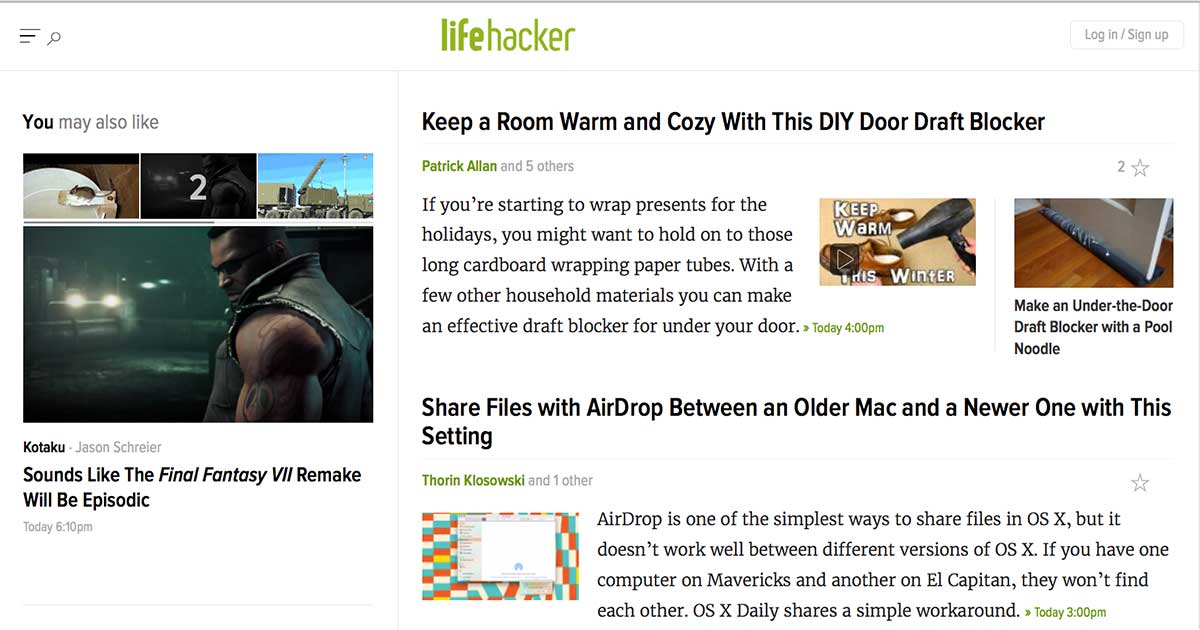 Google Trends shows you how popular a given search term is and has been over a period of time. It also shows where that keyword is most popular, and related keywords. Then there's a separate list of related keywords, called "Breakout terms". Any breakout term is great material for a curated post – it's a topic your audience is probably hungry for.
Google Alerts is cool, but Social Mention is cooler. It's a free tool that will show you the most shared content for a given keyword. It also shows the sharing sentiment associated with that keyword and related keywords. And you can set it up to send you an email summary of the top new content for that term every day.
This is another tool that will show you the most-shared content for a given term or URL. You can sort the results is gives in nearly a dozen ways. And you can even see who's been sharing that content the most. If you haven't tried this site yet, go try it right now.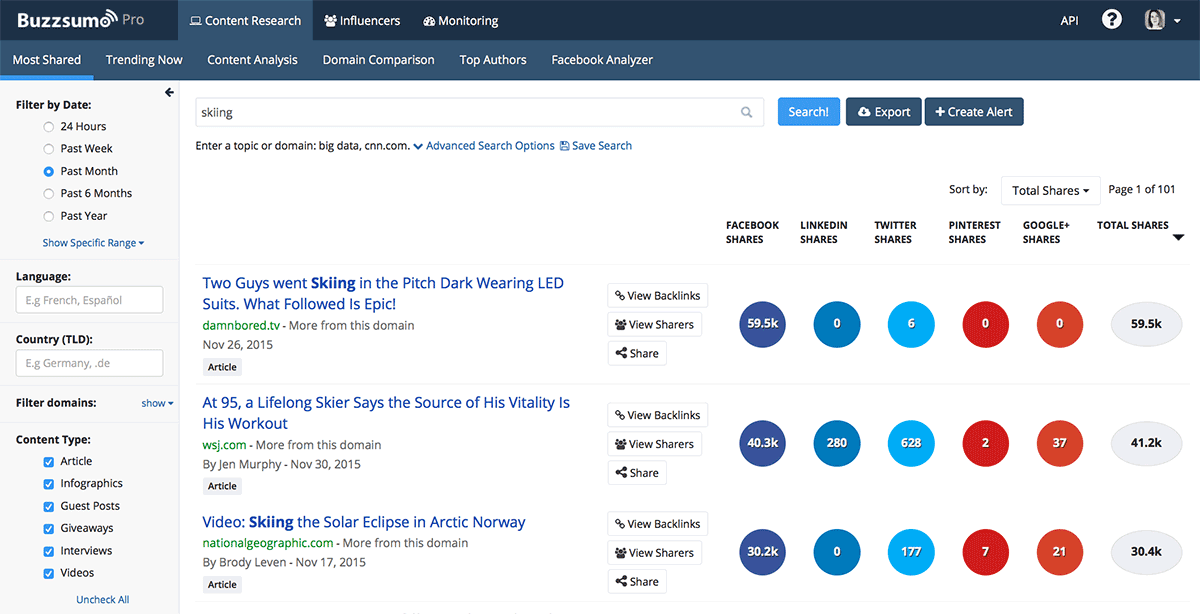 Hashtags can be a great way to find off-the-beaten-track content. You can, of course, search by hashtag on any of the major social media platforms (except LinkedIn). Or you can use a tool like Keyhole.io. It will show you all the usual stuff: top content, top sharers, a distribution map of shares, etc. Gender split and other metrics are interesting to have, too.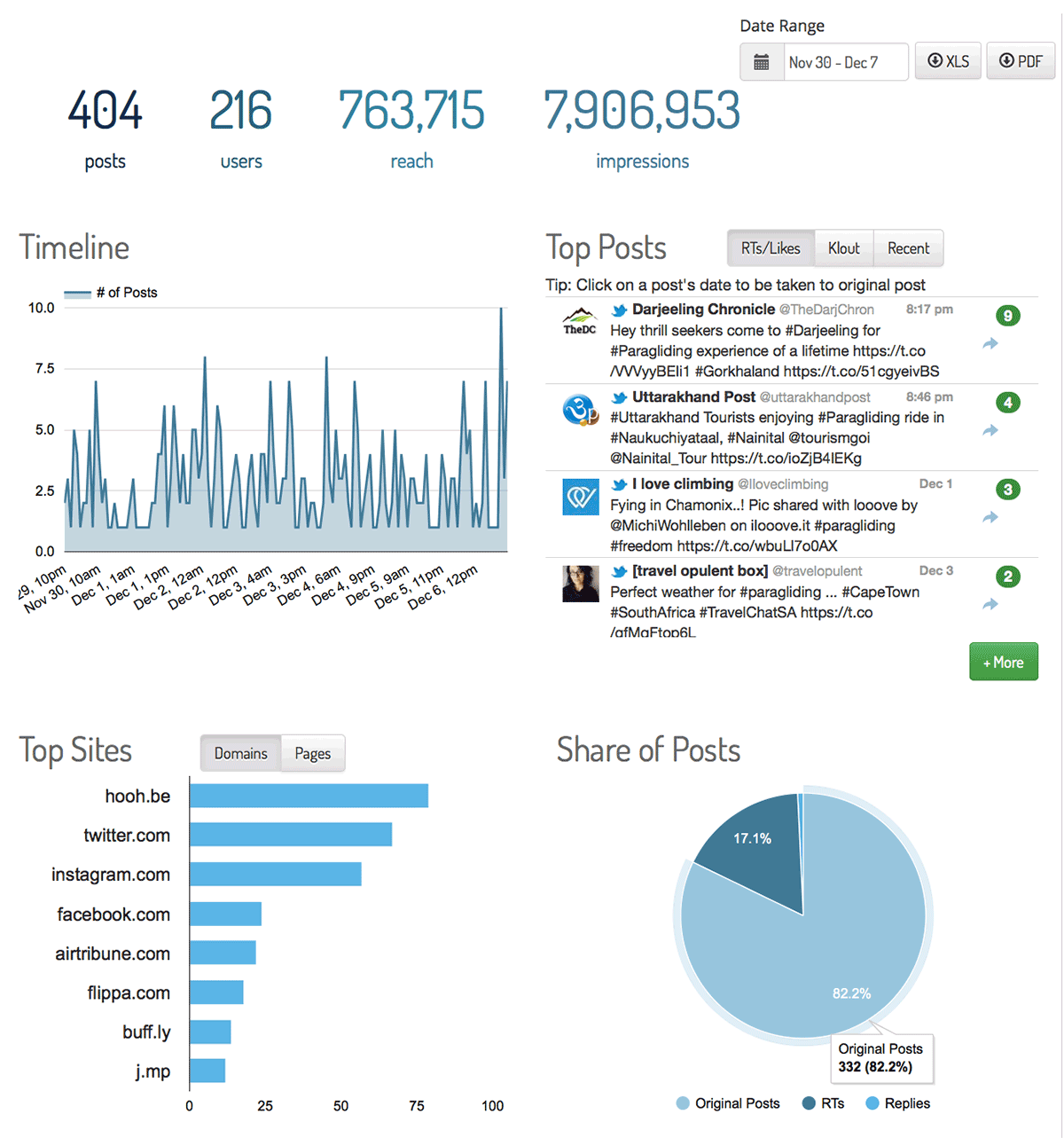 Okay, so we kinda saved the best for last. But Scoop.It absolutely qualifies for this list. Search all published scoops or follow other Scoop.it users. Or you could set up your own account, specify a few topics you want to follow, and sit back and let it automatically collect curated content to share.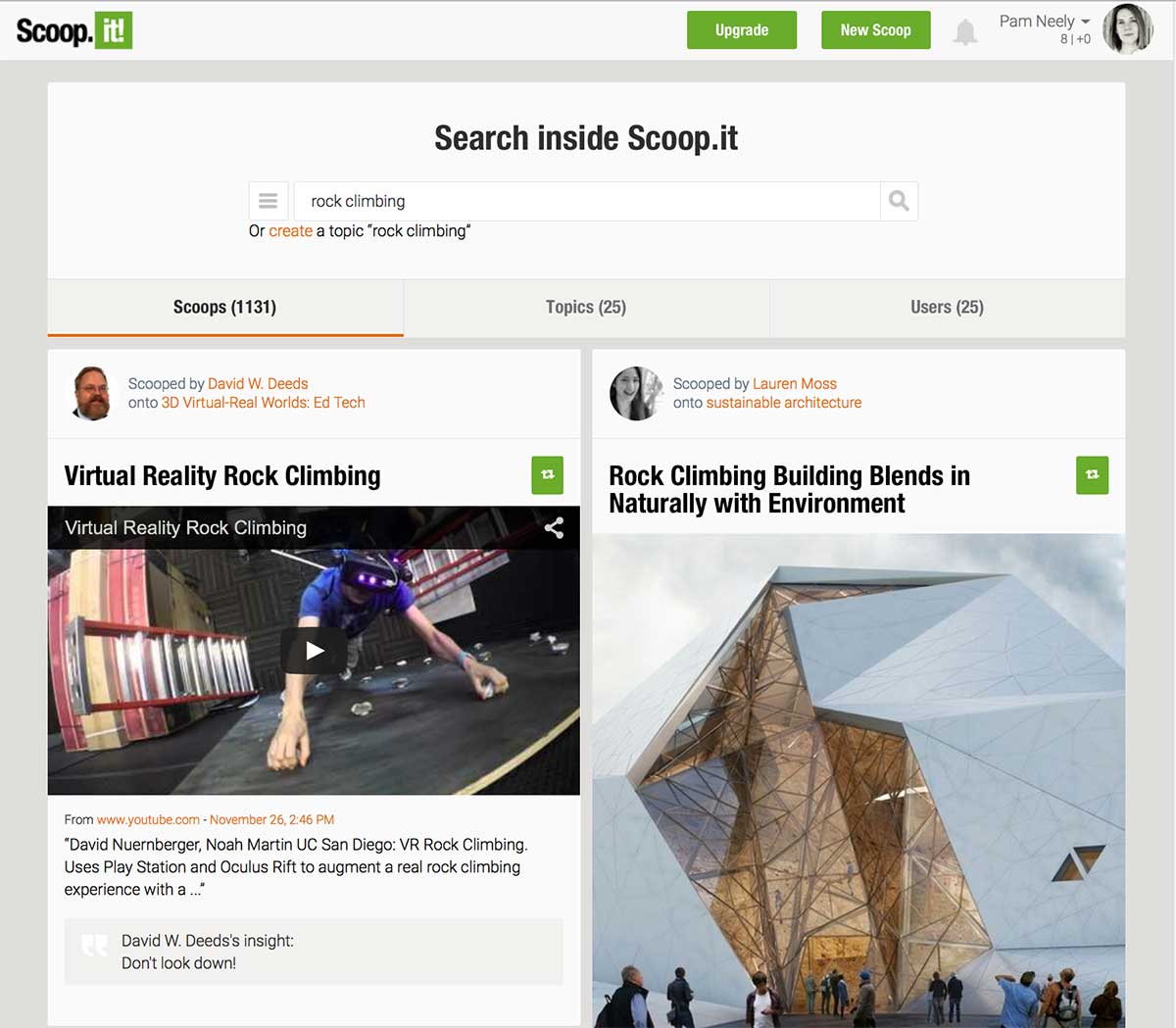 Many people use RSS feeds to round up their reading list. Feedly is one of the best tools to do that with. But because it's so good at aggregation, it's a great place to hunt around for cool content.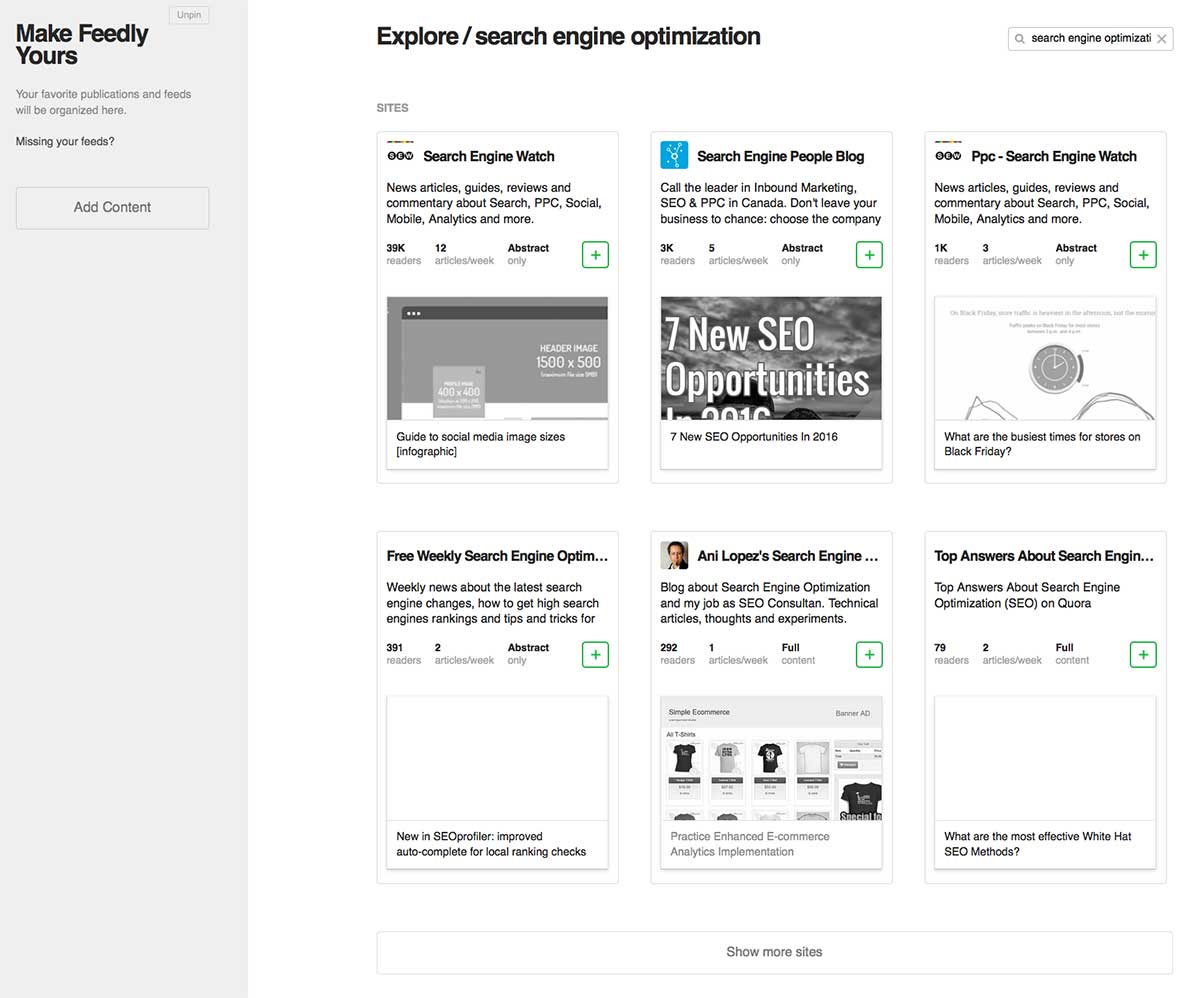 20. Your own website.
Got some "old" content you haven't shared recently? Don't let it just sit there collecting digital dust. Queue it up!
Back to you
Did I miss one of your favorite sites for content curation? Give it a shout out in the comments.
And if you'd like to see how content curation can help you improve SEO, you should read this eBook!
Image by Chris Dlugosz.