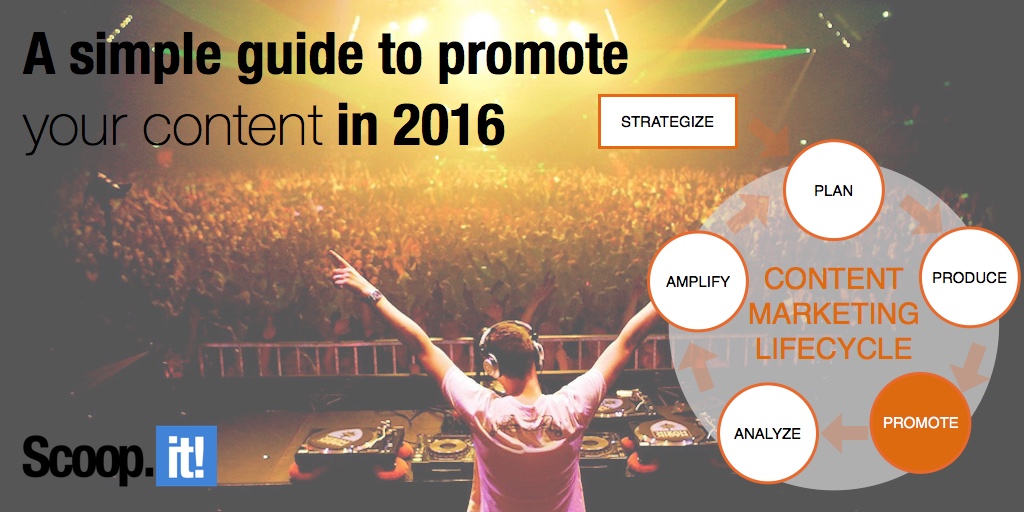 You did it. You got your content baby out. You've worked long and hard to get here. You're tired but proud. You're also glad you followed the tips included in our latest content marketing lifecycle optimization post about being lean to scale your content production to help you create this awesome, fresh piece your audience will love in a fraction of the time it would have taken to write the whole piece from scratch.
And yes, you should be proud. Creating content is the #1 hurdle for most content marketers. So you're allowed to bask in your post-content production glory for a little- but not for too long. Why? The bad news is you're far from done. Regardless of how much time it may have taken you to produce your epic piece of content, you can't expect it to just magically reach the right people all on its own. The reality is that creating good content isn't enough to succeed. While producing great content is certainly important, promoting it is essential if you want it to perform and get in front of the audience it was intended for. Even the most brilliant pieces of content are useless and inefficient without investing in promotional measures to ensure they receive proper visibility. Assuming your content will go viral on its own is not just wishful thinking, it's downright dangerous.
Now that you've learned how to strategize, plan, and produce your content, it's time to move on to the next phase of the content marketing lifecycle: promoting your content: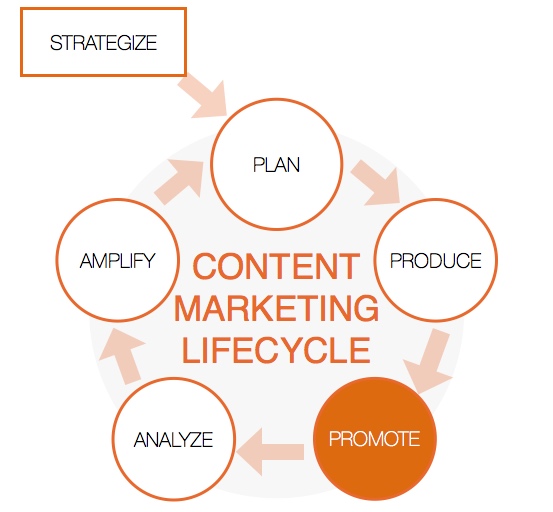 Why it's important to promote your content
Remember how hard you worked to create that epic piece of content. What's the point of having invested so much time and effort into it if no one sees it? When done right, content promotion opens the doors to building a dedicated audience, fosters trust with consumers, maximizes reach, and leads to endless possibilities for marketing products and services. Creating great content without properly promoting it is a waste of resources.
What happens if you don't promote your content?
You'll fall victim to the same unfortunate fate that befalls 50% of other published articles: they get shared less than 8 times. This daunting statistic means that over 50% of posts are not even shared twice on the social channels of their own companies. Scary but true: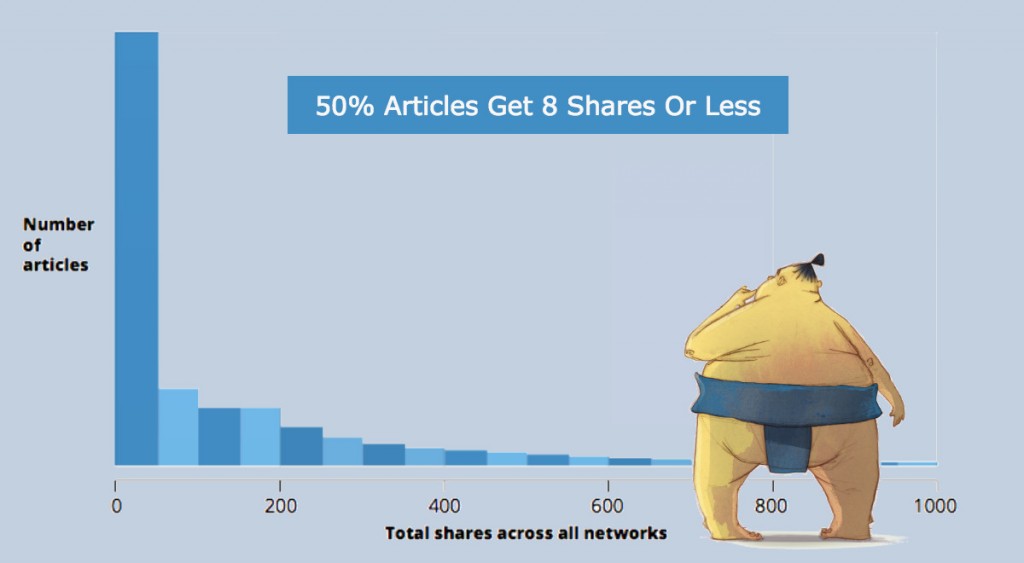 Now that you understand how important it is to promote your content, there are still a few things you need to before hitting the publish button to ensure your content performs as successfully as it should.
Before you publish:
Your content is finished. It's awesome, it's great, as far as you're concerned it's a digital Michelangelo. Before you share it with the interwebs, here is a handy [and thorough!] checklist with detailed steps for how to craft great blog posts for your audience consistently [plus how to SEO-proof them] and ensure they perform. Here are 7 essential steps to consider before publishing your post:
Audience is key: make sure it answers a question your audience is asking
Patience is a virtue: be patient, a good post is rarely created in a day
Add links: bolster your argument with links when relevant to add credibility and bring third party validation to your content
Optimize for SEO: identify the focus keywords you think your audience would most likely search to maximize visibility
Add a title: find a clickable, SEO-proofed title
Add a CTA: add a catchy, attention-grabbing CTA at the end of your blog post that offers your readers the option to obtain additional high-value, relevant content
Peer-proof: have your content reviewed by at least one other person for valuable feedback
Right after you publish:
1. Re-share your posts multiple times over the next few weeks
It may alarm you to learn that over 65% of marketers do not re-share their posts on a regular basis:

If you're not sharing your own content multiple times, you're missing out. Studies show that sharing your own content multiple times doesn't result in follower fatigue, but rather increases reach and traffic dramatically. Sure, it's time consuming but here again, you should leverage automation:
Re-share weeks' worth of content across multiple social channels multiple times in just minutes (without creating audience fatigue!): It can be a complicated, time-consuming process to manually schedule multiple blog posts across multiple social channel for multiple weeks. This is where software can help. With a tool like Scoop.it Content Director, you can strategically automate your content distribution in a way that saves you time and ensures your content gets maximum exposure. Using Scoop.it, you can easily schedule and promote weeks' (or even months') worth of social media messages for each piece of content in just minutes. And because it's synchronized with your website, you can see directly within your smart calendar and easily view the full sharing timeline for each of your posts across all of your social channels. This ensures you never overdo it.
Click 'Promote' and you'll pop-up a calendar-based view of all your social channels with the past, present and future shares of the post on each of them:
Each of these posts is displayed with the traffic, shares and leads it generated since Scoop.it Content Director tracks this information on a post-by-post basis. With a simple click, you can even use a tool like this to easily identify evergreen pieces of content or successful, highly-converting posts to re-share over your social channels. Magic? Nope, just technology.
2. Distribute via email
It may seem evident, but email is an powerfully effective distribution channel that is overlooked and underutilized by many marketers. Data we collected on the content marketing best practices of 1000+ SMB marketers shows that only one-in-four SMB marketers send email newsletters weekly or more:
Sure, promotional marketing emails suck. But content emails that educate your subscribers or inform them about new trends don't: they'll want to receive them:
Email distribution best practices:
Create a weekly round-up with 4-5 pieces of content: Some of your own and some curated from influencers in your industry. 
Respect the 80/20 rule: Remember, only 20% of your content should be about your product or brand. The remaining 80% should serve to educate and help inform your audience.
Avoid self-promotion, increase frequency: When we increased our email frequency from 2-4 newsletters a month, the results were apparent: increasing the frequency increased the number of recipients we reached through the roof by a factor of 2.5x.
Yes, creating email newsletters takes some time. But if it takes you more than 10-20 minutes, it means you could start saving time today!
3. Get your co-workers to share your content
In our recent analysis of 1,000+ SMB marketers content marketing practices, we found that only 20% of them managed to get their colleagues to share their content on a regular basis. More often than not, the combined reach of employees dramatically overshadows the reach of a company's social accounts. Add to this the fact that the organic reach of brands on Facebook is dramatically lower than that of individuals, and you'll realize how much of an opportunity this is.
Leverage your co-workers early on in the content production phase to get them involved and naturally inclined to share your content. This will help to increase your reach and grow your online presence. One straightforward strategy for getting more of your co-workers to share your content is to have them delegate their own social channels to you. This takes a certain level of trust, but the benefit is that you'll never have to complain again about them not pulling their weight. You can easily automate this process by using smart social media publishing tools like Scoop.it Content Director that have collaboration features and allow you to add as many social accounts as you'd like: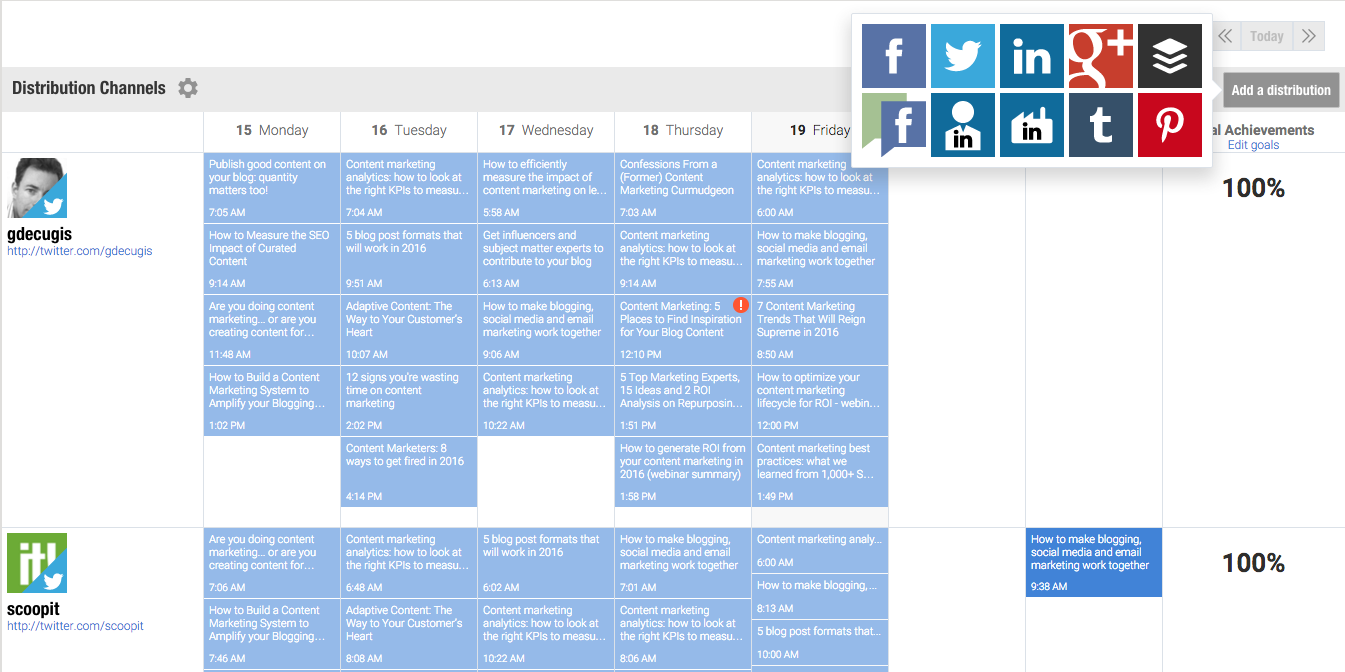 For more strategies to get more of your co-workers to share your content, you can use one of these 3 nifty hacks.
4. Mention an influencer or co-worker? Let them know (email, social)
If you have mentioned anyone in your blog post- whether they are an influencer or someone you work with- let them know about it. You can do this a few ways:
Email them: give them a simple heads up and provide context for why you mentioned them, don't push them to share.
Tag them in a Google+ post: people love shout-outs, so give them one, but again: don't press them to share.
@Mention them in a Tweet
For more tips on how to promote your blog, check out the data in this infographic.
5. Leverage personal relationships
Think about who you know who has an audience you think would be most interested in your content. One key tip: Before asking someone to promote your content, ask them how you can both help each other. Remember that it's a mutual exchange, and that there is a give and take in every relationship. Thus, be prepared to share their content as well. Even better? Take some initiative and share it before they have to ask. You'll earn serious bonus points.
6. Engage in online communities and share your content in relevant groups
If you don't already have a solid list of online communities and established groups relevant to your industry that you consistently monitor- you should. Search for and join some existing groups of relevant interests. Actively participate in online conversations and publish your content to these groups where relevant. Don't be afraid to ask members to re-share your pieces if you think they enjoyed them. By contributing valuable pieces of relevant information to these engaged online communities, you will build an active and respected online presence, which in turn will make readers more likely to share your content.
Case in point? If you publish valuable content to these online communities, they will enjoy reading and re-sharing them. Some examples of great online communities you should tap into and share your content in include:
Google+ communities
Facebook groups
LinkedIn groups
Skype groups
Niche forums
7. Utilize niche social bookmarking sites
In addition to popular social bookmarking sites, there are also many hyper relevant niche bookmarking sites you can use. A few of our favorites include:
For more ideas, check out this infographic!
8. Influencer relationship management is key
Building relationships with influencers and leveraging them to help promote your content is an essential component of content marketing success. This is an ongoing, long-term practice and highly valuable strategy you should be consistently implementing to ensure your content achieves maximum visibility and reach.
"Investing in a content and influencer marketing strategy can be one of the most impactful actions a business can make." – Lee Odden, TopRank Marketing
Ultimately, you want influencers in your industry to share your content. Let's face it. They have more reach and credibility than you do. While they take time to build, influencer relationships are well worth it, so get started now. Start by identifying who they are and then focus on building a relationship with them – a great way to initiate interest being to "give before you get", i.e. curating and sharing their content as it will put you on their radar. As they get to know and trust you, they'll be more inclined to share your content. But don't stop there: ask them to participate and co-create content with you. Get them to put some skin in the game: you'll not only create better content with ease but they'll be more inclined to distribute it since it now also helps their own brand.
Conclusion
Once you have done all this, make sure to consistently monitor the performance of your content and track your analytics to determine where to improve your efforts and whether your content needs amplification. Stay tuned for the next installment of this series on how to optimize the content marketing lifecycle where we'll cover the basics of how to successfully analyze your content.
Now it's your turn. Do you have any thoughts or successful strategies for how to promote your content? We'd love to hear. Feel free to share them in the comments below!
If you want to get 30 effective techniques to master content marketing along with valuable insights from 10+ influencers like Mark Schaefer, Rebecca Lieb, Lee Odden, Jason Miller or Ian Cleary, download our free eBook now!
Image by Gabriel Romero DJ