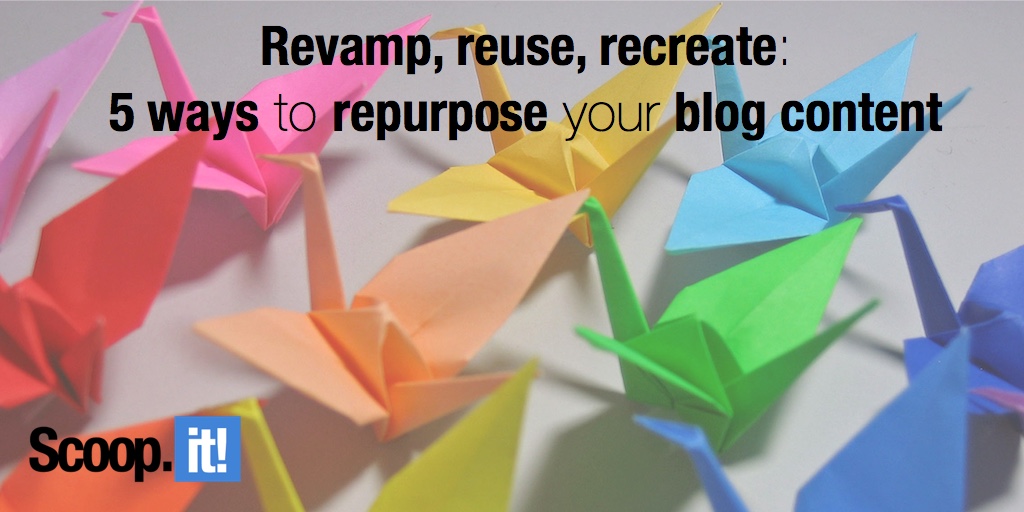 Blogs are a kind of endless field. You've written dozens or even hundreds of blogs, and yet, more seem to stretch out before you, waiting to fill your site. Unfortunately, staring out into that field, you may start to feel that you're out of ideas. Really, what's left to write about? While there will always be a little new content – a tech update, design trend, or other noteworthy news – it probably doesn't feel like enough.
What can you do when you hit that content wall? The best solution is to recycle and to repurpose your old blog content. Much of what you've written is still relevant. The secret, then, is to take that content and to make it something new and exciting for your readers. When it comes to blog content, creativity can take you a long way.
Why repurposing content is a valuable lean strategy
You probably are already familiar with the term, but it doesn't hurt to break it down for you again. Repurposing is a key strategy of lean content marketing, and involves finding new ways to recycle your existing content to maximize your efforts. There are many benefits of repurposing content, including the following:
Reaching a new audience: reformatting your blog content for different mediums with broader audiences is a great way to extend your reach
Reviving and extending the lifetime of successful evergreen posts or old favorites
Less content, same results
Maximizing your efforts: repurposing content ensures that those who may have missed your content back when it was originally published get another chance to see it. This second chance at content promotion is a great way to boost visibility.
But despite all its benefits, most marketers don't do much repurposing:
If you're interested in learning more about the value of repurposing, check out this article with 11 interesting best practices and ideas on how to repurpose content efficiently. And if you're still curious, here's a great post featuring insights from 5 top marketing experts as well as ROI analyses from two of our own experiments with content repurposing.
Now it's time to cut to the chase. If you feel like you're running out of blog ideas, here are 5 ways to repurpose your old blog content with flare. It's time to bring your quality content around again.
1. Pick the popular posts
The first place to start when you want to repurpose your blog content is by finding your best, most successful posts, or your evergreen content. These posts had a lot of views when they were fresh, but now – a few months or a few years later – the content no longer resonates as much. It needs to be rejuvenated to fit current trends. Since it can take time to manually go through all your past posts to determine which ones performed best, you can use a tool like Scoop.it Content Director to help you easily identify your most successful, highly-converting evergreen posts to select and re-share across your social channels.
For many popular posts, all that you'll have to do is to update the material to reflect current trends. Are you concerned that readers may still be behind the times? Try turning an old post into a more relevant "do this, not that" style blog. This allows you to retain much of the old material while juxtaposing it against current styles.
2. Genre swapping
One of the most effective ways to repurpose old content is by changing its structure. As for those popular blog posts, consider turning them into podcasts. You can link to the audio from your blog, filling a content gap, and because the way we talk about things sounds different from the way they appear on the page, you can even recycle more recent content this way.
Podcasts work best when there's more than one person on it, allowing you to hold an engaging conversation on a topic, so grab a knowledgeable friend or coworker, and start recording. Podcasts are also perfect for responding to the comments on popular posts – or unpopular ones that garnered resistance – creating content out of reader feedback. Your readers will feel heard, and you'll have a pre-created foundation for new content.
When recycling your past content, don't forget about video posts. Videos are great for taking new tips and demonstrating how to apply them, making this format ideal for reusing more recent posts. It's also been shown that readers spend more time on pages with image and video content – a tidbit to keep in mind when choosing your post formats.
Here are some additional creative ideas for how to efficiently repurpose your content for maximum results: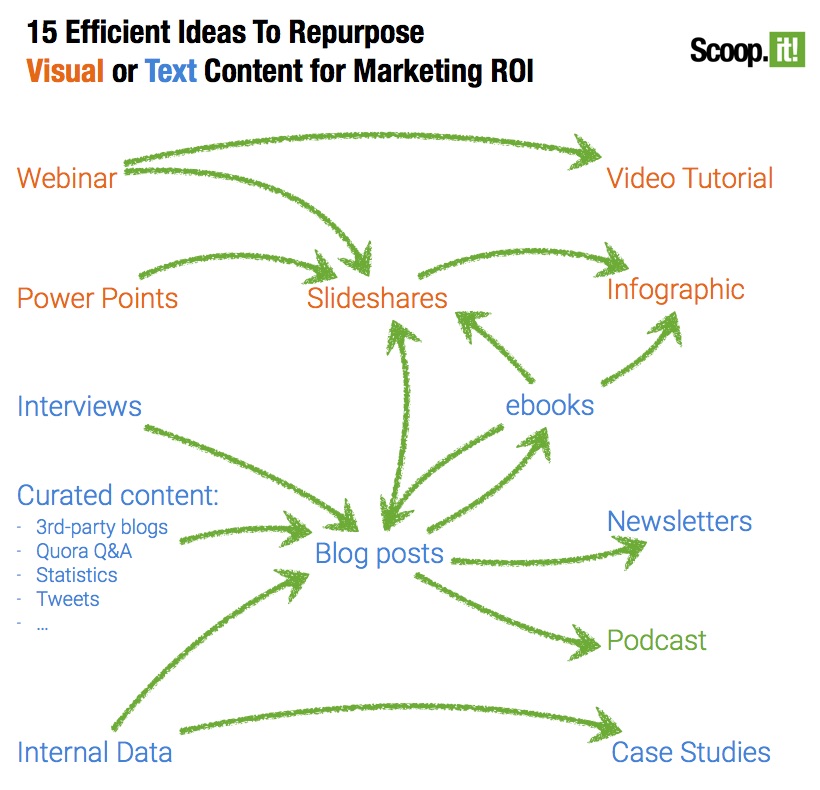 3. Instant infographics
Infographics are one of the most popular formats on the Internet today. If you have some old PowerPoint presentations or posts that are heavy on statistics, consider converting them into a more visual format. Readers appreciate the combination of visual interest and content density that they find in the infographic, so aggregate your data, and offer it up in this condensed structure. You'll probably need a graphic designer to produce a great infographic, however, so make sure you've got someone with the right skill set before you attempt this project.
Repurposing blog content to SlideShare: An easier option is to convert PowerPoints or other slideshow formats into a slidedeck using a site like SlideShare. Slidedecks make it easy for readers to peruse your presentation without using slideshow software – an advantage if you want to post the material to your site's blog. From our own experiments with repurposing blog content to SlideShare, we've found a number of interesting things:
That's right: our repurposed content performed equally well as original SlideShares that took much much longer to create (about 5 to 10x longer!).
4. The social media side
Don't forget that you can repurpose a lot of your old content to fill up your social media pages. No matter what your field, your readers or customers expect you to be on Facebook, Twitter, and often a few other platforms such as Instagram and Snapchat. However, just because you're expected to have these accounts, it doesn't mean that you know what to put on them. Luckily, your old content can fuel them for years to come.
Polish up your knowledge of social media to determine the best ways to apply your content. Take the now ubiquitous #TBT – meaning "Throwback Thursday." This hashtag is perfect for bringing back those blast-from-the-past posts.
For a Facebook #TBT, you can choose an old blog post, and link it to your account page. Then, offer a short look into what that post offered to its audience two or three years ago. On Twitter, since the content is shorter, you might post your #TBT with a single statistic from the post or with a linked graphic featuring the old post's title. Graphics are attention grabbers and let you make the most of Twitter's character limits. Adding images to social posts is a highly effective way to drive engagement. If you need proof, take a look at the results we found in our own study comparing engagement rates of tweets with and without images:
Case in point? Visuals are a powerful and effective way to grab attention, get higher engagement rates on Twitter, and drive traffic to your blog content.
5. Learn to love listicles
Right now, the "listicle" – literally an article in list format – is a very popular post structure. There are several ways that you can approach this. The standard numbered list, for example, allows you to describe several facets of a single topic without sounding as repetitive. Otherwise, posts can become somewhat dull if you're listing all of the benefits of WordPress templates or chia seeds.
An alternative format for the list post is the roundup. The roundup isn't really new content, but rather a way of organizing your older posts for consumption. Have you written a lot about how to choose a cloud provider? Take those posts, and turn them into an "A to Z Guide To The Cloud." This is a great way to recycle posts that are still relevant but have fallen back several pages on your site, making them harder to find.
Conclusion
The most important thing to remember is that there's no shame in recycling your blog content; it's the only way to keep up with the pace and scope of the web today. As long as you're innovative in your approach to recycling and able to recognize the best of your content, readers will flock to this material just as readily as your newest posts.
Questions? Comments? Successful practices you'd like to share with us? Feel free to add your comments below. We'd love to hear your thoughts!
If you want to get 30 effective techniques to master content marketing along with valuable insights from 10+ influencers like Mark Schaefer, Rebecca Lieb, Lee Odden, Jason Miller or Ian Cleary, download our free eBook now!
Image by Sheila Sund.