What attracted you to content marketing in the first place? If you're like most business owners, it wasn't because you wanted to publish boatloads of content.
The real reason you got into this was to build your business. Content marketing was a marketing tactic for you – the purpose was to generate business results.
Content marketing can generate plenty of different types of business results. It's good for website traffic and customer retention. Some companies use it just to build awareness. But for most companies and local businesses, "building your business" means leads.
More leads, and better leads
For many companies, leads are the number one priority. But what about those leads? Do marketers just want more leads, or better leads? Of course, the real answer is they want both. But if they have to choose, it appears they'd prefer the better leads. That was the biggest takeaway from Ascend2's latest lead generation report – lead quality has pulled ahead of lead quantity as a priority.
That's no lone data point, either. This priority of lead quality over lead quantity also showed up in DemandGen's 2016 Demand Generation Report and in FormStack's The State of Lead Capture in 2016.
If you've found yourself steadily disappointed by the number of leads you've been generating, and if you've been thinking that lately what you'd really like to see is better, more qualified leads- you're not alone. The challenge is how to get them. You could focus on the front-end, and throw your resources into content creation and advertising. Or you could focus on the back-end, and build a lead nurturing program that helps you turn tepid leads into hot ones.
Or you could use content curation, and maximize results at both the front end and the back end. That's what we learned when we surveyed small to mid-size businesses for Scoop.It's report, "What Is The Place Of Curation In SMB's Content Marketing Mix?" Here are the results:
Businesses generated 150% more leads with one dollar of content curation versus one dollar of content creation
They generated 100% more leads with one hour of content curation versus one hour of content creation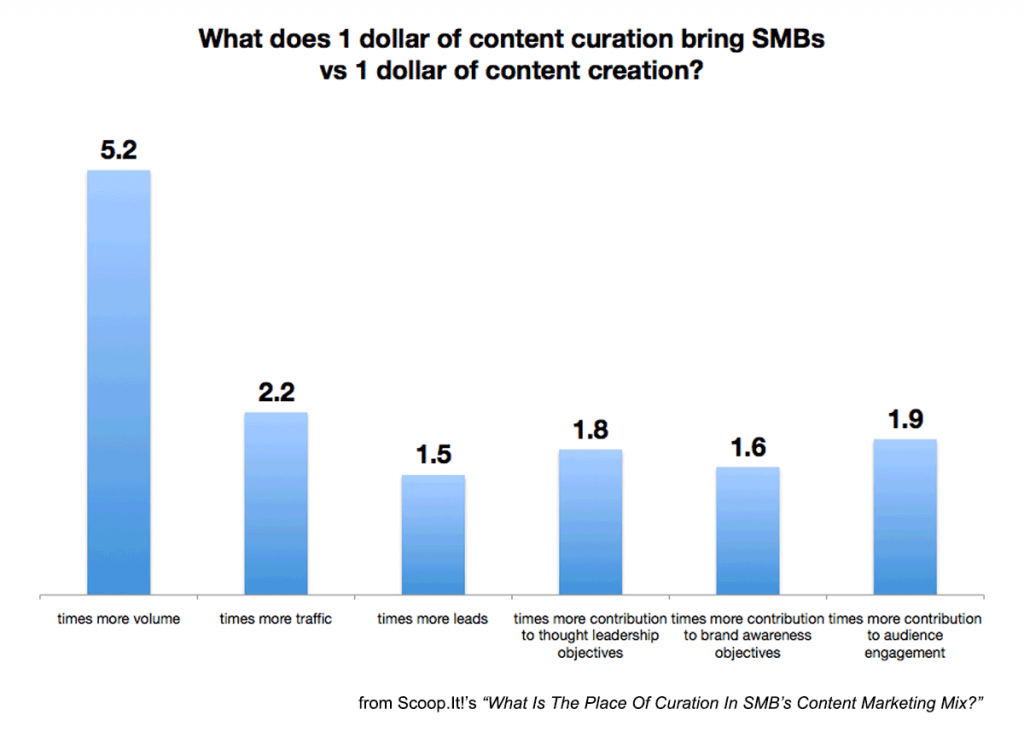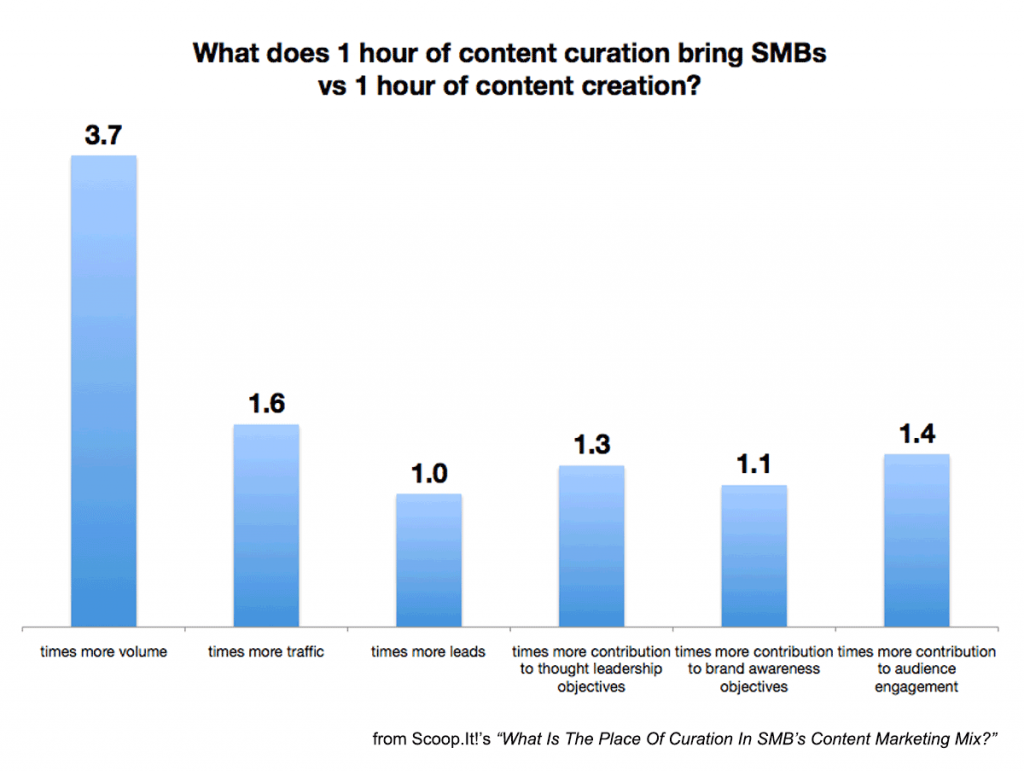 Good stuff, right? Here's how to get some of these results for yourself. Any one of these curation tactics can help you get not just more leads, but better leads. And for less money and less time than if you created your own content.
So as not to bombard you with too many tactics (you've already got enough on your plate as it is), we're going to focus on just a few essential best practices. Here are 3 of the best, most effective, time-efficient, high ROI content curation tactics for generating leads:
1. Email marketing
If you want quality leads, email marketing comes in as one of the top three tactics to get them.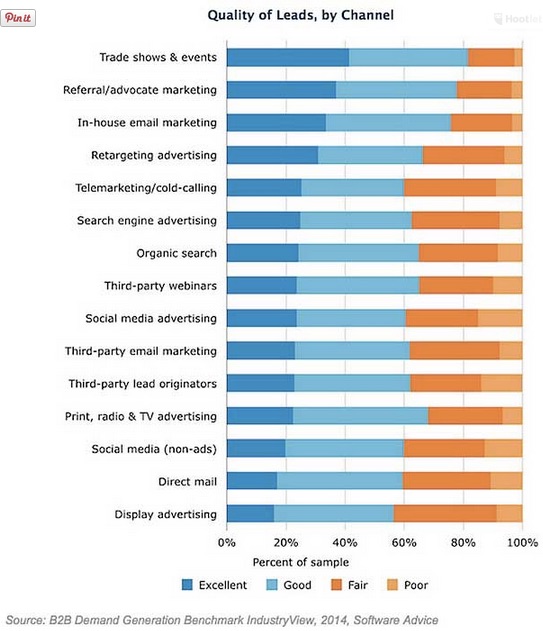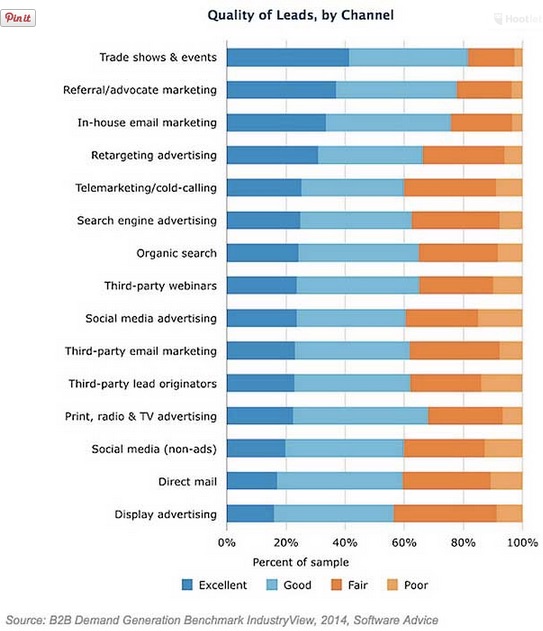 We've written about using email marketing for content creation before, including some nice examples of curated email newsletters. But let's give you an example of a curated email message specifically designed to drum up leads.
Here's one from the ad agency Jellyfish: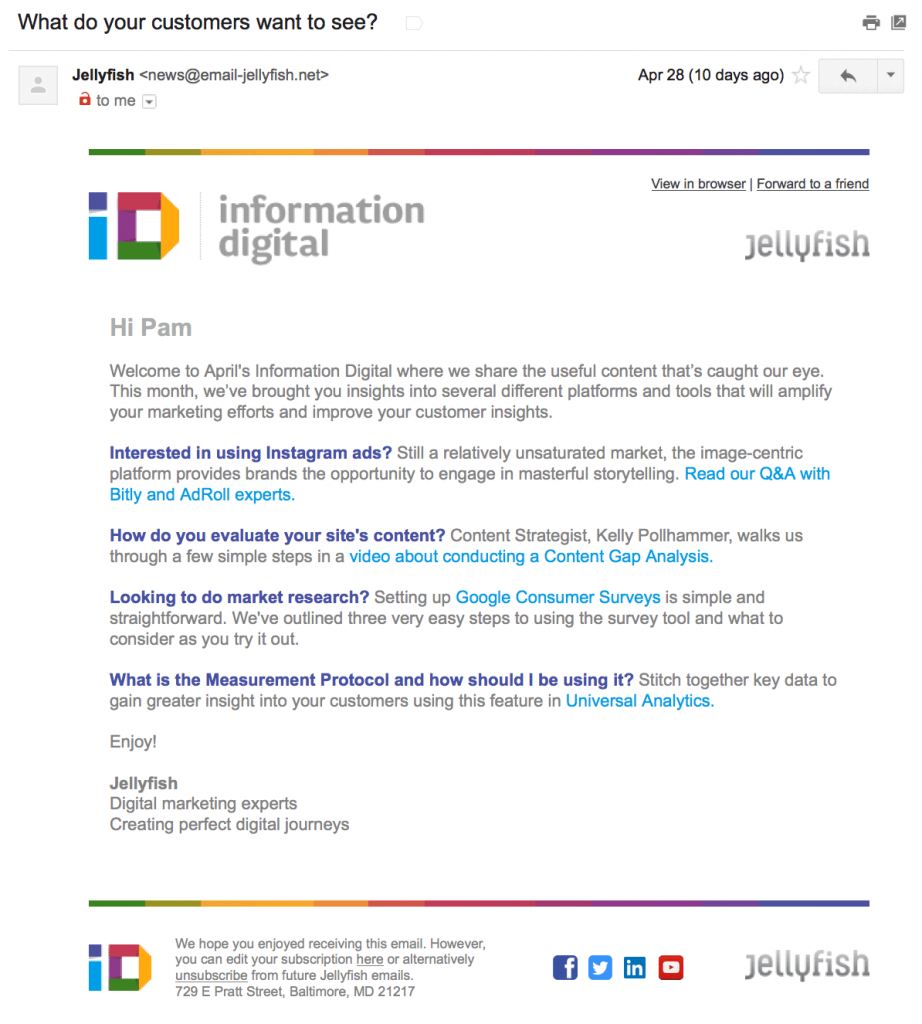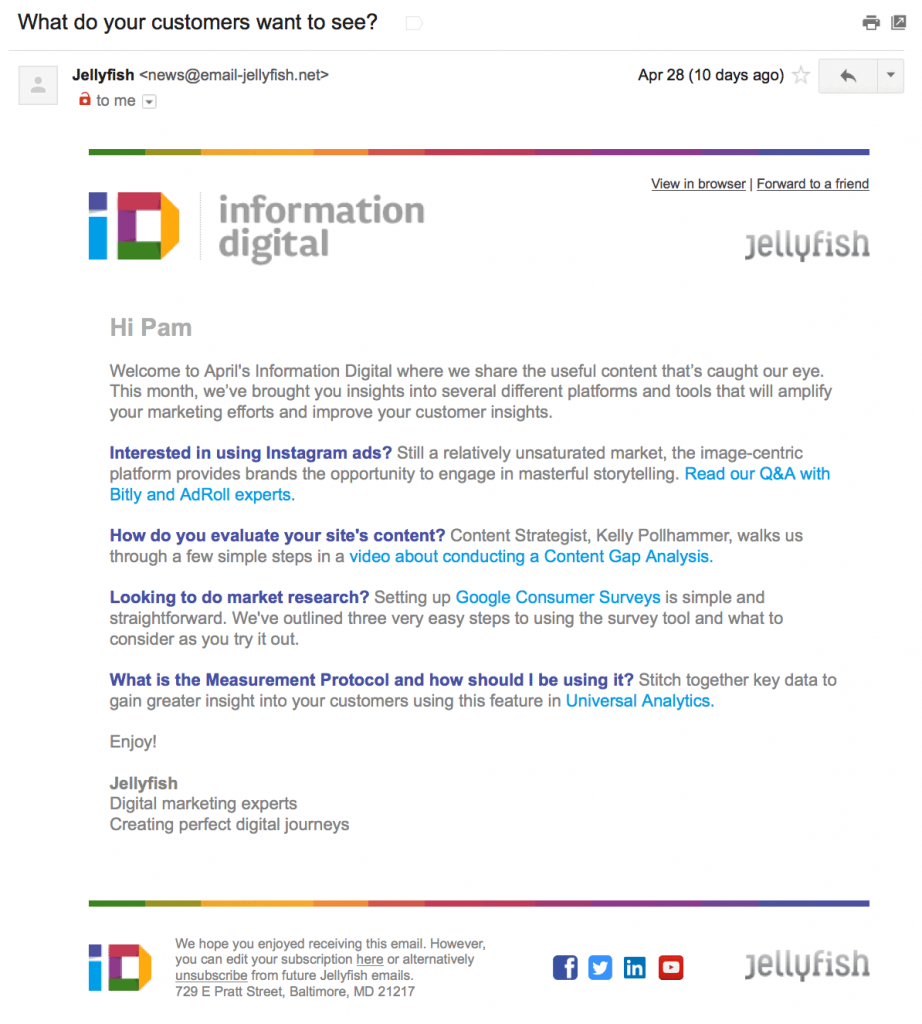 This is about as simple as it gets. Jellyfish sends a short, curated email only once a month. Notice a few things about this one:
It includes one piece of Jellyfish's own content.
There's a forward to a friend link in the email's header. Those links get more shares than you'd think.
It's personalized in the salutation. Not a sophisticated personalization, but it helps give them a lift.
This email – and any curated email – could also be segmented according to whichever stage of the buyer's journey a subscriber was in. That way Jellyfish could serve up curated content more targeted to their subscribers' interests.
The questions that introduce each piece of curated content are a great way to hook readers – who are always scanning to find answers to their questions and problems.
It's a super-short, mobile-friendly email. There are only 158 words in the message body. Surely even someone as busy as you can put together 158 words once a month.
This is a great, fast way to keep in touch with your subscribers. We found that far too many marketers aren't communicating with their email lists. An example like this shows how easy it can be.
2. Landing pages
Lead generation and landing pages are a match made in heaven. They're so chummy, actually, that you could barely have one without the other. What makes them even more interesting is how much they help with curated content, whether that content is coming from a curated email message, from a social media post, or anywhere else.
Why? Because landing pages overcome one of the biggest shortcomings of curated content: Where people go after they click.
With most curated content, people will see your social media post or your email with the curated content. But when they click, off they go to that third-party site. You've made an impression on them, but now they're gone – they have been redirected elsewhere to that other site. Adding a landing page (or even an overlay on the third-party page) where they can review the content more profoundly means you get another chance to do the following:
Remind them of your brand: and remind them who showed them the content in the first place.
Give them a link to your site: or a call to action to come back to your site.
Embed a lead generation form: either within the landing page or the overlay.
You can make your own landing pages, but it gets cumbersome to do that with every post you publish. It's much easier to use content marketing software that does it for you. Scoop.it's Topics Pages are specifically made to create an online hub to gather and share content that's narrowly focused on specific topics. As you can see, they also include a header for branding, and different ways to follow you online.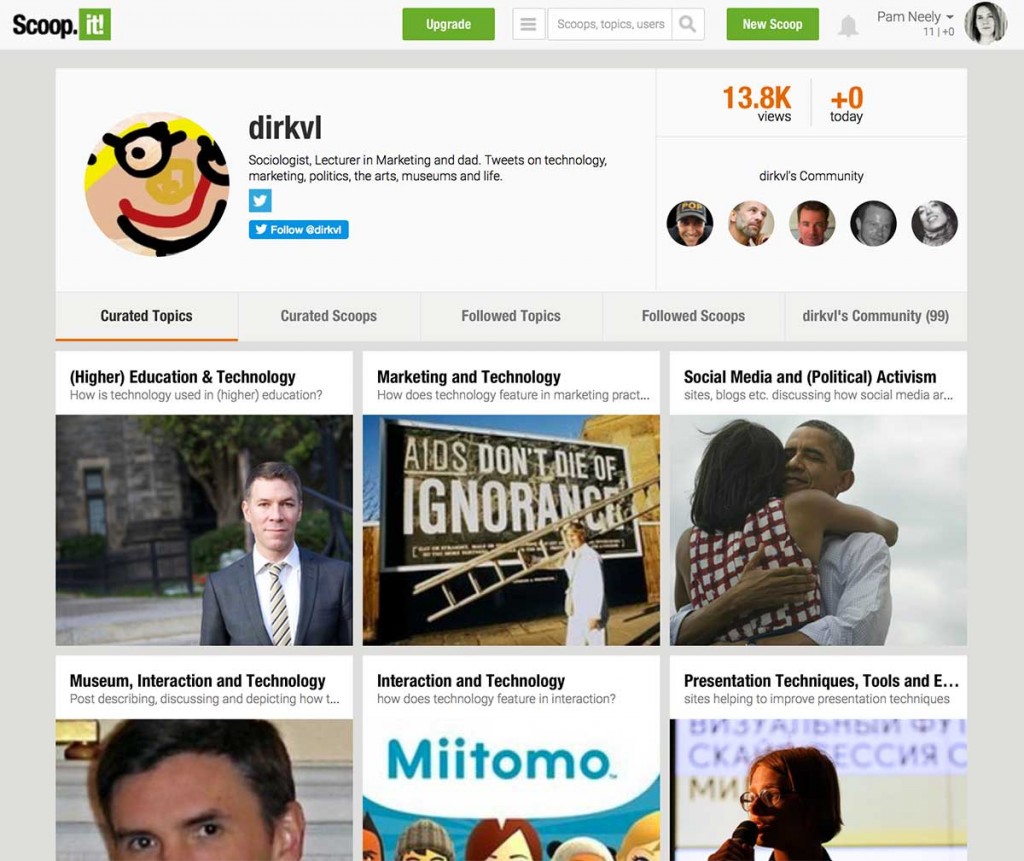 3. Blog posts
Everybody's heard of generating leads with blog posts, right? Well, if you haven't, here's one of our favorite charts demonstrating how well blogs work for lead generation: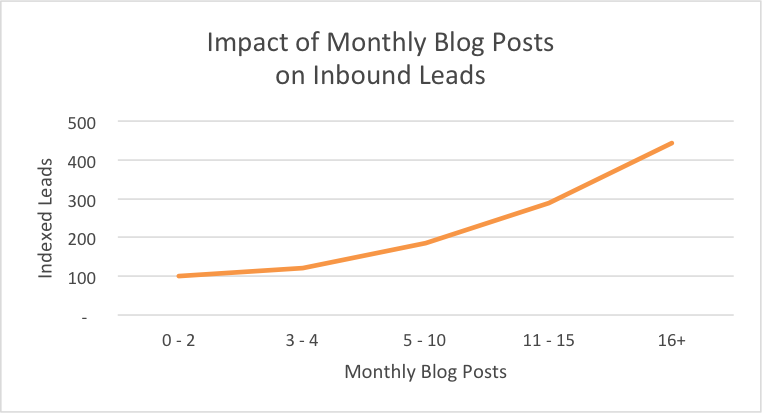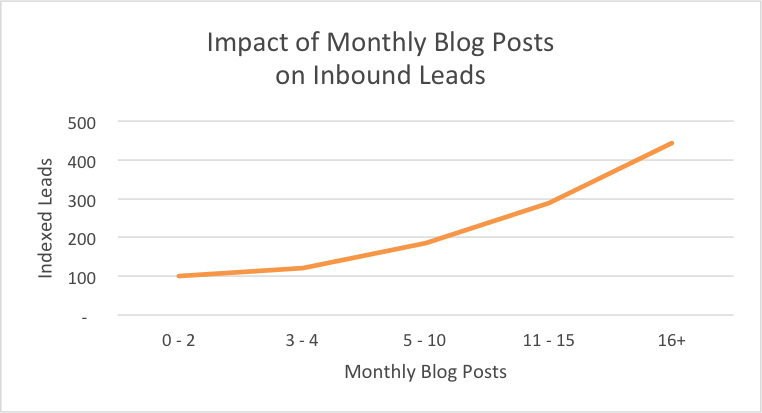 You can publish curated blog posts that generate just as many leads as the blog posts you've been writing. Just add a call to action at the end of your post to do the lead capture bit, and everything else is pretty much the same.
There are a number of different formats and topics possible for a curated blog post. Here are just a few ideas:
Influencer "roundup" posts. These are where you ask subject matter experts for their opinion on a particular topic in your industry. The post is fundamentally a list of the influencers with basic information about who they are and their answer to your question. These type of posts often get lots of exposure – each influencer often shares the post with their audience.
A list of best articles for a given topic. This is another popular format. It's very similar to the email messages we saw above, but usually these "best of posts" showcase 10-20 different blog posts. Once again, you've got a great channel for promotion with these types of posts – just take the time to tell each author whose post you've included that they made the list.
The best books, TED Talks, webinars and resources for any given topic.
Influencer "what's your best tip for" posts. Another spin on the influencer roundup, this is very similar, but it has a bit more of a "how to" angle to it.
Here's one example of an influencer roundup post from Blogging Wizard.
Bonus: You don't have to limit influencer roundups to just blog posts. They work for longer content, too. Our own ROI or RIP: The Lean Content Marketing Handbook for SMBs eBook features valuable insights from 15 content marketing experts and their collective input on the data we shared with them.
Bonus tip #2: You can use a tool like Scoop.it Content Director to measure the impact of your content directly on lead generation to ensure your content is effective and on track to helping you reach your goals.
Conclusion
Content curation can be just as effective for lead generation as in-house created content. In fact, there's powerful supporting data that proves it can be even more effective than in-house content.
The best part is that content curation takes up less time and less money than unique content. You may not be able to use it exclusively, but curating up to 30-50% of what you publish is possible, and some experts recommend curating about 80% of what you share on social media. So if your lead generation program has been a little weak recently, give content curation a try. You might be in for a pleasant surprise.
Back to you
Which tactics are you using to generate leads from content curation? Has anything worked especially well that I haven't mentioned here? Leave a comment and tell us what you think.
If you want a whole set of tips to generate leads with content marketing such as ways to repurpose your content into other forms, insights on which format you should focus on, techniques to measure the results and other data points, download the eBook "How to generate leads through Content Marketing".
Image by Alan Levine.