While producing and promoting your content is important, measuring the effectiveness of your efforts is vital for content marketing success. Most marketers today struggle with how to prove concrete ROI from their content marketing, and over 56% admit either failing or lacking clarity entirely on whether they are successful or not. It's easy to create content, hit publish and then forget about it. But to do this means overlooking critical questions:
How did that content engage with your audience?
Did it convert the way you had planned?
Did it get overall positive feedback?
Did it do better or worse than expected?
It's essential to measure how well your content performs and continually analyze its progress so that you can improve.
With the right metrics and analytics tools, you'll be able to ensure you stay on track to generating more ROI out of your content marketing. Only practice makes perfect. In order to deliver long term success and ROI through content marketing, you need to repeat the content marketing lifecycle so that your efforts improve at each and every new iteration. Forget vanity metrics, your content should generate concrete ROI. But if you don't know how to measure the impact of your efforts, what's the point?
Now that you've learned how to strategize, plan, produce and promote your content, it's time to move on to the next phase of the content marketing lifecycle: analyzing your content: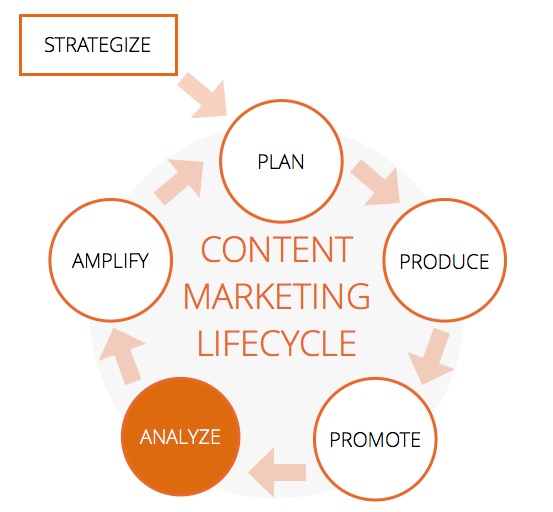 Generating more ROI from your content is impossible without analyzing your content marketing results
You wouldn't pay $10 a month for Spotify if it offered you only 5% of the songs you wanted to listen to, right? That wouldn't make sense. How about if you paid for the first month and realized this after? Would you continue paying for the service then?
The same goes for most things. At some point in a process – whether it's before or after the actual investment was made (be it time, money, efforts, etc.) – you decide based on analyzing the results whether or not the investment was worth it. This is called ROI.
Yet, over 50% of marketers are still unclear on this basic metric. Which begs the question: is your content marketing effective? According to CMI/MarketingProfs' 2016 benchmark, only 30% of B2B marketers say they're effective at content marketing.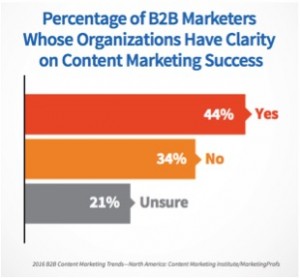 A simple analytics model to understand the impact of your content on ROI
Analyzing your content marketing results means knowing what performance metrics to monitor. To do this, you need to figure out which KPIs (the ones identified earlier in the strategy phase) you want to focus on so that you can effectively monitor them.
To visualize this, we've created a content marketing analytics model (VSTL) that measures the following KPIs: Volume, Shares, Traffic and Leads: 
In other words, you start with content, which you need in volumes to simply exist. Ideally, this content will be shared or amplified by your audience, which in turn will drive traffic, a part of which will eventually convert into leads.
– Volume: the number of individual pieces of content that exist on your destination sites and by channels on a daily, weekly or monthly basis. Because content marketing has compounding returns that build over time, it's essential to leverage your team and curate regularly to sustain your content efforts.
– Shares and traffic: the total number of times your content was shared and the traffic it generated. This measures the quality and the impact of your content on your audience and can be tracked as a time-based chart or post by post:
– Leads your content generated. Lead generation is a key objective for a majority of B2B content marketers and the trend is steadily increasing. Ultimately, you want your content to convert your visitors into subscribers, prospects or customers. This can be easily tracked in a time-based chart or post-by-post using Scoop.it Content Director (check our free content marketing analytics framework to understand why this is important and how to take data-driven actions on your content strategy). 

The above report generated from within Scoop.it Content Director gives you a comprehensive view of all the KPIs of your content strategy on a post-by-post basis. This is a working example of our VSTL model.
Take your analytics a step further: why you should track content marketing analytics on a post-by-post basis
The VSTL model is a very good to start to help you stay on track. But if you want to improve, you need to go beyond the overall performance metrics and analyze the data on a post-by-post basis.
To learn that, you need to understand the performance of each individual piece of content you create. By using our own Scoop.it Content Director analytics, we're able to extract that data easily by going to the Analytics tab and then using the Posts view: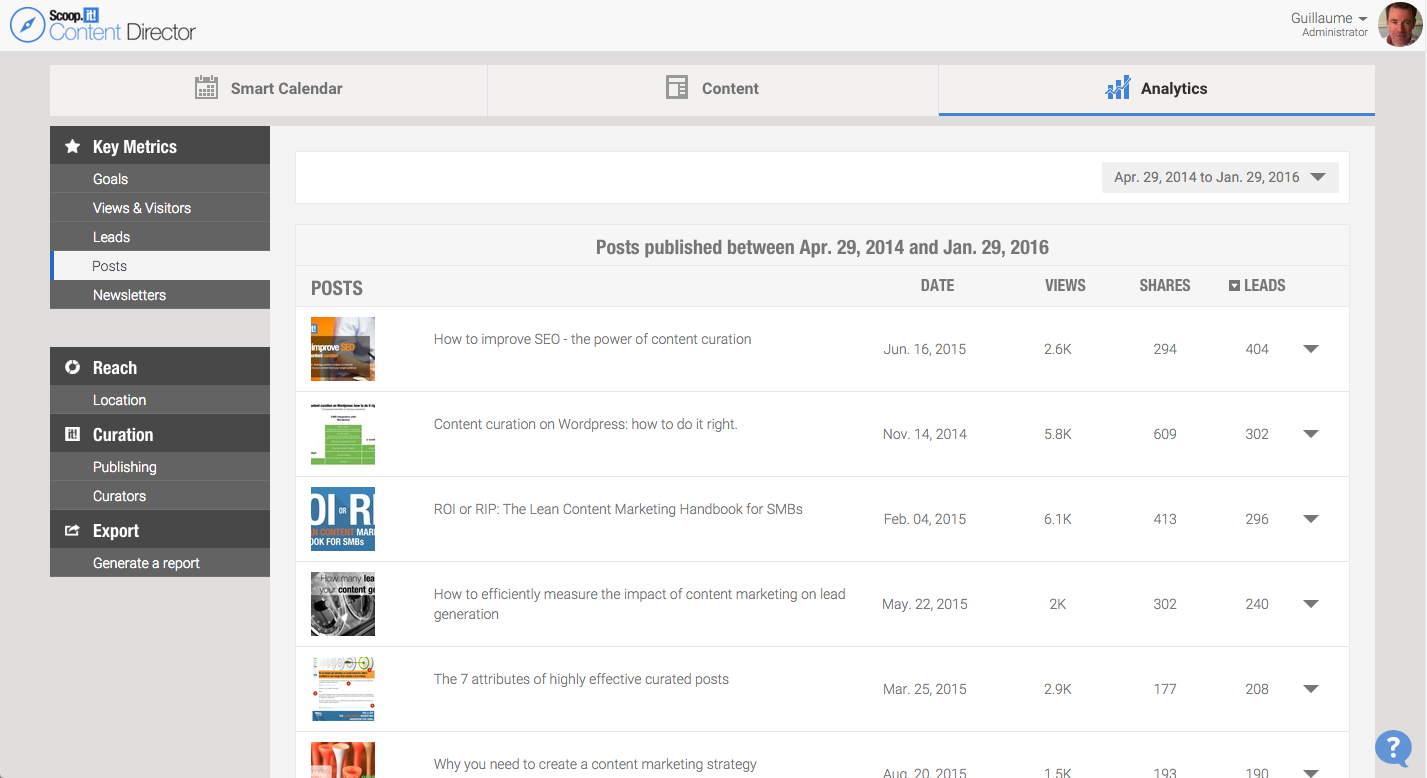 You can then perform some analysis to compare how posts differ by their impact on your main KPIs. We built a framework to analyze ROI that you can and should start using if you want to get a deeper understanding of your content marketing actions.
| | |
| --- | --- |
| | "The majority of companies that publish content are content publishers, not content marketers.  The content publisher is happy when content is published, the content marketer looks for leads. This framework will help companies identify what's working and not working and help us focus on 'content marketing'." – Ian Cleary – Founder, RazorSocial |
Andy Crestodina recommends looking at conversion rates for each piece of content. It's even better than absolute lead number per post as it both captures lead generation and gives you a great measure of efficiency.
To do that you need first to ensure that you have a system to not just measure generated leads but attribute them to content. There are various attribution models that can be set up and configured: this post is a step-by-step guide on how to do it with Google Analytics, HubSpot or with our own Scoop.it Content Director.
When you derive the conversion rates from the measured leads and page views, the interesting observations you'll make will be:
Your conversion rate can greatly vary from one post to another. Because of the nature of your content but also because of conversion rate optimization questions or simply because of the choice of your CTA (again, rushing first time visitors to talk to sales is like saying "I love you" on a first date: it freaks people out).
Consequently, your most viewed posts are not necessarily your most revenue-generating ones.
By analyzing your blog posts performance by conversion rate and traffic, you can build a matrix that will give you more clarity on your performance: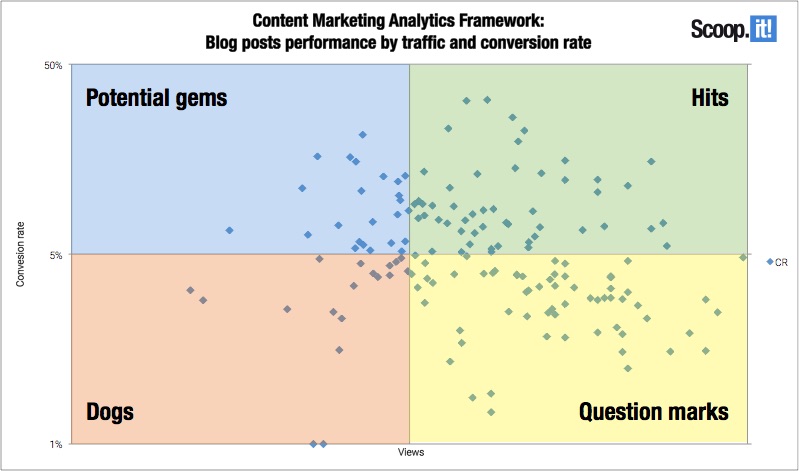 You can then classify your content into 4 buckets:
Hits: posts in the upper right side of this chart are highly converting posts which generated high traffic. These are our content marketing hits. In an ideal world, you'd be doing just that of course. So look at what they have in common, who wrote them, how you promoted them and try to do it again because that's what your audience wants. And of course, don't stop promoting them: re-share those that are evergreen content and update the others so you can continue promoting them in the future.
Dogs: in the lower left of this chart are low converting posts with low generated traffic. Ok, you might want to quickly forget about those but don't: try also to understand what they have in common and how they differ from hits. What does it tell you about your audience and what they're interested in?
Potential gems: in the upper left are high converting posts which generated low traffic. Are these posts too self-promotional? Or could this be a promotion problem? If it's the former then you might not be doing content marketing but advertorial – the difference being in the value you add from your audience's – not your own – point of view. But maybe it's just that you haven't promoted these posts the way they should: giving them a second chance by re-sharing them over your social calendar could generate good results. Be careful though: when numbers get small, it's easy to have a conversion rate which goes high but without being significant so this second chance should only be given to posts which have shown conversion rates on some traffic (rule of thumb: at least 10-20 conversions).
Question marks: last, in the lower right, are what you might have considered so far to be your most successful content but you now know where I'm going with this. Sure, these posts generated traffic but you don't get paid in views… Should you stop creating that kind of content? Maybe not. Look at these posts again: do they have CTAs to start with? Don't feel ashamed if they don't: 48% of content marketers admit to be like you and forget to add CTAs to their content. Simply update your posts to add them. If you did include CTAs then maybe they're not aligned with the post's content. Again, try to understand which stage of your funnel readers are in when they read your post. Find a better corresponding CTA if you can. If you can't, it probably means this post was generating the wrong kind of audience for your business goals.
"A lot of marketers measuring things like email vs social and facebook vs. Twitter. But the best marketers go deeper. If you check the performance of specific types of content, you can start making much better decisions about

what to blog about

. Now you're one step closer to learning what your readers love most. I highly recommend this level of analysis." – Andy Crestodina – Co-Founder, OrbitMedia
When you classify your posts this way, you can then create a simple contribution graph like this: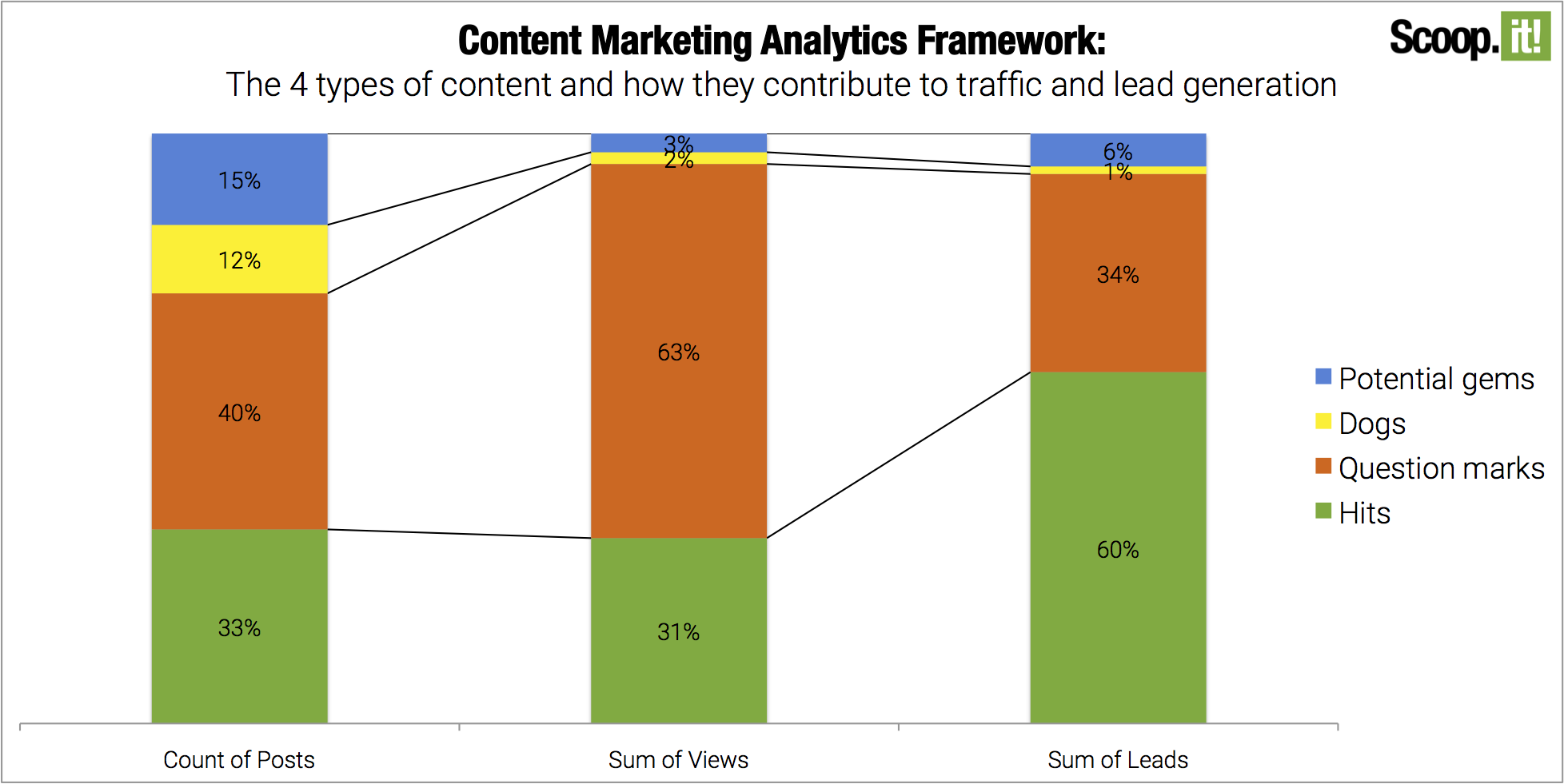 You can view our own conclusions to this analysis in our own post detailing the above content marketing analytics framework. This framework makes it easy to cut through the clutter and take action based on the relative performance of each one of your posts. By comparing how each piece of content contributes to volume, traffic and leads, you'll learn how to improve from one post to the next:
This exercise might look complex but with the right analytics tools, it becomes very easy to perform on a quarterly or even a monthly basis. You can take the guesswork out of your content marketing and measure the real ROI of your content marketing beyond simply looking at traffic. And of course, you can refine the system by looking at additional metrics such as conversion paths:
| | |
| --- | --- |
| | "Measuring content performance through this framework totally makes sense. In addition, it is very helpful to know which article served as the landing page, to understand which type of content attracts converting traffic and also which articles participated in the process. It helps determine better references in the "related stories" and "read next" sections, thus increasing the overall conversion rate of content." – Ron Sela – Content Marketing Strategist, RonSela.com |
Leverage analytics to inform your content creation
Using analytics to understand the performance of your content is a great way to not only improve, but it's also a great method to inspire and inform your content creation process. By regularly checking the metrics of each piece of content you create, you can see at a granular level what specific types of content generate the most interest and engagement amongst your audience. This way you know exactly what types of content to create more of, and what types to steer away from.
Add automation to the mix: use tools to measure and improve your content ROI
Proving content marketing ROI can be challenging, but it's a lot simpler with tools like Scoop.it Content Director to help you analyze the impact of your content on a post-by-post basis. By leveraging smart content marketing technology that measures and analyzes your content performance, you will have a better understanding of how your content efforts are paying off so that you can stay on track to generating more ROI. Added bonus? You'll have the concrete data to prove it.
Conclusion
Content marketing is a learning process in which only practice makes perfect. It's also not a mystery in which ROI is impossible to prove. With the right technology in place, you can effectively track and analyze your content performance, and prove and improve your content marketing ROI.
Stay tuned for the last installment of this series on how to optimize the content marketing lifecycle where we'll cover the basics for how to successfully amplify your content.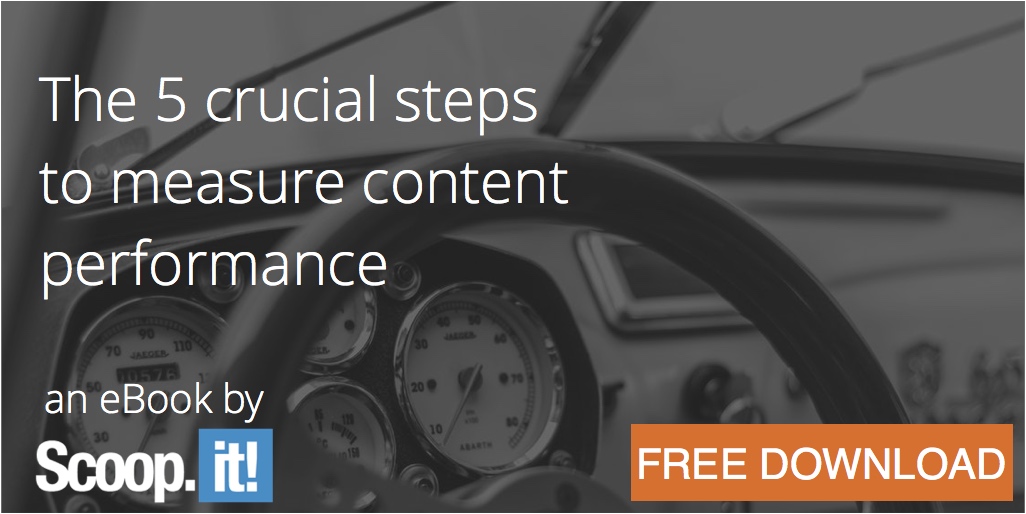 Image by Thinglink.