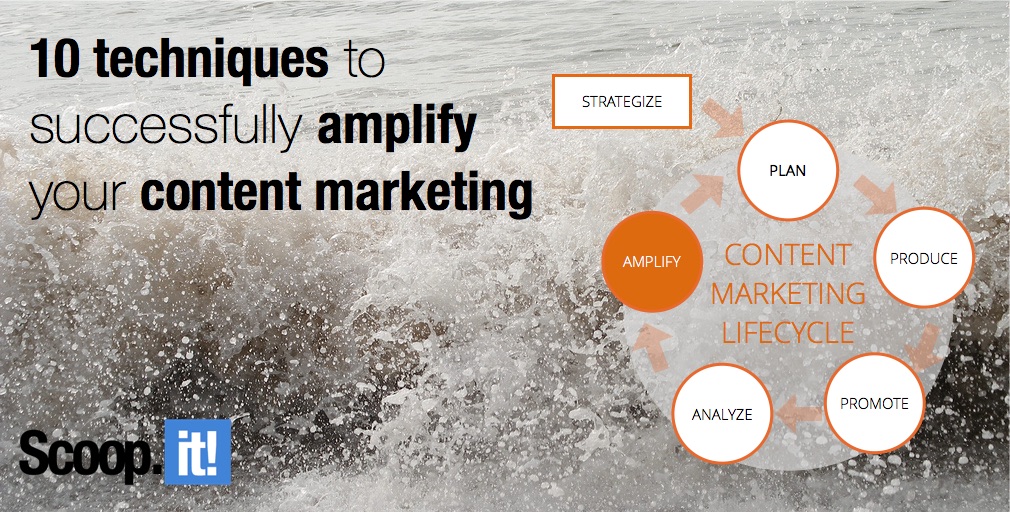 In an ideal world, you'd produce a great piece of content, hit publish and never have to worry about it again. In this same fairytale land, that piece of content would magically get directly in front of the audience you intended it for all on its own, and start generating traffic and leads immediately, without you having to do anything besides create the content to begin with.
Unfortunately, the world of content marketing is a bit more complex, and it takes more than simply producing great content to succeed. Focusing all your efforts on simply creating great content, however engaging it may be, won't get you results if you don't take additional steps to ensure it gets visibility. If you want to generate maximum results from your content marketing, you have to take a step back and view the full content marketing lifecycle, and optimize your efforts in every phase.
Content marketing lifecycle refresher course
As you now know, success with content marketing goes beyond just producing and publishing content. If you want your content to stand out and deliver positive ROI, you have to focus on effectively managing all of the following phases: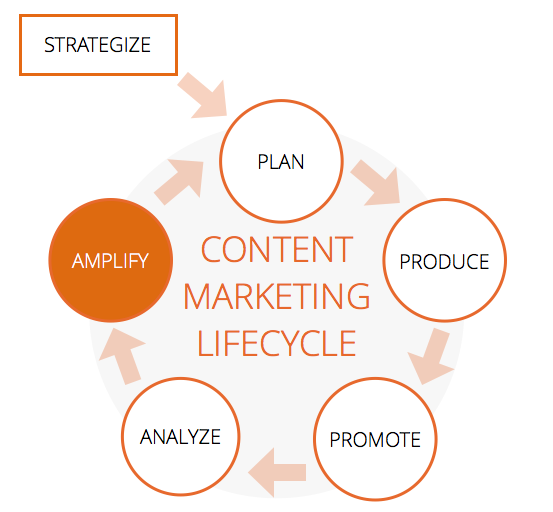 Strategize: before creating content, it's essential to identify clearly-defined goals that are in line with both your business objectives and the needs of your audience. Without a proper strategy, your content will drown in the sea of content clutter that exists today and it won't deliver results.
Plan: establishing a plan for your content marketing strategy is a critical component for guiding your content creation efforts and keeping them focused on your business goals and objectives.
Produce: publishing good content isn't enough if you aren't doing it regularly. You should aim to create relevant, high-value content for your audience- if you don't have the time or resources, use lean content marketing methods to scale your efforts.
Promote: promoting your content (across your social channels, by email, etc.) is critical if you want it to get in front of the audience you intended it for. Without investing in distribution tactics to maximize visibility, your content will go unseen and your efforts will have been wasted.
Analyze: measuring the impact of your content marketing by analyzing the results is the only way to know if what you're doing is working. Tracking performance is critical for understanding the effectiveness of your efforts so that you can continually improve.
It's time to learn how to amplify your most successful pieces of content during the 6th phase of the content marketing lifecycle.
What it means to amplify your content
While promoting your content is what you do with each and every new piece of content you create before you know how well it performs, amplifying your content is what you do for pieces generating the most traffic and leads that you've identified by continually analyzing its performance.
After you've published, promoted and analyzed the performance of your content, you can get a sense of which pieces are performing best, so that you can give your most successful and evergreen pieces an extra boost. This is where amplification comes in. Not every piece of content you create should be amplified. Identifying existing evergreen content is a great way to figure out which pieces deserve to be amplified over time.
Just as you have many techniques to help you produce content, there are several ways to amplify your content marketing efforts.
1. Keep sharing your most successful posts
One of the biggest content marketing misconceptions that many marketers fall victim to is thinking they are done after they hit publish, which results in a lot of great work going unseen. There are many best practices for maximizing the impact of your content. If you're just getting started and want to learn how to promote your content across your social channels for better results, here's an article we recommend.
Re-sharing your content (successful or evergreen) is an essential best practice for maximizing the impact of your content. If you're not sharing your own content multiple times, you're missing out. If you don't properly promote your content and re-share it, you risk falling prey to the same unfortunate fate as 50% of other published articles that get shared less than 8 times.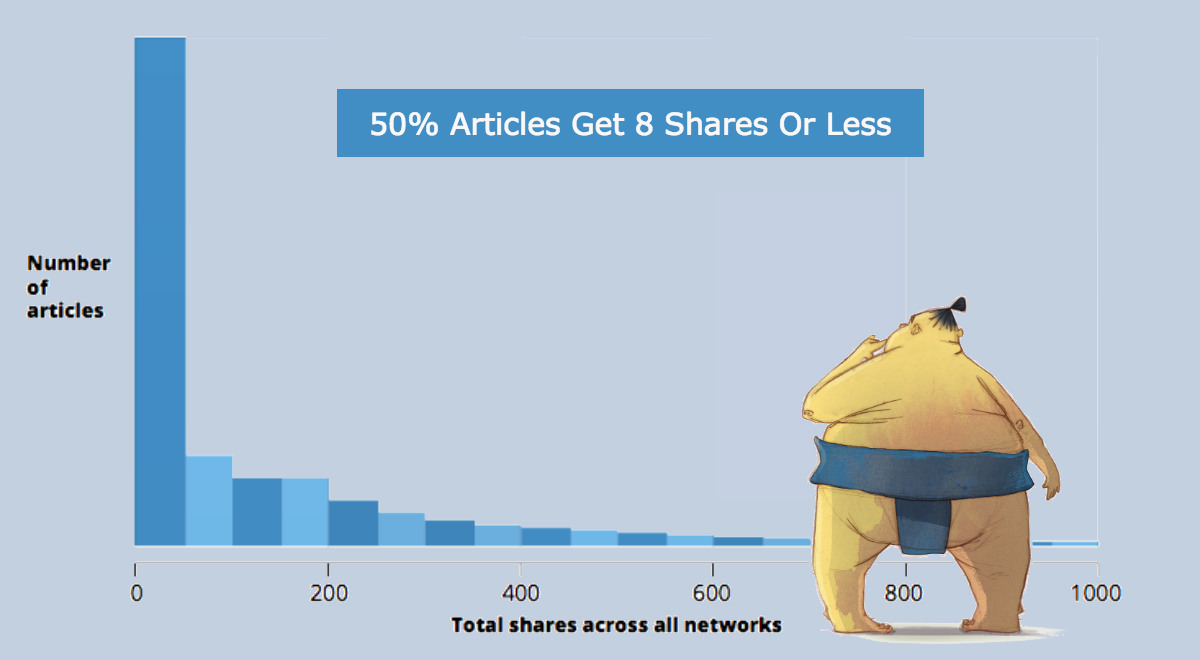 Studies show that sharing your own content multiple times doesn't result in follower fatigue, but rather increases reach and traffic dramatically. This is extremely important because not everyone got a chance to see your piece immediately after it was published. You need to keep sharing your content for maximum impact to ensure it reaches the largest audience possible.
2. Update your posts
Spruce up existing content: updating successful or evergreen content you already have is not only an effective lean content marketing technique, but it's also a great way to help keep your content fresh for better SEO rankings. To be more efficient, consider the following:
re-write the introduction
change a paragraph
change the CTA if you have better content to offer
add links to older content
historical optimization: update older posts with links to recent posts to help increase SEO for newer content.
3. Get your posts syndicated
Getting your content syndicated on other websites is an effective way to help build your authority, drive traffic and expand your audience. The first step to doing this well is to produce great content that people actually want to share and syndicate. Here are some of our favorite sites we recommend for syndicating your content:
A few tips for syndicating your content successfully:
change the title
re-write the introduction
change the image (if you have the time)
4. Repurpose content to expand your reach
Repurposing your content is a key strategy of the lean content marketing methodology, and an effective way to expand your reach and save time. There are many ways to efficiently repurpose visual or text content for marketing ROI, here are some of our suggestions:
eBook to Slideshare
Blog posts to eBook
webinar to video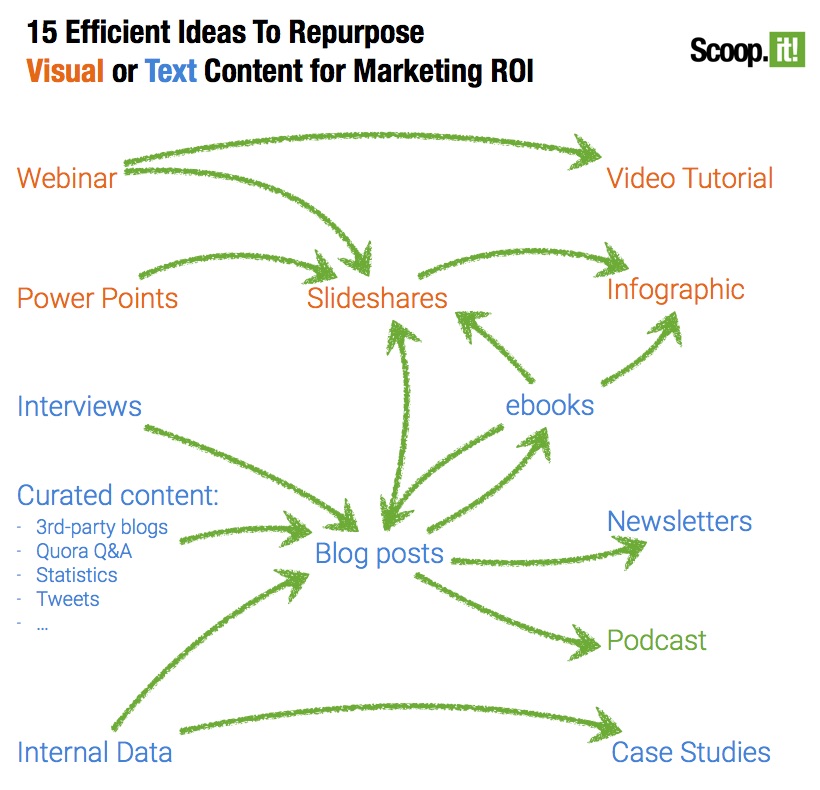 5. Online monitoring
Monitor your space to engage and promote your post where it makes sense. Use a content discovery platform to help you discover the most recent and relevant content being published around topics in your space: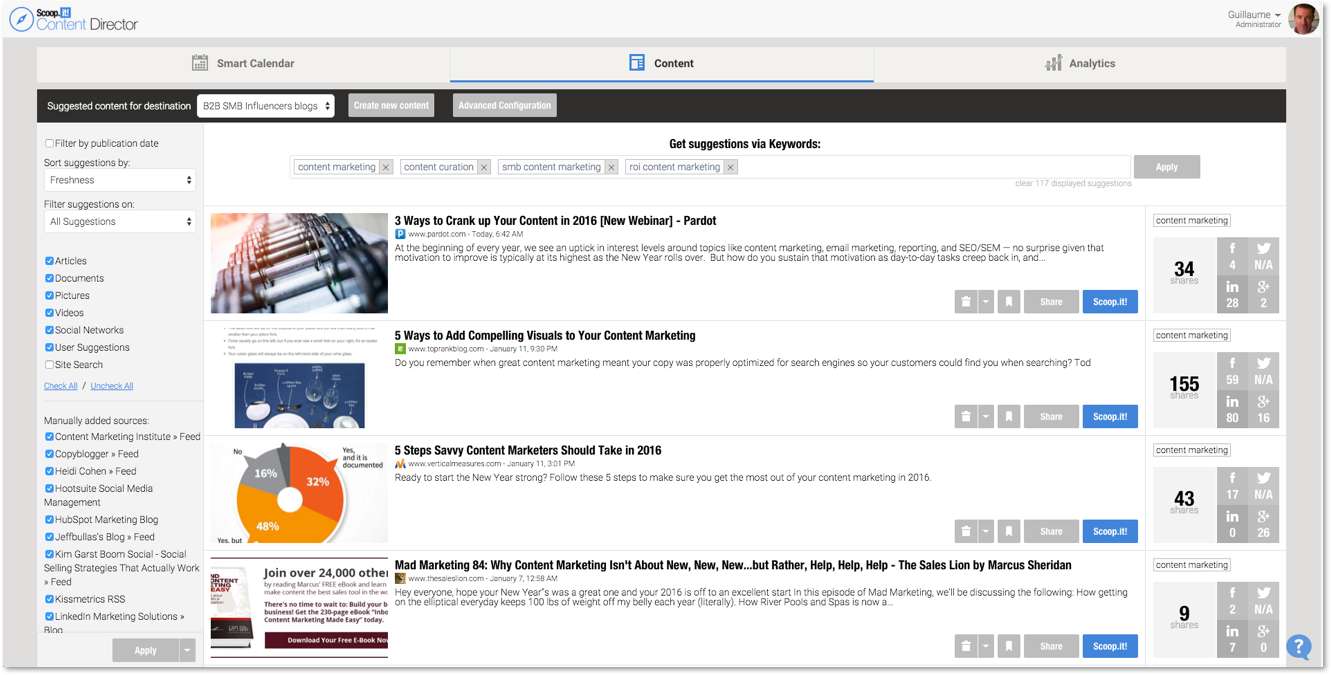 Comment on the articles with added value insights and links to interesting content related to the piece
Tweet at the author to tell them you've commented their piece
6. Curate content in the same line as the piece you'd like to refer to
Curating relevant content is another good tactic for amplifying your content. Here at Scoop.it we talk a lot about the many benefits of content curation. Here are a few posts to help you if you're new to the content curation world:
7. Boost your post through paid
If you have the budget, integrating paid advertising in your content marketing is another way to give an extra boost to your content. Here are a few paid content promotion tactics that can be pretty effective:
Facebook ads: to help better target your audience using a variety of criteria.
Promoted tweets: to help get your content in front of the right people, promoted tweets allow you to target users more directly by interest, gender, demographic, or device.
Outbrain: this is a content promotion ad network whereby you can advertise for inexpensive traffic on related blogs for audience development.
StumbleUpon: StumbleUpon allows you to buy clicks at low prices from socially engaged visitors.
8. Invest time for a guest post campaign
Guest posting is a powerful way to promote your brand and amplify your content. It's also a great tactic that allows you to reach a wider audience and build trust among readers. To get started with a guest post campaign, identify the most influential sharers and back linkers by using a tool like BuzzSumo, and pitch the author for a guest post: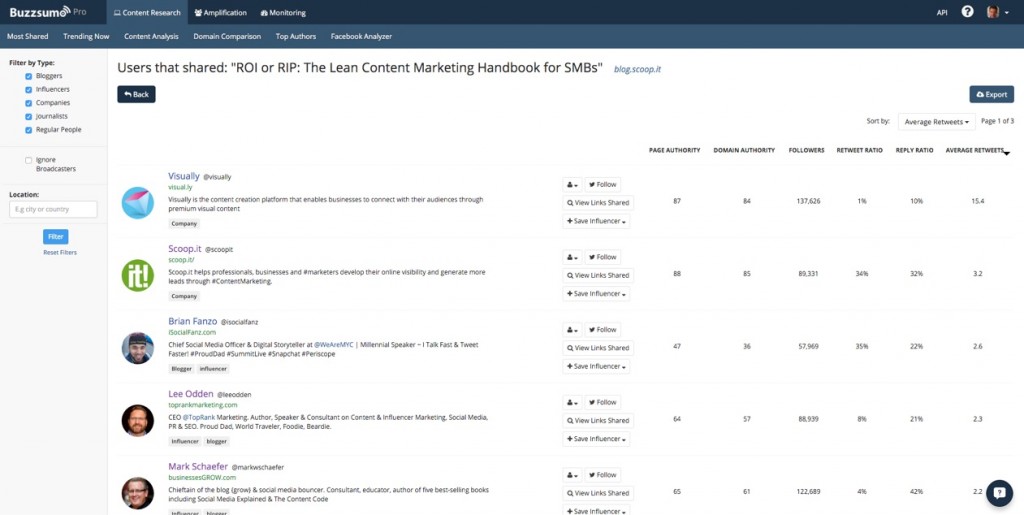 9. As always, influencer marketing is a continuous way to amplify your content
Rather than paying for distribution, getting influencers to amplify your reach is a much more efficient approach to amplifying your content.
"Investing in a content and influencer marketing strategy can be one of the most impactful actions a business can make." – Lee Odden, TopRank Marketing
While it takes a bit of time, taking the time to build relationships with influencers is a worthwhile investment that generates powerful results. If you're just getting started with influencer marketing, here are a few proven tips:
Identify influencers who share similar content: do some research to identify major influencers in your space who share similar content. Tools like BuzzSumo, BuzzStream and NinjaOutreach can help you find the right people.
Get on their radar: an effective way to attract the attention of influencers you want to share and amplify your content is to share a curated piece from them, mention them in your own content, or write about a topic you know is of particular interest to them. Your outreach emails will additionally work best if you have a pre-existing relationship with the influencers that you work actively to build.
| | |
| --- | --- |
| | "At my agency, we've set up multiple shares on all of our content for a long time now, and we almost always find that we get much more lifetime traffic for the content." Mark Traphagen – Sr Director of Online Marketing, Stone Temple |
Engage with them: don't be afraid to reach out to influencers via email, DM, or inmails and generate conversations. Your outreach efforts will work best if you're not contacting them for the first time, and they'll be more inclined to share your content. Sujan Patel, content marketing expert and founder of the cold email outreach tool Mailshake, underscores that last point. "Your first contact should never be a hard sell." says Sujan. "The influencers with audiences you want to tap get these cold pitches all the time. You want to build a relationship. Cold email is your best bet for that first contact; it's unobtrusive and shows you've done a bit of research (ie. not blasting out a bunch of templated LinkedIn messages).
10. Leverage automation and content marketing intelligence for added insight on what to re-share when
Imagine if radio stations had played Michael Jackson's Billie Jean only once: would it have still become the 80's biggest hit? Probably not. The same analogy can be made with your content. If you want it to stand out among the others and go down in the rockstar hall of content fame, you have to share it on a regular basis with your audience.
And yet, the data has spoken: Over 65% of markers do not re-share successful posts on a regular basis.

If you want to start amplifying your posts, you have two options:
Leverage content marketing intelligence to help you know what to share: it can be a complicated, time-consuming process to manually identify successful or evergreen pieces of content and then have to schedule them out across all of your social channels for the next few weeks. To facilitate the process, you can use software that runs big data analytics to help you easily identify evergreen pieces of content to choose to re-share and automate the scheduling of your social media messages in advance: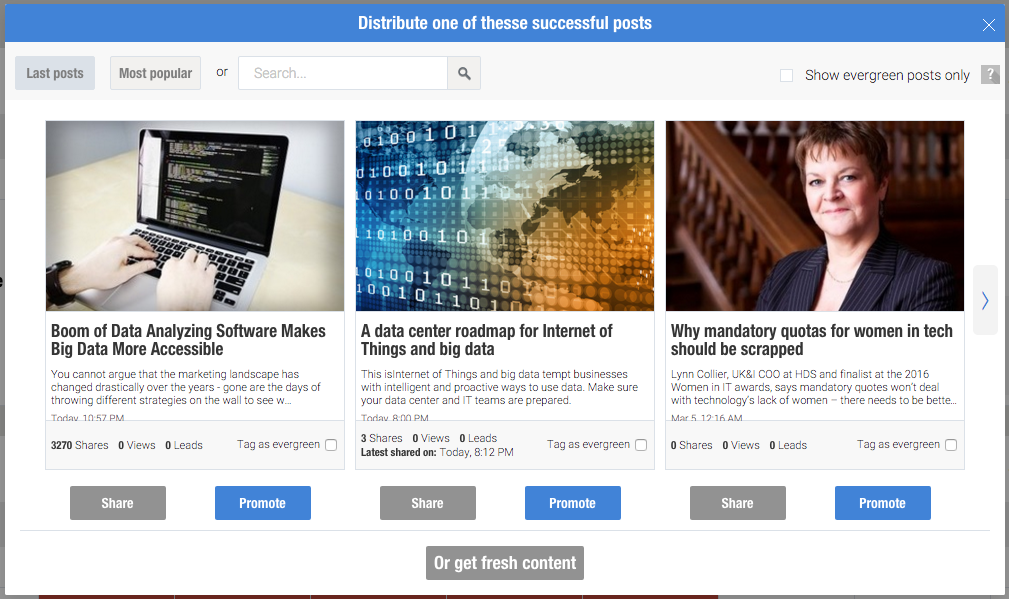 Conclusion
Amplifying your content is critical for maximizing distribution and impact. Using these amplification techniques, you can ensure you stay on track to delivering the best results from your content.
If you want to get 30 effective techniques to master content marketing along with valuable insights from 10+ influencers like Mark Schaefer, Rebecca Lieb, Lee Odden, Jason Miller or Ian Cleary, download our free eBook now!
Image by Lorna Mitchell