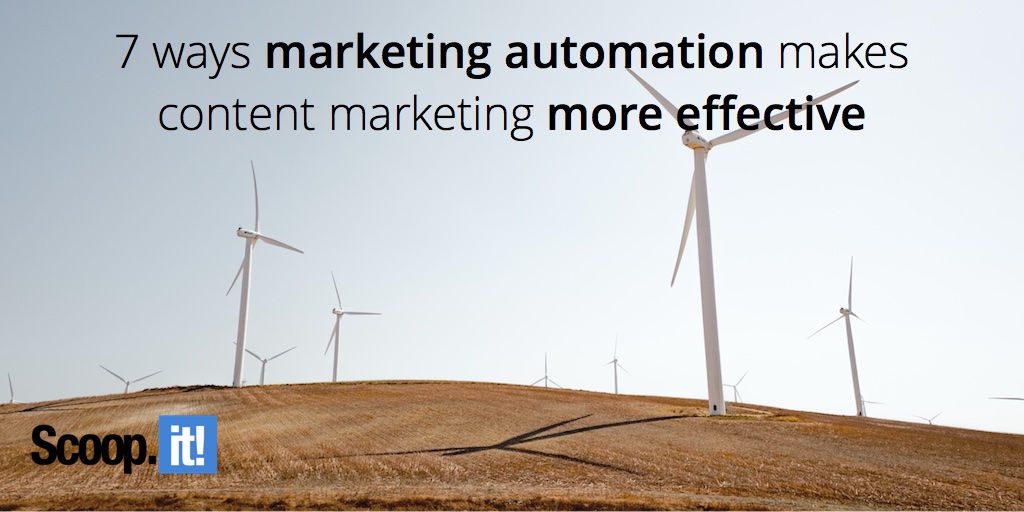 Content is the fuel of marketing automation. It's the core product the machinery of marketing automation delivers – content that's served up at the right time, to the right person, with the right message.
That mix of right timing, right person, and right message is what can make content marketing so effective. But it's something too many marketers leave to chance. Creating "random acts of content" and trying to do every task yourself is just a recipe for exhaustion and poor results.
If you've been doing some content marketing yourself, none of that will come as a surprise. We all know content marketing is a lot of work. You're probably also aware that most content marketers aren't getting the results they want. In the Content Marketing Institute and Marketing Profs' 2016 Benchmarks Budgets and Trends – North America report, only 30% of B2B content marketers said their companies' content marketing was effective. Only 38% of B2C marketers could say the same.
We think there's a better way. It's time to use the power of marketing automation (and content marketing automation) to give marketers the tools they need to deliver that right message at the right time to the right person. All the time – not just when they get lucky. And while it may indeed be a lot of work to implement marketing automation, the benefits are huge. Especially if you've already got a content marketing engine running.
Here's just seven of the key changes you can expect to see as you bring your marketing automation online:
1. You'll have to define your customers' buyers' journeys and personas
Any marketing automation system requires things to be, you know, automated – planned out ahead of time. That means you'll need a plan. You've got to have a series of actions you want to define and schedule based on how a given user behaves.
This is the essence of marketing automation. But some content marketers (not you, of course) don't always understand their buyer's journeys, and may not have taken the time to define how their customers move through each phase.
Many marketers aren't quite sure exactly how someone goes from a first-time site visitors to a loyal customer. So when they sit down to set up their marketing automation, they immediately realize they've got some planning and thinking to do. They'll probably also need to spend some serious time with the analytics reports. And they'll need to develop a handful of buyer personas if they really want to get results.
None of this is a bad thing. In fact, the discipline of spelling all this out is excellent. Just don't rush it.
Want ideas for how to define a buyer's journey? See our post, How to create content for every stage of the buyer's journey. Want more information on how to develop personas, and how to use them? See our posts, "Persona mapping can improve your content marketing strategy" and "How to revamp your content marketing strategy [with worksheets]".
2. You'll need a content hub
Planning a marketing automation program requires that you know where your content is. After all, if you're going to be sending people, say, a particular ebook after they've viewed a particular page, you're going to have to know where that ebook is. Trying to remember everything you've published over the last few years… simply isn't going to work.
This is another example of how you may need to circle back before you can throw up a marketing automation program. It's also another example of why this is a good thing.
Content hubs are good for both marketers and for visitors and customers. For marketers, having a content hub is the single best way to avoid being part of that dreaded statistic from Sirius Decisions. You know, the one that says 60-70% of B2B content never even gets used? (That still gives me chills every time I think about it).
Fortunately, creating a content hub or content library does not have to be a month-long undertaking. And if you've got the right software (like Scoop.it Content Director) you can automatically create a content library of everything you've ever published.
Scoop.it Content Director's content library even takes things a step further. It can show you conversion rates for each piece of content, how much organic search traffic it's getting, and how long it's been since it was last updated. Here's a view of our content library sorted by traffic, from our webinar, Reinventing content marketing automation.
3. You'll suddenly see where your "content gaps" are
Content gaps are what happens when a customer gets to a specific stage of the buyer's journey and you don't have any content that fits their needs.
Sometimes, identifying these content gaps requires a bit of honesty. For example, you might have a piece of content for the phase where the CMO persona just downloaded a specific whitepaper. But is the email you're currently sending them to follow up really what they need to know next? Or are you put stuffing it into that spot because that's the content you've got?
Content vs. performance gaps
Content gaps can show up as poor performance, too. To use our CMO persona example at the stage where they just downloaded a key whitepaper, maybe the email you've been sending them is getting poor engagement rates… like less than 5% of the people who get the email even open it. That's a performance gap.
Identifying these gaps should have massive consequences for your content creation plans. It's the #1 way to move beyond creating "random acts of content".
Brainstorming a huge list of content ideas is a common approach for content creation. But it may not be getting us where we need to be. Instead of thinking up clever headlines, it's usually better to look at your sales funnel and to see if you've got great content for every stage of that funnel.
Once you've got those buyer personas, and you know how they move through their sales funnels, you basically have a map of where your content needs are. Your first priority for content creation should be to fill any content gaps in that journey.
4. You'll start seeing your marketing as a cohesive whole, not a series of one-off campaigns
Constant, "more-is-better" content creation has bigger risks than just creative burnout. It's a classic way to lose sight of the bigger picture of the content marketing lifecycle.
This would be true even if we were just thinking about content creation – but that's not the only part of our jobs as content marketers. There's also strategy, planning, promotion and analysis and amplification. And we have to go through each step for every piece of content we publish if we expect to get results.
As you can see (and as so many of you know all too well), it gets unwieldy over time: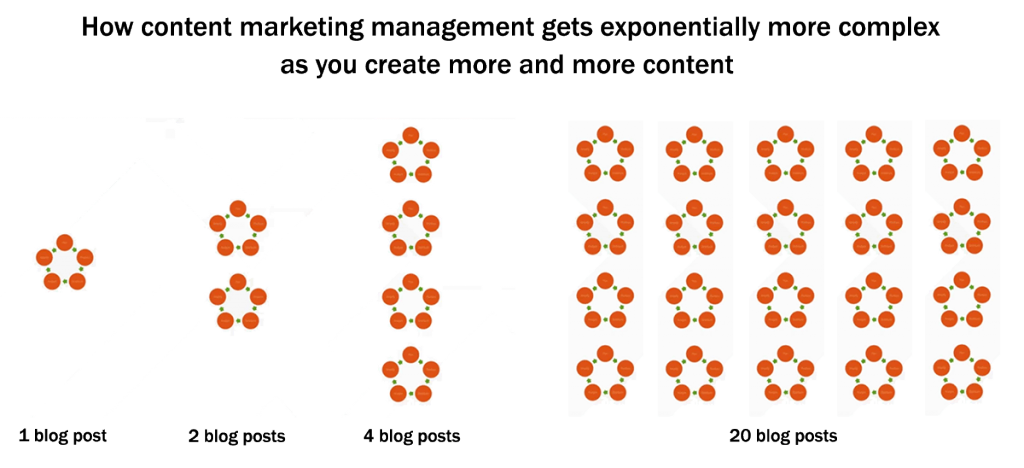 Marketing automation and content marketing automation won't completely remove all content marketing tasks from your plate, of course. But automating even some of your workload will give you more time to ponder the strategy and big ideas of your content marketing program. It'll also give you time to consider what your audience really needs, and even what products you could offer them beyond content.
That's the type of thinking that generates quantum leaps in performance. It can also help you differentiate your content, your company and your services. You can move from being another "me too" into becoming a genuine thought leader.
5. It will help you nurture leads more effectively… and earn trust from the Sales department
What's the biggest complaint Sales has about the Marketing department? Lousy leads. This is part of why lead quality has become more important to marketers than just lead quantity. They know all leads aren't created equal.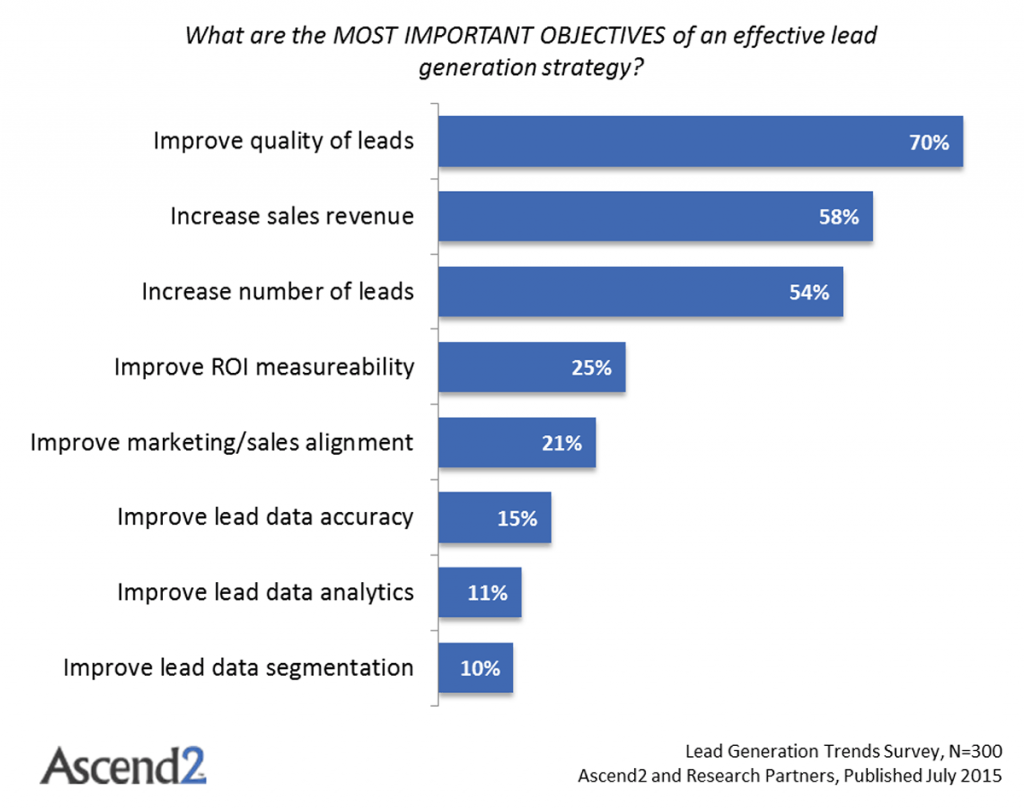 Being able to nurture leads with content over time is one of the most effective lead nurturing tactics. Whether you do it through emails, or with videos, or through a blend of content formats, educating your prospective clients and building their trust is one of the things content marketing and marketing automation truly excel at.
This has a bunch of benefits, and not just from generating better leads. Over time, delivering better leads will help the Sales department see your work as more valuable. Your two departments can start to work together more often. That benefits everyone – you, Sales and your customers.
6. Marketing automation increases engagement
You've heard about the content engagement crisis, right? Well, it's happening with blogs and other content formats too. But smart content marketers have figured out the solution. Send the right piece of content to the right person at the right time, and – BINGO – you've got better engagement. Ends up, a lot of customers are disengaging from our content simply because it isn't relevant to their needs. Marketing automation is the perfect way around this.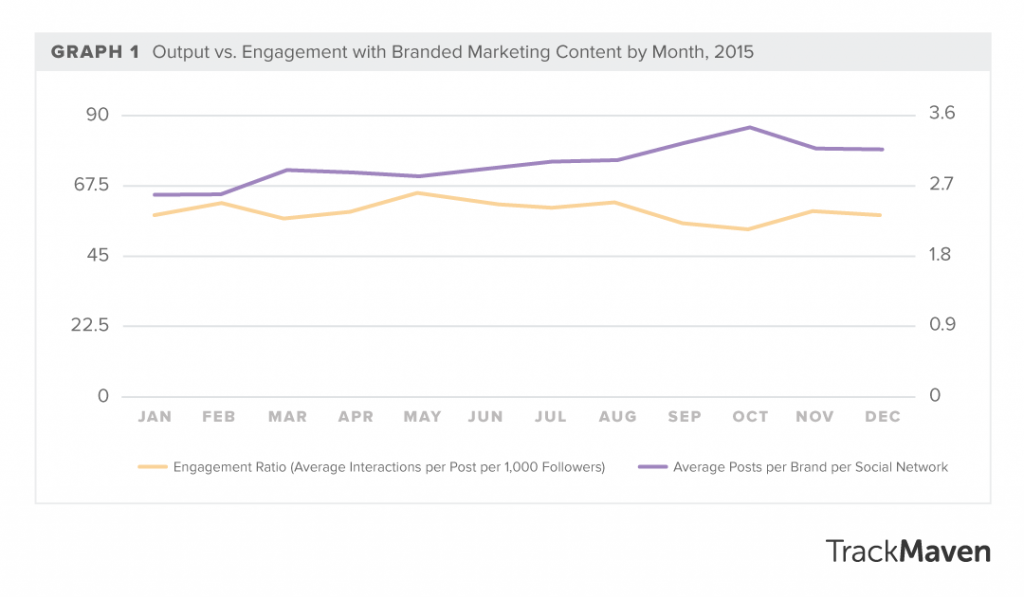 7. You'll get more results after the sale, too
Don't limit your marketing automation and content marketing automation to only getting new customers. They're also excellent for onboarding new customers, for getting people to use your product (and all its great features), and to even get reviews and customer feedback. Much of these processes can be automated, at least in part. That leaves you free to do more customized work.
Conclusion
We've got the tools, content marketers – it's time to use them. Content marketing is far more sophisticated and demanding than it used to be, but that doesn't have to be a problem if we use the software and tools available to us. In fact, it's an opportunity to make content marketing perform better than ever before.
What do you think?
Got any other ideas for how marketing automation and content marketing can support each other? Speak up! We'd love to hear what you think in the comments.
Want to work smarter and start generating real results from your content marketing? Find out how artificial intelligence is changing the content marketing game by providing marketers with actionable predictive insights to help them create better content that generates more traffic and leads!
Find out how to use the new Scoop.it Content Director to help you become a smarter marketer!
Image by Luca Bravo.