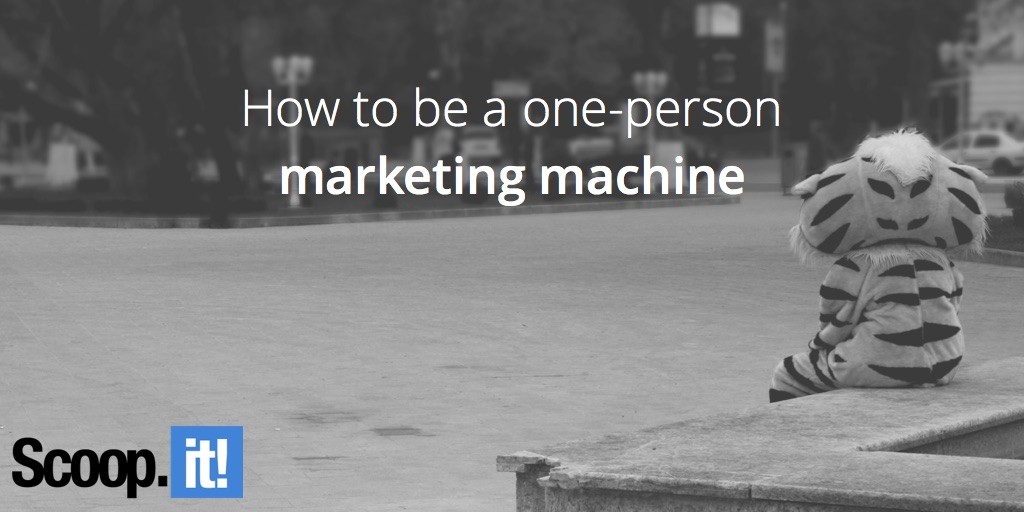 Feeling lonely? If you're a content marketer, there's a reason: Most of us are one-person teams. And while going solo might make happy hour kinda dull, it doesn't mean you can't get lots done – and get great results.
In fact, it's easier than ever to be a one-person marketing department. Here are a few ways some of the top solo content marketers make it happen.
1. Use templates.
There's absolutely no need to reinvent the wheel every time you create a new piece of content. High-performance content marketers have learned that people not only don't mind it if content follows a particular format – they actually seem to prefer it. Witness the success of listicles.
Of course, this doesn't mean everything you publish should be built from a template. But it does mean 70% of it can be. Save the remaining 30% of "couture" content for experiments, or maybe for content formats you've never tried before. Like SlideShares, quizzes, or anything else.
2. Automate what you can.
When you're short on time, every second counts. But you can't miss out on valuable insights, either. Enter content marketing software. Solutions like our own Scoop.it Content Director will let you
Pre-schedule your social media posts
Curate content in a snap (more on that in a sec)
See which social media posts have performed best (so you can reshare them)
Show you which pieces of content are generating the most leads and traffic
Prompts you to re-share your top-performing content, so it gets even more exposure and results
There's plenty more than good content marketing software can do, but I think you get the idea. So instead of getting bogged down in Google Analytics, or manually choosing which posts to reshare – let software take that work off your hands.
It's okay, really. We know you've got plenty else to do.
3.  Outsource what you can.
I know, I know – you don't have a huge budget. If you did, you'd hire co-workers. But until that money comes along, you can hire out tasks affordably. Really.
For instance:
Need more shares for your content? Maybe you don't have time to reach out to influencers, but you could use services like JustReTweet and CoPromote to get others to share your content. These can get you nice exposure for just pennies a share.
Not a designer? Try a service like DesignPickle, Flocksy, 99Designs or Undullify. For about $125-$400 a month, they can serve as an on-call graphic designer. So anytime you need a blog header, simple infographic, social media image, ebook cover – whatever – it doesn't have to mean you lose a few hours to creating it. And it… um… might even look better if a professional designer got their hands on it, too. (Just sayin'.)
Not a fab writer? Consider hiring content creators. Or hire a copyeditor, so you can send them rough drafts and let them turn those drafts into polished pieces.
Need someone to do influencer outreach? Or some research? Try some of the outsourcing services like Fancy Hands or Red Butler.
4.  Use checklists.
Know what takes up a lot of time? Mistakes. Big time. Alas – as a solo pro, you're even more likely to make them. That's because there's probably not a lot of people you can send content to before you publish it.
Because you don't have someone to check for mistakes, you're going to have to do it yourself. How? With a checklist.
There's a reason pilots use checklists – they've got a complex process with a ton of data points, and they absolutely, positively cannot make even one tiny mistake. Sound familiar? So follow their lead and create at least a few checklists for things you do all the time.
Then use them.
By the way… there's a bonus benefit to having checklists. They make it significantly easier to outsource or delegate work.
5.  Use an editorial calendar.
Life is unpredictable. So is managing a content marketing program, and marketing and business in general. There's a lot of stuff we can't control.
But there's also a lot of stuff we can. So we plan for that. We know our goals and have a plan for achieving them.
Editorial calendars are an essential tool to get all that done. They save you time because – used well – they eliminate any surprises. That means you have enough time to do your work, enough time to make sure other people do their work, and enough time for everybody to coordinate. No surprises. No fire drills. No drama.
6.  Reformat.
You can re-use your content in as many ways as you might re-use Thanksgiving turkey.
Say you've just done some research on your market. That can get made into
A blog post for the summary version.
An ebook for the more detailed version.
A webinar about the topic with an expert in your field (thus getting the attention of their audience, too).
Dozens of social media updates.
Anything visual (got graphs?) can be made into an infographic, or even a few simple infographics.
Other possibilities include posting the webinar on YouTube, and the slide deck on SlideShare.
There's even more possibilities, but I think you get the idea. Also see our blog post, "How to reformat one piece of content into an entire marketing campaign" for a deep dive on all the reformatting goodness.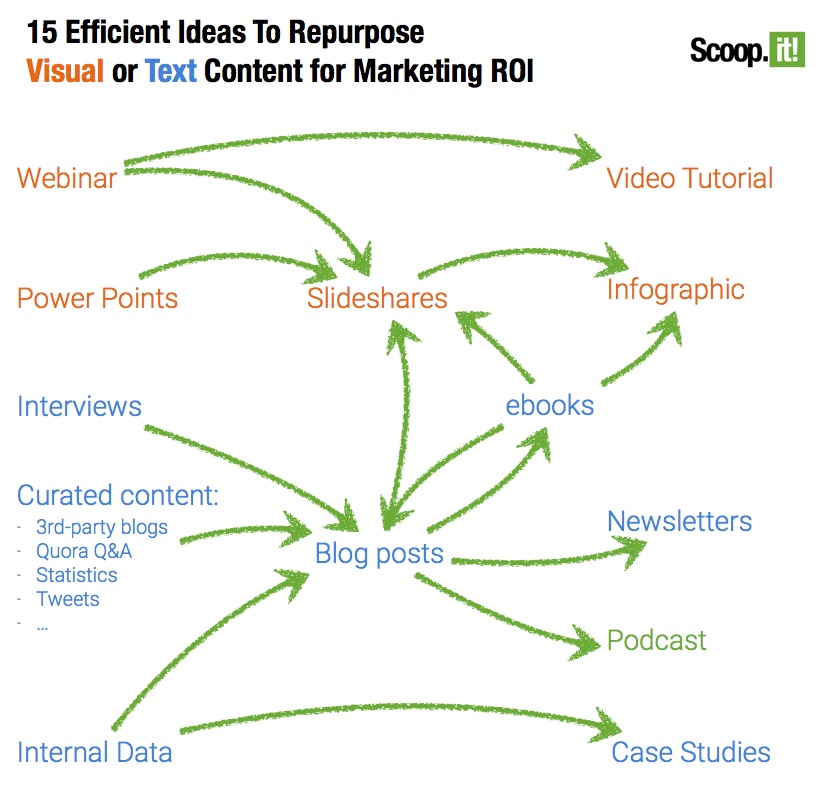 7.  Republish.
This is another way to take existing content and get way more mileage out of it than you otherwise might have. But instead of re-packaging your content into different formats, here you'll take old content, give it a refresh, and then publish it again almost as if it was brand new.
Is this okay? You bet – the updated content is indeed new. It's also almost certainly not getting much attention from your audience (because it had been out of date, and hadn't been promoted recently). So your audience won't mind if you republish it – so long as it's been improved and updated.
We wrote about this technique not so long ago. We also have a blog post about re-publishing content on third-party sites. That works really well, too.
8.  Don't use email for project management.
It's no newsflash if I tell you email is a huge time sink. And while there are plenty of ways to reduce how much time you spend on it, none is quite as good as this one piece of advice: Stop trying to use email for project management.
There are a ton of project management tools that work well for content marketers. Trello will do. Slack is great. Our own Scoop.it Content Director has project management features, too (we needed them to do our own content marketing!).
Whatever you decide to use is up to you, but please – let go of your inbox as a tool for staying on top of complex projects. There are better solutions.
9. Curate
Want to cut your content creation time by 20%, have more authority, and get the same amount of clicks and shares? Then you want to be curatin' some content.
Content curation is the practice of sharing other peoples' content with your audience. You give them credit for their work (of course), and you should always link back to the original source.
It's also important to add a few words about the curated content. Put it in context, for starters. Mention what you like most about it, and why was important enough to share. It's that last step – adding your own take – that makes content curation particularly effective.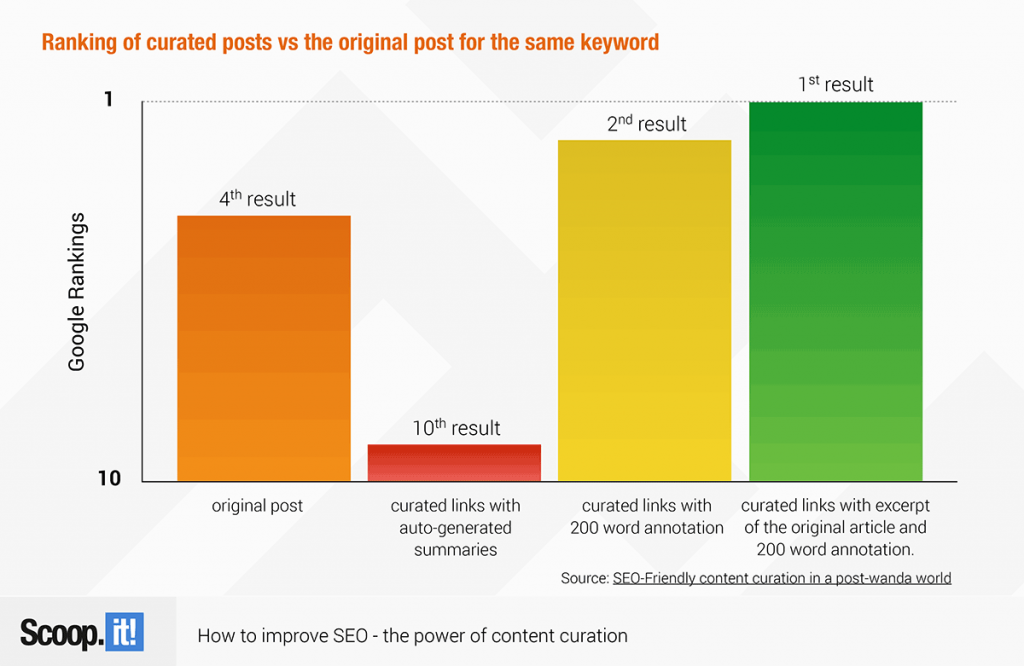 10. Do more of what works and less of what doesn't.
You'll need some tracking software to be able to discern this, of course. Google Analytics is one choice. It's free and extremely flexible. Bit.ly is also good if you want to track links that aren't on your site (like in ebooks, for example).
We are also fond of Content Director. Granted, we might be a little bit biased, but as content marketers, we build it specifically to help us do our jobs. And we worked with dozens of content marketing influencers and dozens more small and medium-sized businesses to develop features, streamline processes, and generally make it super-useful and easy to use. So you can do stuff like sort all your blog posts by how many leads they've generated, and tell in a snap which posts have done best for you.
Conclusion
It's tough to be a solo marketer. No way around it. But that doesn't mean you can't be an effective marketer. Even a lean, mean, content marketing machine. So until you do have the budget – or the authority – to hire more staff for your content marketing goals, it's up to you to use every tool and strategy and best practice available.
Who knows… you might even be able to beat out larger teams.
And if you'd like to know how you can start blogging consistently in 30 minutes a day or less, read our eBook!
Image by Ceziceu