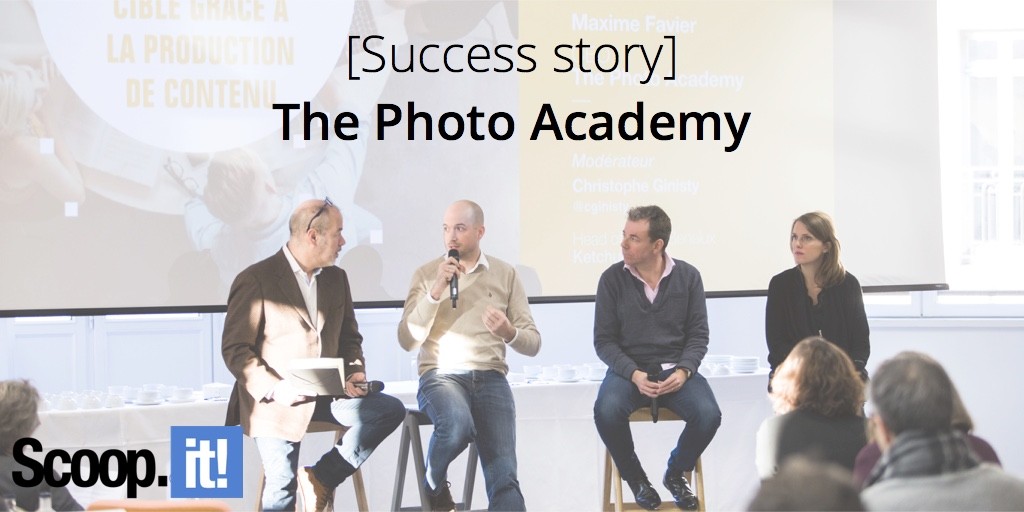 A few weeks ago, we caught up with Thephotoacedemy.com, one of our clients who implemented Scoop.it Content Director last summer. That was the perfect opportunity to have a complete feedback on their use of our content marketing automation software and share that with you. Let's discover this together!
Who is The Photo Academy? Why do they need a content marketing software?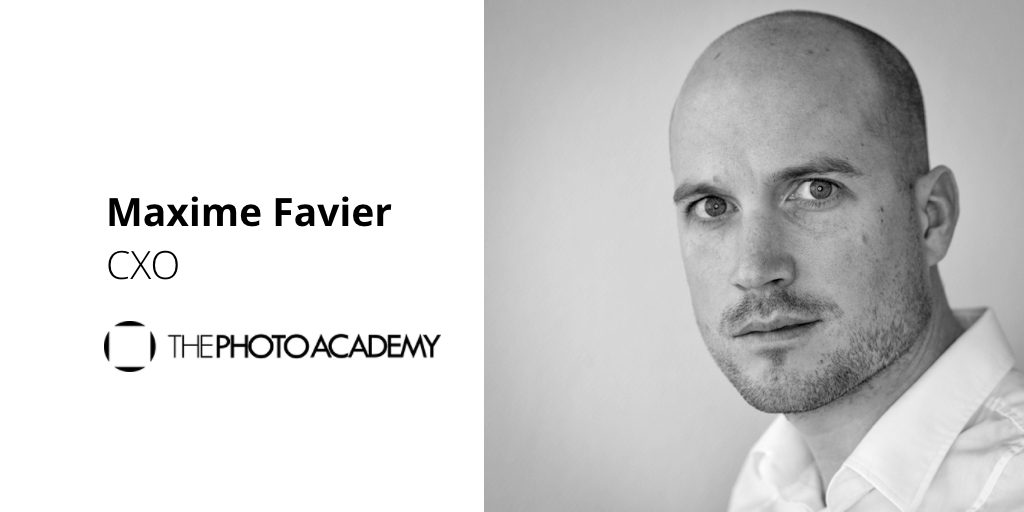 Thephotoacademy.com provides training and photography workshops for non-professional photographers in 9 different countries. That's not all – they also have an online magazine that provides a delightful photography experience, and helps you improve your skills and techniques. But most importantly, it gives you inspirational content through interviews and articles that spotlights worldwide photographers.
Since 2016, we help Maxime Favier and his team on content marketing. Here's are some key metrics on their content operations today but let's rewind and explain how they got to where they are.

First and foremost, The Photo Academy realized that their customers would think twice before starting a photography training. Therefore, to avoid losing them to a competitor's website, the solution was to build a content strategy that would:
Make future clients feel at home. That would accelerate their buying process
Inform the audience on interesting photography techniques
Provide inspirational and high-quality content for photography lovers
Finally generate more revenue on their online store
Here was Maxime's biggest challenge: "How can I create enough content with such a small, busy team?" Plus, we have to consider how essential content creation was for their SEO strategy and for the other reasons we discussed above.
So in the summer of 2016, The Photo Academy decided to implement Scoop.it Content Director to:
"Between September and January, we generated 6.5 x more sessions per day on the blog, by complying with our Smart Calendar publication goals. Thanks to the software, following up became simple – we don't forget to publish anymore!" – Maxime Favier
Manage external contributors (photographers) that use content curation to promote an exhibition, other photographers, techniques etc. This gives the readers a chance to get some inspiration and to improve their skills. To make sure their editorial policy is smooth, The Photo Academy uses content approval workflows before publication and distribution on social media.
"Each contributor is invited to collaborate and is included to the team smoothly. Being an editor is made easy with the overall view on different blogs. That enhances productivity." – Maxime Favier
Analyze the efforts made during the past few months to understand what works and what doesn't, and generate a corresponding optimization processes.
Which outcomes?
A clear traffic increase and noticeable revenue results.
First of all, they overcame the traffic increase challenge – since October, they've published content consistently at constant costs. As a consequence, The Photo Academy blog has shown steady growth.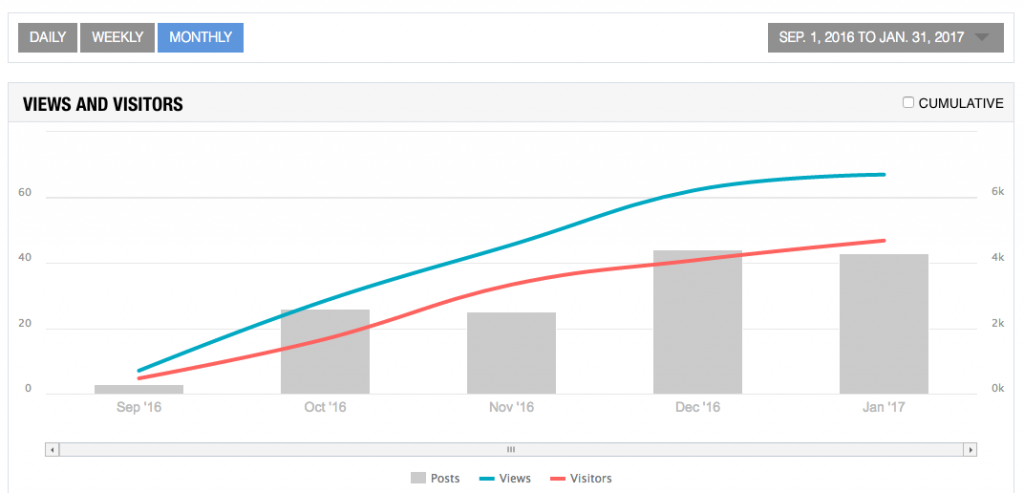 Between October and January, they increased their number of posts by 60% – and in response, their traffic increased by 120%.
About the online store – they compared the traffic coming from the blog and the rest of the traffic. Here's what they found out:
The bounce rate is 33% lower than the average bounce rate on the online store

One session's average duration is 64% higher than average
Following that, Maxime has focused on lead generation by integrating more and more CTAs to his articles. That's a good way for the readers to push their experience further and sign up to the newsletter, or simply get offered relevant training.
Even more exciting – the content efforts from the last several months already show increased profits from the online store! Maxime used Scoop.it Content Director analytics to understand the impact this additional content-related traffic had on their sales. And when performing a ROI calculation, he found that these sales already exceeds the overall of running The Photo Academy's content marketing program. Not a bad payback after approximately 3 months!
MaximeFavier of @ThePhotoAcad is a happy customer of @scoopit : by using more #content he was able to inspire his customers! #marketing

— Partech Ventures (@partechventures) 20 janvier 2017
One last thing that really makes us proud: The Photo Academy loved the quality and the reactivity of Scoop.it's support team when it came to improvement suggestions.
"We love to see the platform improving itself. Like any other good SaaS, Scoop.it listens to its users and adapts itself according to our feedback." – Maxime Favier
I'd like, on behalf of the whole Scoop.it team, thank Maxime and his team for trusting us and giving us such a complete feedback on the way they used our software! And if you're looking to become a become a better photographer… or simply want to check awesome content on that topic, we encourage you to check out Thephotoacademy.com.
Want to work smarter and start generating real results from your content marketing too? Find out how to use the new Scoop.it Content Director to help you become a smarter marketer!
Image by Alice Dardun