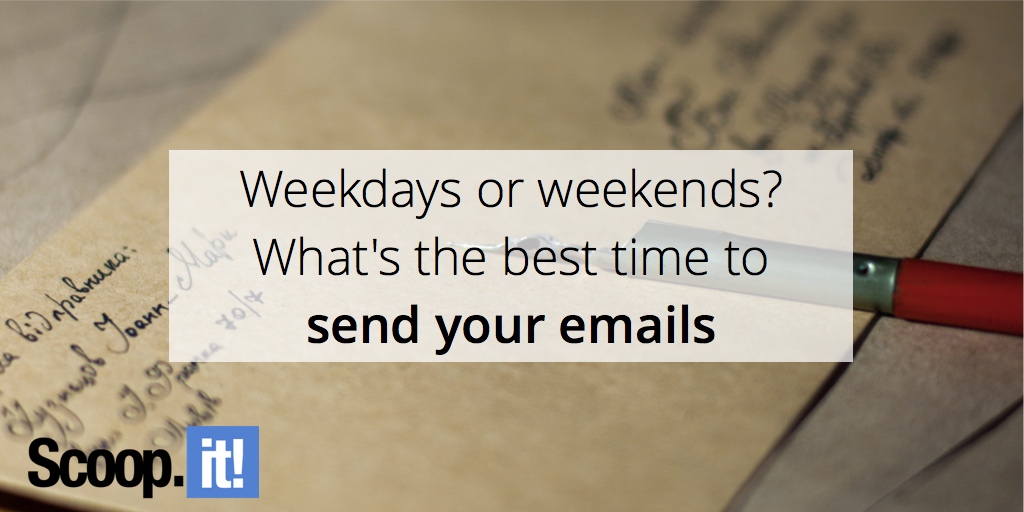 Just like 'timing is important' in comedy so is it in email marketing.
The email send time is one of the most important things to consider if you wish to get your emails opened. And the perfect combination of sending at the right time to the right consumer in the right frame of mind is what lies behind the success of any email marketing strategy.
Why it's so important? Well, if you send an email at the wrong time (when subscriber is busy or does not prefer to see emails from you at a particular time), it may get lost in the cluttered inbox, thus diminishing the probability of getting opened (the risk of getting unsubscribed too cannot be ruled out).  
So, let's come to the point. What should be the ideal time to send your emails? Is there any particular day be it a weekday or weekend that will guarantee opens and clicks?
Well, the fact is that there cannot be a fixed day or time and A/B testing is certainly the best way to get around this dilemma because the email list of every business comprises of people with different behaviors. Hence, the send time that is close to ideal for a particular marketer may not be as good for another; this may also vary from industry to industry. Moreover, for an industry that is affected by seasonal changes, like the travel industry, the send time may even change as per the time of the year. 
You thus need to keep experimenting in order to find that soft spot in the week.  
But you ought to have some starting point. This blog could be yours.
Delving into the day dilemma
Hubspot conducted a study to analyze the number of emails opened on each day of the week. Look what they found: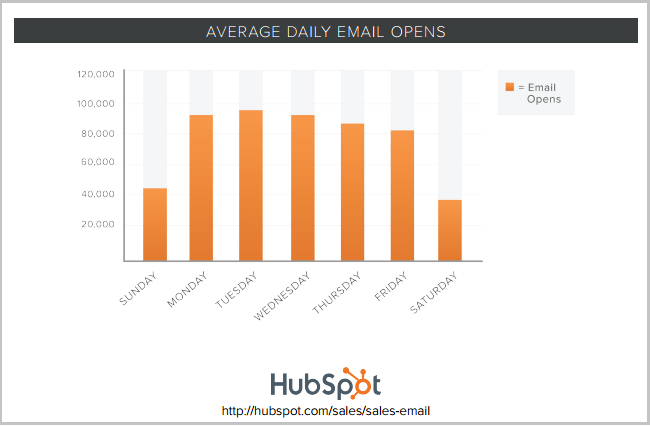 The results reveal that Monday, Tuesday, and Wednesday get the maximum volume of email opens. Tuesday, with 20% more opens than average, ranks number one followed by Monday and Wednesday with 18% more opens than average.
Thus, if you are seeking the best day to send your emails so that they are opened, you can opt for Tuesday at around 11 AM. Although the open rate on other days may differ, Coschedule agrees on Tuesday getting the highest opens.
Your informative/educational emails will be well received on weekdays. Then what about weekends?
Wading through the weekends
As you can see in the graph above, email open rates fall substantially during the weekend, the lowest being on Saturday. And that's quite obvious as people, after working all week, prefer to spend more time with family and less time online.  
But you will be surprised to know that highest click-through rate occurs over the weekend! With lesser emails cluttering their inbox, subscribers may actually open your emails and even click-through. Moreover, if you are providing valuable content, the day of the week might not really matter as much; so don't ignore the weekend.  
A study by Harland Clarke states that out of the 26.9% of emails sent on Wednesdays, only 15.6% were viewed by subscribers. On the other hand, on Saturday, when only 5.5% of emails were sent, 32.5% of them were viewed!
Sometimes, going against the flow can actually work in your favor.  
Hold on, it doesn't work for one and all. It depends on your industry and what kind of content you are planning to send.
Check out this data found by Mailchimp. It will give you a good idea about who should try the weekend window and who should not.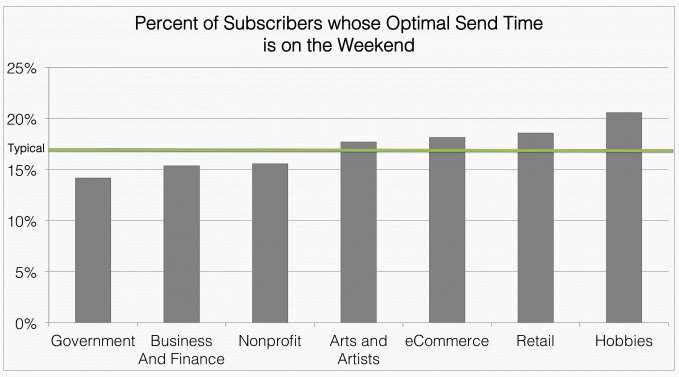 While business content may have lesser chances of getting read on weekends, recreational content certainly gets a better response. However, although this might be a bird's eye view of what happens to your emails on weekends, don't forget that it does not beat the weekday record.
A peek into factors that dominate your send time
There are two things you need to consider before you set a time for sending your emails. Let's check out these factors:
1. Who you are
It all begins with who you are. The kind of industry you belong to plays an important role in deciding whether you should email on weekdays or the weekend. It is advisable that B2B companies should stick to weekdays, to begin with. E-commerce companies and brands can email on weekends when subscribers are in a mood to shop.  
2. When are your subscribers active
Figuring out when your subscribers are active during the week is essential. Do they check your emails on weekdays (which day?) or weekend? Start sending emails on days when the engagement level is highest. Another way is to ask your subscribers when they prefer to receive emails from you. This is a great way to make sure your subscribers open and read your emails as they themselves have opted for a particular time.  Your welcome email or welcome series can ask for their choice.  
Parting thoughts…
The only way to know the ideal days to send emails is to hold A/B tests and find out what works best for your list because even on your list, there may be subscribers who love the weekday emails and others who love to read them on weekends. Segmentation will help you here.
The 'mid-week and mid-day' rule is perfect, to begin with but from there on, after analyzing the results, you should be in a better position to come up with what you are looking for- the ideal email send time for you.  
P.S: Timing is important but not the ultimate truth. So, don't you forget to create beautifully designed and perfectly coded emails.
And if you need help choosing the best software to skyrocket your content marketing results for 2017, download our free guide with over 44 tools reviewed!
Image by John-Mark Smith