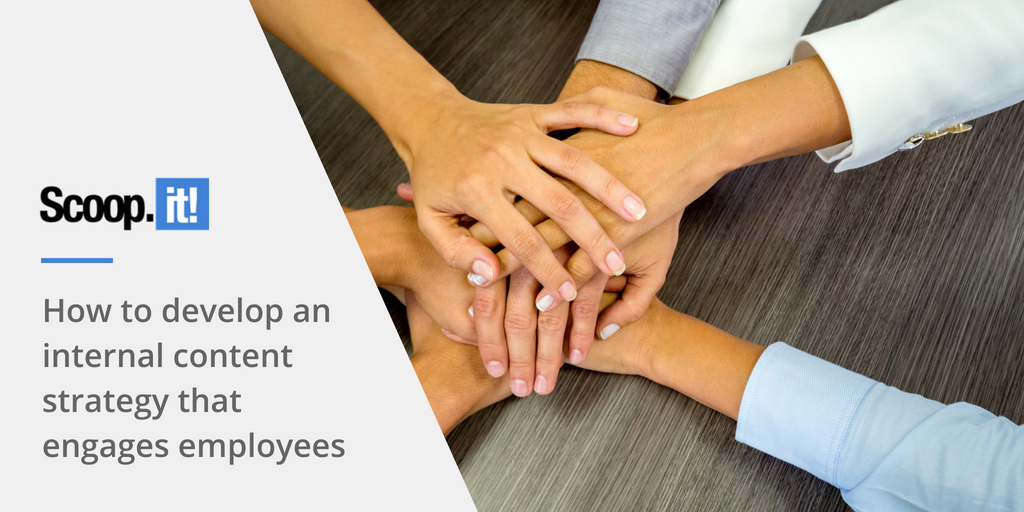 When you think about content, in terms of business, what sort of mediums and strategies come to mind? If you're like most, your focus immediately shifts towards content marketing – things like blog posts, press releases, social media, and landing page optimization. But content isn't always outwardly facing.
There's a time and place for having an internal content strategy and your company shouldn't ignore the role it could play in pushing your business forward.
What is an Internal Content Strategy?
The goal of an internal content strategy is to keep everyone in the organization on the same page. It's about making your team feel noticed, understood, and cared for. It's about engaging the people that matter most and supplying them with the support, understanding, and autonomy they need to successfully play the role you've hired them to fulfill.
Practically speaking, an internal content strategy involves creating and disseminating content to employees, staff, board members, and other internal stakeholder so that everyone is informed, engaged, and on the same page.
Most companies don't have a formal internal content strategy, which is their loss. But by taking the time to develop a concrete strategy with documented objectives and actionable steps, you're able to move with purpose and clarity.
Your internal content strategy won't be nearly as detailed and intricate as your external content marketing strategy, but that doesn't mean it lacks importance or value. Your employees are the individuals who allow your business to succeed. Support them with the right content at the right time and they'll serve you well.
Different Types of Internal Content
When first introduced to the idea of an internal content strategy, many businesses are unclear of how to get started. While we'll discuss some tips for success in the next section, let's begin by exploring a few of the different types of internal content that exist.
Internal newsletters. By far the most commonly used content medium, internal newsletters are a great way to circulate information to employees and internal stakeholders with ease and consistency. Most internal newsletters are disseminated via email, though there are some companies that still use print newsletters.
Employee message boards. As an employee, it's helpful to know that you're understood. Employee message boards – whether hosted on an intranet or built into another platform – are great for posting updates, starting conversations, and allowing employees to interact with one another (even across multiple locations).
Social media groups. Social media platforms like Facebook and LinkedIn are great for bringing people together and facilitating smooth interactions. While social media is traditionally used as an outward-facing marketing medium, it can also be used to host internal social media groups where you share targeted content.
Employee blogs. Similar to an employee newsletter, you may have an internal blog where you allow employees to write and publish blogs that are only visible to other individuals within the company.
Some companies get really creative and include other unique types of content in their internal strategies, but these are a few of the most common. Use them as a starting point and feel free to expand into new territory once you get in a groove.
4 Tips for a Successful Internal Content Strategy
Every internal content strategy looks different, but if you want to see results, the following tips will prove helpful. Take a look:
1. Establish a Content Hub
For large organizations with lots of locations and branches, a content hub is an effective option for systematically organizing, archiving, and disseminating content to as many internal stakeholders as possible.
GE recently provided a good example of what a content hub is supposed to look like. In fact, their "My GE" platform won PR Week's 2016 Internal Communications Campaign of the Year award. It received more than 65,000 hits and 50 percent of users were repeat visitors.
2. Address Topics That Matter
It's not enough to publish internal content about business policies and customer success stories. While these are interesting and helpful, there's something to be said for digging deeper and addressing issues that are pertinent to your employees as individuals.
For example, drug and alcohol addiction is common in the workplace. An internal strategy that acknowledges this and develops content to help these individuals (who are mostly silent) can produce huge returns.
Or perhaps your employees are struggling with a way to find work-life balance. Content that directly addresses this issue will be well received. Not only will it help employees strike a better balance, but it also shows them that the company understands and cares about what they're going through.
3. Encourage Content Creation
In order for an internal content strategy to be well received, it needs to involve everyone. It can't just include the executives and managers in the organization. Employees from all levels of the company should be encouraged to create content. This provides a sense of community involvement and authenticity that can't be matched when only select few are in charge.
Not only should you reach out to different people in the organization with direct requests for content, but it's also nice to have an email address or submission form where employees can submit content whenever they feel led to.
4. Make it Interactive
There's so much content saturation on the web these days that it's easy for a blog post or press release to go undetected. If your content is fairly straightforward and informative, you probably aren't doing a good job of engaging employees and maximizing your efforts.
One way to really draw employees into your internal content strategy is to develop interactive content. This includes things like videos, polls, quizzes, games, and live Q&A's.
Putting it All Together
When you care for your team, you'll find that they execute on your behalf.
An internal content strategy is all about empowering your employees and ensuring key stakeholders are all on the same page so that they can engage customers and perform to the best of their abilities.
Are you doing what it takes to empower your team?