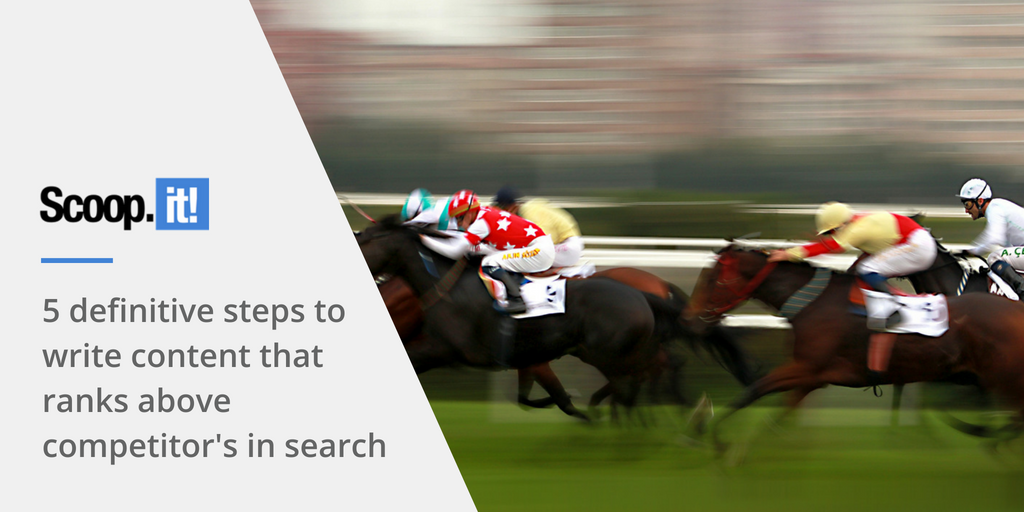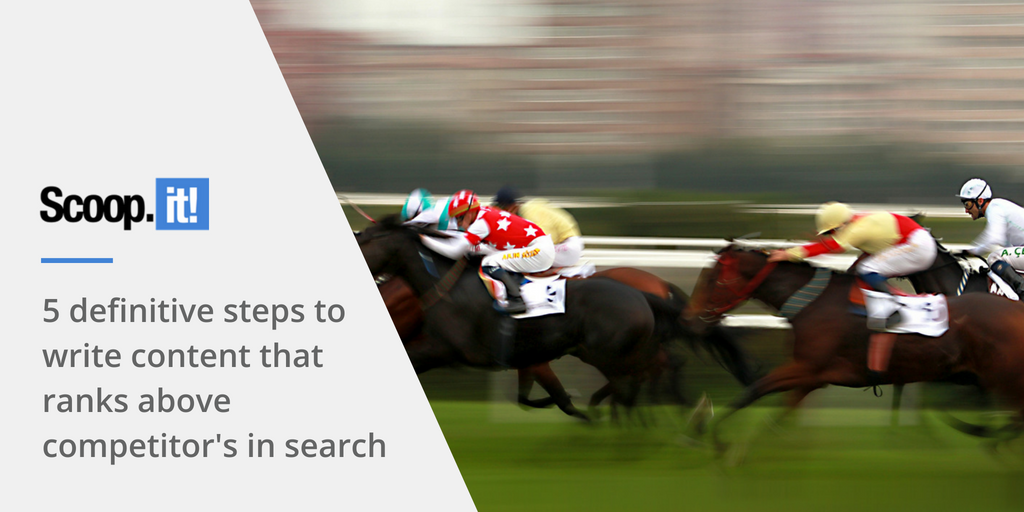 To grow your website, you basically need to focus on two things:
You need to produce content that engages and excites your visitors.
You need to drive enough traffic to your website.
Ideally, once those two things are in place, your ideal customers will discover your website, possibly bookmark it, link to it and further refer their friends and fans to your web pages.
That said, here's the difficult (but achievable) part: For you to generate a lot of traffic, you need more than average content.
If your competitors are dominating the search engine results for your target keywords, then you have to create a more compelling content in order to outsmart them. There's no shortcut!
There's no arguing the fact that search engine is, and will always remain the best source of traffic any website can get.
According to Google, "about 90% of Millennials go online on a daily basis, and 55% of them uses search engines to learn more about a product before buying it: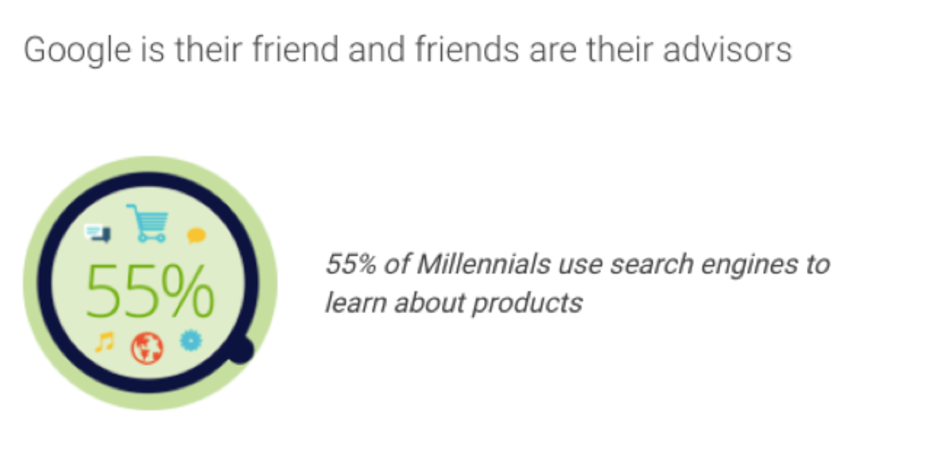 So what's the easiest way to beat your competitors in the search engine results pages and drive a large amount of traffic to your website?
The answer is pretty simple:
Content marketing plan
In the concept of SEO, content marketing plan is a system you put in place that helps you identify opportunities, develop compelling content, and engage your target audience in a way that your competitors haven't considered.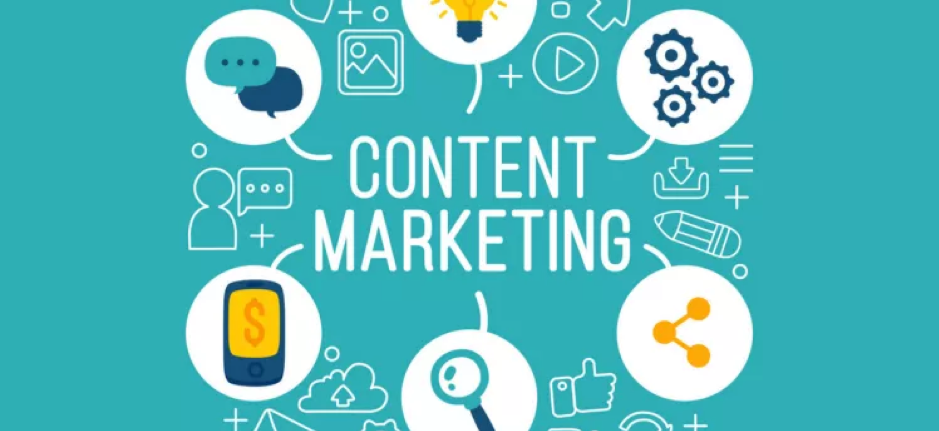 Acquire.io, a SaaS company developed a plan that grew their search traffic by 3X in 4 months.
The top digital companies know that an effective content marketing plan is one of the secrets to outranking their competitors in the organic listings. I'm sure you know what happens when you take the first position in Google.
A study by Protofuse found that "organic listings receive 90% of clicks, and the #1 organic result gets about 33% of the entire clicks."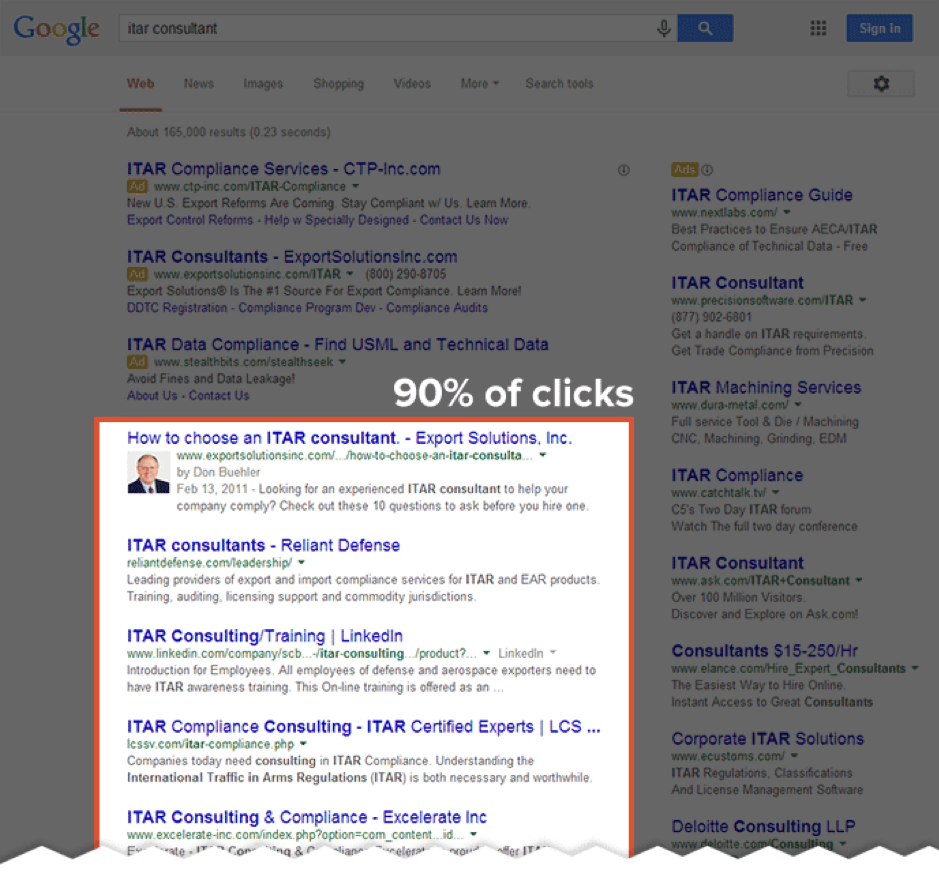 According to Forbes, competition is a good thing. If you have lots of competitors in the search engine, it's an indication that the keyword in question has the potential of generating a lot of leads and money.
When you understand how to create compelling content that's proven to rank in search, and you take deliberate steps to get the word out, you're on your way to winning over your competitors.
Once you're able to implement it, you'll experience a boost in search rankings and organic traffic.
Your conversion rate will equally snowball because, according to Conductor, search traffic is proven to have the highest Lead-2-Customer conversion rate of all channels: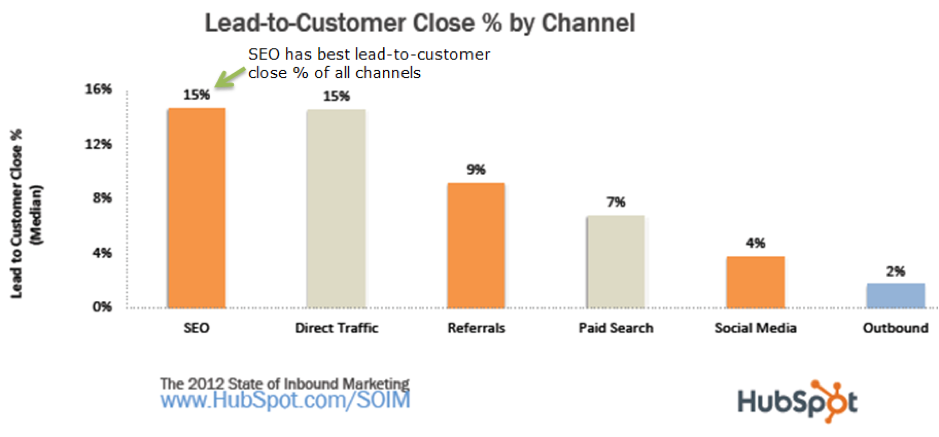 With that out of the way, how do you create content that will push your competitor's pages further down the search results? Let's find out:
1. Find a topic that aligns with your marketing goals
Before you begin creating your content, the first step is to ensure that the topic you pick perfectly aligns with your overall marketing goal and objective. You want to create content that informs, educates, and meet the needs of your ideal customer.
So how do you achieve that?
Simply stalk your competitors' blogs for insights, ideas, and inspiration, and monitor their tactics. The best way to do this is to analyze which topics they write about consistently and examine how their content is structured. This will give you an overall idea of the content framework they're using.
There are so many ways to go about this, but one of my favorites is to visit Questions and Answer sites like Quora and check what questions people are asking in your niche. This way you'll get to see how to tailor your own content to a specific problem.
So assuming I have a blog in the "hair loss treatment" niche. I'll visit Quora and perform a search for any word or group of words related to hair loss. So assuming I search for "how to treat hair loss," I'll see the results below:
Here, you'll see several results related to what you're looking for. You can then look at all of them and pick a topic that's very relevant to your goal. For example, in my case, I could go for the first question on this page "what is the best treatment for hair loss."
You can also filter the result by questions, answers, posts, blogs, and topics:

Furthermore, another great tactic is to check the "related questions" section on Quora, you might be able to pick a few more topics to write about here.
You'll also notice that Quora generates more suggestions for you while you're performing the search. Now, that is another goldmine of information: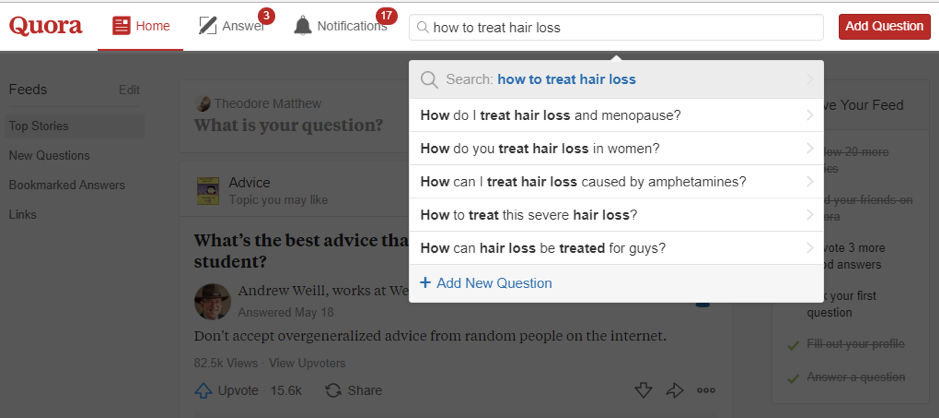 So by now, I assume that we've already chosen a topic to create an article on which is "what is the best treatment for hair loss," and that takes us to the second step.
2. Research the topic
So now, you've picked a great topic to write about but you're not a professional in that topic. Well, that's not a big problem.
You can always research the topic. This is because if you do it the right way, you can create an excellent content that'll be appealing to both the search engines and your readers.
So dig deeper into the search engine to further learn about the topic.
Simply enter the 'question' into Google and let the search engine do its thing.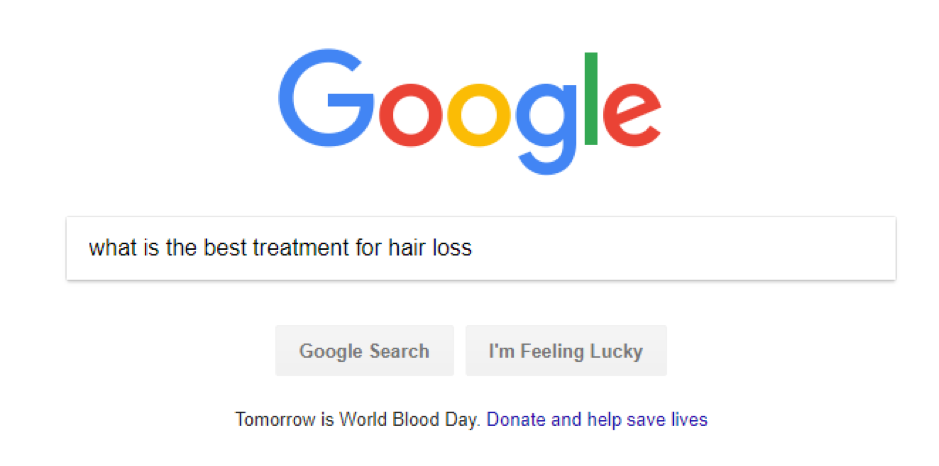 In some cases, you'll first come across Google's Snippet which is usually a How-to-article. One major advantage of this type of article is that they are often easy to scrutinize.
Now, make a list of content that performed well which you'll analyze later.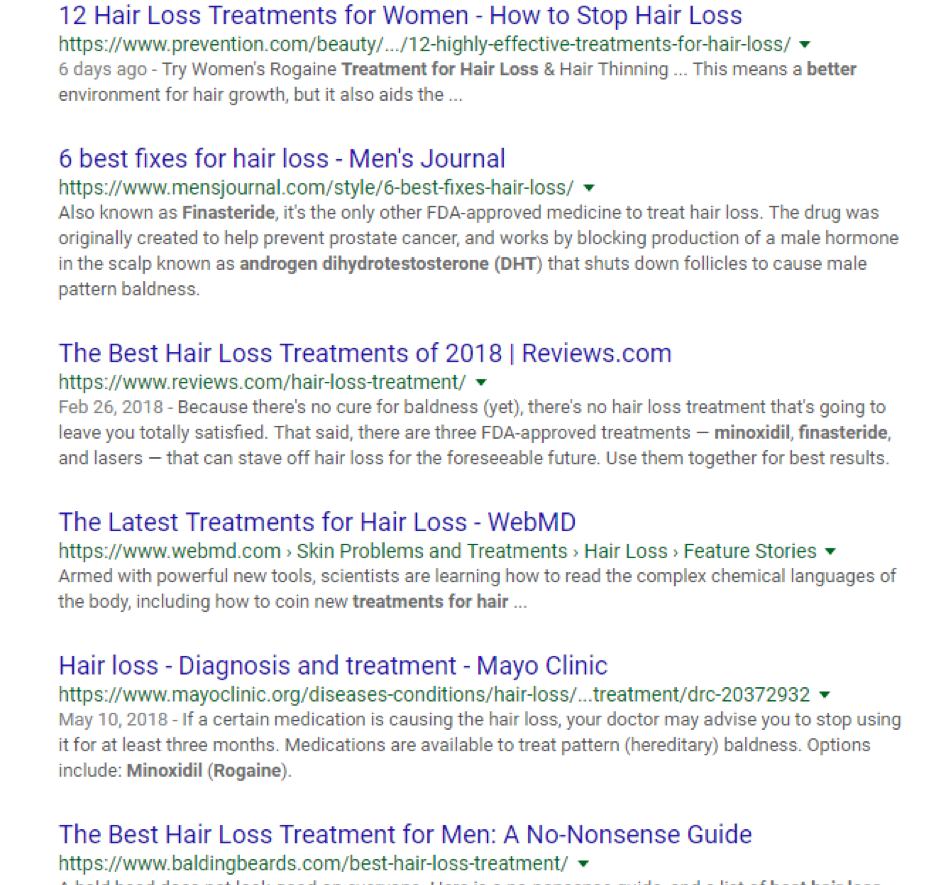 Google may also show you other related questions that searchers are searching for. These questions are some of the existing problems people are trying to solve.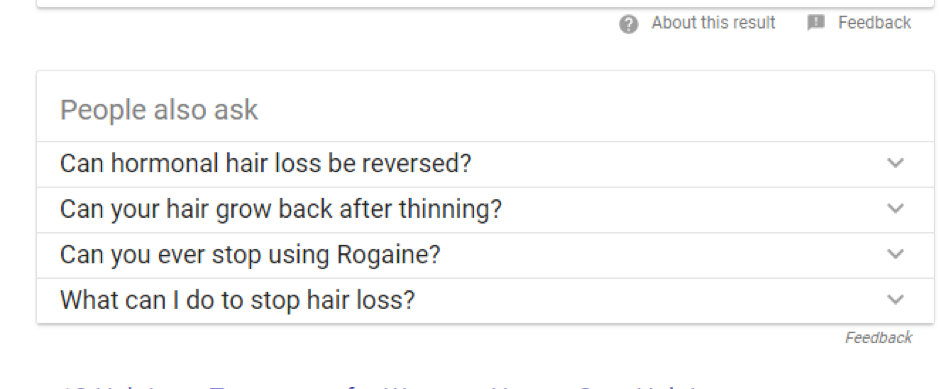 3. Produce more compelling and in-depth content
Long form content is the way to go. A lot of SEO experts claim it's the new form of content marketing. Which I bet to agree!
Several studies have proven that long content (up to 2,000 words) always outperform short content (e.g., 500 – 1,000 words).
A few years ago, the guys at serpIQ carried out a study and found that long-form content dominates the search engine's top organic results: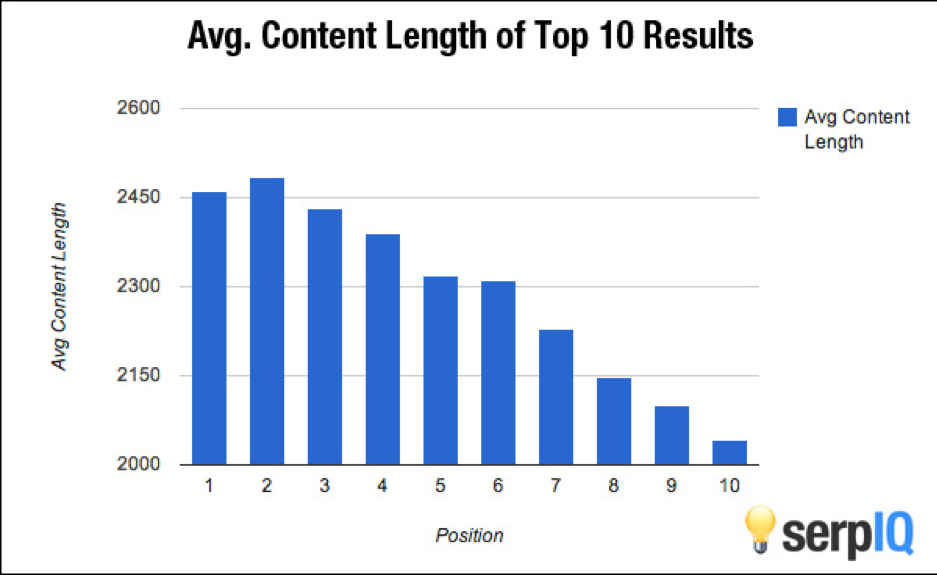 Out of about 20,000+ keywords, the average number of words for the top search results was about 2,416 words. Additionally, the 10th position had an average word count of about 2,032 words.
Notice that it's not 500, 700, or even 1,000 words.
Hint: If you want your content to rank higher in the search engine, it needs to be 2,000 words or more.
That's not all, you'll probably get more social shares by going this path as well: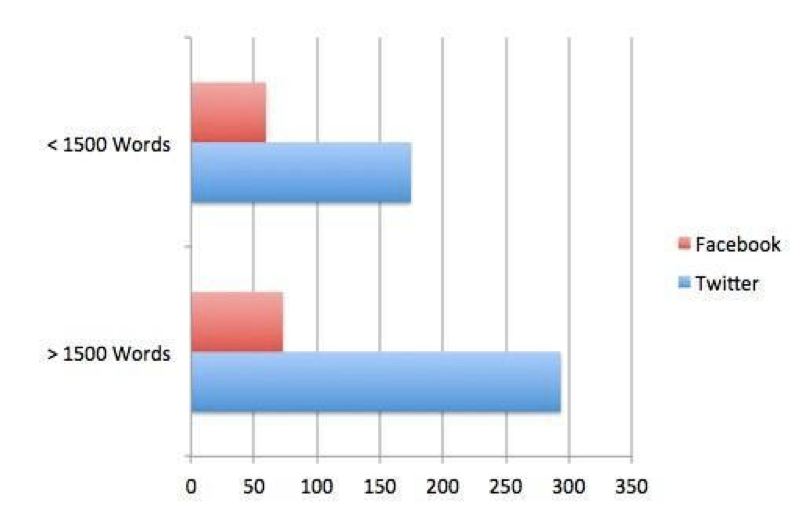 The graph above clearly indicates that content exceeding 1,500 words has a good chance of generating more social media shares, especially on Twitter.
Therefore, if the majority of your competitor's content is shorter, creating longer, more in-depth content can put you well on your way to beating them in the SERPs.
If you can truly create something incredibly useful on a specific topic, thereby blowing competition's poor quality content out of the water, this is certainly going to work in your favor.
However, you want to ensure you're genuinely adding real value and not just piling up filler on your page.
ZipBooks, an accounting software company uses long-form content to drive leads at the top of the funnel — and they have since improved their search rankings by well over 393% between 2017 and Q1 of 2018.
4. Study Your Competitors
There's basically no secret to SEO. If you want to rank in the search results, you have to know what's working and do more of it, even better.
Now, the next step is to study your competitors; find their top-performing pages.
For example, you'll want to figure out:
What keyword(s) they're ranking for
Where they're getting their backlinks from
Which anchor texts they're using
The types of content they're posting (reviews, informational, graphics, videos, etc)
Their link profile
Proper use of title tags (H1, H2, H3, etc.)
So how can you gather this information?
I recommend using an SEO analysis tool such as SEMRush.
Just copy and paste the URL you want to analyze, and this tool will generate a bunch of useful data which you can use to carefully analyze the competition.
More specifically, they will provide answers to some of the important metrics I mentioned above: Keywords, Backlinks, Types of content, etc.

From the screenshot above, you'll see that the content has a total of 5 backlinks from 3 referring domains. If you play your card well, you might eventually beat this site in the search engine.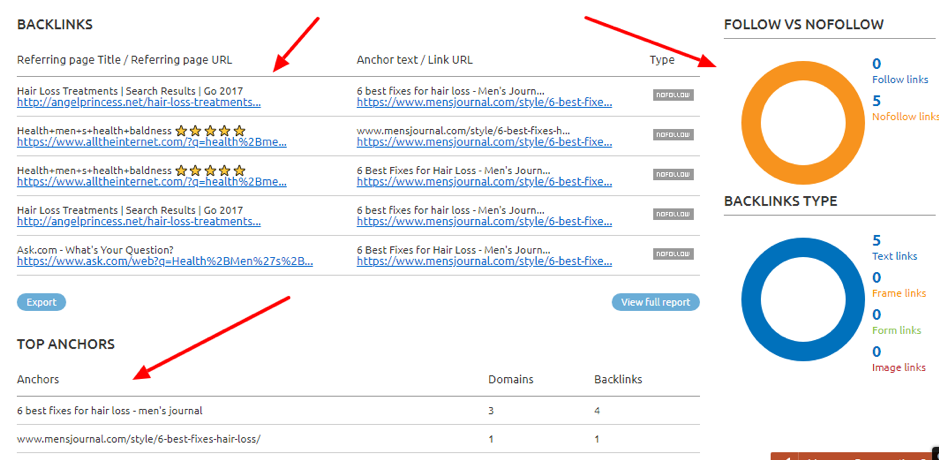 Scrolling down the page, you'll also see their backlink sources as well as the link anchor texts. Notice also that the 5 links are all nofollowed, and I think that's a good sign.
Finally, I'd suggest you perform this same search for all the content on Google's first page for your chosen topic, so you'll know how best to position yourself while creating your own content.
5. Apply the Skyscraper Technique
I bet you're already familiar with the Skyscraper Technique. It's a proven content marketing approach, which was coined by Brian Dean, founder of Backlinko.
This is the exact same content creation strategy that helped Brian boost his organic traffic by 110% in just 14 days. That's totally insane!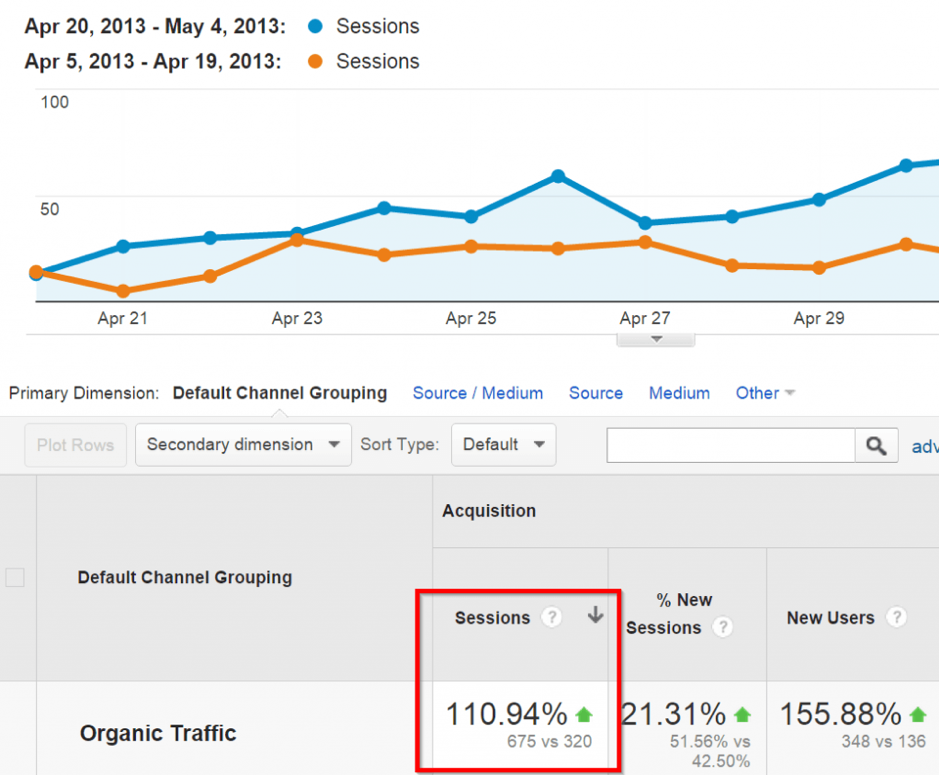 In its basic form, here's the Skyscraper Technique process:
Discover some piece of link-worthy and relevant content
Create an even better content than the original oneorgani
Contact the right people to promote it
Trust me, this content marketing tactic works. A lot of people have used it to generate a lot of traffic to their websites in the past.
However, the truth is that if you're still a beginner or your blog has no form of authority, you'll likely find it pretty hard to rank for any specific keyword – regardless of the height of your "skyscraper."
Bear in mind that your competitors may have equally figured out this marketing tactic — and they could create a more valuable content than yours and attract more search visitors as a result.
Hence, your "domain authority" is the only thing that would make the key difference in results between you and the competition.
Therefore, while I urge you to search for a link-worthy piece of content that you can improve, you should equally work on boosting your domain authority. It's that important!
According to the SiegeMedia:
"If you're just starting and competing against Business Insider, CNN, and The New York Times, getting 40 backlinks to a single page won't be enough. You'll require more combined authority in order to outperform them, even if their pages don't pile up to yours."
Conclusion
Creating compelling content is difficult. It's going to be boring and uninspiring, especially if your niche isn't an interesting one.
It's no longer about publishing a lot of content, it's about creating a memorable user experience when they arrive on your website.
Spy on your competitors, learn from them and use the insights gained to improve your own content, page designs, and usability — thus improving your search traffic and ranking in no time.