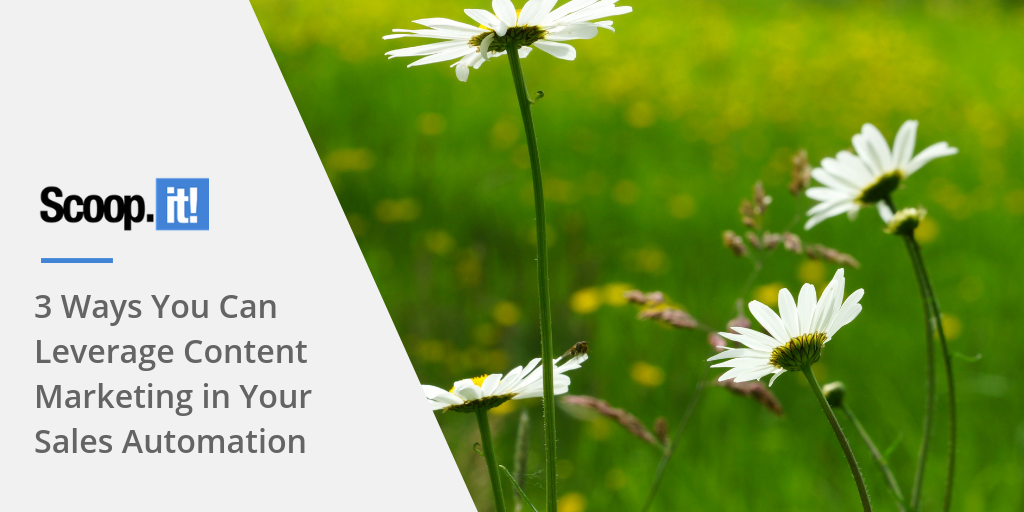 If you've spent any time reading digital marketing blogs in the past few years, you have probably heard the buzzwords "content marketing" and "sales automation" mentioned.
What you may not have heard was how to combine the two sales and marketing approaches to really hit a home run with your prospects and customers.
Before we discuss combining content marketing and sales automation, let us look a little closer at these two digital marketing approaches.
Content Marketing: The Present and Future of Marketing
The roots of content marketing have been around since before the Internet – with what is now called the "advertorial." That is when a company writes an article and pays to place it in a newspaper or magazine. Companies have also produced radio programs and TV shows in the past as well.
Content marketing as it is typically used today is the Internet version of the advertorial. However, it may or may not be a paid article placed in an online newspaper or magazine. Content marketing is any sort of "content," such as articles, blogs, podcasts, videos, and social media that is designed to drive traffic or generate brand awareness for a product or company.
A company may, for example, put a number of blog posts on its website that is topically relevant to their target customer personas and their product or service.
Other ways to utilize content marketing include writing articles for other websites, creating ebooks to share with customers, developing a sequence of emails, and airing podcasts.  Companies may also do content marketing by producing an entertaining video and placing it up on YouTube, and then promoting that video on social media sites such as Twitter or Facebook. The video may not sell anything directly, but if it becomes popular, it promotes the brand.
Why Content Marketing Works
While content marketing has changed over the years, it continues to be a powerful marketing strategy. 91% of businesses use content marketing and 84% of consumers expect brands to create content around their offerings.
Creating and distributing that content can be expensive and time consuming for marketing and sales teams. For example, writing specific and detailed content to every prospective client persona can take a significant amount of time, but at the same time a single email newsletter may not address every prospect's need.
Fortunately, sales automation can help companies leverage their content marketing, getting powerful and helpful information in front of the right people while using a fraction of the amount of time.
Sales Automation: The Future of Sales and Marketing
Sales automation is also a broad term that refers to any sort of technology that helps facilitate the sales cycle. In digital marketing, this is most commonly done through email automation, which enables sales representatives and account managers to more easily follow up with leads and clients.
Email automation runs the gamut, from autoresponders to the modern equivalent of the mail merge with a CRM such as Salesforce.
How to Combine Content Marketing and Sales Automation
Combining both content marketing and sales automation can potentially be quite powerful for sales people as they can market at scale while still offering personalization automatically.
Sales teams can automate content marketing during the sales process. They can do this by taking existing content, perhaps content already written for the company blog, and deliver this to potential clients who have expressed interest in learning more information.
1. Email Rules & Sequences
A powerful email platform can help deliver the right content to the right people. For example, email sequences can be built that share your product's various benefits and how they work in a specific industry over the course of a few emails.  Then, rules can be built to determine what content might be delivered at which times to a prospect.
Tools like, Mixmax use rules to deliver content based on where the prospect is in the sales cycle or based on what industry the contact has been labeled with in a CRM. Then, the emails will automatically send in order and speak directly to that potential customer's needs.
Email sequences can also be set up for several different industries so the sales team can create various assets that are then reused, so that everything is available at a salesperson's fingertips.
2. Social Media Integration
Another neat way to utilize content marketing with sales emails is to embed live Twitter feeds into an email. Tools like Litmus allow you to code this functionality directly into an email with a drag and drop interface. This is a great way to leverage existing content marketing initiatives and repackage them to directly reach your targeted audience.
You can build templates that pull in the latest few tweets and send them out as a newsletter. This will help pull the most recent marketing content into your emails with a single click and help demonstrate how your company stays up to date on industry information.
3. Emails Based on Actions
In addition to emailing based on certain characteristics, such as industry, smart email software will also allow your team to email automatically based on actions, like opening emails, or responding. Email automation tools like Campaign Monitor can integrate with your Salesforce CRM or Shopify eCommerce platform to dynamically send emails based on triggers.
For example, if your prospective customer has opened the last three emails, you may assume they are now aware of your product and moving into the evaluation stage of their decision. It might be a helpful time to send an email with pricing options or a case study. These emails can be created in advance and sent automatically using email automation.
Content Marketing Plus Email Helps Sales
Content marketing is here to stay and combining it with email can make a huge difference with your sales. Customers never tire of fresh, fascinating content – provided it is personalized for their needs. By delivering timely content directly to your prospects and customers, you can generate goodwill as well as interest in your product or service.
Go a step further: By combining content marketing and sales automation, you can be a sales powerhouse.