The growth of each company depends on two essential groups: its employees and its customers.
More often than not, companies put a lot of emphasis on the customer part. It's reasonable: successful marketing can grow your company for years to come.
However, if your employees aren't engaged and committed to that growth, even the best marketing plan won't help. It's thanks to dedicated employees who genuinely care about your company's future that you'll see true success.
When you think about it, marketing and human resources departments aren't that different in their focus:
First, great marketing focuses on customer experience, and great HR focuses on employee experience.
And secondly, successful marketing doesn't just work on acquiring new customers, but retaining them for a long time. When you apply that to successful HR, it isn't just about attracting the best talent, but about keeping them with you and helping them grow as your company grows.
The majority of employers—87% of them—said that improving retention is a critical priority for their organization.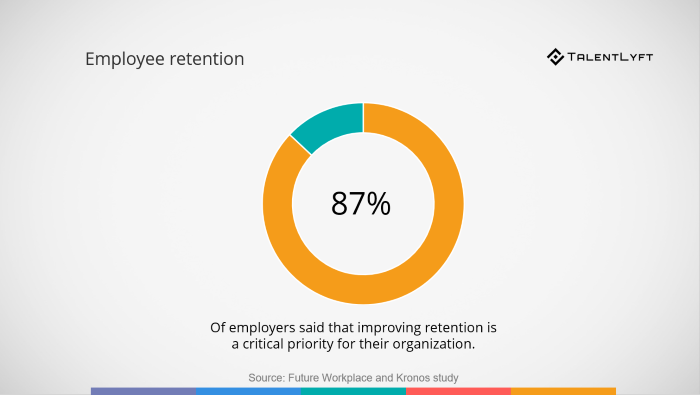 This seems like a challenging mission to take on—and rightfully so. Employee happiness isn't a one-and-done process; instead, it's something you work on and refine consistently.
In this guide, we'll show you how the content you create and curate can help with your employee engagement, reduce employee turnover, and create a sense of belonging for your employees.
Take your onboarding to the next level with content
As much as 69% of employees are likely to stay with a company if they experience great onboarding. The issue? Only 12% of employees say their organization does a great joy in the onboarding process.
Big part of onboarding are processes like getting acknowledged with the systems and structures of the new role. Tools, logins, communication systems, the approach to meetings, and more. All of these are useful (and necessary!), but they don't provide your new employee with the complete experience.
The technical setup helps you tick the important boxes, but taking onboarding a step further will help you improve engagement, satisfaction, productivity, and retention.
This is possible thanks to content.
By creating and curating content about your industry, company, customers, and overall market and your position in it, you can share:
Core values of your company

Your most important milestones and achievements as a business

Your company's goals and current path based on the market specifics, trends, and patterns

Successes of your employees and their impact on the company

Stories from your customers and how your product or service created a positive change for them

Most relevant studies, research, and thought leadership that helps your company make important decisions
Think back to your most recent job and how you felt when you just started—there was likely an element of overwhelm and catching up you felt you needed to do. Everyone that was there was already so well versed.
Giving access to content that covers the above bullet points can help your new hires bridge this gap fast. They will feel inspired to do their work based on what matters most to your company, and they'll know they'll be recognized and acknowledged for it. Win-win!
Make it easy to share knowledge and contribute to the company's market intelligence
Here's the thing: knowledge is no longer in the hands of experts. It's everywhere.
When you think about it more, companies grow not because of the talent and skills of a few individuals, but because of the collective capabilities and intelligence of its employees. Their focus on innovation and value compounds and moves the company forward.
However, the bigger your company gets, the more likely it is your teams and departments will get siloed. They'll end up in their own bubbles and work without the context of other important contributors in the company.
One report showed that 74% of employees feel they are missing out on company information and news. Furthermore, more informed employees outperform their peers by 77%. In other words, if you enable your employees to share knowledge across the company, it will lift them up in more ways than you thought.
Employee empowerment is another big component of this process:
Seven in 10 employees

 rank empowerment as an important element of their engagement

Employees are 26% more satisfied

 with their work when they hold a position of power

In one study

, highly empowered employees showed engagement levels in the 79th percentile (compared to disempowered workers rated in the 24th percentile for engagement)
What's the role of content here? Sharing content is the simple yet powerful way to deliver new data, insights, guidance, and industry thought leadership to other team members or company departments, or even the entire company.
It works by creating a safe space to share knowledge privately and communicating the purpose of this space to your employees, as well as asking for feedback and suggestions.
This space can then enable your employees to:
Add knowledge, like blog posts, videos, ebooks, research papers, and more into a relevant category on your knowledge-sharing platform

Search for the relevant content using categories, tags, and/or a search function

Adapt to changes in the industry and make informed business decision

Get more involved at participating in important discussions
By doing this, your employees will feel like the power to impact the collective knowledge and influence in your industry is in their hands.
Build employee collaboration with content
Let's build upon the previous point.
Sharing content to fuel teammates and other company departments is valuable, but you can take it up a notch by adding a community element to it.
In other words, getting everyone actively involved is key.
Corporate knowledge sharing has a reputation of being a job and the responsibility of specific few people in the company. This might be a marketer or an analyst.
While setting up and organizing the system that will make sharing easy (like Scoop.it) will likely be the job for one person or team, submitting content to it is best done when done by everyone.
The reason? Your employees will start seeing how their effort helps other people do their jobs better, which in turn puts your company at a better place, day after day. Furthermore, when you add the collaboration element to it, you create a reliable space for people to come to for thoughts, feedback, and advice.
For example, let's say you're a real estate agency, and one of your agents is looking for latest insights on real estate market predictions for the next year. She finds it in your knowledge sharing platform and leaves a comment asking the agent who posted it about their biggest learning moment from this report.
A few comments later, she gets a full rundown from the report and within minutes, she can add her new learnings to a conversation with a potential customer.
Even better, this agency's marketing executive can run into this discussion on the platform a few days later and use these insights in an upcoming marketing campaign.
This approach to knowledge sharing eliminates the clutter of emails and open (but unread) browser tabs. It helps your employees take action fast.
Finally, this will enable your employees to build deep connections with each other over common interests, challenges, and topics. In turn, this will create an additional sense of community. A collaborative hub won't just make everyone more efficient, but also more heard and supported.
How to use Scoop.it to make this happen
Scoop.it makes it easy for your team to discover, curate, and share content. At its core, it makes your company smarter because it centralizes everyone's learning resources in one place.
With Scoop.it's knowledge sharing platform, you can:
Add and publish content with one click

Integrate your topic pages with your intranet or enterprise social network

Work as a team through collaborative content curation

Create branded emails based on the curated knowledge and send them to your employees

Give every employee the option to customize their reading experience on the platform
If you want to empower your employees to be a valued contributor to your company's success, get a demo of Scoop.it to see how we can help.