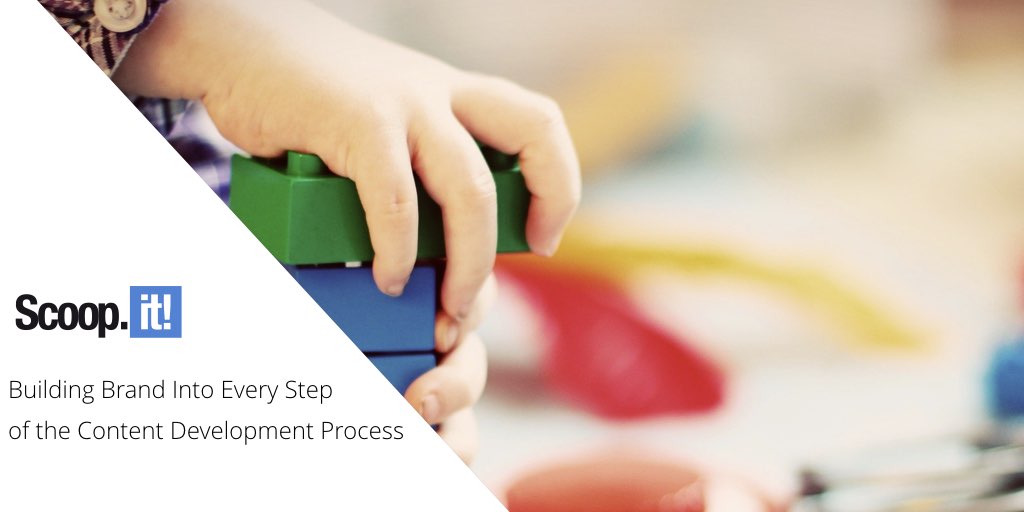 Content marketing plays different roles at different stages in the customer journey, but there's one role it needs to play at every stage in that journey—supporting your brand. At first glance, supporting your brand can sound like a frivolous pursuit. However, when you consider that 82% of customers always buy from a brand they're emotionally connected to and 70% spend twice as much on those brands they connect with than those they don't, a strong brand can make a big difference to your bottom line.
That said, bringing your brand into your content means more than sticking your logo on an ebook or adding your brand colors to a one-pager. To bring your brand into your content, you need to consider brand at every stage in the content development process—from content strategy, to content ideation, to content structure, to content creation, to content distribution.
By building brand into the thought process of each of these stages, you can create content that not only creates customers, but also creates a connection with those customers.
Content Goals
Before you can start looking for creative ways to incorporate your brand into your content, you need to know why you're building content in the first place. Setting clear goals paves the way for success. 65% of highly successful content marketers have a clear strategy, while only 14% of their less successful counterparts can say the same. Your content strategy and goals will determine what aspects of your brand you will need to focus on in the content development process.
If your focus is on top of funnel thought leadership, your brand's mission and vision might be more important. If you're looking to attract organic traffic to your site, you might need to bring your brand promise, product, and positioning to the forefront of your content strategy. If it's sales you're after, your brand's unique selling proposition and competitive differentiators are your best tool to push potential customers down the funnel. If creating a community around your brand is more your goal, your brand's personality and buyer personas are essential.
All this to say, different aspects and materials of your brand will be more or less important depending on what you're looking to accomplish with your content. But that doesn't mean that you can ignore any one part of your brand as you create your content strategy.
Content Ideation
Now that you've got your content goals set out, you can move onto the next step in the content development process: content ideation. There are a few options you'll have available as you start sourcing inspiration and each comes with a few brand considerations.
What's worked before
Perhaps the simplest source of content inspiration, content concepts that have worked previously can offer a glimpse into what's likely to work in the future. That said, what's worked before might not work forever, especially as your brand grows and evolves over time. If your brand has changed significantly since your last content hit, you'll need to evaluate whether that sequel will reflect where your brand is today and where it's going.
What others are writing about
Thought leadership has a habit of turning into an echo chamber online, as companies compete to be seen as experts in the same subject area. If all of your competitors are putting out think-pieces on a certain topic, it's easy to think that you need to do the same. Here's where your mission and vision are coming in. Your brand's big ideas might not be the topic du jour, but they can be. Pivoting the conversation towards your brand's big ideas or tying them into the current conversation will create a more cohesive impression of your brand—far more than if you were to copy everyone else's thought leadership.
What's trending online
Writing with search engine optimization in mind can be a great way of bringing in targeted traffic to your site. But companies can often get caught up in which key phrases have the most traffic, rather than the ones that speak to their brand's product, promise, and positioning. Getting traffic to your site doesn't mean much if that traffic leaves once they see your company isn't relevant to their search query.
Targeting the correct specific product terms and considering your positioning carefully will help you push to more product-related content. For more educational content, think about your brand promise. If your brand promise focuses on making design simple for small businesses, writing about tips for design and running a small business would make more sense than writing content about how you can score freelance design gigs, even if the latter has higher traffic keywords.
What customer-facing teams are asking for
Your sales and customer success teams (if you have them) can be a great source of content ideas since they interact with customers directly. As you consider cross-departmental content needs, you need to be discerning. If one member of your customer-facing teams is asking for a content piece that doesn't align with your brand's promise, positioning, competitive differentiators, or unique selling proposition, you might be better off investing your content resources elsewhere.
However, if multiple team members are asking for the same content, it could be time to reevaluate whether your brand as you know it aligns with the brand customers know. Your brand isn't entirely in your control; it's the series of stories, memories, and associations customers have when they hear your name. Your true brand only exists in your customers' minds. It's your job to create content that supports the brand your customers and customer-facing teams see.
What customers are asking for
Customer-facing teams are a good way to learn more about how customers see your brand, but you can also go right to the source. The content that generates engagement from your audience is a good indication of the kind of content your customers want—but there's a caveat here. Not everyone who engages with your content is a customer or potential customer. Tracking what content leads to the most conversions is a better indication of the content your actual customers want.
Content Structure and Medium
In this next stage of the content development process, you need to find the best way to present those ideas. There are a few factors to consider when looking at content structure and mediums. Content like videos (which increase the chances of conversion by 75%) and infographics (which can increase web traffic by 12%) are popular options. Aside from conversion and traffic stats, you should also consider which types of content actually suit your brand. Here, you'll want to look at your brand's personality, values, and beliefs.
If your brand is a storyteller, visual video content might suit it better. If it's more playful, an interactive quiz could replace a one-pager for your sales team. If your brand values objectivity and experimentation, chart and statistics-rich studies might be a better fit. If your brand believes the customer comes first, creating more customer stories and profiles would help reflect that.
Even small details like the inclusion of rich media features in a blog or the length of your blog posts can signal something about your brand to customers. The medium and structure of your content send their own messages. It's your job during the content development process to make sure those messages align with how you want your brand to be perceived.
Content Creation
The content creation portion of your content development process breaks down into two main components: what you say and how it looks. That is to say, you'll need to consider both the verbal and visual components of your brand in your content.
The verbal component of your content will, of course, have to take into consideration all those factors that went into generating topics. But once you've integrated components like messaging and positioning into your rough draft, your brand voice needs to smooth over that content for your final draft. A recognizable brand voice gives your content a consistent feel with your other marketing materials, while also creating an affinity for your brand. By showcasing your brand's personality, you offer readers something more human to connect with than just words on a page.
The visual component of content creation relies on your visual brand identity to create a look and feel that melds with your other marketing.  This can include things like your logo, fonts, colors, any shapes and imagery you tend to incorporate, stock image style, or even video editing elements. Incorporating these visual components consistently gives your content at a glance recognition—something your brand voice can't do. This instant recognition can mean the difference between someone clicking through to your latest report and scrolling right past.
Distribution and Curation
Content development doesn't stop with content creation and neither should your efforts to incorporate brand. The channels you choose to promote your content on should harmonize with your overall brand and support your desired brand image. The right channels are those where your customers are and where your presence would make sense. Even if all of your customers are using a certain channel, if your presence would be out of place, it will put customers off.  
Beyond distribution, content curation also involves brand. If you're curating a content feed that features both your own content and others' content, you'll want to think about brand context. While choosing content from within the same topic area can be a great way to provide extra value to your audience, you need to consider more than just topic.
Is that content coming from brand competitors? Does its message conflict with your brand's message? Does it speak to a different persona set? These are all questions that you'll need to ask as you begin curating content.
Good content curation should bolster your brand, placing it within a larger ecosystem of content. Taking a more editorial approach to the content you curate alongside your own will ensure a consistent brand experience for your audience.
Branding the Content Development Process
There's no one way to build your brand into your content. At every stage in the content development process, you need to stop and consider how your brand is being represented. By keeping these considerations in mind, you create a more cohesive experience for your audience, one that builds brand recognition and affinity—to achieve the ever-elusive brand loyalty we're all looking for.