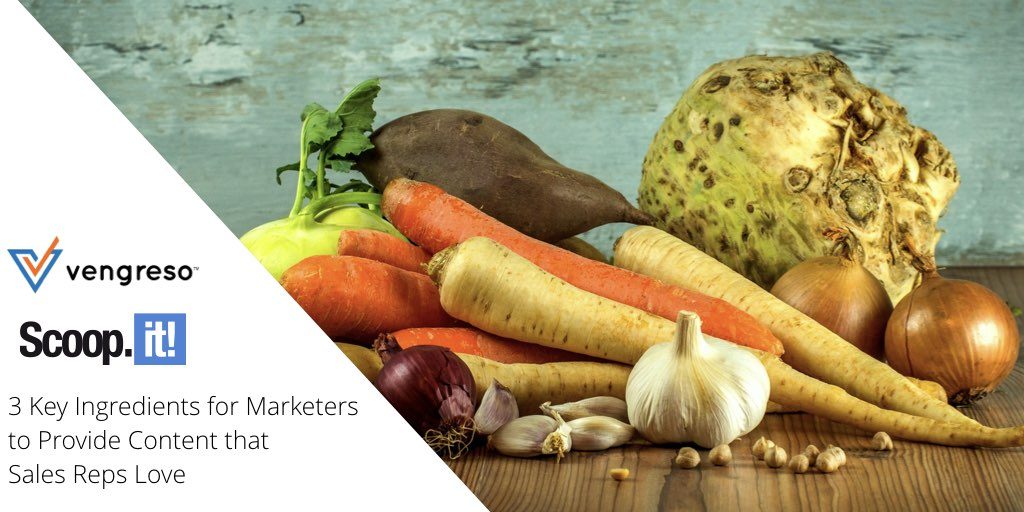 Content marketing is no longer a new fad. It is a proven model to increase your brand's visibility, develop thought leadership, and generate leads. In fact, 65% of brands who report being successful with content marketing have gone through the time and effort of documenting their content marketing strategy. (Source CMI)
But, according to CSO Insights, only 32% of companies have a documented strategy to provide content for their salespeople. Why is this number so low? Because many organizations don't understand why sales reps need content and what types of content to provide them to help them win more deals.
Why Do Salespeople Need Content?
According to Forrester, 62% of buyers prefer to finalize their list of vendors or even decide on a solution based solely on digital content they consume. This same research reports that 60% don't want to talk with sales reps for access to information.
So, how can marketers help salespeople engage with buyers before they've made their selection? After all, buyers are downloading content, attending webinars, reading social media posts, watching videos…You get the idea…This is no surprise. It's the same thing we do as consumers. In fact, it's the exact same behavior as consumer shopping. We've all been influenced by online consumer reviews written by total strangers we'll never meet.
Much of the content buyers consume will come from a brand's content marketing engine. Fantastic! But, is that enough?
A modern seller is savvy enough to want to be a resource to their buyer in part by supplying content that enables them to GUIDE the buyer in their buying journey. This is known as content for sales enablement.
What Types of Content Do Salespeople Need?
Many marketers think all salespeople have to do is grab white papers, eBooks, recorded webinars, case studies, videos and more from the existing content hub. Many marketers supply content to sellers through an employee advocacy platform. Then all they need to do is share it with their prospects, right?
Not so fast.
The content produced by marketing is meant to be distributed one-to-many. It's from the brand. Put another way, it's distributed from the logo. It's not distributed from one human to another. It's meant to reach as many people in its target as possible – hence the one-to-many label. This is a good thing. In fact, when the content is relevant to the buyer, it's a great thing!
The problem is that salespeople also need content they can share one-on-one. And, that content needs to be organized according to the buyer's journey and tailored to their targeted buyer persona. We should NOT ask salespeople to rely on the company's content hub for one-on-one sales engagement. Yes, they could do that, but content is not one size fits all.
Since content marketing is one-to-many, it is inherently limited in its effectiveness for salespeople to leverage because it's not tailored to an individual's needs on their buying journey.
What Is Content for Sales Enablement
Content for sales enablement is one-to-one content engagement. For example, consider this situation. A primary point of contact (POC) at an account says to the salesperson "I'm sold on your solution, now I need to sell my CFO and I need your help." While the salesperson is very encouraged, the truth is the deal is far from closed. In fact, if the CFO isn't convinced of the solution, the deal will go to another provider or maybe even to a "no decision" point, killing the deal entirely.
In this situation, the salesperson needs a content asset that speaks directly to the issues the CFO cares about. In further conversation with the main POC, the rep learns that the CFO cares greatly about total cost of ownership and cost savings in the business over a five-year period after implementing this solution. Perfect! The sales rep knows exactly what's needed to close the sale.
It's the duty of the marketing team to equip their sellers with content they can use in situations like this to close a sale. Content that salespeople love because it helps them close deals!
Marketers – are you thinking this way? Are you focused on helping your sellers win more deals? In this example, the seller—who knows exactly what he or she needs to share with the CFO—goes to the company's content hub to find a case study or white paper that addresses the key points, but no such content is found. Ugh…Why?
Three Elements of Content for Sales Enablement
Too often content marketing assets are focused on top of the funnel topics to create awareness, stimulate downloads and fill the funnel with leads. However, any attempt by sales reps to use general content for the CFO could backfire and lose the deal because it doesn't address their specific pain points. Worse yet, if the POC finds the content she needs for her CFO from a competitive solution, her selection bias can easily be swayed in order to win the approval of the CFO.
Content for sales enablement is so influential because takes into account three key elements: Market Segment, Buyer Persona, and Buyer Stage, each of which are explained below.
#1: Market Segment
Most B2B brands have offerings for more than one market segment whether they're segmented by company size, geo or vertical industry. Content for sales enablement should be relevant to a seller's account's market segment to address the specific business challenges. This level of personalization shows that the salesperson understands their needs and that your company has helped others like them facing similar challenges.
Content for sales enablement is not one size fits all.
#2: Buyer Persona
There are multiple influencers in a deal. In fact, according to the Harvard Business Review, there are an average of 6.8 buying influences per deal. Each is a "persona" with unique needs. The CFO in mentioned above is an example of a persona who is focused on a solution's financial impact to the business. Others may be focused on safety issues or how to onboard new employees more effectively.
Content for sales enablement should address each of the issues for each persona who influences a purchase decision so your salespeople have content ready for each one.
Content for sales enablement is not one size fits all.
#3: Buyer Stage
Buyers go through a journey. The questions they need answered are different in each stage. In the awareness phase sellers need to build trust that their solution exists as a viable option. In the purchase phase the buyer needs to validate that your solution is the best fit across the entire "committee" of stakeholders who will be impacted by selecting your solution.
The example above is in the purchase stage. The content the sales rep needs specifically helps the main POC win the approval of the CFO for signoff on the deal.
Content for sales enablement is not one size fits all.
Create Content Your Sales Team Loves to Use
The modern marketer must be thinking about ways to help their sales team win more deals. This article aims to emphasize the importance of developing a content strategy specifically for salespeople by equipping them to address the needs of each persona, in each market segment and in each stage of the buying journey.
When sellers have access to a repository of content organized around these criteria, they can increase their win rates by 16.6% according to CSO Insights. And, the win rate is the metric that sales leaders care most about.
Vengreso ©2019 Proprietary and Confidential