If your job is to grow the reach and impact of your nonprofit, chances are you're already stretched quite thin.
From traditional marketing to social media, and from organizing events to handling emails and press communication, you simply don't have the time to create original content that's relevant and timely.
Current crisis is showing us all just how important it is to adapt quickly when it comes to the content we use to communicate with those we care about the most in our communities.
This is the time to focus your nonprofit's content efforts on content curation. In this guide, we'll show you exactly how, with examples and steps you can take right away.
What is content curation for nonprofits?
Content curation is the process of selecting, editing, and publishing content from third-party sources to your audience. Instead of creating original content from scratch, you can rely on sources that always publish quality content.
This way, you can keep regularly showing up for your audience and support your fundraising and marketing goals even if you don't have enough time to create your own content.
Content curation will work for your nonprofit if you make sure you don't skip any steps:
Select the best content

. It's up to you to evaluate the quality of the source you're sharing from and only choosing the best. If you don't, you'll end up sharing poor quality content, and you'll have no solid foundation for content curation.

Add your expertise and insights

. Instead of just sharing the piece of curated content as is, take the time to add your message, point of view, and expertise around the topic. You can highlight some key points from the piece, emphasize a call to action, or add value in some other way specific to you.

Share where your audience needs you

. Content curation works through public channels like social media and website content, but also through private channels like newsletters and internal content hubs.
If you skip any of these steps, you'll either share low-quality content that only adds to the noise, or you won't reach anyone at all. All three stages are key, and only then will you see the benefits of content curation for your nonprofit organization.
The benefits of content curation for your nonprofit
Here are some advantages of content curation for your nonprofit in case you're unsure if it's the right choice for you.
Become the go-to resource and reduce information overload
If people want to support a cause, they'll turn to Google, social media, or their local community to find the most relevant information and learn some ways they can help.
However, when they do that, they'll probably end up with more information they can handle. They won't know where to start or even which information to rely on.
As a nonprofit organization that curates content, you can reduce information overload and help this audience find vetted, reliable content. You'll become the go-to resource on topics relevant to your nonprofit.
For example, if your nonprofit focuses on the global issue of poverty, you can curate content on important topics such as hunger, inequality, access to water, and women's rights. As you curate more content over time, people interested in information around poverty will get into the habit of going to you for all important resources on it.
Create trust and buy-in from stakeholders
To serve the cause you're focused on, you need to hit your goals. And to hit your goals, you need buy-in from key people like partners, donors, and volunteers.
According to research from Content Marketing Institute, 8 out of 10 of the most effective nonprofit tactics are in a form of digital content:
With in-person events rated as the most effective nonprofit tactic, chances are you're focusing most of your time on those and don't have enough time to create content like videos, newsletters, infographics, and content hubs.
This is where content curation becomes a superpower. It helps you answer the question: "Why should people care about this cause?"
Even without original content, you can work on building trust by publishing:
Statistics from studies and reports

Unbiased information that helps you establish key problems

Stories relevant to your cause
You can publish these inside a content hub, shape them into a newsletter, post them on social media, and much more (a later section will show you exactly how).
Engage with influencers in your field
It can take you months and even years to gain online visibility wide enough to hit all your nonprofit goals. Content curation can help you accelerate this process.
Why? Because by curating and sharing content from other people and organizations, you will land on their radar and often get in front of their audiences.
For you, an influencer is anyone with an audience that overlaps with the target audience for your nonprofit. These can be content creators, local businesses, freelancers and agencies, event organizers, and more.
When they start seeing your name often because you share their content, they will likely reciprocate the favor by engaging with what you had to say, sharing your own piece of content, and so on.
Relationship building is a long-term process, and if you remain consistent, your results will compound, and your online channels will keep growing in visibility, reach, and engagement.
Which topics and formats should you curate as a nonprofit?
If you're unsure about the formats you can use and the topics to share through them, use this section as inspiration. Let's focus on three main ways to share curated content:
Curated blog posts

Curated social media posts

Curated content hubs
Blog posts
A curated blog post is a great way to keep your organization's blog fresh. At a foundational level, it includes a title, an image, and a quote from the original piece of content, with a link to it.
The good news is that you can easily take it further than that. For example:
Add your own images and graphics

Share your own opinion or analysis to provide further context

Add further resources like links to your other content

Come up with your own title
Finally, just like with your original posts, you can add a call-to-action (CTA) to turn readers into subscribers. You can also categorize/tag this piece of content so that it's easy for readers to find if they're exploring a certain category.
Social posts
There are many growth opportunities that come with social media, but only if you do it right. The lifespan of social media posts is short: up to 5 hours on Facebook, 2 days on Instagram, and only 18 minutes on Twitter.
Curated social media content will help you avoid the social media hamster wheel—the feeling you have to be in creation mode 24/7. It will keep your social media feeds active and packed with various formats and relevant topics.
Here are some ideas of content you can share:
Third-party research and case studies

Quotes from public figures, volunteers, or community members: these can be in a short video format, on a simple graphic (you can easily create it with Canva), or in plain text

Relevant local and international events

Links to local news and interviews

Press you were mentioned in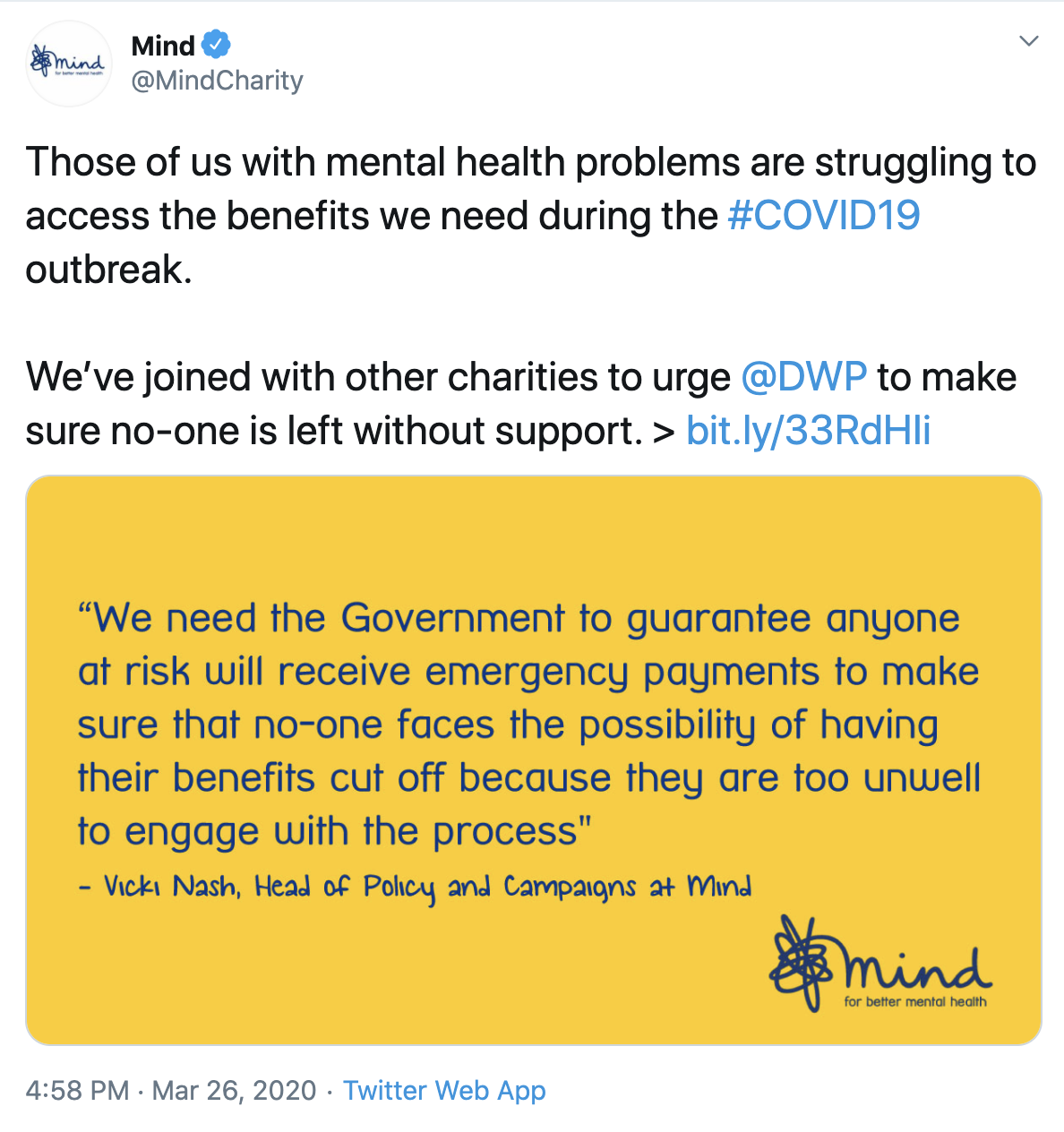 Content hubs
A curated content hub is an online destination that houses third-party content in a central place that you own. It's a great way to present the most valuable content on any given topic.
Each content hub can (and should) feature a range of content formats, such as:
Articles

Videos

Infographics

Podcasts

Ebooks

Webinars

Case studies

Social media content

User-generated content
For your nonprofit, the best approach is to create a go-to, centralized place for each of your main topics. If we take the earlier example of a poverty-focused nonprofit, their individual content hubs would be titled Hunger, Inequality, Access to water, Women's rights.
Content hubs are extremely flexible and with the right tools, you can create one and start curating within minutes.
This is particularly useful when information changes quickly. You can see a good example of this with Scoop.it's COVID-19 topic page: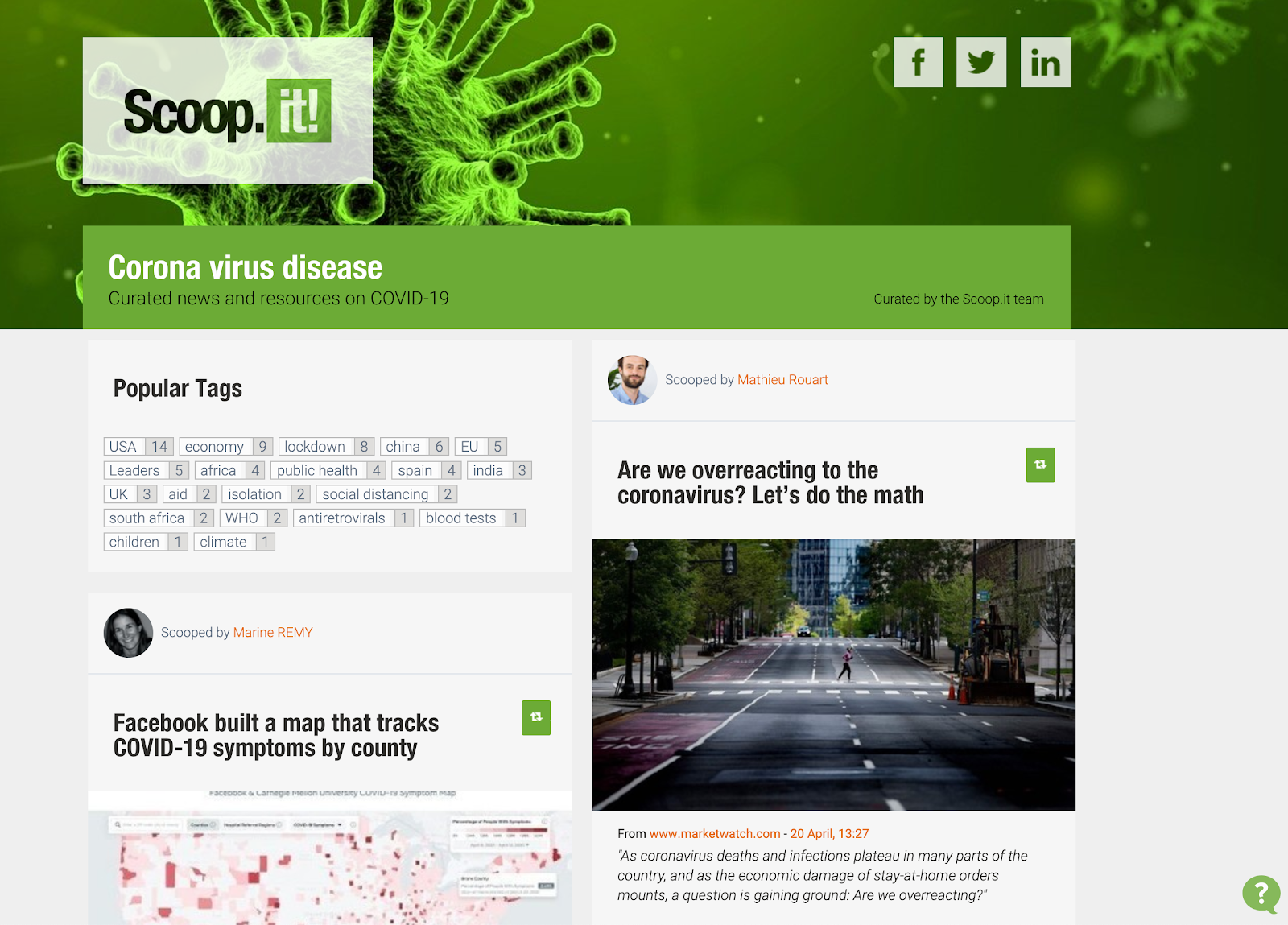 The great thing about content hubs is that you can focus most of your content curation time on them, and other activities (curated blog posts and social media) will follow. The content that ends up in your content hubs can easily be repurposed for other channels, including curated newsletters.
Let's look at how you can do it with Scoop.it.
4 steps to successful content curation with Scoop.it
Scoop.it lets you curate content from all over the internet in a few ways. You can:
Paste any link to create a new scoop

Scoop without a link (by adding a title, description, and image to a new scoop)

Use Scoop.it's bookmarklet

 to add a piece of content you currently have opened

Get suggestions by entering relevant keywords
Let's go through easy steps to set up content hubs for your nonprofit. If you want to follow along, grab a free Scoop.it account if you don't have it yet.
Step 1: Create a new Scoop.it topic
From your Scoop.it dashboard, click the 'Create a Topic' sign with the plus mark.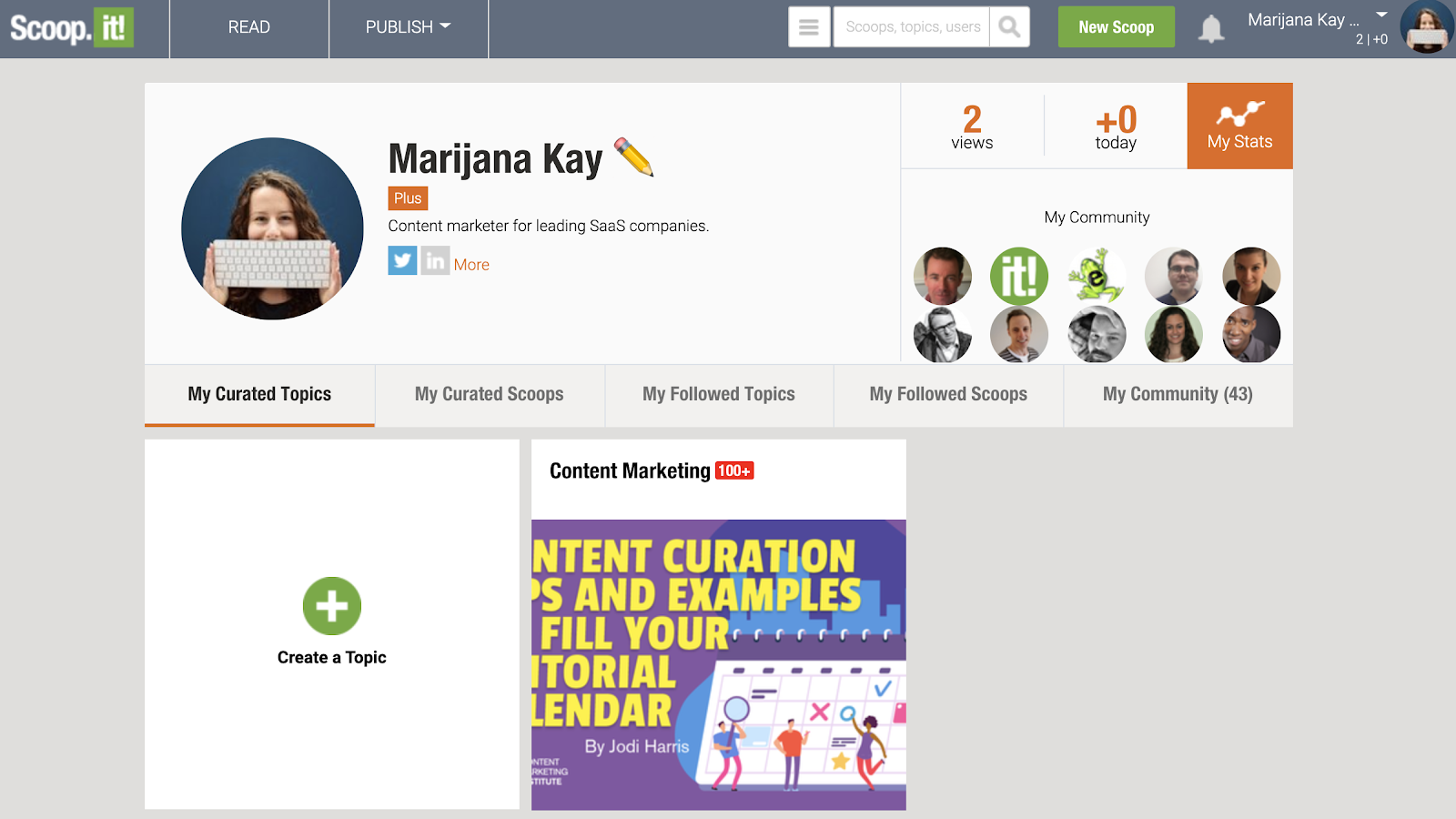 You'll then see a simple screen that prompts you to name your topic and select its language.

From the hub page, you'll be able to change its name and upload an image for it. Our next goal is to find content for it.
Step 2: Add curated content to your Scoop.it topic
There are two main ways to add content to your Scoop.it content hubs: from outside of Scoop.it and from inside Scoop.it.
Curating outside Scoop.it means you'll come across a piece of content you want to curate and then either use the Scoop.it bookmarklet or copy that URL and paste it into your Scoop.it page.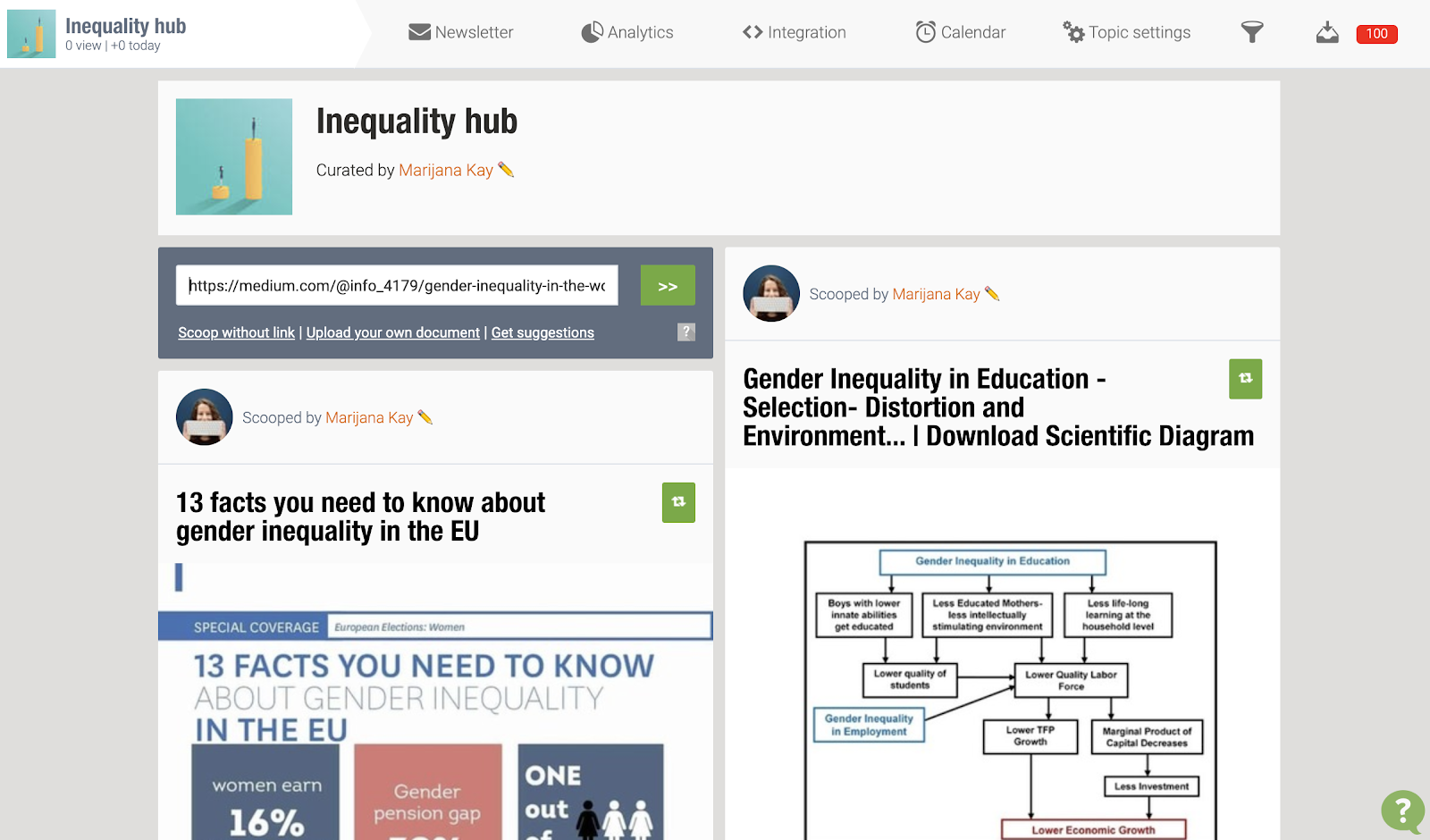 Curating inside Scoop.it means you can use the Suggestions engine and let Scoop.it do a lot of the hard work for you.
You can access it directly from your topic's page by clicking the drawer icon at the top right corner. From there, you can add filters such as:
Keywords

No posts older than [number] days/months

Sorting by relevance or freshness

Only including suggestions of certain formats, such as articles, documents, pictures, videos, or social media posts
Here's how it looks in practice: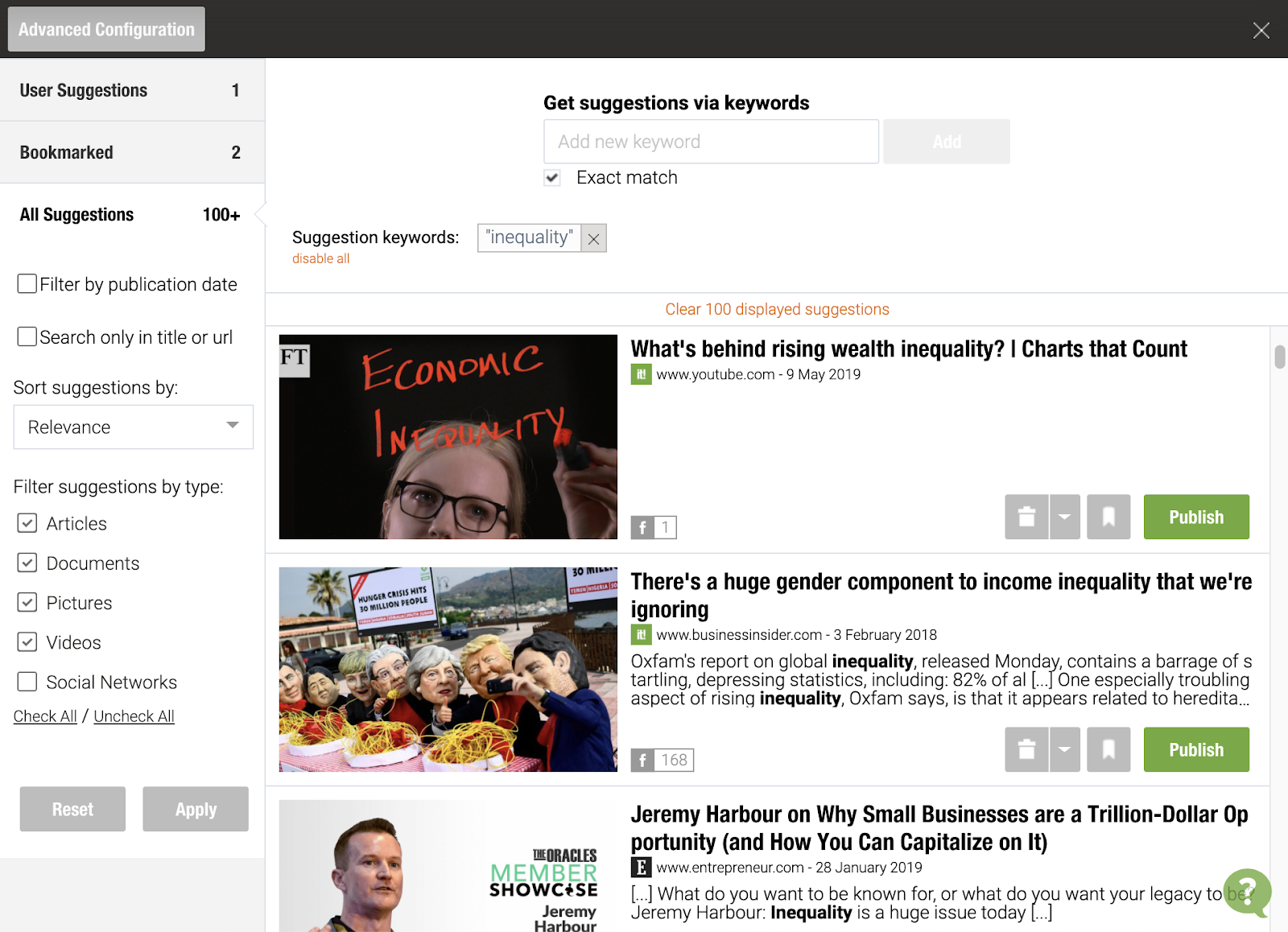 From here, adding a piece of content to your topic is as simple as hitting the 'Publish' button.
Step 3: Make the piece of content better by adding your expertise
Remember we talked earlier about the value of making a piece of content richer by adding your thoughts, analysis, and context? This is the step you get to do that inside Scoop.it.
When you choose a piece of content to curate, you'll see the following popup: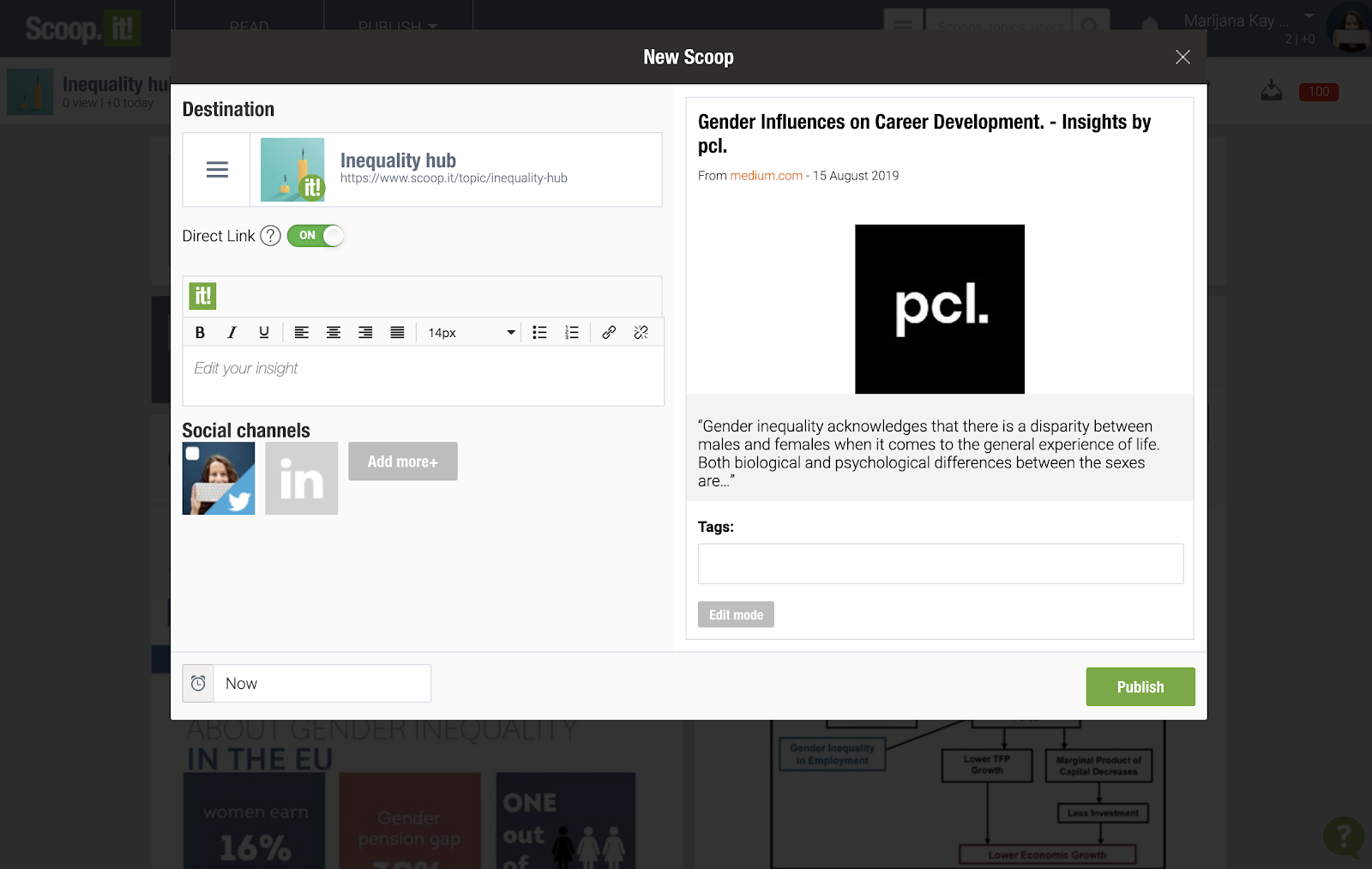 In it, you can:
Add your insight into a designated field, with many formatting options like font size, bullet point lists, and links to fully make it your own

Edit the title, description, and image that Scoop.it automatically pulled from the piece of content

Add tags, which you can use as a way to sort and categorize each of your topic pages even further

Select a date and time for this piece of content to be added to your hub
This is your chance to add details specific to your nonprofit, your personal experience, a quote from someone you've helped, or anything else that would paint a better picture of your organization's universe.
Step 4: Get your curated content in front of the right people
In one of the previous sections, we mentioned that curated content will help you get buy-in and trust from partners, donors, and volunteers and enable you to hit your goals. For this to happen, this content needs to reach those people.
There are two ways you can make this happen with Scoop.it: post-level promotion, and larger promotion like website integration and newsletters.
On a post-level promotion, you can click the arrow button under each post and use one of the sharing options available, such as:
Twitter, LinkedIn, or Pinterest

Hootsuite and Buffer

Direct email

Direct Scoop.it link you can copy and paste anywhere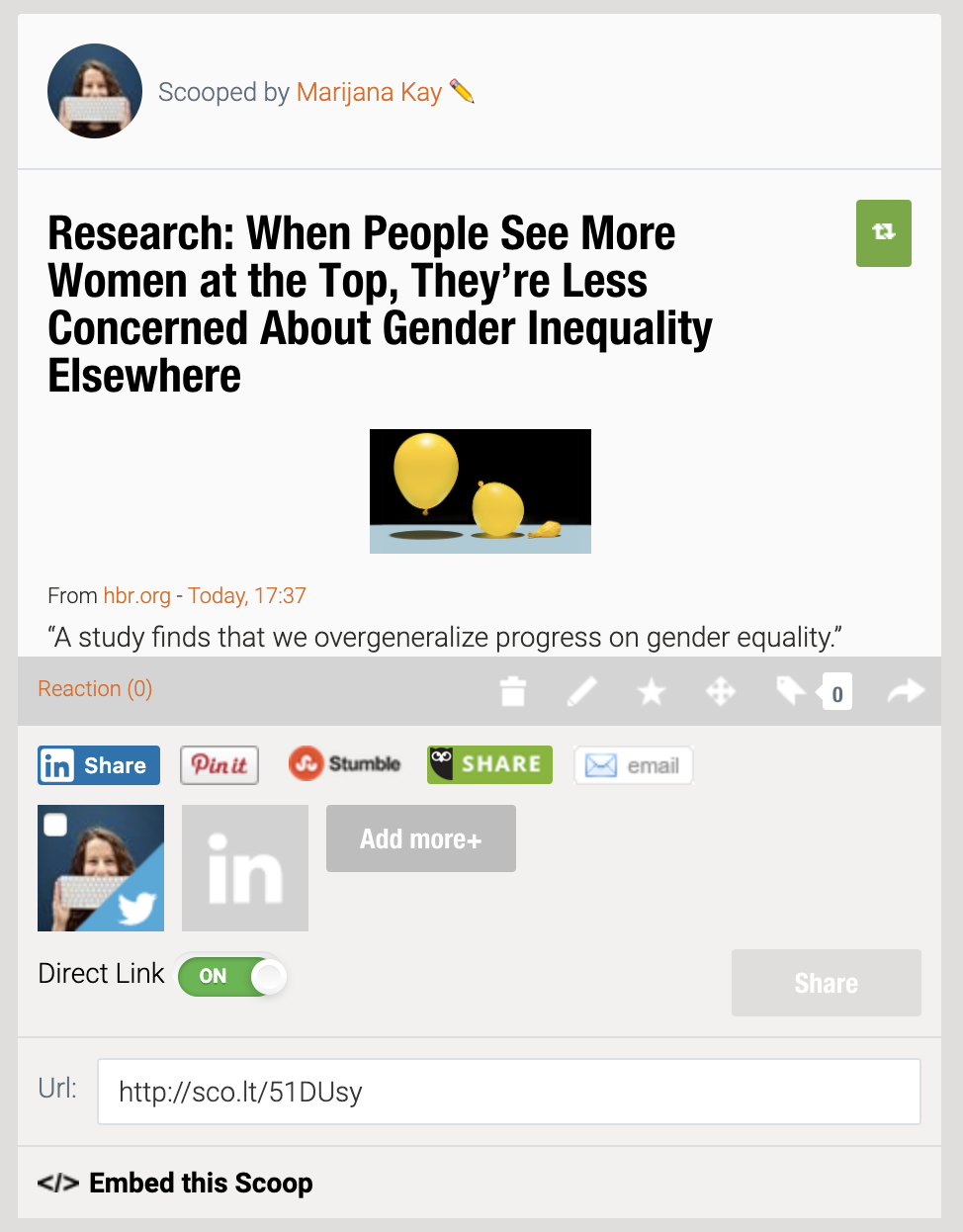 On a larger scale of promotion, you can:
Integrate your topic page in your website (several options are available through Integration tab at the top of your topic)

Create a newsletter from your topic page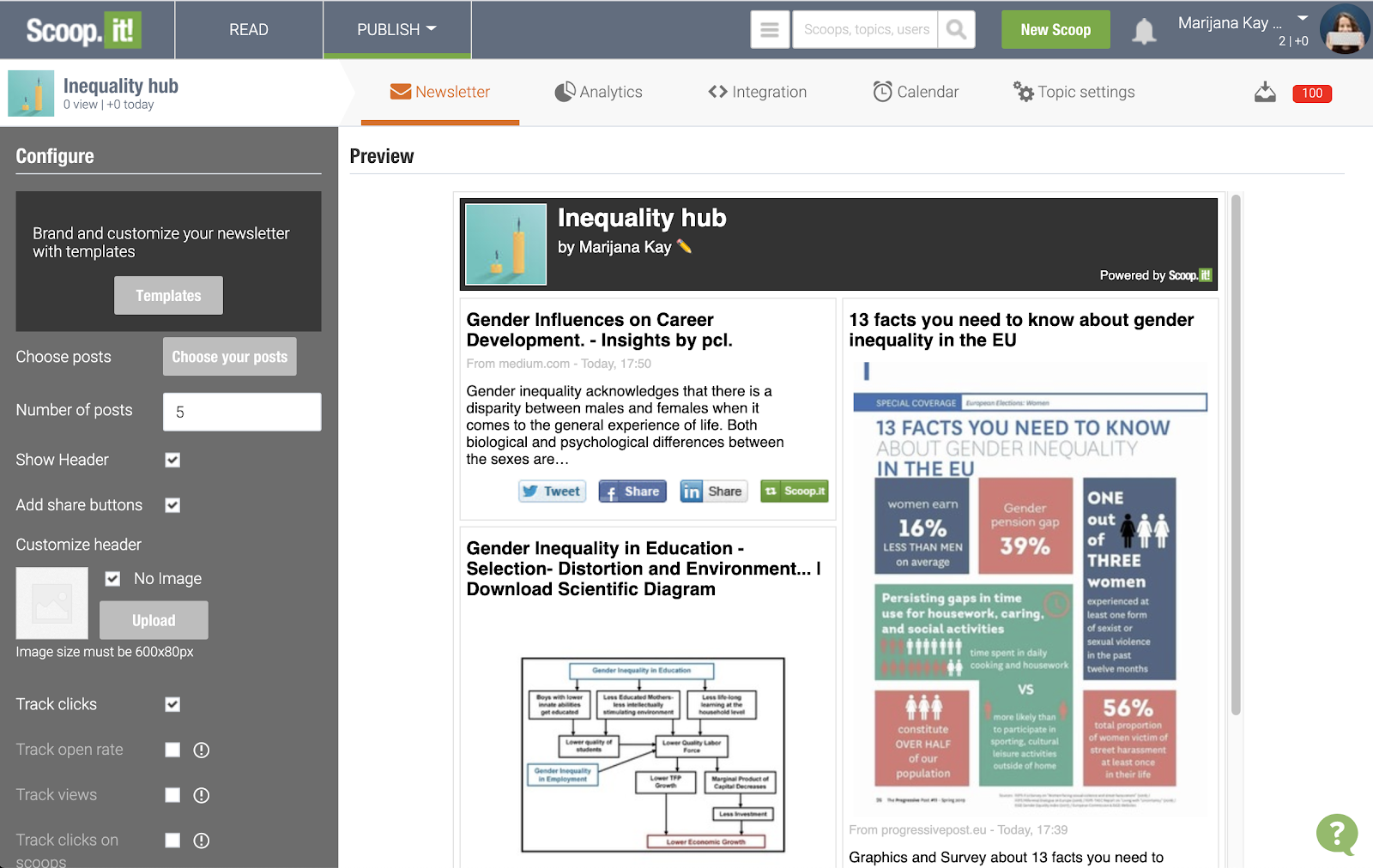 Both of these options leverage the fact that you've already done most of the work when you curated and enriched these pieces of content. They collate this work into a webpage or a newsletter and give you all the advantages that come with it.
You're ready to achieve all your nonprofit goals
Now you know exactly what content curation means in a nonprofit environment, how it can benefit you, and how you can get started.
Be sure to take Scoop.it for a test drive and see how you can serve your cause even better and more efficiently. We have created offers and discounts specific to nonprofits, so send us a note and we'll get you up and running in no time.