Your online reputation precedes you. Before you even get to speak to your readers, prospects, or customers directly, they're influenced by so many platforms you don't own and can't control.
From online review websites and news websites through to forums, competitors, and social media, what others are saying behind your back can make or break the success of your business.
You know you need help to make managing your online reputation easier. You need a system that will simplify the process and make sure nothing falls through the cracks—but you're not sure what to even look for.
In this guide, we're outlining the eight key features of an ideal reputation solution.
1. You can define and customize

 your triggers
The first feature you should look for in your online reputation solution is quite standard: setting up your triggers and search terms you want to track.
Even more importantly, you should be able to customize these, predict different spellings, and use boolean search operators (such as AND, OR, NOT).
For example, you could set up your solution to track these terms for you:
Company Name

CompanyName

#companyname

Company Name LLC
You could also add:
Common misspellings

Search criteria for your flagship product names and all name variations

Names of your CEO and other leaders in your company
Setting up various triggers is also useful for monitoring your competitor's activities, as well as to track and surface any media coverage or discussions related to industry terms, news, and events.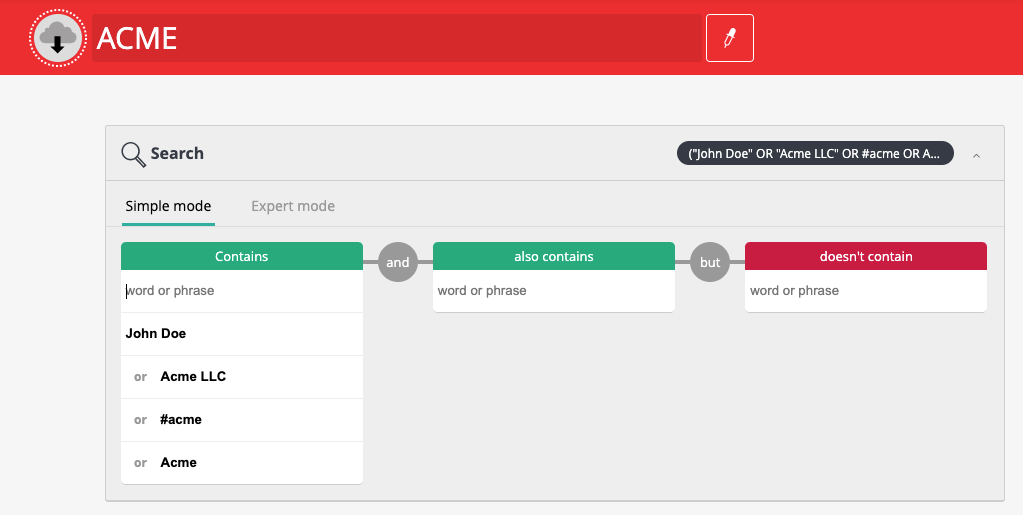 2. You have access to r

eal-time tracking
It seems like a simple requirement, but it's one of the most important elements of online reputation management: you should be able to get real-time data.
The alternative is waiting several days until your data is ready for you to view, which can turn into a missed opportunity at best—and into a crisis at worst. If you have a solution that lets you access real-time information about your brand online, you'll win.
3. You can get focused with f

ilters and thresholds
Filters and thresholds you can layer are essential in reputation management and especially in crisis management. That's when you want to be super focused and only get alerted on the most relevant and time-sensitive content.
One way you should be able to filter is using criteria such as:
Platforms

Sentiment

Countries and territories

Languages

Influencer groups

Formats like images and videos
Another useful way to get focused is to only get alerted when content that matches your trigger makes a certain level of impact.
For example, oftentimes when a press release gets sent to the media, you'll see hundreds of new mentions that match your trigger. However, that often makes a small impact. So instead of getting alerted every time a press release hits the news, you can get alerted only when there's a certain number of impressions or accumulated reach—much more helpful in this case.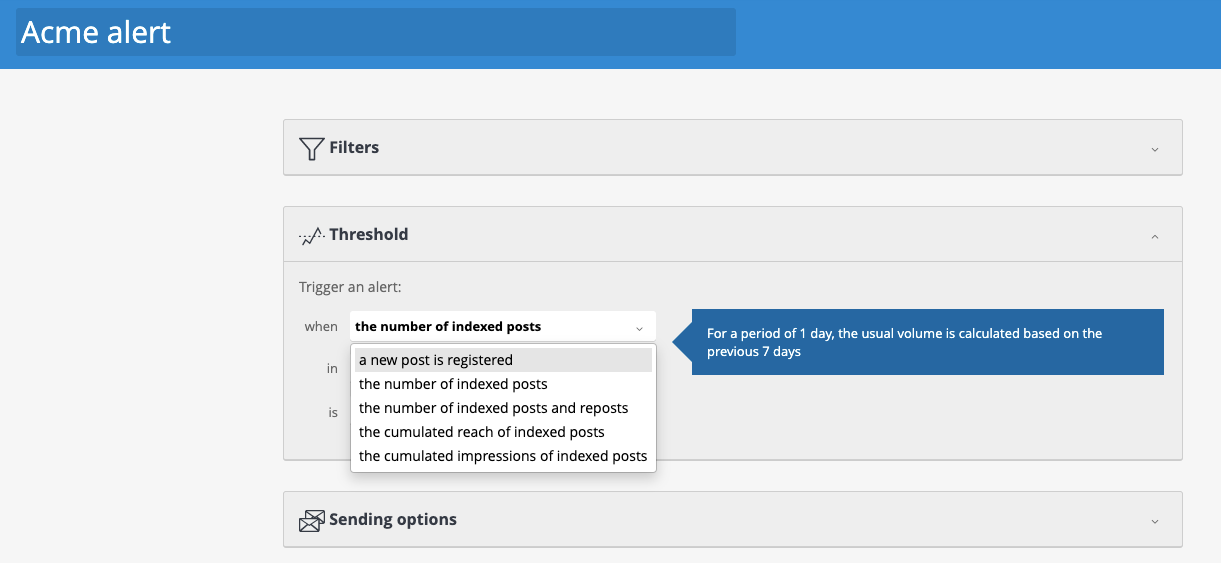 If there's consistently lots of mentions and articles about your trigger and you want to be able to react when something changes, you can set a trigger for when the number of indexed posts in a certain time period is higher or lower than usual, which would indicate there's something important going on and allow you to react in a timely way.
Finally, you can also choose to receive alerts based on the influence a person or an account has online, such as the number of followers.
4. You can track

 many different sources and platforms
Tracking only news articles isn't enough. Same applies to tracking only Twitter, or only Instagram, or singling out any platform or source in particular.
An excellent reputation solution will allow you to track many sources you could be mentioned on as a business, including (but not limited to):
Reviews

Blogs

Media websites

Comments

Twitter

Forums

Instagram

Facebook

YouTube
This means you'll never miss any mention of your business or your leaders. Of course, if you need to get specific and track or report on specific platforms, it should be easy to use filters to do so.

5. You can s

elect frequency for alerts
For your positive and neutral press mentions or industry news, you'll probably do well with one or two reports per week that help you keep your finger on the pulse of what's going on.
But if there's a full-on crisis, that won't be enough. In fact, by the time you get the report, it might be too late for a fix.
The approach here is simple: ideally, you'll get notified of anything that needs your instant attention immediately, and tweak your alerts as the situation develops and later on settles.

6. You can s

hare alerts and insights with your teams
If it's not just you that manages your company's online reputation, you'll benefit from having an easy way to share reports, alerts, insights, and successes with your team. That comes with a few benefits.
First, you don't have to do everything alone. Especially when your company is in a crisis, you'll end up with too much on your plate quickly, and if you can easily split the load between you and other team members, you'll get through the crisis quicker and with less stress.
Secondly, you'll find it easier to outsource and delegate your online reputation management processes when you're out of office. Your work on your company's reputation shouldn't come to a halt just because you've taken some time off.
And finally, you'll be able to share successes that have come out of your reputation management efforts. Press coverage and positive reviews from happy customers should be easy for you to share with the rest of the team so you can celebrate and cheer each other on.
7.

You can bookmark what matters
For content that matters, you should be able to easily bookmark it, tag it, and retrieve it later. Your solution should give you an easy way to save and organize important content.
Once you're able to do this, you can reuse and repurpose it later in:
Social media posts

Internal content and emails

Branded newsletters

Blog content
This is easy to do with Scoop.it Bookmarklet. You can add it to your browser by bookmarking this URL and then replace the bookmarked URL with the code you'll find on the page.
Then, once you find and open a piece of content you want to be able to retrieve later, you can click the bookmark, which will open a prompt to tag, describe, and categorize this piece of content in your Scoop.it.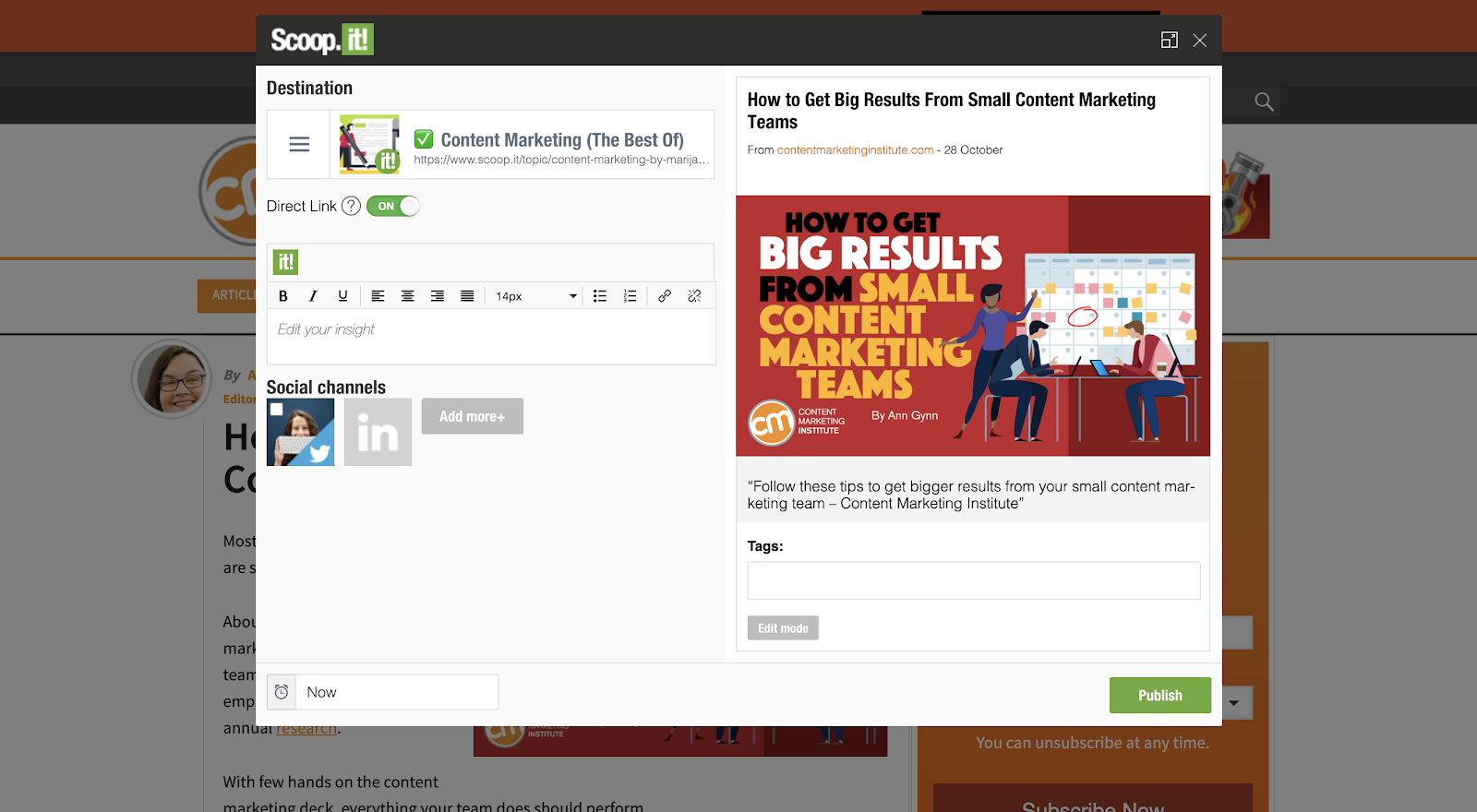 You should never have to search through your email account to find an essential piece of press coverage—it should be easy to retrieve in just a couple of clicks.
8. You can customize and automate your reputation reports
You already know you should be keeping track of standard press and social media appearances of your business on a regular basis.
The above-mentioned features such as triggers, filters, sources, and sharing will ideally come together in the form of automated, customizable reports. You shouldn't have to remember to export them or customize them on a weekly basis—they should wait for you in your inbox so you can understand how your company is growing and changing week after week.
Customize this report with categories, sections, triggers, and filters that make sense for the season your company is currently in, and you'll see great returns from being intentional about your online reputation.
Use these features as a checklist when selecting your online reputation solution
To recap, here are the top eight features and capabilities to look for in your reputation solution:
You can define and customize your triggers

You have access to real-time tracking

You can get focused with filters and thresholds

You can track many different sources and platforms

You can select frequency for alerts

You can share alerts and insights with your teams

You can bookmark what matters

You can customize and automate your reputation reports
Pssst: Scoop.it Alerting has all of these features! It will make your topic monitoring, coverage review, content filters, and customized triggers easy to set up and maximize.
That's it—you're ready to take your online reputation to the next level with the right solution in your toolbox.