When you were initially growing your customer base, you probably spent most of your time and budget on marketing and sales—getting people to find out about you, learn about you, and trust you enough to buy from you.
But once more and more people know of you and buy from you, there's another part of your business you can't neglect: your online reputation.
Over a decade ago, your reputation was mostly built through real-world word of mouth. Now, it's also influenced by:
News websites

Review websites

Social media posts and comments

Forums

Blog posts

Competitor websites
What your customers say about you online matters. Here's a taster of how people shape their opinions of brands today.
According to Nielsen, 83% of customers who shop online say they trust the recommendations of friends and family—this is where social media plays a massive role. For local businesses, 76% people trust online reviews as much as recommendations from family and friends, according to research by BrightLocal.
However, brands are still not doing enough to monitor and optimize the reputation of their business and its leaders. A survey by Clutch found that:
54% of marketers consider online reputation management 'very necessary' for their company's success

42% of businesses monitor their online reputation daily

35% of businesses plan to allot more time and money to online reputation management
This means that around half of businesses don't yet consider online reputation crucial for their success—and they aren't focusing on it daily.
This is a risky position to be in. Great online reputation can increase your credibility, customers' trust, and revenue, as well as how your community, partners, influencers, competitors, and employees see your brand.
As Scott Cook, co-founder of Intuit, said:
"A brand is no longer what we tell consumer it is—it is what consumers tell each other it is."
Here are seven specific reasons to prioritize your online reputation.
1.
React to customer comments, tweets, and reviews in a timely manner
People will share their opinions about you online, good or bad, whether you want them to or not. It's how the internet works.
When you put your online reputation front and center, you can react to tweets, comments, reviews, articles, and other places people mention you—and you can do that in a timely manner.
Most importantly, you can do this for your customer—those people and businesses that have already trusted you with their money. They need to know they're not just speaking into the void. Engaging with them, replying to them, and making them feel heard will help you build trust and credibility with existing customers.
This applies for positive, negative, and neutral mentions of your brand. By acknowledging the message and replying, you're showing your customers they come first.
Buffer's Twitter account has always been an excellent example of applying this approach:
They thank those that share positive comments and aim to help those that share their struggles with Buffer's product. Without an intentional strategy to monitor their online reputation, Buffer wouldn't be able to do this successfully.
2.
Learn what your current and potential customers want and struggle with
Your company and your offerings won't always be mentioned by customers. They might also come from past customers, people who are considering buying from you specifically, and those that are on the market for a new solution and are reviewing a range of options.
In your online reputation optimization, you can benefit from more than just monitoring your brand or product name. You can also keep an eye on:
Competitor names

Most common keywords about your product or the problem it solves

Industry topics that key influencers talk about

Industry-related questions that come up
When you can be present in these conversations, you'll learn exactly the pain points your audience is experiencing, as well as show that you care and that you want to help.
For example, here's a question that Asana could have reacted to (but didn't)—all they needed to do was monitor their company name or the 'project management software' keyword on Twitter: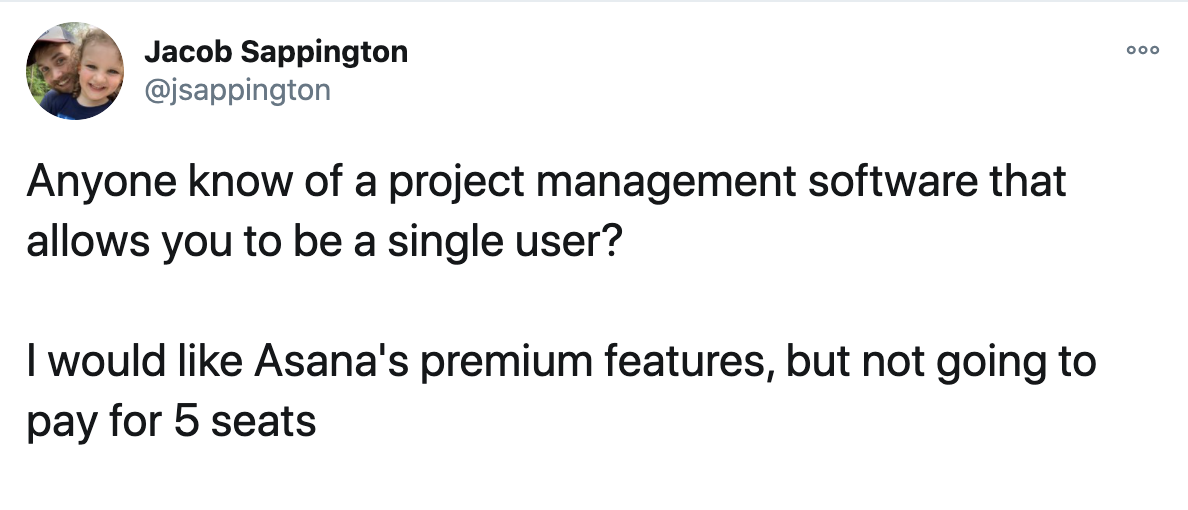 Here's a humorous, but equally relevant example on the B2C side. The Twitter account for Wendy's, a fast food restaurant chain in the US, engages with people that talk about them on Twitter all the time. Many of them haven't even tried food from Wendy's yet. Here's just one of these conversations: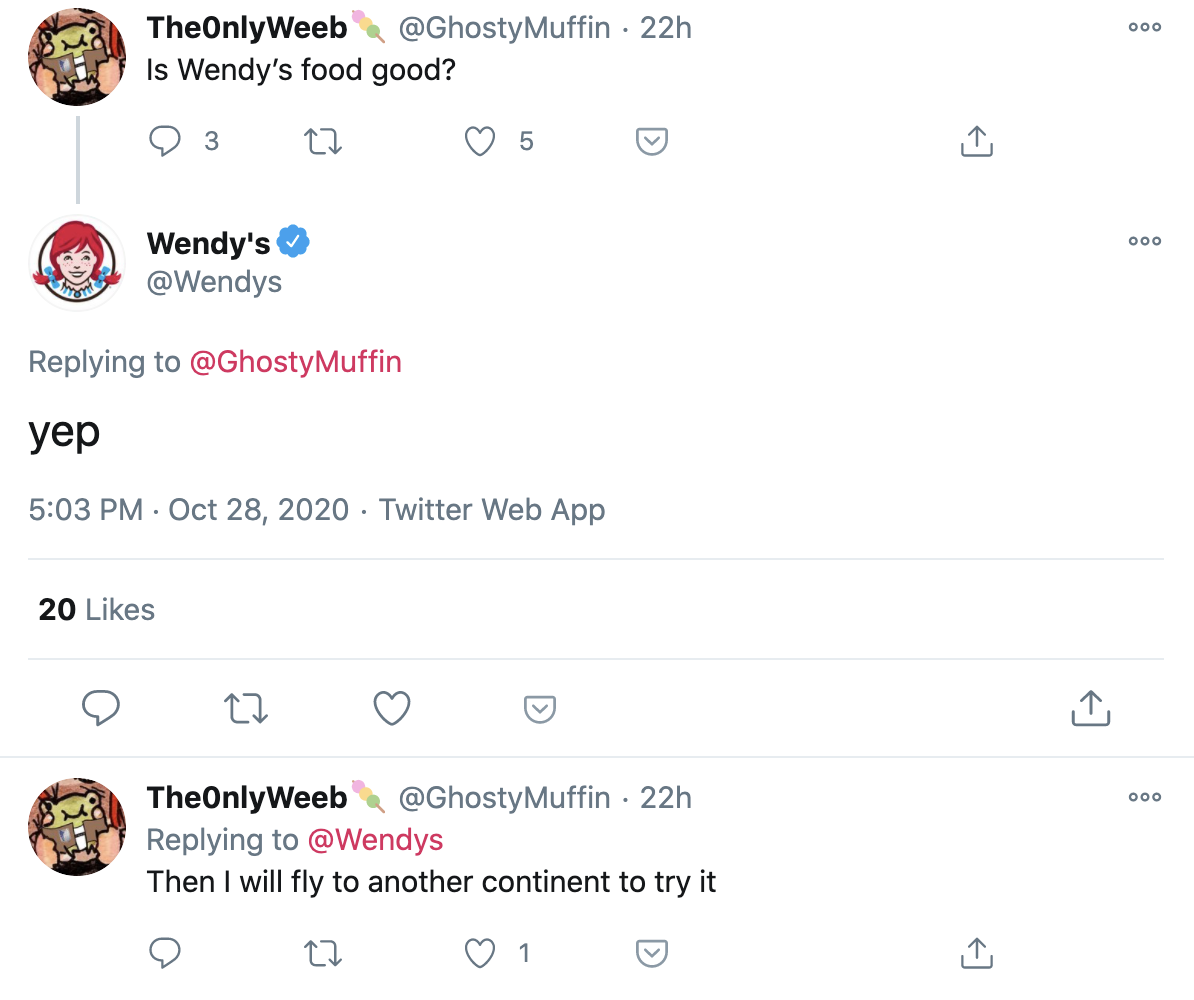 By showing up for people that talk about you and for those that need someone just like you, you can build loyalty and show your existing and potential customers you deeply care about having the best product or service to fix their pain point.
3.
Attract better employees
According to Gallup, high-quality candidates for your open job positions are more likely to do their homework when searching for and considering the best companies. They're attracted to a company's status and reputation in the industry.
When you put yourself in the shoes of your ideal job candidate, what would you rather see in a potential employer: a messy online presence, or stability and expertise that will help you grow and thrive in your career?
With your online reputation in check, you can hire the best people for the role, which will then help you drive employee advocacy and hit your company goals.
4.
Good reputation makes other marketing and sales efforts more impactful (and vice versa)
Picture this scenario:
You've poured all your energy into a launch campaign for your new product. You have ads on Instagram and Facebook, launch videos, press releases that win some media appearances… But then, as your posts go live on different channels, they get littered with negative comments.
Negative comments about poor customer service experiences. About products that break down. About a negative in-store experience.
No matter how good your ads look or how well you thought them out, your reputation will catch up with you.
The good news? The same applies when you pride yourself with great online reputation. Your marketing and sales activities will be amplified by people who have happily purchased from you in the past and who know you're their best solution.
Check out this example from a paid ad for Amanda Genther's Build Your Sales Page in a Day digital product. You can see there are 26 comments under it, and when you tap them, you can see people are praising her product, as well as that she's going the extra mile by answering every single question and comment: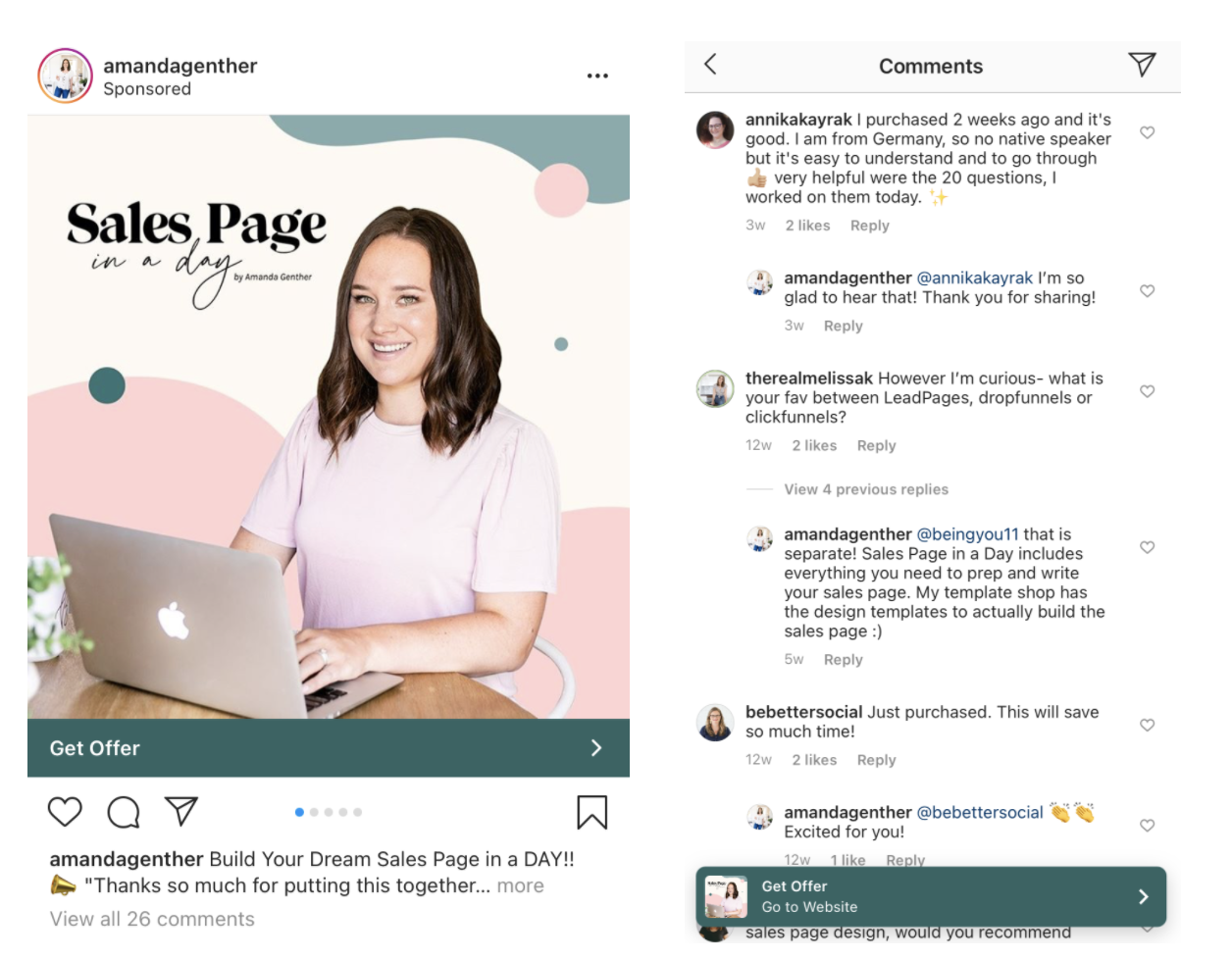 By being intentional about your online reputation, you can get great results from everything you do in sales and marketing.
5.
Improve your first impression on Google
Anyone who looks for your brand name on a search engine will make a split-second decision on what they think about you based on what they see.
In other words, your reputation is what Google says it is.
The challenge? Google's first page is no longer made of only the online assets you own. It also features trending tweets or YouTube videos, review websites, competitor ads, news articles, and more.
Of course, you can't control or change what others say about you—but you can definitely choose how you react and respond to it, which will also have an impact on what Google pulls as important.
Look at the difference between latest news about two courier companies: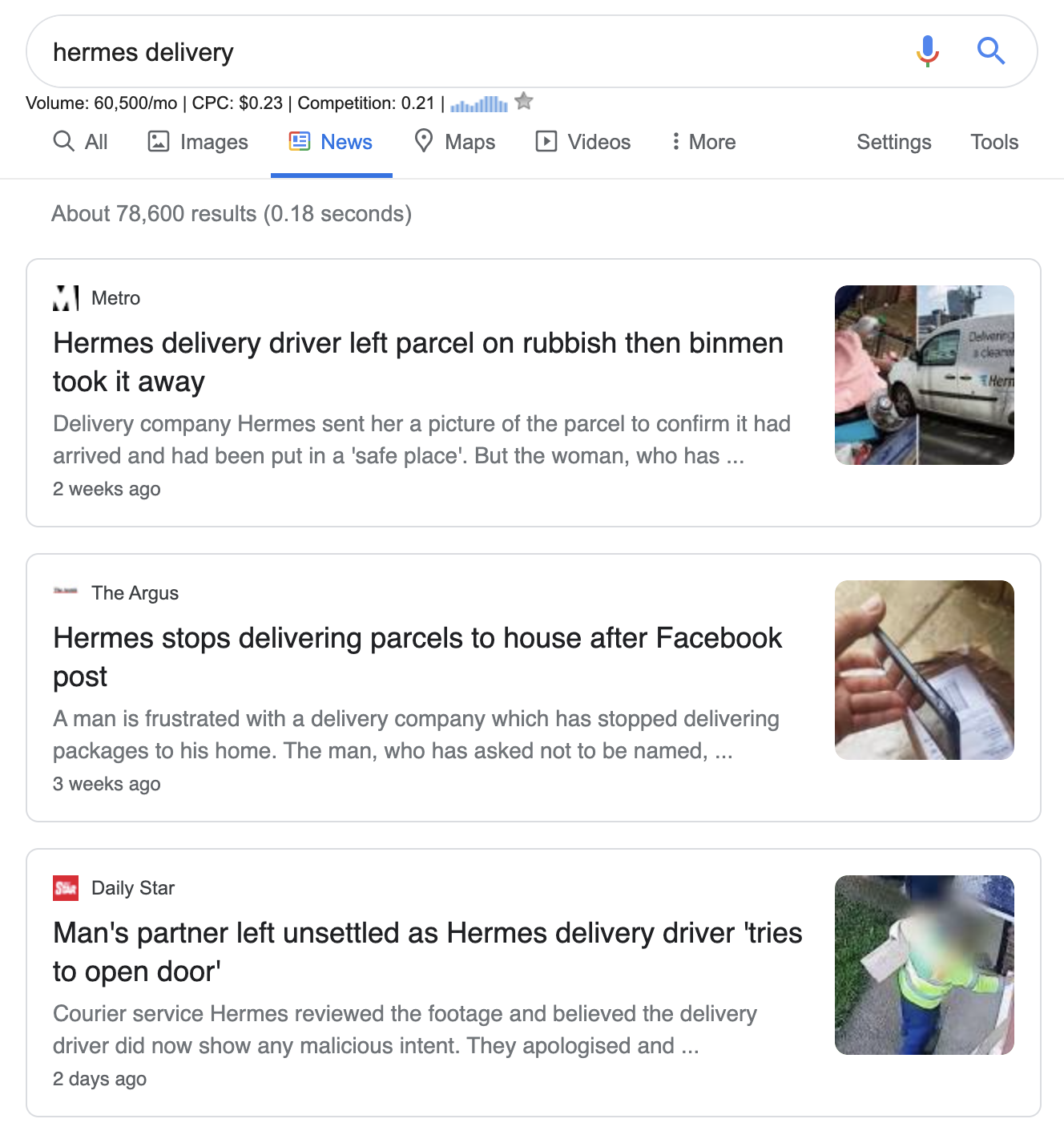 Which one of the two would you rather be?
6.
Accumulated negative reputation is hard and expensive to fix
Let's expand the previous point.
When you're aware of everything that people, businesses, and publications are sharing about your business, you can instantly react to it. You can support your customers if they're unsatisfied, manage a PR crisis as it's happening, and be prepared for anything that comes your way.
Basically, you can turn each problem into an opportunity to do good by your customers.
But when you ignore your public image, both online and off, you'll end up with a backlog of comments, news articles, blog posts, and tweets that have compounded into a poor image of your company.
If you let your reputation compound down to that point, it will be expensive, difficult, and time-consuming to repair it.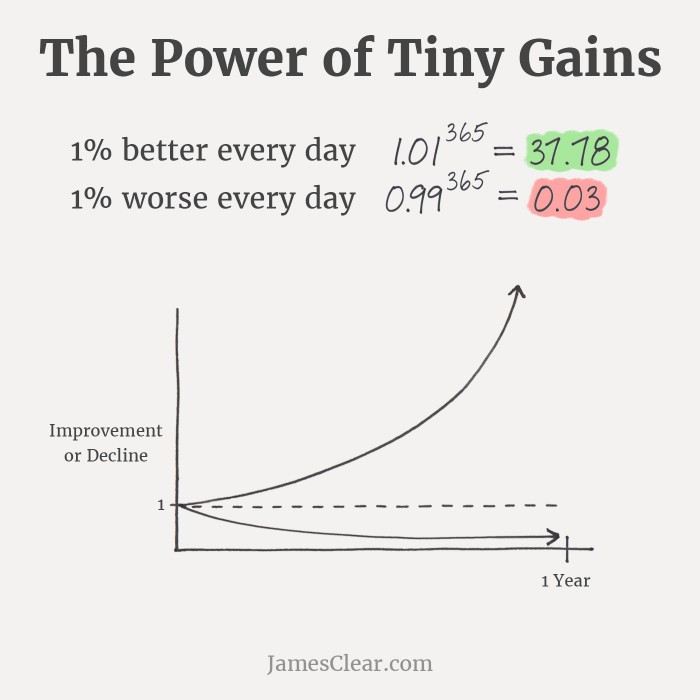 In other words, focus on continuous improvement rather than getting continuously worse, and you'll see exceptional results.
7. Highlight the best part of your brand to everyone
Finally, when you make online reputation a priority, you get to turn it into a standalone engine for promoting your brand and your products.
Everything great that comes out of your online reputation efforts, you can turn into a message for your online channels. Think: reviews, testimonials, user-generated content like images and videos, and much more that can become the foundation for your:
Social ads, such as Instagram, Facebook, Twitter, and Pinterest

Ads on search engines

Organic content, such as Instagram stories and posts

Website and landing page copy

Print materials
When your online reputation speaks for you, there's no limit to the benefits from it.
As Warren Buffett, American investor and businessman, said:
"It takes 20 years to build a reputation and five minutes to ruin it. If you think about that, you'll do things differently."
Use these seven reasons to prioritize your online reputation and build systems and processes around it. It will be worth it.