Content marketing is a challenging discipline. Content that's engaging, entertaining, useful and informative grabs eyeballs, builds connections with potential customers, and establishes your brand as one that's worth following. But doing this well is easier said than done.
Social media marketing spends reached 13.3% of global marketing budgets in February 2020, the highest they've been for the last two years, and they're expected to keep on increasing by 62% over the next five years. But despite these elevated budgets, marketers are saying that social media marketing is not contributing significantly to their sales and revenue, indicating that a significant number of marketers aren't finding the right ways to produce the right content and use it effectively for lead generation and nurture.
It takes a lot of time and money to create original content, which is a big part of why content curation is so appealing. You don't have the resources to generate the huge amount of content that today's consumers expect, plus you'll appear churlish if you only ever promote your own work. Curated content helps you project expertise across a wider range of topics, while consumers also appreciate that your curation efforts help them to find valuable material among the serious overload of content that's flooding their channels every day.
At the same time, you can't neglect the need to publish a certain amount of original content. Owned media is what truly drives the customer experience and strengthens your SEO to keep high-intent organic traffic heading your way. The question is, then, how do you balance created vs. curated content for the best lead capture impact?
Maximizing Leads Driven by Created Content
Content creation for lead generation isn't a one-and-done event. You need to keep promoting your content and nurturing the leads that it generates. Craft landing pages with the same effort that you invest in lead magnets themselves, ensuring that they are easy to complete, compelling, and grab the most important details from the visitor.
Original content establishes your thought leadership, but many marketers still haven't mastered the art of lead generation with created content, with 79% saying that lead nurture is somewhat or very challenging. Usually, that's because they aren't using created content strategically.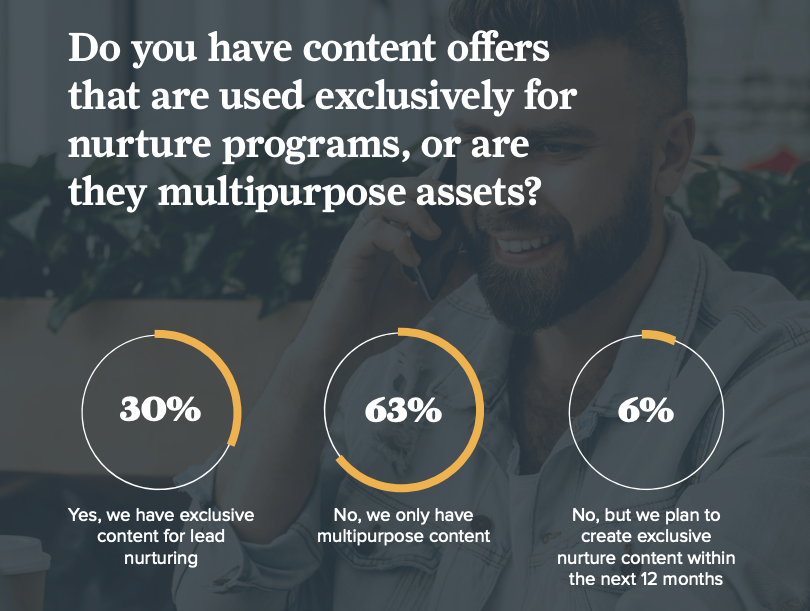 It's long been accepted that personalization is crucial for marketing success, and yet, 63% of marketers are still using generic lead nurture content without differentiating for different audience segments or stages of the funnel. The biggest factor in content marketing success is your ability to connect with the values, pain points, and interests of your audience, so use personalized popups and retargeting ads.
Borrow a trick from e-commerce abandoned cart campaigns and use retargeting ads to remind leads that they didn't finish reading a longform piece, just like you remind them about products they left in their cart.
How to Use Curated Content to Generate Leads
We're used to lead capture involving gated landing pages that gather details before leads access valuable original content, but it's not possible to do that with curated content. Curated content needs a different approach.
There is a risk that curated content will "leak" leads to the original content creators, leaving you empty-handed. You can use e tools like Scoop.it to create hosted content hubs, turning your website into a destination for discovering and reading niche-relevant content published all around the web. You can also turn your curated content into a weekly email newsletter, or a custom "best of" roundup blog post.
Think of curated content as a relationship builder. Use content from allies in complementary industries that can boost your brand, or from third parties like academic research papers that relate to your field. Mention the original content creators in your posts, both out of courtesy to say "thanks" and to maximize reach among their followers as well as your own.
When you're sharing curated content on social media, your profile becomes the main lead generation tool. Optimize your profile with links and CTAs that direct the reader to your website or blog. Better yet, you can use vcita's customer communications suite to integrate a self-service client portal with your Facebook Page or Google My Business profile, so people can enter your funnel with minimal friction upon clickthrough.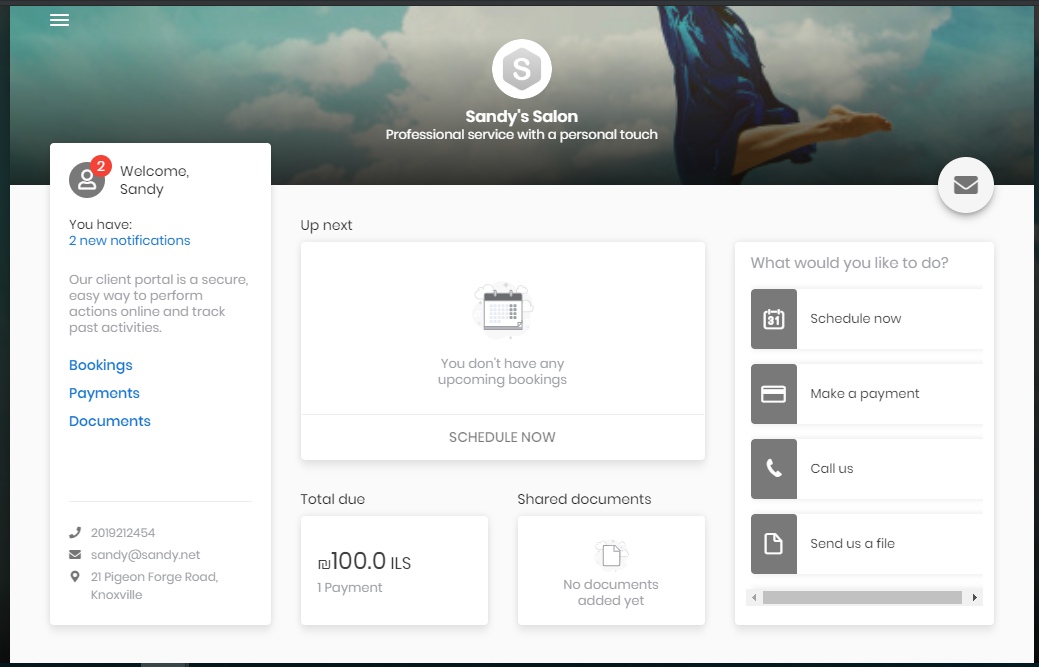 Scanning the headline and hitting "share" isn't enough to generate leads. You need to read the whole piece and summarize the insights and/or data it holds. Add a line or two to explain why this content is worth consuming, and include your own reaction to spark a conversation with your audience, as with the below example.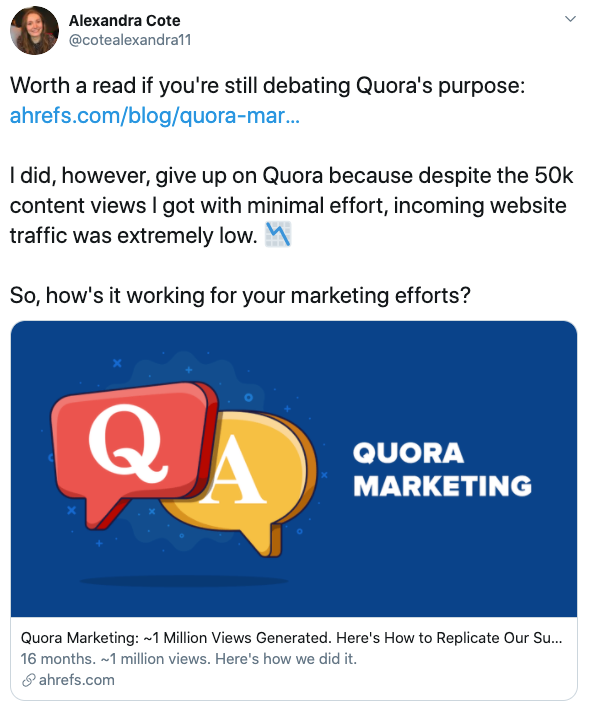 Adding your perspective helps your audience to connect you with the curated content. If you don't make a connection between the content and your brand, the lead won't give you the credit for your hard work and you won't succeed in nurturing or generating new leads for your business.
Go one step further when you personalize curated content by linking it with your recent interactions with your lead, or with the lead's interests.  
The Struggle of Curated vs. Created Content
One of the biggest challenges associated with attributing lead capture impact to original vs. third-party content shares is that measuring social media impact is hard in general.
One-third of marketers say that they don't know how many of their leads return for future nurturing, and one out of every five marketers isn't certain that social content has driven any significant value, according to research from Buffer.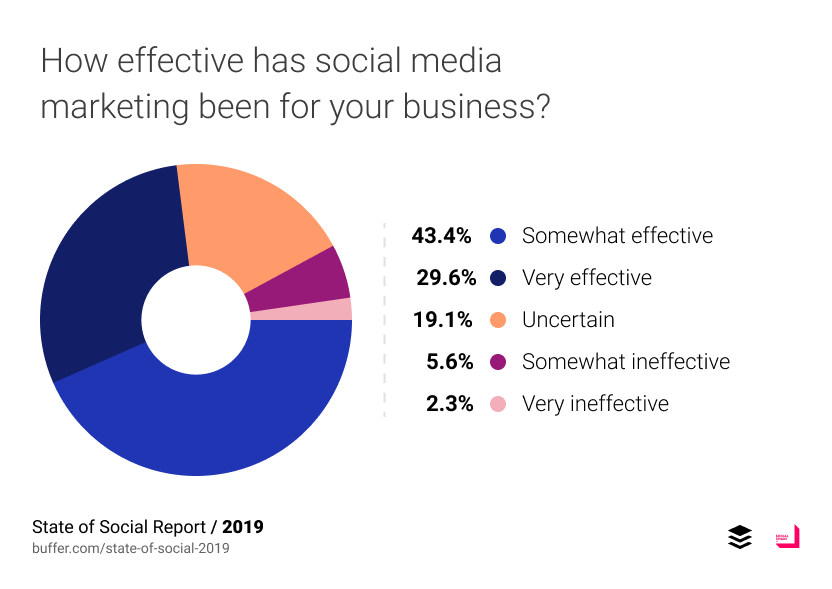 Make sure that you don't fall into the trap of measuring your lead capture performance on a post by post basis, whether it's created or curated content, because you'll just miss the wood for the trees.
It's incredibly rare for a customer to convert after seeing just one social post, no matter how awesome it is, and yet collectively, all your posts have an impact on the final purchase decision. You'll need to be creative with your metrics to track that impact.
For example, people like to bookmark content links as a reminder to look into things at another date in the future. In cases like this, a given post may have assisted with conversion, but the lead didn't engage with it in a measurable way. Or consumers screenshot an Instagram post and share it on WhatsApp with a recommendation for your business, encouraging a friend to go straight to your homepage and make an appointment. Someone might see your content on Facebook on their mobile, and then sign up for your email newsletter through their work laptop when they get to the office.
These are just a few of the ways that people are impacted by your content, but it doesn't make it onto your radar.
A Better Way to Measure Lead Generation
There are many better ways to measure lead generation than last-click attribution, which doesn't show any of the interactions that led up to the point of conversion.
Devesh Khanal of Grow and Convert recommends using first click attribution too, while bearing in mind that it's still imperfect. "A prospect might find out about your company from reading a piece of content, and come back at a later point to convert," he says. "If you were just measuring success by last-click attribution, you'd never know that your content influenced the conversion. First-click attribution gives us a broader picture of how content plays a role in acquisition."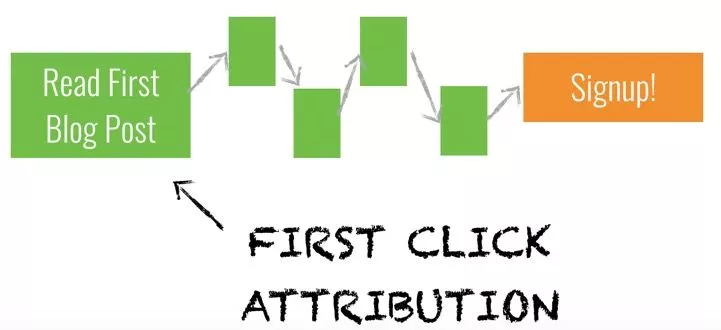 You should also look up to six months back in your feed to see which posts received the best response from your audience. Check for trends in audience engagement using social media analytics like Hootsuite or Buffer to help you compare likes, views, etc. between posts.
Buzzsumo also helps you see which posts usually get the best reactions from your target audience, and then compare those against the responses you receive. Scoop.it's analytics can show you impressions and interactions across all posts associated with a specific topic tag, which is especially helpful.
After a few weeks, you should be able to start seeing parallels in trends.
Set up structured experiments by taking a baseline measurement of social media engagement statistics and creating a 90/10 mix of curated vs. created content. Let your new mix run for three weeks, then measure your metrics again. Next, flip the ratio to 90/10 created vs. curated content, and measure after another three weeks.
You might also do well to test run the 5-3-2 "recipe" developed by T. A. McCann.
Created and Curated Content Working Together
For effective lead generation and nurture, you need both original created and curated content, but you'll also need strategy. Ensure that both curated and original content is personalized, relevant, and high quality. Add CTAs to your profile bio to help maximize the benefit you see from being a trusted destination for curated content. And make sure to use smart measurement techniques and experiment structures to track and compare the success of different content mixes to find what works best for you.